Extending your home with a conservatory is often a straightforward process. Typically, you won't need planning permission if your build meets the limits and conditions. However, an extension can impact underground sewer pipes.

Before adding a conservatory to your home, you should carefully assess the location of any drains in your garden. If you build a conservatory over or near a drain, it could cause significant damage to underground pipes and even your home. And in the long term, the installation could make it more difficult for the water authority to access and maintain their sewers.
What are the regulations for building conservatory foundations over drains and sewers?
Regulations stipulate that you must contact your sewerage company if you plan to build over or close to a public drain.

According to Severn Trent Water, building an extension such as a conservatory can affect the underground sewer pipes that lie within the vicinity of your home. Therefore, if you plan to build within three metres of a public drain pipe, you should consult your local sewerage company. They will be able to assess whether or not the build can go ahead based on the level of risk to the pipes. You will not be able to commence the build until it's been approved.

Sewerage companies aim to work with you to find the best solution. In many cases, if the risk is minimal, the project will be approved.
It's important to note that failure to obtain approval before construction could be costly because you could face legal action if the pipes are damaged.
What approvals will I need?
When it comes to understanding what approvals are required, we recommend that you check whether your conservatory is subject to building regulations. If your build meets conditions, you will then need to consult your local sewerage company for approval.

For more information, find your local water supplier on the Water UK website.

As mentioned, approval is required if you plan to build your conservatory within three metres of a drain. So, it may be the case that you don't need to consult the sewerage company if your installation is further than three metres from any drains.
Are there any exceptions to this?
If the sewer is private and linked to a single property and therefore not connected to a public system, it is exempt from requiring approval. The sewer would need to be located within the boundary of a single property and maintained privately as part of the property management scheme.

The below image from Greenway Associates displays the boundaries for exemption.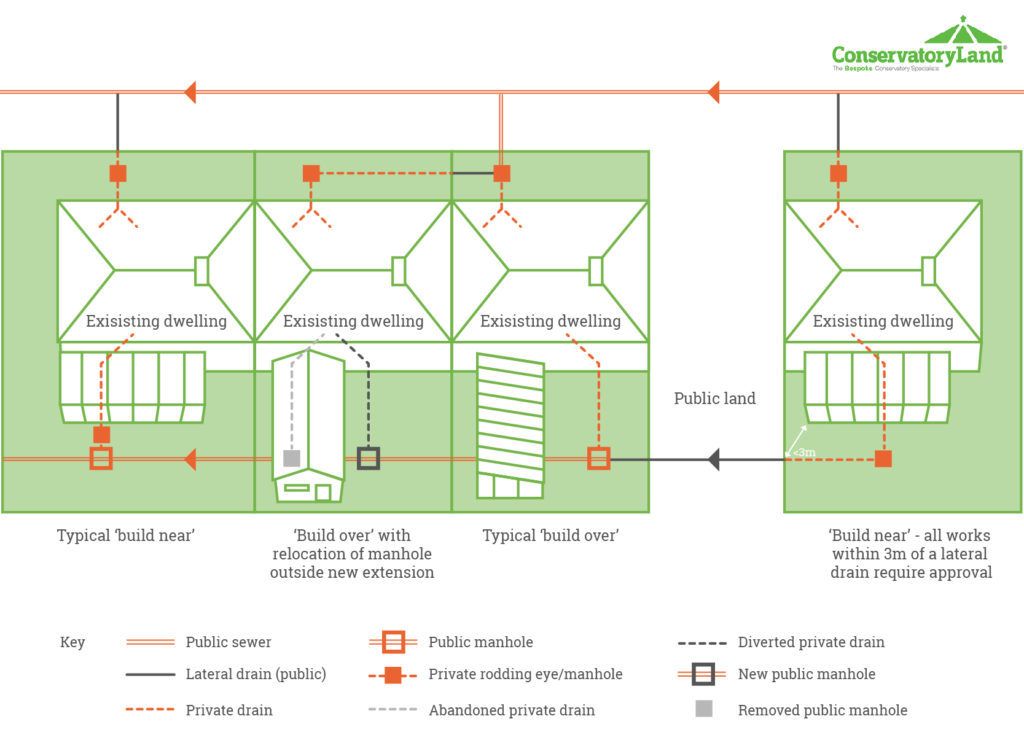 Can I build my conservatory over a manhole?
With conventional foundations, this is not allowed. However, with local authority approval, you could span over the manhole using ConservaBase.

Unfortunately, you cannot build your conservatory over a manhole using conventional concrete foundations since manholes need to be accessible by the Water Authority. They need to have full access to the sewer system.

Also, internal systems such as manholes have an increased risk of flooding therefore building over one would never be advised. Instead, you could look to relocate your manhole if it is affecting your conservatory build plans.

With the relevant authority approval, you could use ConservaBase with a built-in removable access panel to span the manhole, so it remains accessible if and when needed. This can be a simple and cost-effective way of avoiding relocating the manhole.
What are the options of moving drains for conservatory foundations?
It's possible to move the drains on your property. If you would like to relocate a manhole, we would suggest you initially consult your local water company to ensure you are allowed to do so.

If they grant permission, many local companies will be able to carry out the required work.

However, it's important to remember that moving drains for conservatory foundations are often costly and should be budgeted for if necessary.
What happens if I build my conservatory over a drain without getting permission?
You need to obtain approval from your local sewerage company before installing a conservatory over a drain unless the build is an exemption.

If you don't obtain approval and your water supplier needs access to your drain, then they have the authority to remove the conservatory without your permission.

So, it's vital to get approval before installing a conservatory, as you could face problems in the long term.

If you need further guidance around this topic, give us a call. Our team is on hand to help and offer useful advice.

Alternatively, if you're confident that your extension won't interfere with your existing domestic drainage, you can start looking for a new conservatory. Order a free brochure today to explore our range of conservatory styles and customisation options.