Back to list
Unlike other extensions, building a conservatory on your home is usually a very straightforward process. The height and size of your conservatory can often be a reason as to why you may require planning permission, however for many, this is not necessary. The conservatory build can be done independently; you just need to decide exactly where on your property you want this built.
One factor to consider when deciding on where, is the location of your drain's in your garden. Building your conservatory over a drain can cause complications, and can often be a determining factor in where the build takes place.
It isn't out the question however; we advise you check with your sewerage company to see what the rules and regulations are surrounding this. They should provide detail on what you can and can't do.
What are the regulations for building conservatory foundations over drains and sewers?
There are currently regulations in place which stipulate that you must get in contact with your sewerage company if you are planning to build over, or close to a public drain.
According to Sever Trent Water, building an extension such as a conservatory can affect the underground sewer pipes that lie within the vicinity of your home.  Therefore, if you are planning to build within 3 metres of a public drain pipe you should consult your local sewerage company. They will be able to assess whether or not the build can go ahead based on the level of risk to the pipes. You will therefore not be able to commence the build until this has been approved.
Sewerage companies aim to work with you to find the best solution, and for many instances, if the risk is minimal approval of the build is likely to go ahead.
It is worth noting however, that failing to seek approval prior to the build could prove costly, as it may result in legal action if damage to the pipes is caused.
What approvals will I need?
When it comes to understanding what approvals are required, we would firstly recommend that you check whether building regulations apply to your conservatory. If they don't, you will need to go ahead and consult with your local sewerage company for approval.
Again, as discussed, approval is required if you are planning on building your conservatory within 3 metres of a drain, so it may be the case that you do not need to consult them.
It is however worth double checking the drain locations prior to going ahead with the build.
You can find out who your local water supplier is here.
Are there any exceptions to this?
There are exemptions to this approval system, that are worth noting before you go ahead. These exemptions surround the privacy of the sewer itself.
If the sewer is private and linked to a single property and therefore not connected to a public system, it is exempt from requiring approval.
In greater detail, the sewer would need to be located within the boundary of a single property and be maintained privately as part of the property management scheme.
The below image from Greenway Associates clearly displays the boundaries for exemption.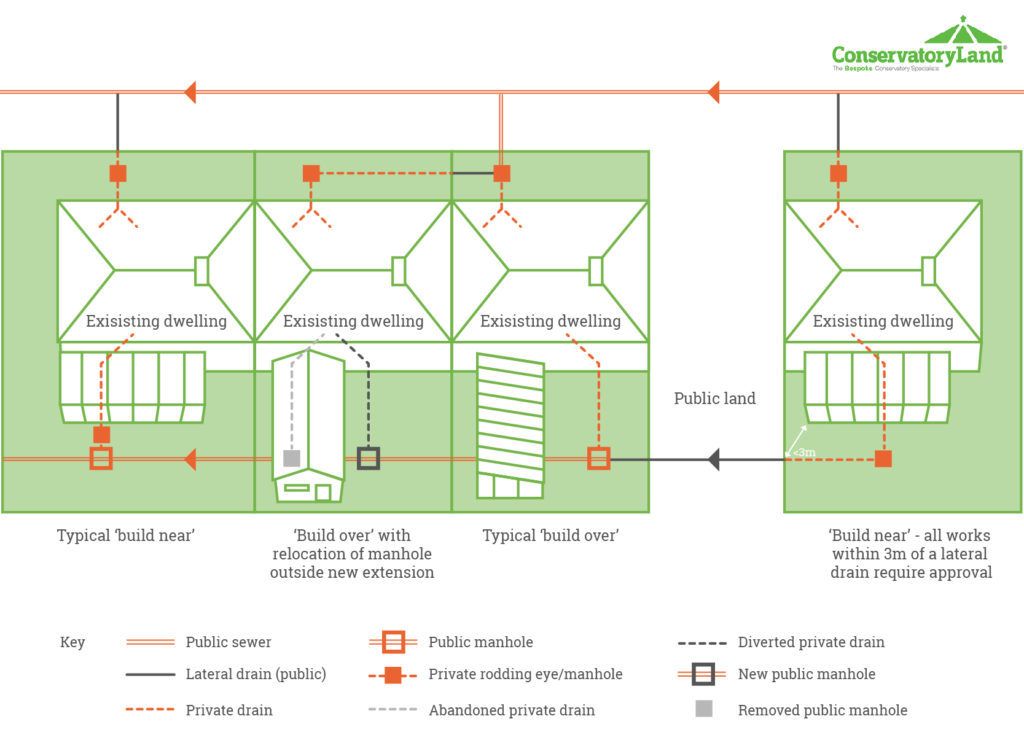 Can I build my conservatory over a manhole?
With conventional foundations this is not allowed, however, with Local Authority approval, you could span over the manhole using ConservaBase.
Unfortunately, you cannot build your conservatory over a manhole using conventional concrete foundations since manholes need to be accessible by the Water Authority. They need to have full access to the sewer system.
Also, internal systems such as manholes have an increased risk of flooding, therefore building over one would never be advised. Instead, you could look to relocate your manhole, if it is affecting your conservatory build plans.
However, with the relevant authority approval, you could use ConservaBase with a built-in removable access panel to span the manhole and still leave it accessible if and when needed. This can be a very simple and cost-effective way of avoiding the need to relocate the manhole.
Moving drains for conservatory foundations – can it be done?
If you would like to relocate a manhole we would suggest you initially consult your local water company to make sure you are allowed to do so.
If permission is granted there are many local companies who will be able to carry out the required work.
However, it is worth bearing in mind that this can prove to be a costly procedure, so should be something you consider budgeting for if necessary.
Again, using ConservaBase could eliminate the need for this all together.
What happens if I build my conservatory over the drain without getting permission?
Unless your conservatory meets the above explained exemptions, you must have approval from your local sewerage company prior to building over a drain.
If you have not got prior approval and your water supplier or local authority need to access or carry out maintenance on your drain, then they have the authority to remove the conservatory without permission.
Therefore, it is vital you get approval, as your new extension could be demolished just after being built, if work is required.
If you need further guidance around this issue, we're more than happy to chat through your options with you. Feel free to give us a call on 0800 952 8000 – and we'll try our best to point you in the right direction. 
Alternatively, if you're confident that your extension won't interfere with your pre-existing domestic drainage, then feel free to start shopping around for your new conservatory. Browse our conservatory styles, or request a free brochure to get started.