How to build a conservatory base
We offer helpful instructions and high-quality, modern sections that provide a straightforward method for building a conservatory base.
Building a conservatory base is easier than you might think. Here's a step-by-step guide.
1. Prepare your area
First, you'll need to measure the area you plan to build on. Using the pad plan provided, identify where the pads will be placed and mark these ready for the next step.
2. Construct the concrete pads
Dig a hole for each pad that measures a minimum of 450mm square and 450mm deep. Next, line the cavities with post cement and place the foundation blocks on top. Fill any gaps with post cement and set with water, making sure the surface is level.
3. Build the steel base
Identify the first steel base section using your pad plan. You'll need to fasten lock nuts to the adjustable feet, then position the frame against the property wall, as shown in your plan. Adjust the leg height until the base is level using a spirit level.
Next, secure the base section to the external wall of your property using thunderbolts. Identify the second steel base section and attach it carefully to the first section. Tighten the lock nuts before checking the section is level. Finally, fix the section to your external wall. Repeat these steps for all base sections.
4. Fit the insulation
Measure and cut your insulation sheet into sections to fit the steel base frame. Attach the insulation support tabs before installing the insulation, ensuring each section fits comfortably.
5. Install the flooring
Measure and trim the flooring sections to fit your bespoke conservatory. The panels piece together effortlessly using connecting edges so the construction of your floor is fast and simple. Lastly, cover the area with a polythene sheet to keep the flooring clean and dry.
6. Construct the skirts
These can be positioned over the sheet and should be perfectly level with the top of the flooring. Our brick skirts have been numbered and designed for quick installation so you can easily identify each part. Simply fix each skirt into place using screws.
7. Build the walls
Finally, with the base secured, you're ready to install the walls. Position the wall sections, making sure they're in line with the skirting. Pre-drill and fix down, then fasten each wall section together using the bolts provided.
Manufactured by ConservatoryLand
Most of the labour typically carried out on-site is completed in our factory by our highly skilled workforce before delivery. If you're looking for a fast and affordable DIY conservatory project, look no further. For more information on ConservaBase prices, contact us today.
Feeling inspired to learn more about our conservatories? Download our free brochure and explore the wide range of conservatory styles and customisation options available.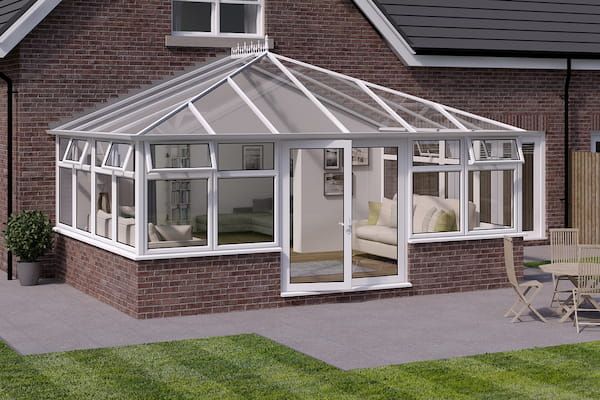 Design your own dream conservatory
Speed up the process and use our online quote engine to create your ideal conservatory.