Our high-quality ConservaBase is an all-in-one base, floor and wall system that provides solid and level foundations.

Available with or without walls, you can choose base and floor only, which is designed for frames-to-floor conservatories. Or, opt for a Dwarf-Wall to create a seamless transition between your home and conservatory. We offer authentic brick slips in various colours, so you can closely match your property's brickwork.

The specifications of our steel conservatory base are illustrated below.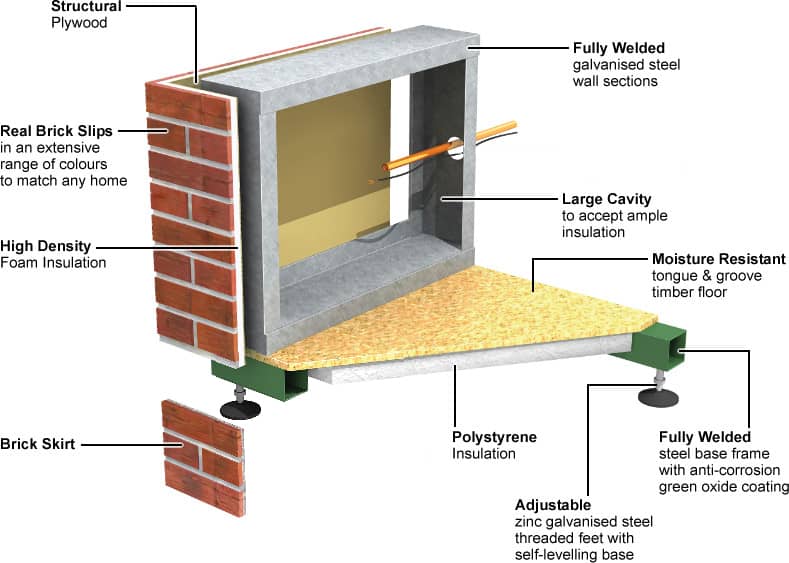 ConservaBase design & materials
Here are some of the specifications of our ConservaBase:
Includes moisture-resistant tongue and groove timber floors with energy-efficient insulation that protects your conservatory from the elements

Supplied with adjustable zinc galvanised steel threaded feet with a self-levelling base for added strength and durability

Walls are manufactured with high-density foam insulation, and you can fit additional insulation to the wall cavities if preferred

Brick slips are pre-fitted to the walls and grouted

The fully welded steel base frame comes with anti-corrosion green oxide-coating, so you can feel confident the base is robust and made to last

Suitable for installation on existing patios, subject to ground conditions 

Subject to authority approval, manholes or drains can stay in place and remain accessible because your system is custom-made to your exact specifications

Guaranteed for ten years, giving you peace of mind for years to come
Learn more about our ConservaBase
Looking for further information? Download a free brochure today to learn more about ConservaBase and the wide range of conservatories we offer.