Do I Need Planning Permission For My Conservatory?
One of the most frequently asked questions we get here at Conservatory Land is about whether our customers need Planning Permission to undertake their DIY Conservatory project.
Thankfully, the quick answer is likely to be no.
You will not need to obtain planning permission in order to build a DIY conservatory most of the time, but there are some criteria so you should always check with your local authority planning department.
This is because they are considered to be 'permitted development'. However, in order to qualify for this status, the requirements below will need to be met.
Conservatory Planning Permission is not required if…
The conservatory does not extend beyond the side wall of the house
You must make sure that the edges of your conservatory do not go beyond the side of the house. The side wall of your conservatory can be in line with the side wall of your property, but must not go beyond that – even by a small amount.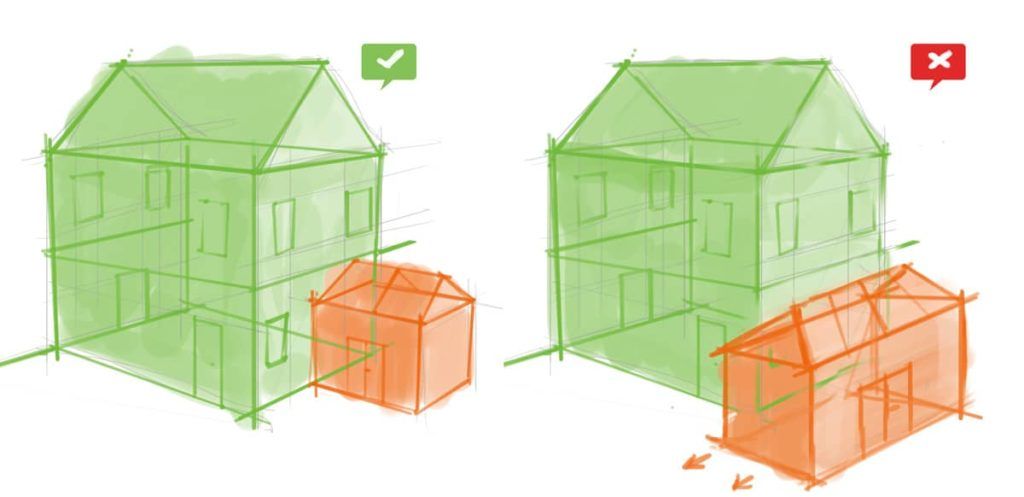 The conservatory does not take up more than 50% of the land area around the 'original house'*
How much land do you own as part of your property, which is not actually covered by the house itself? Think about your front and back gardens, as well as any side passages. Add up the total area amount, and then make sure your conservatory and/or other buildings do not cover more than half of this. For example: if the area equals 20m2, your conservatory together with any other buildings cannot exceed 10m2.
*Please note, the term 'original house' refers to the state of the house when it was first built, or exactly how it stood on July 1st 1948.
The conservatory is not higher than the original roof of the home
This is pretty self-explanatory, your conservatory cannot be taller than your home. This isn't likely to be the case anyway for a typical property. But if you were to live in a single-storey home (such as a bungalow), then it's best to make sure you don't get an overly-large extension that may break regulations.
The conservatory is not forward of the principal elevation, or side elevation, fronting a highway


This sounds confusing, but is pretty straight forward and not something you need to worry about. It means that if you have a conservatory on the front or side of your home, then it cannot be closer to a public highway (basically a footpath or road) than your home is.
The conservatory is a single-storey rear extension that does not exceed four metres in height
This is pretty self-explanatory. We already know that a conservatory cannot be taller than the roof of the home, but it also cannot be taller than four metres. Four metres is really quite tall, so this shouldn't really pose an issue to you.
The conservatory is a single-storey rear extension that does not exceed six metres in depth for an attached house, and eight metres in depth for a detached house
From the wall of your home outwards, the conservatory cannot exceed three metres if you live in a terraced or semi-detached house. Basically, if another house is part of the same structure as yours. If your home is detached – i.e. yours is the only home present in the structure – then the limit is more generous at four metres.
The conservatory is a side extensions that is single storey – and does not exceed four metres in height, or a width of more than half of the 'original house'
Side extensions are quite rare, but if you do want one, then it cannot be taller than four metres. In terms of width, you need to figure out the width of the original house, and half it. Your extension cannot exceed that figure. For example, if the original house is six metres wide, the side extension cannot exceed three metres in width.
The eaves and ridge height of a conservatory are not higher than that of the house
We already know from rule number three that a conservatory cannot exceed the height of the house. This rule adds that the eaves and ridges also cannot exceed. Again, this is unlikely to happen – but if you live in a single-storey home it's best to make sure.
The eaves within two metres of the boundary do not exceed three metres in height
This means that any conservatory within two metres of the edge of your property – i.e. where the land you own ends – cannot have eaves higher than three metres, from the lowest point on the ground.
The extension does not include balconies, raised platforms or verandas
With Conservatory Land, you won't have this problem. Unless requested, we don't normally manufacture conservatories that include any of these features. If you wish to add them, you will need planning permission.
A roof pitch on conservatories higher than one storey must match existing house
The roof pitch of a house is the measurement of the roof's steepness. The roof pitch of a conservatory must match that of the house, if the conservatory is taller than one storey.
Planning permission for Orangeries
Please read our blog about Orangery Planning Permissions
These are the house extension planning permission requirements you have to meet.
If you expect to be in violation of any of these rules, then don't worry too much. It doesn't mean you can't build a conservatory – you just need to get the necessary permission.
How big can you build a conservatory without planning permission?
So, what size of extension is exempt from planning?
As noted above, the general height restrictions are in relation to the size of your property.
The larger and wider your home, the bigger your conservatory can be.
However, there are a couple of absolute limitations – as quoted from the aforementioned guidelines:
A single-storey rear extension cannot exceed four metres in height.
A single-storey rear extension cannot exceed six metres in depth for an attached house, and eight metres in depth for a detached house.
A single storey side extension cannot exceed four metres in height, or a width of more than half of the 'original house'.
Conservatory boundary regulations 
This is an essential consideration when planning your conservatory build – especially if you live in a built-up urban area, with lots of neighbouring properties
The official guidelines from Planning Portal state the following: 
If a conservatory (side or rear) is within two metres of a boundary, maximum eaves height should be no higher than three metres to be permitted development. 
Essentially, if the conservatory is built within two metres proximity of the boundary (neighbouring fence or wall) it would only still meet permitted development guidelines as long as it the height falls within the maximum three metres. 
If the planned conservatory will be built within two metres but stands taller than three metres – the likelihood is that you will need planning permission in order to proceed with the build. 
How close can you build a conservatory to a boundary?
So, if you can build a three metre extension within two metres of a boundary – just how close can you get? 
Well, the answer is that anywhere within that two metre space can be built on as long as the boundary itself isn't interfered with. 
For instance, you can't just build right up against the neighbouring fence or wall. 
It's a question of common sense. 
What remains on your side of the boundary is normally fine as long as it doesn't affect the privacy, obstruct daylight or directly encroach upon neighbouring properties. 
If you're particularly concerned about the distance between the perimeter of your conservatory and your neighbouring boundary then you should seek the advice of your local planning authority before you proceed. 
In most contentious cases like this, where the conservatory plans clearly demonstrate that the development is especially close to the boundary – the neighbour consultation scheme would usually need to be consulted. 
This isn't planning permission, as such. It's a local authority scheme that consults the adjoining neighbours to advise them about the development. 
This gives them the opportunity to object to the plans and work towards a clear resolution along with the local council – who will ultimately decide whether the development should go ahead. 
This applies to permitted developments and also developments that require planning permission. 
Conservatory planning permission for a semi-detached house
A semi-detached conservatory plan shouldn't differ too much from any other type of house in relation to permitted development requirements. 
The official line is that a conservatory on a semi-detached house should not extend beyond the rear wall of the house by more than six metres in most cases. 
If you're planning to put a conservatory on the rear of a semi-detached house, and the proposed plans suggest that the extension itself would exceed that limit – then you'll need to get planning permission.
For semi-detached houses separated by a neighbouring boundary, it can be a little trickier.
If your planned conservatory development is positioned towards the detached side of your semi-detached house, the usual planning permission requirements are enforced (no more than six metres extended out from the rear wall etc.).
However, if the conservatory will go closer towards the adjoining property – you'll need to bear in mind that the conservatory must be no more than three metres tall if it's within two metres of the neighbouring boundary.
When it comes to semi-detached houses and conservatories, many developments are often brought to the attention of the neighbour consultation scheme.
This scheme is part of local authority planning regulations – and applies to developments that require planning permission as well as those that don't. 
It gives the local authority license to consult your neighbours about the planned conservatory should they deem it necessary.
It's a key consideration for semi-detached conservatory developments, as there is usually always some way in which the development can influence the adjoining neighbour. This might include, light obstruction or a privacy issue, for example.
The scheme works toward a happy medium and a successful resolution for both parties – with the local authority having the official say on how the semi-detached conservatory extension should proceed.
How much does it cost to get planning permission in the UK?
Planning regulations for conservatories require you to make an application.
These fees vary in England and Wales, so you will need to check with your local authority.
If you do wish to seek Planning Permission, you should have an answer back within eight weeks of submitting your application.
In certain circumstances, however, it could take up to 13 weeks.
As we've said, it is highly unlikely that you will need any planning permission at all in order to build your conservatory.
But it's always a good idea to check.
Here at Conservatory Land, we'll manufacture a DIY conservatory that is the perfect size for you. We will take all building restrictions into account when doing this.
If you'd like to learn more, don't hesitate to contact us on 0800 952 8000 or click here for a free brochure. We are always happy to help in any way we can.
Information on this page was correct at the time of publishing which is subject to change in line with legislation.
Our Reviews

Thomas Williams
2020-10-06
Great service great price lovely conservatory really friendly staff talk you through every stage delivered on time and looks great

Outstanding service, communication and quality from the start of the process to the finish. Our installers were amazing, nothing was too much trouble and the attention to detail was fantastic, they really took pride in the job they were doing. My conservatory is everything and more than I expected and has already made a huge impact having the extra space. Already planning my next one with them, i would highly recommend them.

So everything arrived on time and in order. Everything is good quality. The only thing that lets it all down are the instructions. They are useless. They don't tell you anything as they are made for many different types of conservatory. Apart from that it looks good and took a week to put together with just two of us doing it. Staff are helpful though and overall I'm pleased.

Having been unsure about how a UPVC conservatory would look on our traditional stone house, we are absolutely delighted with the result. Before ordering, a year ago, we were shown round the factory so we were able to see the structure and good quality at a reasonable price. The showroom was in the process of re-design, but the Conservatory Land colleagues were very helpful in showing us the various design combinations available and helped us through one or two of our changes of plan without issue. The delivery of all the glass, frames, doors and parts went smoothly. The construction ( our own builders) went well and advice and help was still easily available to us, throughout. We love our conservatory and spend a great deal of time, in all seasons, in our light and roomy new living space. Thank you ConservatoryLand. (Photos sent previously)


Excellent sales, delivery process and fitting.

Overall was a good experience,from start to delivery ,I was a little worried buying online so I was nvited down to the factory which I have to say was impressive they manufacturer everything on site and you can see everything being made. I placed the order and was given a date for delivery which arrived on the exact date even the driver was helpful unloading and giving advice All instructions was good and used the utube videos if got stuck I had to call the helpline just once which they quickly answered my question ,I am in the building trade so didn't really struggle with any thing and the finished product is superb ,the major niggle I have was on the French doors the locking mechanism is not adequate for security is Very basic is no hook system or deadbolts therefore would be Very easy to break in ,I have upgraded All the mechanism to a higher version which wasn't a big cost , maybe if this is standard they should offer a upgrade pack as this is probably the most important part keeping safe .