Porch extensions from ConservatoryLand
Whether you're looking to take on a home renovation or add value to your property, we offer double-glazed porches that are quick and easy to install.
Every porch at ConservatoryLand is unique — from the size and colour to the roof and glazing.
No matter your specifications, we only use the highest-quality uPVC profiles, so you can rest assured that your porch will last for years.
---
Main benefits
A bespoke, made-to-measure structure
Choose from a variety of colour options
Quick and efficient to build — suitable for both DIY and professional installation
Provides extra security than just a single door
Ideal for the front or rear of your home
Improves your home's aesthetic thanks to a sleek, versatile design
---
Customise your porch design
Our porches are made-to-measure based on your preferences and specifications. They are available in three different styles:
Solid Bottom Panels
Full-Height Glass
Dwarf Wall
On the hunt for a brick porch that complements the exterior of your home? We offer a range of authentic brick finishes, allowing you to select a design that closely suits your property.
You can select your project's preferred roof, glazing and door frames to create a uPVC porch that looks just like you had envisioned. When it comes to the roof, you can choose a polycarbonate or glass roofing system or supply your own roof. It's entirely up to you.
---
See more examples in our customer gallery
Take a look at how our customers have transformed their homes with new porches.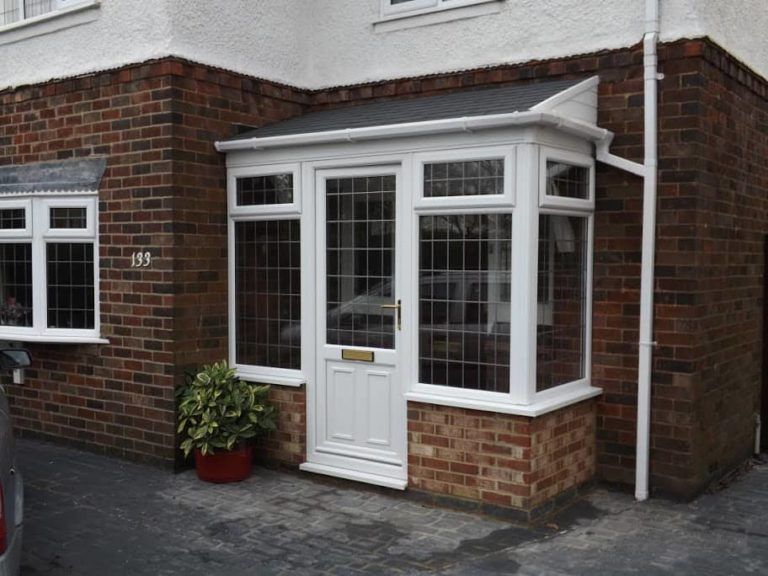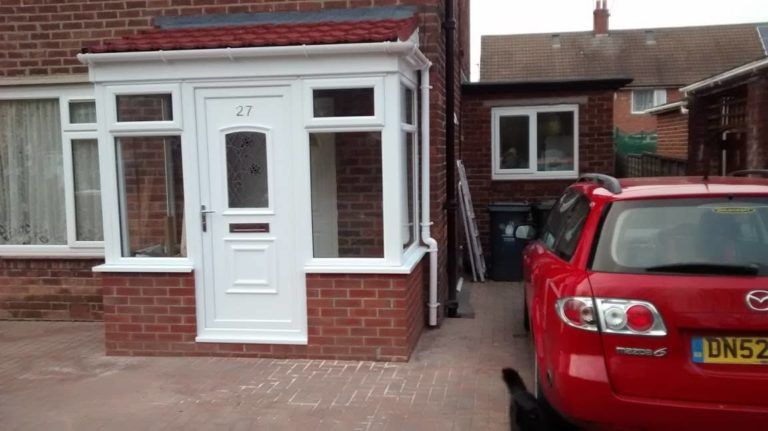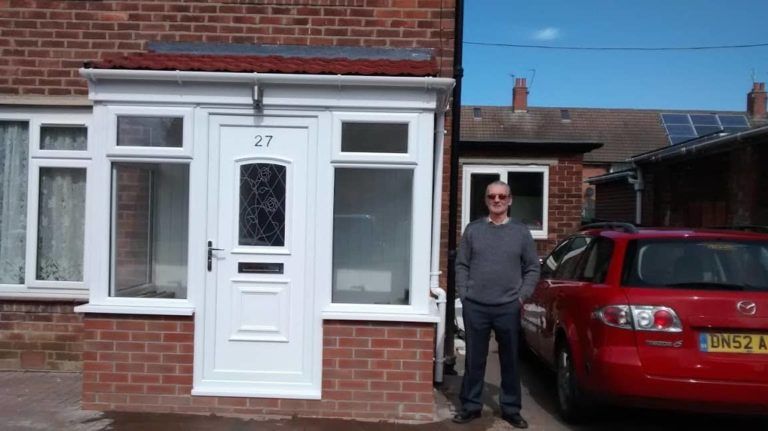 ---
DIY porches and self-build porch kits
One of the great things about our DIY porch kits is that you can build the project without help from installers. Using our step-by-step instructions, assembling your brand-new porch should take approximately four days.
If you have the time to lend to the project, a self-built porch is an excellent option for adding practicality and security to your home. Whether it's a front or a rear porch, the style and design are up to you.
We take pride in providing high-quality installations. That's why every order comes with a 10-year warranty, giving you peace of mind that your DIY porch is built to last.
Are you interested in a uPVC porch supply and fit? We've got you covered. Our kits are ideal for professional installation, and you can take advantage of our national network of Approved Installers to build your porch to the highest standards.
FAQs
Explore these frequently asked questions to learn more about porch extensions.
What types of porches are there?
Porch extensions come in a range of styles and designs. Front porches are often located directly in front of the main door. These serve as a welcoming area for visitors and provide additional security. Rear porches are located at the back of a home and can be used for relaxation, storage space and extra security. Lean-to porches are modern structures with single-sloped roofs. They are a simple, low-cost alternative ideal for homes with little space.
Do you need planning permission for a porch?
In most cases, you won't need planning permission for a porch as this type of extension is typically categorised as a permitted development.
For more information, read our guide to porch planning permission.
What colour porches are available?
You can choose from our range of colours, including white, rosewood, golden oak and grey. You can also choose to have a colour on the outside and white on the inside.
How do you build a porch?
The porch installation is simple, thanks to our step-by-step instructions. We offer ready-to-assemble porch kits, so every part is pre-manufactured at our factory and sent straight to you. Our porch extensions are easy to assemble, so you'll save time and money by doing it yourself.

If you prefer to outsource the installation, our porch kits are suitable for professional installation.

What is a prefab porch?
A prefabricated porch, also referred to as a prefab porch, is a pre-manufactured structure designed and constructed off-site. Every section and component is delivered directly to you, ready to assemble on-site. This makes the DIY and professional installation process much faster and more efficient.
How much does it cost to build a porch?
The cost of building a porch can vary depending on the size and scope of your project.
If you need more information on our porch extensions, we're here to guide you throughout the process. Get in touch with the team to get your free, personalised quote.
Learn about our finance options
Order your uPVC porch kit today
A uPVC porch can be a great investment, whether creating a welcoming entry to your home or adding more storage space. Ready to order your porch kit? Contact the ConservatoryLand team today.