In This Guide:
You know how much room you have and you know the style you would like, now all you need to know is 'how much is a conservatory?'. Having a broad idea of conservatory prices from the outset, will help you budget and plan properly to get your conservatory project off the ground without the surprise of an 'out of the blue' conservatory price or the worry of an escalating conservatory cost.
Conservatory prices can vary significantly, depending on where you look and what it is you're looking for.  The size, shape, design, materials used, and installation will all influence the cost of conservatories heavily. So, how much are conservatories? The price of a conservatory extension can start from just a couple of thousand pounds for a small DIY build lean-to, running into tens of thousands of pounds for a large orangery.
Here we highlight the factors that influence the price of a conservatory helping you decide how best to spend your budget.
Conservatory Price List – 2021
At Conservatory Land, you're guaranteed to find the cheapest conservatory prices in the UK.
Prices shown on this page are for the conservatory only (windows, doors and roof) for self-build on to your own base. Prices shown do not include base, dwarf walls or installation.
Conservatory Style
Model
Size
Price From

Lean-to

Dwarf Wall

3m x 3m

£4,795

Edwardian

Dwarf Wall

3m x 3m

£5,495

Hipped Back Edwardian

Dwarf Wall

3m x 3m

£6,195

Victorian

Dwarf Wall

3m x 3m

£5,495

Gable Front

Dwarf Wall

3m x 3m

£5,995

P-Shape

Dwarf Wall

3.5m x 3m

£6,395

T-Shape

Dwarf Wall

4m x 3m

£7,195

Orangery

Dwarf Wall

3m x 3m

£8,995

Sizes shown are for external brickwork sizes. Prices shown include delivery for self-build and VAT.
Prices do not include ConservaBase, base, floor, walls or fitting. Prices correct at time of publication but are subject to change.
In fact, we're so convinced that you won't find a cheaper conservatory with like-for like specifications anywhere else, that we're willing to match any company that gives you a lower like-for-like quote.
You know you're getting quality – because we only use the finest and strongest materials to give you the best possible build.
You even get a 10-year quality guarantee against things like discolouration, warping and cracking.
If you'd like more details on the actual conservatories themselves, just ask us to send you a brochure (it's free).
Cheap Conservatories – Buying a Conservatory on a budget
When you have a strict budget, you need to find a low cost conservatory at cheap conservatory prices that won't break the bank.  But even when your goal is to find a cheap conservatory for sale, opting for a cheap conservatory doesn't have to mean compromising on quality. Even the cheapest conservatories around can bring added value through quality finishes and oodles of style.
And it is possible to find cheap conservatories in the UK that won't blow your budget. Conservatory Land have some of the best deals on conservatories making it easy to find an affordable conservatory made from premium materials at cheap conservatories prices.
With the lowest conservatory price in the UK, we specialise in low cost conservatories. The budget conscious will find great products and expert advice to inspire your cheap conservatory ideas. With a range of styles available, we have a great selection of cheap conservatories for sale to choose from, perfect for when you need your conservatory cheap and extremely cheerful.
When you save on the price of a conservatory at Conservatory Land, the cheapest conservatory around could be the one you build yourself. DIY Conservatories are low price conservatories that could save you loads on installation fees, and for experienced DIYers building a cheap conservatory in the UK is easier than you might think.
Self-build conservatory prices
Self-build conservatories are a low cost way to add an extra room to your home, with the added benefit of build your own conservatory prices. You have the freedom to choose whether to carry out your own conservatory self-build or buy a do it yourself conservatory and arrange separate installation with a contractor of your choice.  Do it yourself conservatories can be one of the most convenient and cost effective ways to both expand your living space and make the most out your garden.
Cheap self-build conservatories are often a much more viable alternative to having a more labour intensive home improvement – like a brickwork extension, for example.
DIY conservatory quotes will often come out cheaper than a conservatory which includes a full installation service, but the overall cost of a self-build conservatory is very much dependent on the size and shape of the design you pick.  One of the benefits of self-assembly conservatories, is that they give you control over how much you spend at each stage of the installation. For example, a DIYer with experience may decide to pay a builder to build a dwarf wall, but assemble the rest of the conservatory framework and glazing themselves to save money on labour costs further down the line.
Request our free brochure to see our full range and work out your DIY conservatory cost.
How much would a fitted conservatory cost?
Fully fitted conservatory prices will fluctuate depending upon labour costs for installation in your area.  Average conservatories prices fitted in the UK can start from £8,750 for a basic 3m x 3m lean to conservatory.
Opting for a DIY conservatory can be the first step towards keeping the cost of your conservatory down. If you're a DIY novice you might want to get a couple of quotes from our locally approved conservatory fitters to get a rough idea of the price of a conservatory installed by them.
The price range from a cheap DIY conservatory to the more expensive end can vary depending on the types of materials used and the sort of build you've opted for. 
The isolated cost of the conservatory will be less expensive than the overall cost of the project in general.
The average sized conservatory can take around three to four weeks to complete, from digging the footings to finishing off the interior, so be clear on which parts you expect the fitter to work on and which you intend to manage yourself.
Installation only conservatory prices in the UK can range between £25 per square metre for a conservatory roof to around £130 to fit a set of French doors. Knowing the price range for installation costs will give you an accurate picture of conservatory prices fitted compared to self-assembly, and helping you to decide whether professional fitting gives you the best value for money.
Lean to conservatory prices
Simple in design with a sloped roof, cheap lean to conservatories are a great combination of form and function. Just like any other type of conservatory, lean to conservatory prices vary depending on a number of different things.If you're looking for a cheap lean to, measuring 3m x 3m with a dwarf wall, it will cost around £4,795. Cheap lean to conservatories are still made from the same durable, high-quality materials that most modern conservatories are made from – so you don't need to worry about it not lasting very long (provided the installation was carried out to a high standard).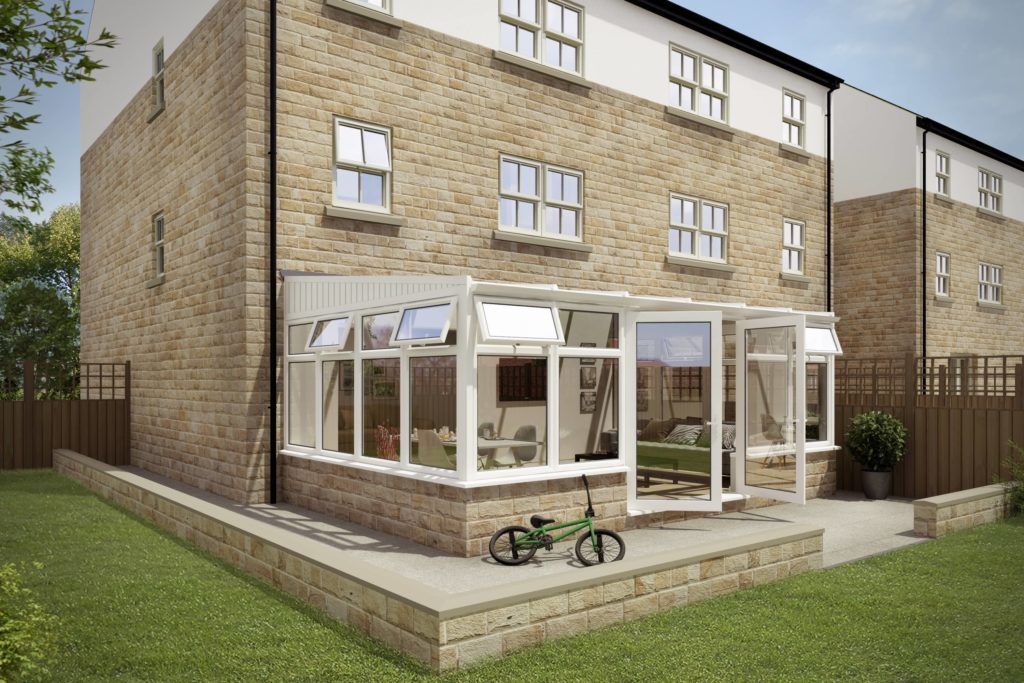 Find out more about Lean-To conservatories
Edwardian conservatory prices
An Edwardian conservatory is designed in the style popular during the Edwardian era. Square or rectangular in shape, it's a spacious four-sided conservatory with a pitched roof. A 3m x 3m Edwardian conservatory with a dwarf wall to start at approximately £5,495.
Cheap Edwardian conservatories may fall slightly beneath this price range depending on the type of build and materials used – but this is generally a good starting point.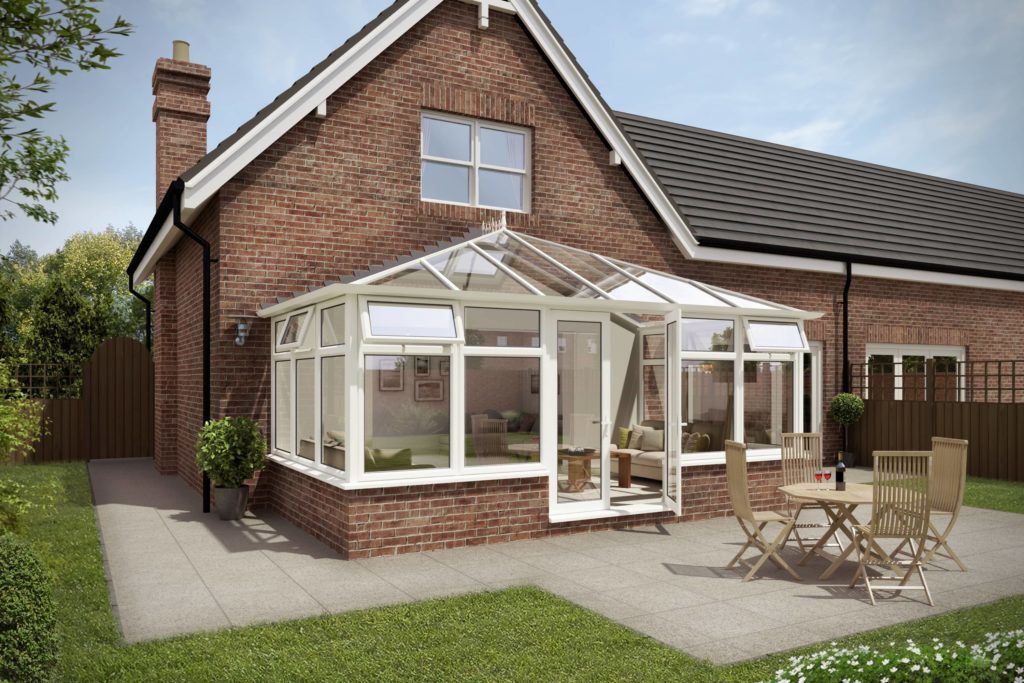 Find out more about Edwardian conservatories
Edwardian Hipped Back conservatory prices
An Edwardian hipped back conservatory maintains the same Edwardian era aesthetic but features an angled roof to suit single storey buildings like bungalows. Opting for an Edwardian Hipped Back conservatory measuring 3m x 3m with a dwarf wall begin at roughly £6,195.


Find out more about Hipped Back Edwardian conservatories
Victorian conservatory prices
The traditional curved bay window of a Victorian conservatory is a popular option for many homeowners. Our Victorian conservatory prices start at around £5,495 for a 3m x 3m room with a dwarf wall.
Again, if you're on the lookout for a cheap Victorian conservatory – it's likely that this will be reflected in the quality of materials used.
The cost will also depend on how the build is executed. Would you be willing to pay more to hire an installer to do it for you?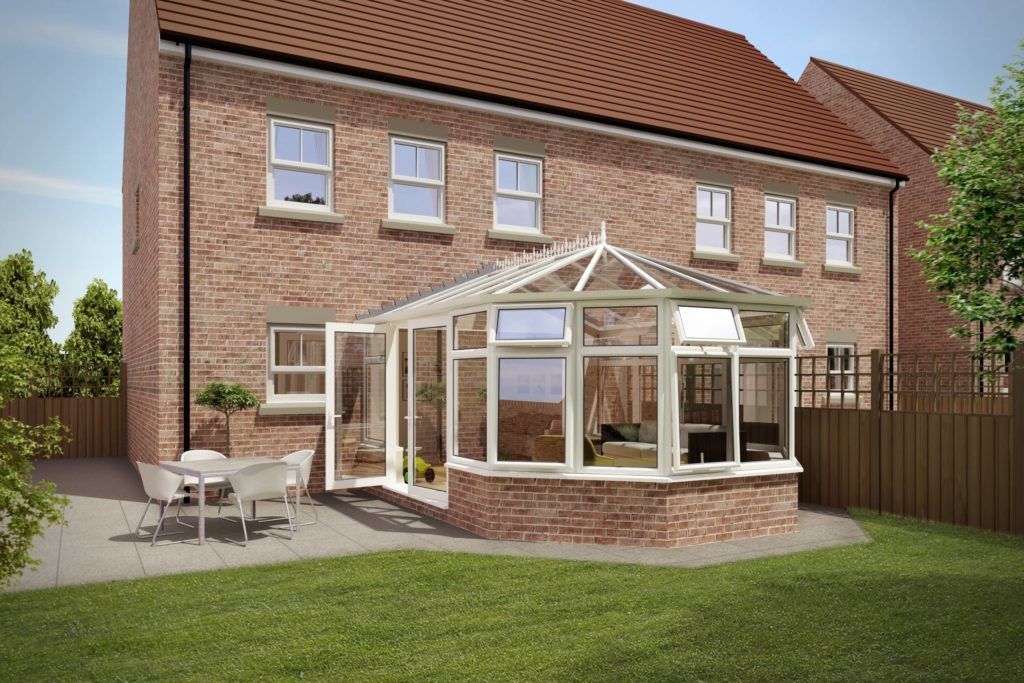 Find out more about Victorian conservatories
Gable-front conservatory prices
Gable conservatory prices will vary according to the dimensions of the build, but a dwarf wall Georgian style conservatory with an upright front and centre sloping roof measuring 3m x 3m will have gable end conservatory prices starting from £5,995.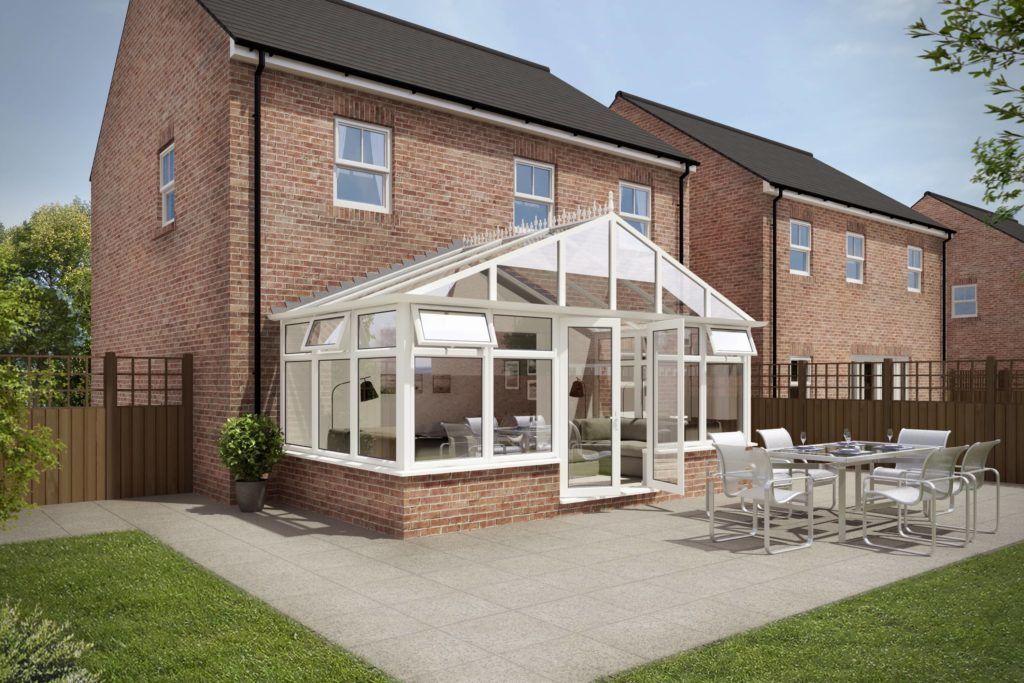 Find out more about Gable-front conservatories
P shaped conservatory prices
P shaped conservatories feature a protruding end, much like the letter 'P'. P shaped conservatory prices start at around £6,395 for a 3.5m x 3m conservatory with a dwarf wall.

Find out more about P shape conservatories
T-shape conservatory prices
A T shaped conservatory features a central projection which creates a porch effect. Our T shaped conservatories measuring 4m x 3m with a dwarf wall begin at roughly £7,195.

Find out more about T shape conservatories
As you've probably already realised, the overall cost of a conservatory largely reflects the size and type of conservatory required.
3×3 conservatory prices
A 3×3 conservatory is a small simple conservatory with an area of nine square metres, with minor variations for rectangular alternatives. Choosing a 3m x 3m conservatory with a dwarf wall would cost around £4,280 – £5,895.  3m x 3m Orangery would cost around £8,410.
Small conservatories prices
Small conservatory prices will be less than their larger counterparts all thanks to their comparatively diminutive size. Using fewer materials and needing less labour for the build, helps to keep small conservatories prices low.  The small conservatory cost works out better for those on a budget.
Large conservatory prices
As the size of the conservatory increases, so does the price. With larger frames, more glazing, and a bigger area to cover and work on, the cost of a large conservatory will more often than not be more than a smaller sized equivalent.
Again, large conservatories still vary as far as the cost is concerned – mostly depending on whether you decide to go down the DIY route, or hire an approved conservatory installer to come in a do the job on your behalf. Order your copy of the latest Conservatory Land brochure, and once it lands on your doorstep, take some time to browse our full range of cheap conservatories at ConservatoryLand.