The stunning and elegant Orangery is a firm favourite with our customers for good reason. These light-filled extensions bring a sense of grandeur to your home while adding more living space, comfort and light. But how much does an Orangery cost?
Contents
How much does an Orangery cost?
ConservatoryLand Orangery price breakdown
What is the price of a fully fitted Orangery?
What factors can impact the average cost of an Orangery?
How to make your Orangery more affordable
How much does an Orangery cost?
The total cost of an Orangery depends on your provider and the scope of your project. You can choose from various customisation options, including size, door types and glazing — all of which can impact the price.
ConservatoryLand Orangery price breakdown
Let's explore Orangery prices in more detail.
Orangery
With an internal pelmet and large aluminium gutter, an Orangery adds a touch of luxury to your home. The grand and lavish style is a popular design and, thanks to its large frames, an Orangery invites plenty of natural light all year round.

A 3m by 3m Orangery designed to be built on a Dwarf-Wall starts at £12,504.
Hipped-Back Orangery
Our Hipped-Back Orangery, also known as a Double-Hipped Orangery, offers space and versatility.
With a box gutter and a sloping pitched roof that connects to your home's wall, this style is ideal if you're facing height restrictions.
For a 3m x 3m Hipped-Back Orangery designed to be built on a Dwarf-Wall, our prices start at £15,234.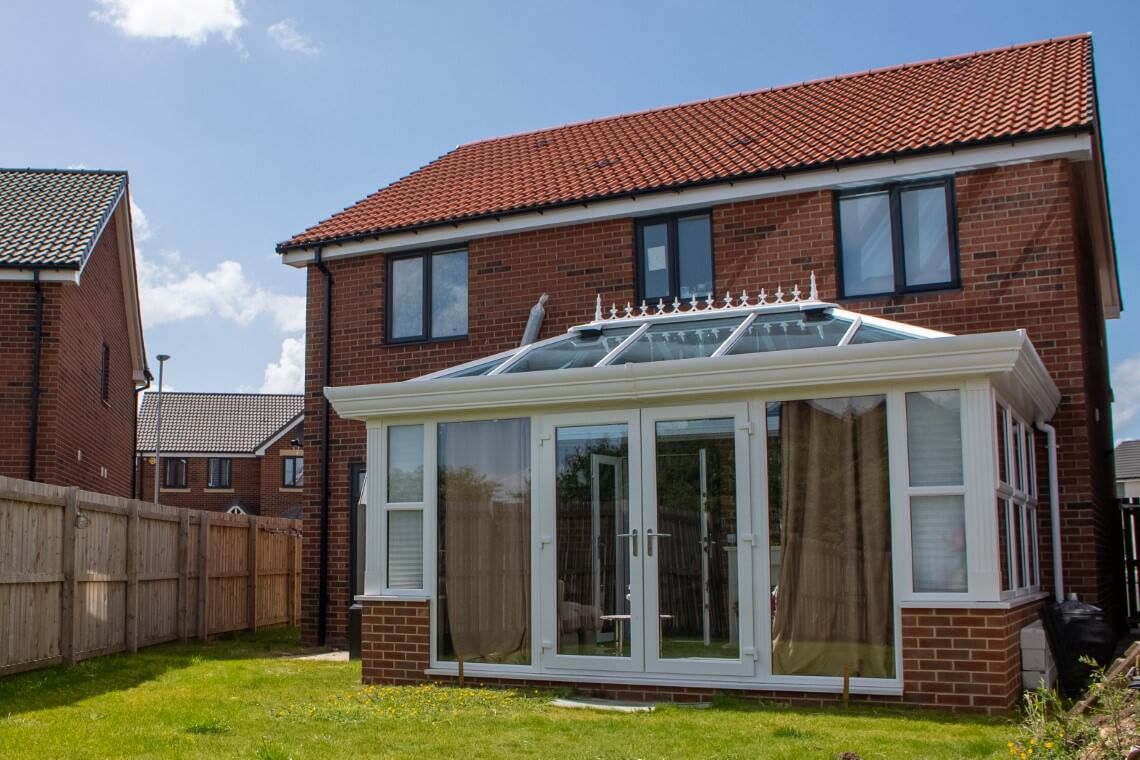 What is the price of a fully fitted Orangery?
The cost of a fully fitted Orangery depends on the provider you choose and the scale of your project. Labour costs in your region will also impact the price.

The good news is that getting a price for a fully fitted Orangery is easy, thanks to our straightforward quote engine. Design your build by selecting your preferred size and customisation options, and the cost calculator will provide a personalised quote within a few minutes.
What factors can impact the average cost of an Orangery?
We offer a range of customisation options that can affect the cost of your Orangery. Here are just a few of them.
1. The size of the Orangery
It's essential to remember that the size of your Orangery will determine its overall price. A large Orangery with sizable frames and glazing will cost more than a smaller design, due to the additional materials and labour needed.
2. Orangery model
Which model of Orangery you choose can influence the total cost. Here are a few options:
Full-Height Glass – maximises the sunlight entering your space.
Dwarf-Wall – the brick skirt at the base of your Orangery seamlessly blends with your home's brickwork.
3. Door options
We offer several door types for your Orangery, such as French, bi-fold and patio doors. We use the highest-quality uPVC profiles, so you can be confident your Orangery doors are built to last.
For more information, explore our range of doors.
4. Glazing options
Choosing our Blue Self-Cleaning, Solar Control Glass means your Orangery will stay cool in the summer and warm in the winter.

You can upgrade to this energy-efficient glazing to enjoy your new living space in all seasons. What's more, it offers practicality and easy maintenance, thanks to a special coating that breaks down dirt.
5. Heating
While our modern Orangeries are built with insulating materials, you can invest in a heating solution when the temperature dips. This way, your space remains warm and comfortable all year round.

From budget-friendly electric heaters to energy-efficient underfloor heating, there are plenty of options to consider. Find out more in our guide to heating solutions.
6. Interior design
The finishing touches of your Orangery, including lighting, furniture and flooring, are cost points to think about when creating your ideal living space.

The exact prices here can vary, depending on your preferences. So it can help to list these extras and give an approximate price before setting your project's budget.

Looking for more décor ideas? Check out our ultimate guide to conservatory interior design.
How to make your Orangery more affordable
Our uPVC Orangeries are affordable and long-lasting, thanks to high-quality materials and expert building methods.

Why not design your Orangery using our quote engine? You can see exactly how much your project will cost by adding custom features or taking them away until you're happy with the price and your brand-new Orangery.

Thanks to our flexible payment plans, buying your dream Orangery has never been easier. With an initial deposit of just £99, you can spread the cost of your Orangery so you can start your project right away.
Get a free Orangery cost calculator quote
An elegant Orangery adds space, style and comfort to your home. With our quote engine, you can envision your project online by experimenting with custom features like size, glazing and doors.

Ready to kick-start your project? Get your personalised Orangery quote today using our online cost calculator.