When it comes to choosing a new conservatory, there are many different styles available. We have options to complement all homes — from new builds to period properties. There are even conservatory types to suit bungalows, such as the Hipped-Back Edwardian.
Need help choosing the right type of conservatory for your home? In this guide, we outline some of our most popular styles.
Contents:
Popular types of conservatories
Choosing a conservatory shape – which is right for you?
Compare different types of conservatories
Types of conservatory overview
Types of conservatories FAQS
Popular types of conservatories
Thanks to our wide range of modern conservatories, you can find a style that perfectly suits your property. Some of our most popular types of conservatories include: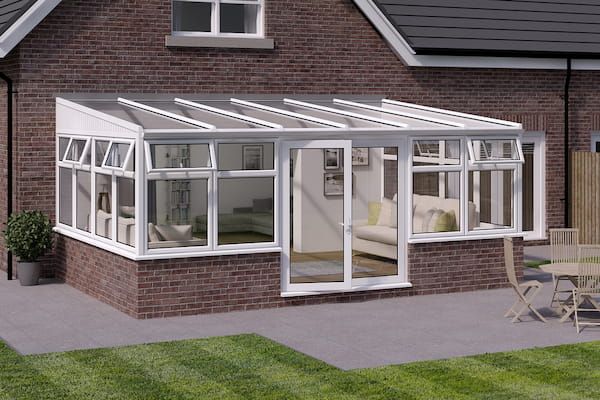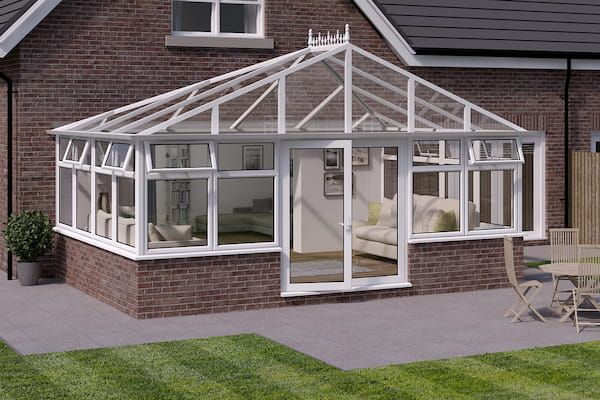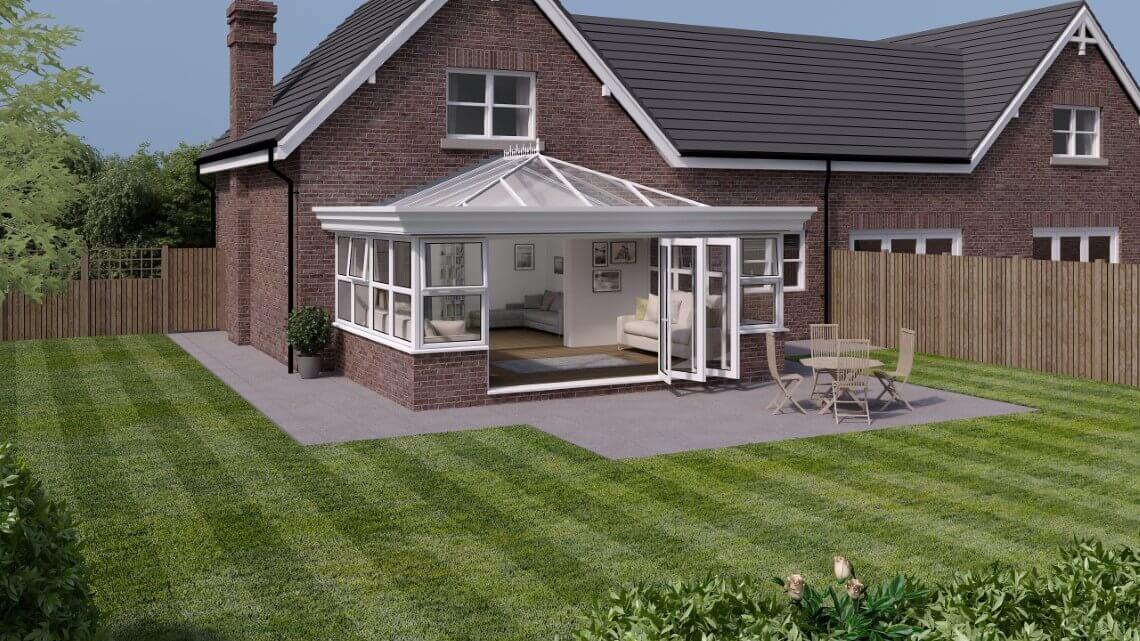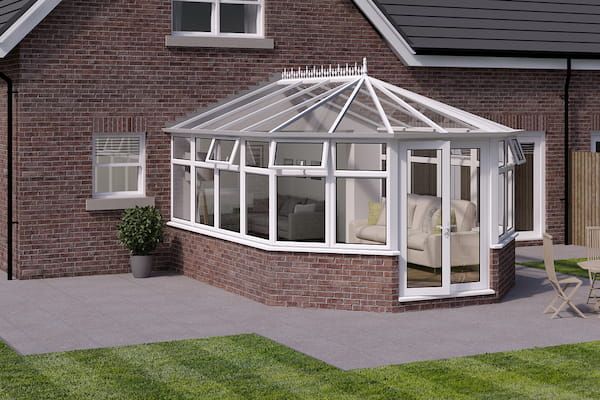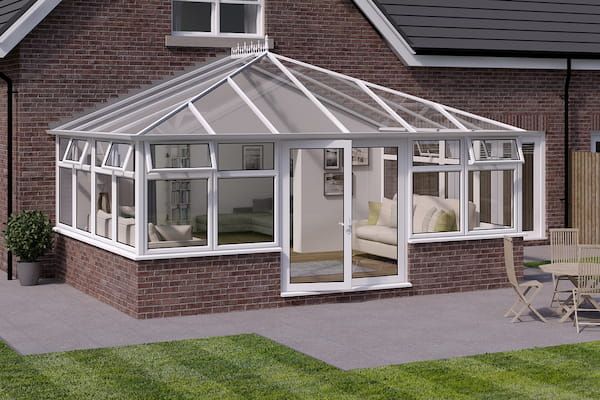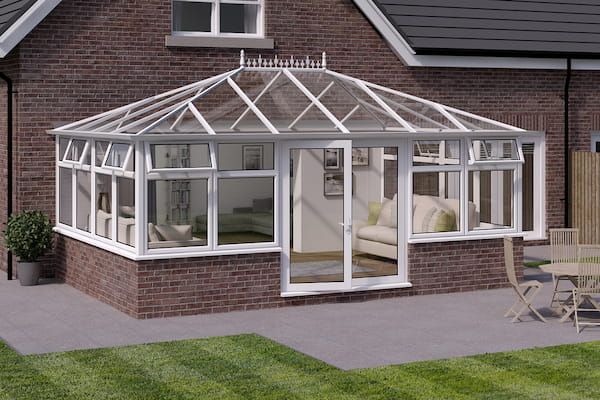 Choosing a conservatory shape – which is right for you?
Selecting the ideal conservatory shape can completely transform your living space. Each design offers its own unique charm and functionality, making the choice a pivotal one. The classic Victorian design exudes timeless elegance, while the sleek lines of a modern Lean-to conservatory offer contemporary simplicity.
Modern conservatory shapes include:
The choice ultimately depends on your style preferences, available space and how you plan to use your conservatory. Take a look at our graphic below to find the perfect shape that suits your lifestyle and home.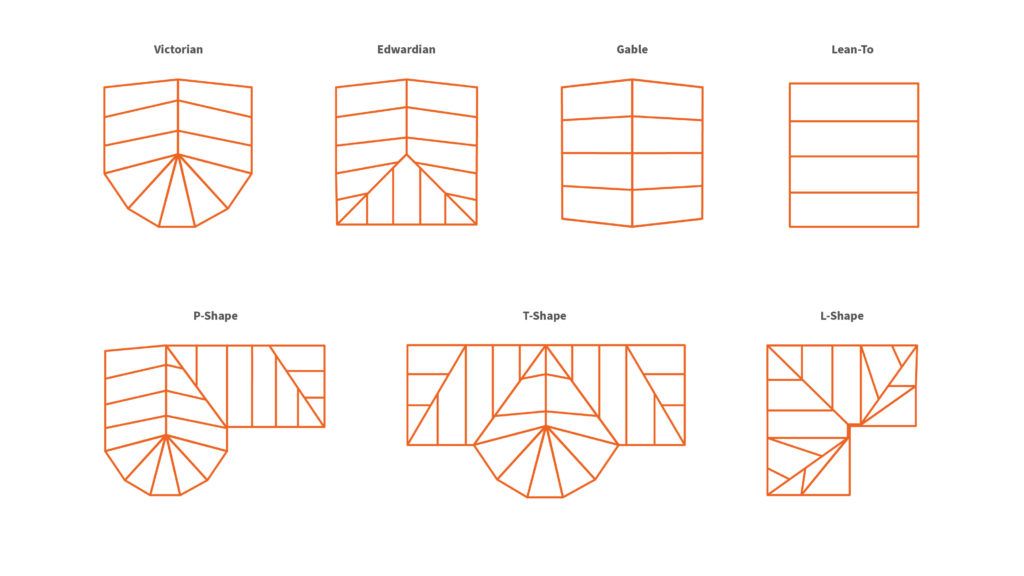 Compare different types of conservatories
You can choose from our wide range of conservatories to find a style that suits you — whether you want to maximise your space or add light and comfort to your home.
Whatever your needs, our high-quality conservatories are made-to-measure, so your extension is completely bespoke. Plus, every build has a 10-year guarantee for your peace of mind.
For a clear overview of the different conservatory types available, the benefits and properties they're best suited for, see our graph below.
Types of conservatory overview
| | | |
| --- | --- | --- |
| Conservatory type | Suited for | Benefits |
| Victorian | Traditional and period properties. | The elegant design and multi-faceted shape provides great space and natural light, versatile for various uses. |
| Edwardian | Both modern and traditional homes. | Square or rectangular shape maximises interior space, clean lines, and a timeless appearance. |
| Hipped-back Edwardian | Properties restricted by height, such as bungalows. | Improved natural light, and maximised interior space because of the roof height, timeless elegance and sleek style. |
| Lean-to | Small gardens or contemporary properties. | Simple, modern design, cost-effective, ideal for limited space. |
| P-shaped | Large properties with spacious gardens. | Combines the features of both Victorian and Lean-to styles, offering versatile space for various purposes. |
| Gable-end | Traditional homes with high ceilings. | High-pitched roof adds grandeur, excellent natural light and space. |
| T-shaped | Large properties with extensive garden views. | A combination of styles, often featuring a central projection for added space and aesthetics. |
| Orangery | Luxury homes and period properties. | Combines a solid frame with large windows, creating an elegant space with optimum insulation. |
Types of conservatories FAQS
What different types of conservatory roofs are there?
Different types of conservatory roofs cater to various needs and style preferences. Common options include:
Glass roofs – help to maximise natural light, insulation and greater views of the outdoors. 
Polycarbonate roofs – offer affordability and come in various levels of insulation, style and colour options. 
Your choice of conservatory roof depends on your preferences for aesthetics, insulation and how you plan to use your new living space throughout the seasons. Read more about the best conservatory roof types available.
What type of conservatory doors are there to choose from?
When selecting conservatory doors, you have several options to suit your style and functionality preferences, including: 
Patio doors/Sliding doors – sleek and space-saving, allowing ample light and views. 
French doors – offer a classic and elegant look with their double-opening design. 
Bi-fold doors – versatile, folding back to create an expansive open space, seamlessly connecting the interior with the outdoors. 
Single doors – durable, simple and offer easy outdoor access if you're limited on space.
Learn about your conservatory options with ConservatoryLand
At ConservatoryLand, we offer high-quality conservatories made to your exact specifications. With each element of the build in your hands, you can customise the options to change the overall price.

If you've got a conservatory style and design in mind, you can build your dream conservatory using our quote engine. You can try out different conservatory styles and receive an accurate quote for your build. And if you've got any questions, our team is on hand to help.
Alternatively, you can also download a free brochure to browse our range of conservatories, including styles, glazing and customisation options.