You've purchased your DIY conservatory, so what's next?
Well, this guide will take you through all you need to know regarding your conservatory delivery, including preparing for its arrival and the delivery service on offer.
This way you can ensure you have enough information to be fully prepared for its arrival, and get ready to start building.
The Arrival of your Conservatory
As the conservatory design is bespoke to your own requirements, delivery takes around four to six weeks from final confirmations.
We will therefore confirm your product specifications with you prior to delivery, to ensure you are fully happy with your decision.
Closer to the time we will arrange and confirm an exact delivery date that's convenient for you, and on the day of arrival we will even call you to remind you of its arrival.
This just helps make for a smooth delivery process.
And on the day of your conservatory delivery, we will arrive at your house in our own dedicated vehicles; which will be easy to spot as they are marked with our company logo.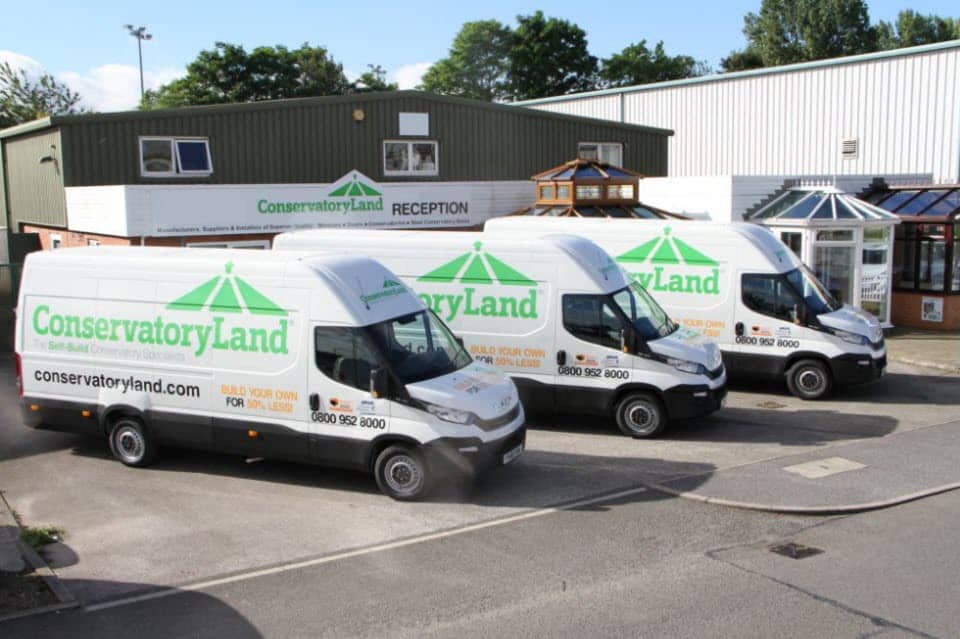 The unloading process won't take all day, it's normally only around an hour; so you'll be able to get on with the rest of your day once it has arrived.
Consider Accessibility
When we do deliver your conservatory, we will need to access either the front or back of your house.
So please consider how's best for us to do this.
And if you don't have a driveway, don't worry, it really isn't a problem.
We do just ask for you to let us know if you have any access difficulties prior; so we can work with you to resolve these.
We will try and park the van as close as we can to your property, so your conservatory delivery is quick and simple.
The Unloading Process
Depending on the size of your conservatory, we will have several packages to unload and bring into your home.
Our drivers will try to unload all of the parts themselves, however we do ask that an able -bodied person is present on delivery to help with this process.
As assistance unloading is always appreciated.
Especially as our drivers will be busy delivering several conservatories throughout the day.
The quicker we drop your conservatory off, the quicker you can start the DIY building process – which is definitely the exciting part.
Where to Store Your Conservatory If You're Not Ready to Build
If you don't want to get started installing your conservatory straight away, no problem, just make sure you consider where you will be storing the parts in the meantime.
Your items will arrive in either a box, bag, or will be wrapped in a protective material (often a polythene sheet) for extra security.
And most parts can be stored outside, so a real bonus if you have limited inside storage.
However, your timber ConservaBase flooring must be stored inside; alongside any parts packaged in paper/cardboard.
As with the unpredictable nature of the British weather, and the likelihood of rain, its crucial these sorts of products stay dry.
Some of the parts will be quite heavy, so please make sure they are stored safely, and out of reach of children.
Do I Need to Be at Home for the Delivery?
As you will need to sign for your delivery, we ask for someone to be present on the day.
It does not need to be you there specifically, as long as you don't have an agreed finance package with us.
However, if you have purchased one of our credit or finance packages, we do require the person stated on the finance agreement to be available to sign on delivery.
You will also be provided with a checklist of items, which you should receive when your conservatory arrives.
It is important that you take the time to review these and make sure you have everything you need. That way we can resolve any issues there and then.
Dependant on your chosen specifications, some items of your delivery may arrive on separate deliveries or via third party deliveries.
Don't worry though, we will make you aware if this is the case prior to delivery, so you can make the necessary arrangements.
The Cost of Delivery
A bonus of buying with ConservatoryLand, is that we offer free delivery.
So you don't need to worry about any additional costs on top of your purchased conservatory.
Please note though, we only deliver to residential addresses in England and Wales.
And, we can only deliver to the address stated on your finance agreement, if you have chosen this payment method.
Delivery Exemptions
Our delivery exemptions are largely location based, as unfortunately we do not deliver to Scotland, Ireland or any offshore locations.
Apart from that, we will happily fulfil your conservatory delivery.
Delivering all you need to get building your perfect conservatory.
If you have any further questions regarding our conservatory delivery process, don't hesitate to get in contact with us straight away. Our aftersales customer service number is 01623 488 774.