Back to list
When you've owned, or perhaps even inherited a conservatory aged over a certain number of years, you might find the same problems keep cropping up.
Wear and tear is a natural part of ageing and conservatories are no different. Especially conservatories that were built in the more traditional style – with wooden frames and polycarbonate roofs.
Nowadays, conservatories are built to last longer. With modern uPVC frames and special glazing throughout, the normal lifespan of a conservatory built today is usually in excess of 25 years.
Besides the obvious stuff like doors, frames, glazing and the roof, one of the things you need to keep a close eye on is conservatory guttering.
Here's why…
What is box guttering?
First of all, since you're reading this, we're assuming you're likely to be familiar with conservatory guttering and have at least a vague idea around why it's used.
However, sometimes confusion can crop up around the use of different terminology. Guttering is used for a wide variety of purposes, but 'box guttering' is the term mostly used to describe the drainage systems used for conservatories.
Box gutters create a sealed guttering between a conservatory and the adjoining house. They're made to catch and drain away the rainwater that falls between the walls – and are usually always used for traditional pitched roof conservatories.
Conservatory box gutters are also designed to prevent damp spots and leaking.
To ensure that box gutters offer complete protection, it's important that they are of high quality and installed correctly. Even if this is the case, over time, box gutters can still be susceptible to wear and tear.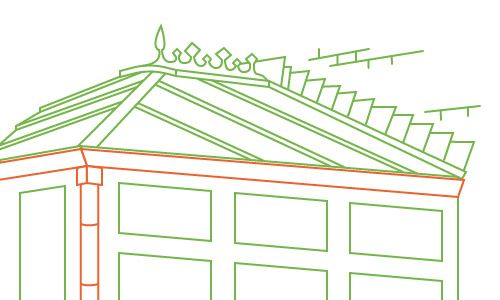 Why is my conservatory guttering leaking?
A leaking conservatory is a far from ideal situation.
Besides from ageing, there are a few reasons why this could be the case.
One would hope that with the right installation, a high quality product and good maintenance, you should hopefully have no problems with your conservatory box gutters.
However, with poor quality materials or neglect, you may experience the following issues:
Leaves, dirt, and debris
When a box gutter becomes clogged by leaves, dirt and/or debris, it simply can't drain water properly. This causes the water to spill over the front of the gutter.
When the amount of rain gathering in the gutter cannot be carried away faster than it is filling up, excess rain will need to go somewhere – i.e. over the edge.
To prevent this, you should regularly clean out our guttering. If you do ever notice an overflow, you should investigate this quickly.
Ignoring the problem can cause damage to any trim, wood or sheet metal nearby – you may notice cracks, bubbles or discoloured paint on your conservatory trim if you leave it leaking.

Corrosion
If guttering is clean but still leaking, corrosion might be the problem.
It's possible that there are pin or rust holes in the gutter pan, or the soldier joints in the copper or sheet metal may have cracked or separated. Or it may be due to a sealant having worn away.
All of these are more likely to occur in areas where the gutter holds water rather than where it passes through.
Whatever the problem, it's going to need to be fixed, or even replaced altogether.
Damage to box gutter trim
The worst case scenario for a leaking box gutter is when the trim is damaged. This is because it can cause water to run behind the gutter, rather than in front.
If the seal is damaged, water can enter the inside of the attached house and can damage the internal ceiling and the inside of the adjoining wall.
This will only happen if box gutters have been designed incorrectly. As long as the front of your gutter is not lower or shorter than the back, you'll be OK. This error causes the overflow of any water to spill towards the building.
Conservatory Guttering Repairs
Conservatory guttering repairs can probably be divided into two categories.
Minor repairs and regular maintenance over an extended period is more of a long term approach to keeping box gutters working to an acceptable standard.
Then there are the more drastic repairs – where you might need to detach some box gutter sections from the conservatory assembly itself to address sealant or corrosion issues.
How to clean guttering
Keeping gutters clean from leaves and debris is probably the most simple way to protect them from getting damaged in the long run.
Most drains can be accessed via a ladder. It's mostly a case of scraping out anything that may cause the drain to become clogged up over time. You'll be surprised at the amount of stuff that can get in there and cause problems.
For the gutters that are less accessible, a drain rod with a hinged metal scraper is probably your best bet. It will help you to reach further into the drain to retrieve anything that may cause a blockage.
You can do this as often or as sporadically as you see fit – but it's best to keep on top of it as regularly as possible if you want long lasting gutters.
How much will it cost to replace my guttering?
If you feel like your conservatory gutters are past the point of repair, then you might be feeling concerned about the welfare of your conservatory moving forwards.
The cost of replacing old box gutters varies depending on the damage. In many cases, it's likely that this will only be a relatively cheap and straightforward DIY job. But, if you need to call specialists to come and do some more major work on your behalf, the costs might start to stack up sooner than you think.
Depending on the state of your conservatory as a whole, you might find that some conservatory repairs just aren't worth it.
In the case of old and damaged box guttering, you might find more value in replacing your conservatory roof altogether. A new roof compatible with brand new gutters might be the facelift your conservatory needs.
This might seem like a drastic thing to do but you might find yourself surprised by the time, effort and money you could end up saving.
When you purchase a new conservatory with ConservatoryLand, your conservatory guttering is protected under our 10-year guarantee. So, if you're yet to buy a conservatory, rest assured that if any unlikely concerns related to your gutters arise, we'll take care of them for you.