Conservatories deteriorate over time, especially if built from traditional wooden frames and polycarbonate roofs.
Today, conservatories are built much more robust and designed to last longer. With modern uPVC frames and high-quality glazing, the lifespan of a conservatory is usually 25 years or more.
A conservatory's guttering is one of the most important things to pay attention to because they require good maintenance.
What is box guttering?
Box guttering is the term used to describe the drainage systems used for conservatories.
Typically designed for traditional pitched roof conservatories, they create sealed guttering between a conservatory and the adjoining property.
Conservatory box gutters collect and drain rainwater that falls between the walls to prevent leaks and damp spots.
They should be made from high-quality materials and installed correctly. However, they are susceptible to wear and tear, resulting in leaks.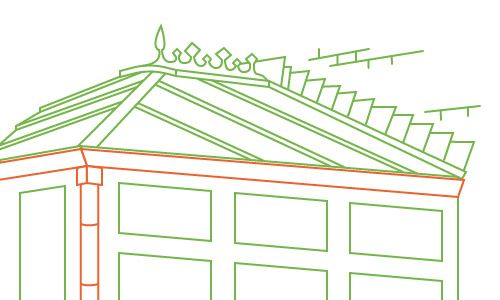 Why is my conservatory guttering leaking?
If you choose high-quality box gutters, install them correctly and keep them maintained, you're unlikely to experience any problems.
However, various reasons cause gutter leaks, including:
Leaves, dirt and debris
Box guttering clogged with leaves, dirt, and debris will not drain properly. As a result, when rain accumulates in the gutter, it can't be carried away as quickly as it fills up and water spills over the front.
If the problem isn't fixed, cracks, bubbles or discoloured paint on your conservatory trim could occur. You should clean your gutters regularly to avoid this. If you ever notice an overflow, investigate it quickly.

Corrosion
If your gutters are clean but still leak, corrosion could be the cause.
There may be rusty pinholes in the gutter pan or solder joints in the copper or sheet metal that have cracked or separated. Worn away sealant can also cause corrosion.
This is more likely to occur in areas where the gutter holds water rather than where it passes through.
Whatever the cause, you should fix or replace the gutter as needed. Otherwise, a leak could lead to further damage to your conservatory.
Damage to box gutter trim
When the box gutter trim is damaged, it is one of the worst-case scenarios for leaks. This can cause water to run behind the gutter, rather than in front, leading to an overflow towards the building.
If the seal is damaged, water can enter the attached property and damage the internal ceiling or the inside of the adjoining wall. Box gutters designed incorrectly will usually cause this problem.
If the front of your gutter is not lower than the back, you shouldn't experience this issue.
Conservatory guttering repairs
We can divide conservatory guttering repairs into two categories.
Minor repairs and regular maintenance over time are long-term plans for keeping box gutters in good working order.
More extensive repairs may require more money and time. This might include detaching box gutter sections from the conservatory to address sealant or corrosion issues.
How to clean guttering
One of the simplest ways to protect gutters from damage is to keep them clean of leaves and debris.
Ladders can reach most gutters. You must remove anything that may clog them, such as dirt and leaves.
A drain rod with a hinged metal scraper is a great solution for those more difficult to reach. It will allow you to get deeper into the drain to retrieve anything that might cause a blockage.
You can clean them as often as you see fit — but it's best to keep on top of maintenance if you want long-lasting gutters.
How much will it cost to replace my guttering?
The cost of replacing old box gutters varies depending on the damage. In most cases, this could be a low-cost DIY job. If you need a professional to carry out the work, the expense might be significantly more.
Depending on the state of your conservatory, you might find that some repairs aren't worthwhile.
If your conservatory gutters are beyond repair, you might consider replacing the entire conservatory roof. If your build suffers from wear and tear, a new roof complete with gutters could be just what your extension needs. It may also save you time, effort and money, as you'll no longer need to carry out DIY repairs to broken gutters.
At ConservatoryLand, we're proud to provide high-quality conservatories. That's why every installation comes complete with a 10-year guarantee that protects all uPVC components against discolouration, warping and cracking. So, you can rest assured that if any unlikely problems related to your gutters arise, we'll take care of them for you.
To find out more about our range of conservatories, download a free brochure today.