Many homeowners consider adding more living space to their home, whether to increase its value and comfort or get a much-needed extra room. But what is the difference between a traditional garden extension and a conservatory? And which is right for you and your needs?

When it comes to expanding your home, both classic garden rooms and modern conservatories are popular and cost-effective options. Both can be enjoyed as versatile spaces, bringing the outdoors inside, but they have distinct advantages and disadvantages.

Here, we explore the big questions about the differences between a conservatory and garden room extension, including what they are and what they can bring to your property.
What is a garden room?
Traditionally, garden rooms were a partially enclosed, independent space in an outside area. They have been around for centuries, having been designed specifically to provide a controlled environment for growing fruit and vegetables.

Today, garden room extensions are more versatile. You may find them attached to the main residence or as a separate building. They can be ideal for use as guest accommodation and home offices, making them practical and functional — similar to a conservatory.

While conservatory garden extensions and traditional garden rooms are occasionally confused — due to their multi-purpose functionality and construction materials — there are some differences between them (more on this below).
What is the difference between a traditional garden room and a conservatory?
A conservatory in your garden seamlessly merges your home and outdoor space. It's attached to your main residence, providing extra living space and natural light. They're usually constructed with uPVC frames and double-glazed windows.

Garden rooms, like conservatories, can be attached to your home, although they are more commonly found as separate structures. As a result, they can provide more privacy and less disruption during the construction process.

Garden rooms are commonly made with materials comparable to conservatories, such as uPVC frames and double-glazing. However, they tend to have solid roofs rather than glass or polycarbonate roofing. You may also find them available in other materials, such as timber.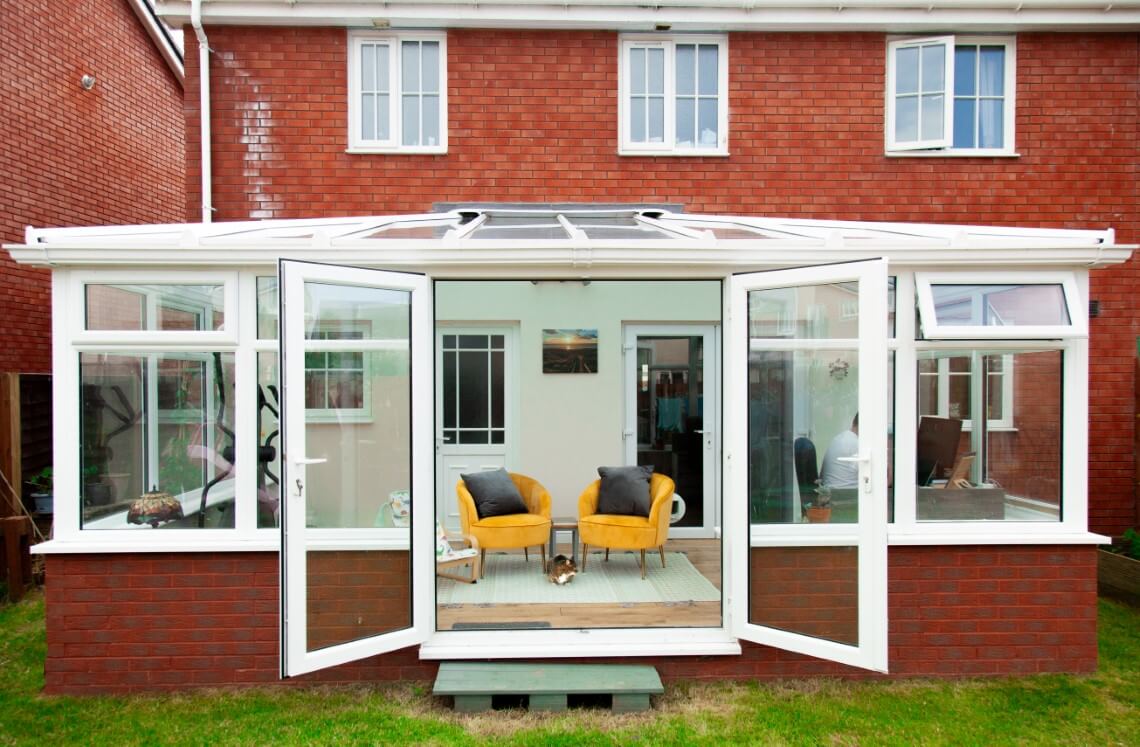 What are the advantages and disadvantages of a traditional garden room?
The traditional garden room has a long history, and it's easy to see why given its many benefits. Here are just a few of them:
An attractive independent structure that offers added privacy.
A solid roof option provides excellent soundproofing benefits.
It can become an attractive extension of your garden.
It provides a practical space for growing plants — particularly useful for gardeners.
It is practical and adaptable, making it perfect for use as a guest room and home office.
If you're thinking about building a traditional garden room, you should consider some of the disadvantages:
It may experience dampness when the temperature drops, especially if it has no heating sources.
Accessing the detached garden room may be inconvenient depending on how far it is from your main home.
Not suitable for some small properties and gardens.
What are the advantages and disadvantages of a conservatory garden room?
Conservatories bring the outside in, seamlessly connecting the two spaces. But that's not all. There are plenty of benefits to installing a garden conservatory extension, including:
Having easy access to your room straight from your main home.
Creating a bright and airy space to enjoy all year round.
Customising the entire build, choosing your preferred colour, glazing and roof type.
Quick to assemble with minimal disruption or mess.
Suitable for all types and sizes of homes — whether it's a bungalow or period property.
Upgrading your home with a brand-new room that can be used for various purposes, including as an office, dining area or lounge.
There are some drawbacks to consider:
Typically, it won't add as much value as a traditional brick-built extension.
Some types and sizes are costly to heat.
Privacy can be affected with so much glass, especially if your conservatory faces neighbouring properties.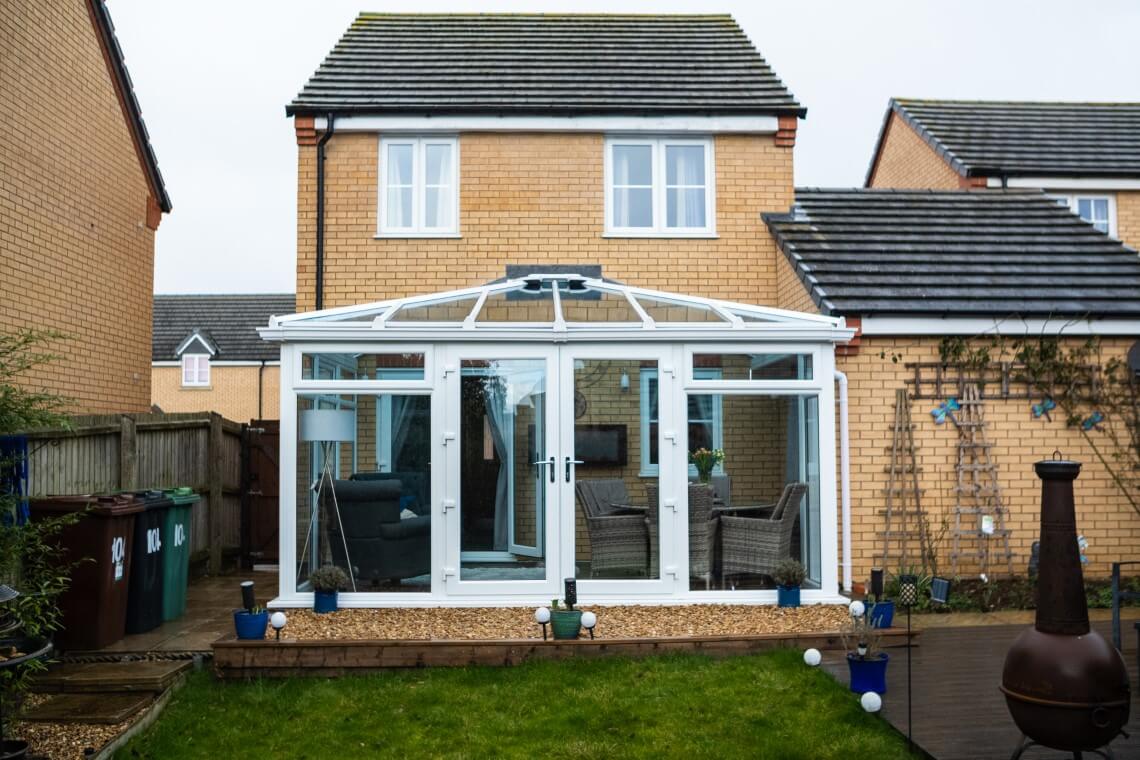 FAQs
How much does a conservatory garden room extension cost?
A conservatory garden extension's cost can vary significantly, depending on factors like size, materials, roof type and building labour fees.

Want to know exactly how much a garden room might cost? We've got you covered. Using our quote engine, you can design your conservatory garden room by selecting the size, style and other customisation options. You can adjust each element until the price and design suits you.

Or, for more information about our range of conservatories and their costs, explore our pricing guide.
Do you need planning permission for a conservatory garden room?
Planning permission is not required if your conservatory garden room meets specific criteria.
Conservatories that comply with the limits and conditions are considered permitted developments. This would allow you to go ahead with your building project without the need for planning approval.
If your extension exceeds the requirements, you will likely need to obtain planning approval.
For more information, read our guide to conservatory planning permission.
Choose a garden room extension with ConservatoryLand
Ready to transform your home with a modern extension? Discover our range of stylish garden room conservatories and elevate your living space.

We can help you quickly design your brand-new room using our online quote engine. Whether you want bi-folding doors, a glass roof or a choice of colours, enter your specifications and choose your preferences directly in our tool — it only takes a few minutes to complete.

Get your personalised price today using our quote engine.