April's story comes from Mr Rai in Doncaster, who wanted to add space to his home with an extension from a set of existing French doors to a patio area. Mr Rai bought a made-to-measure DIY Lean-To conservatory, then sought the help of one of our approved local Yorkshire installers to complete the build.
Our Lean-To conservatories are among our most popular styles – easy to install and sympathetic to both old and new builds. Custom-designed and tailored to your dimensions, they're a great way to maximise both light and space.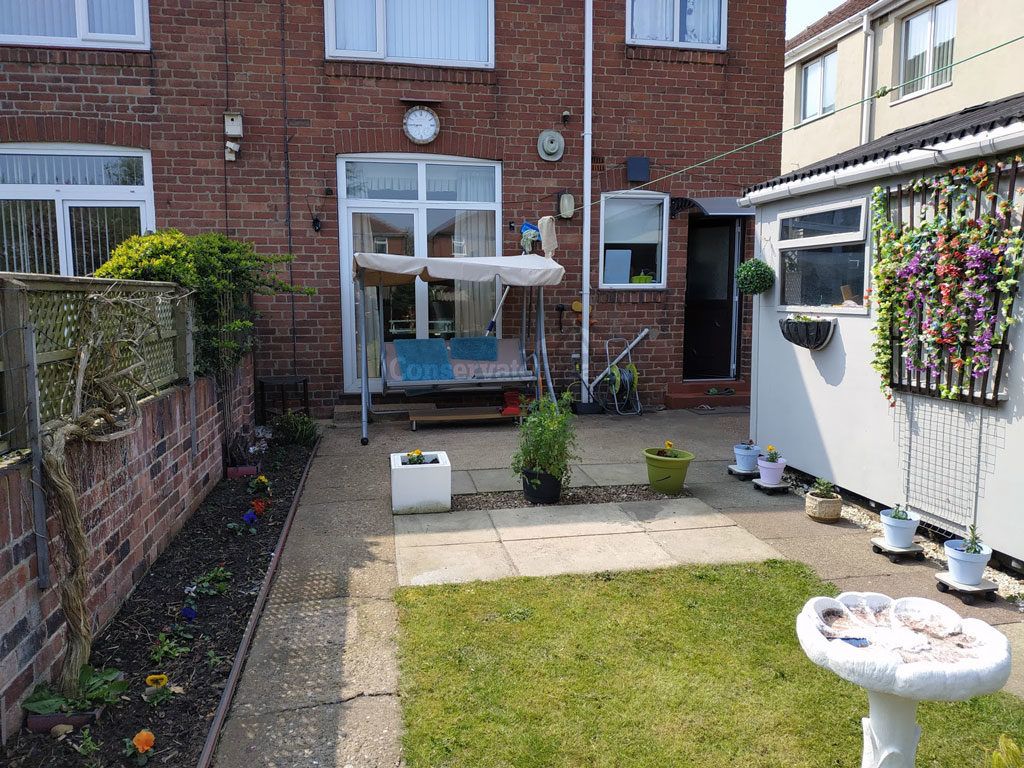 April's customer of the month enjoyed his green outdoor space, with flowerbeds, pots and a generously sized garden. However, he felt the existing patio was an underutilised area, with little space to enjoy the company of family and friends. Mr Rai sought the help of ConservatoryLand to create a fresh new space with uninterrupted views of the existing garden.
Mr Rai chose a bespoke DIY Lean-To conservatory to be flush with his existing French doors. Since these doors were set fairly high, our design ensured that the new conservatory floor was raised to the level of the French doors to avoid any unnecessary steps.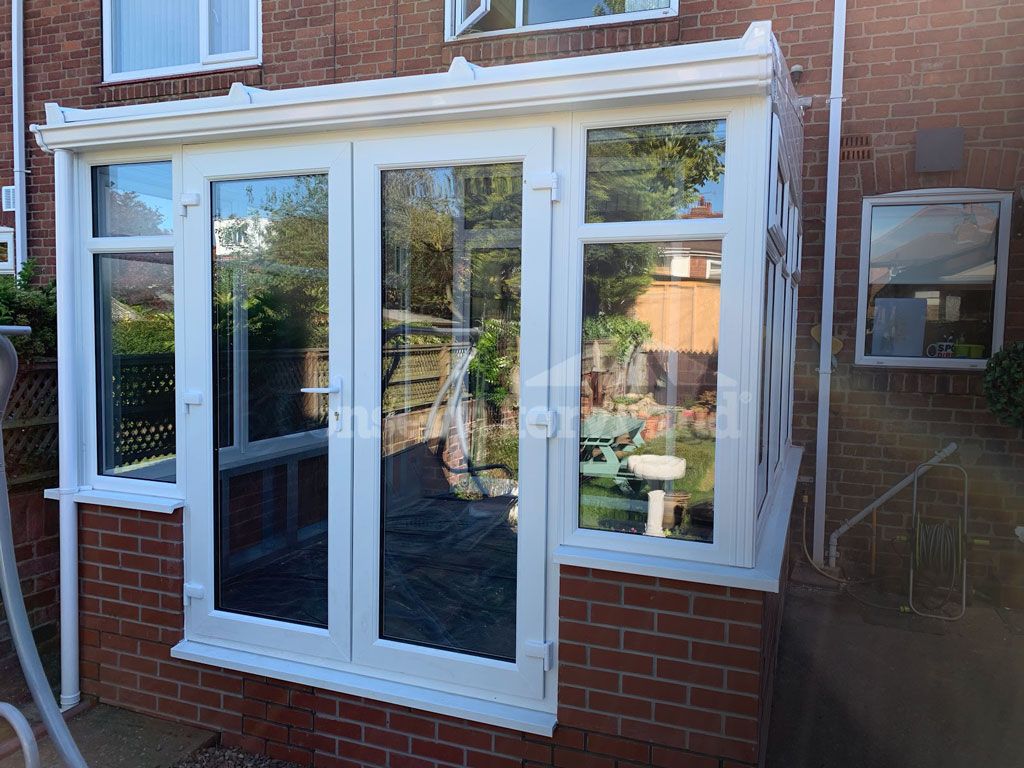 Following a clear design brief, the conservatory was built by one of our local Yorkshire installers with minimum hassle. The Lean-To conservatory has been expertly built to look like a natural extension of Mr Rai's home, with bright white windows and doors that offer lots of natural light and wide reaching views of the garden.
The Project Technical Specifications
| Name | Mr Rai |
| --- | --- |
| Location | Doncaster, Yorkshire |
| Conservatory style | Lean-To conservatory |
| Dimensions | 3000mm x 3000mm (made to measure to customers requirements) |
| Glazing | Standard glass windows surrounded by 32mm Polycarbonate |
| Base type | ConservaBase with Smooth Red 400 with Standard Grey Mortar |
| Colour | White PVCu, 32mm Opal Polycarbonate roof, White handles |
Before delivering the DIY Lean-To, we developed a CAD drawing according to Mr Rai's custom specifications to give him a clear idea of what his finished conservatory would look like.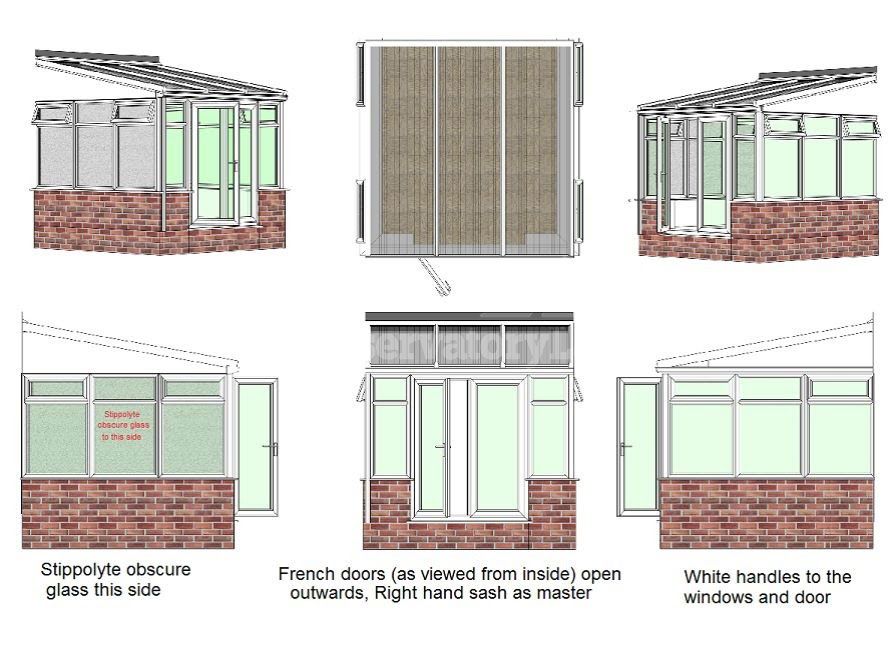 Mr Rai's specifications were taken into account on every angle of the bespoke design; the existing French doors were to open outwards into the conservatory, with white handles to the windows and doors in keeping with the style of his modern home. As mentioned previously, the floor was to be kept flush with the existing doors to avoid a big step down into the conservatory.
The design included Stippolyte obscure glass on the left hand side of the conservatory to give the space a sense of privacy from the neighbouring house, without losing any light.
The rest of the windows and doors were fitted with our classic standard glass; Mr Rai's Lean-To has large windows to maximise as much light as possible. He also opted for the Opal polycarbonate roof, which draws a soft, warm light within the conservatory without being overlooked by neighbours or overheating during the summer.
We then added small windows at the top and larger windows below to allow for cool breezes on warm summer days and double doors leading out to the garden.
Lean-To Conservatory Installation Process
Following the design and delivery of his Lean-To conservatory, Mr Rai sought the help of an approved installer from our network in Yorkshire to build his conservatory. After a comprehensive initial visit to ensure all questions were satisfied and the site prepared for the build, our installer got straight to the task at hand.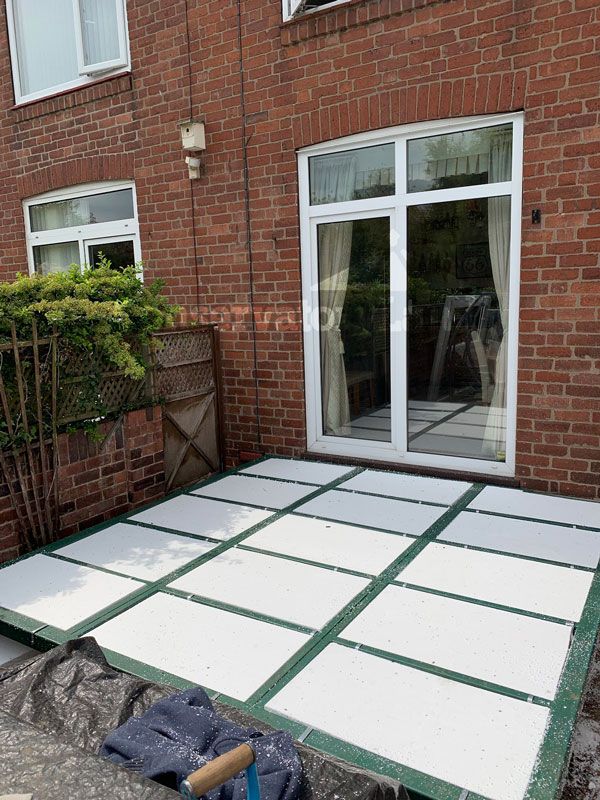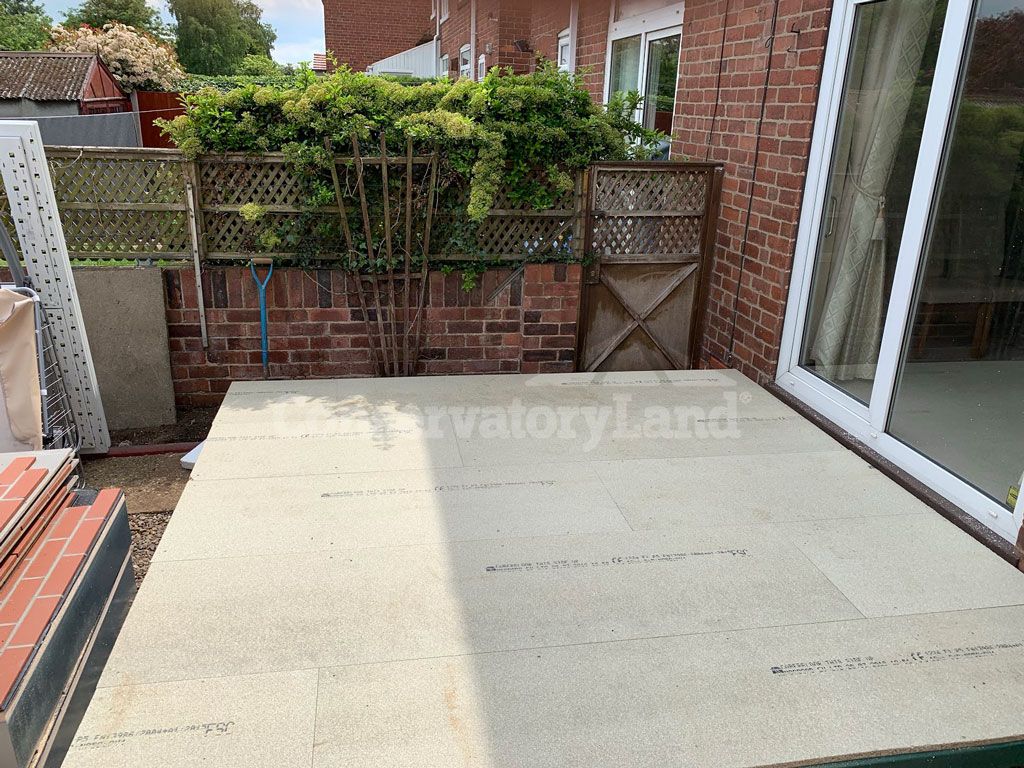 First, the installer measured and built the foundation, levelling them flush with the existing French doors. Some external brickwork was added to the Lean-To conservatory to keep it aligned with the style of Mr Rai's home. He chose Smooth Red 400 brick for the dwarf wall to match the exterior of the house. The wall was measured to fit around the existing pathway and patio area, so that the conservatory followed the natural contours of Mr Rai's home and garden.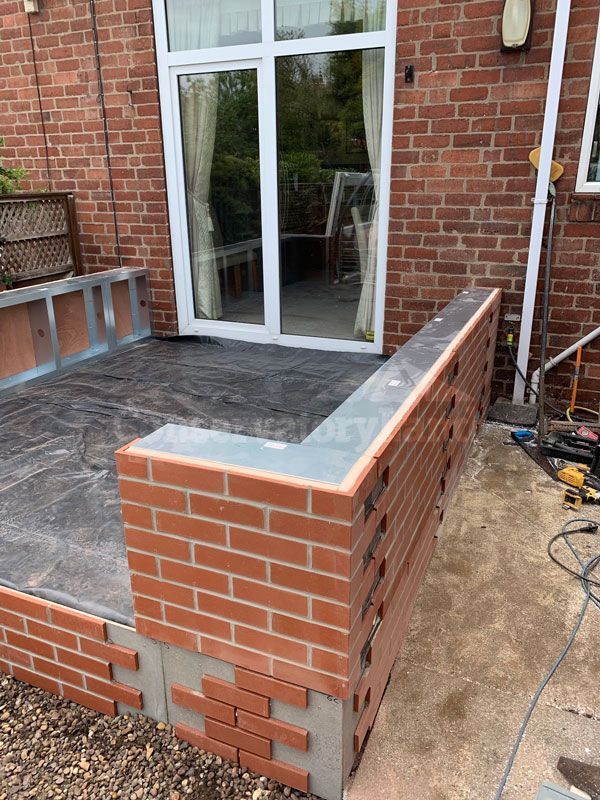 Next, the white metal frames and ConservaBase were fitted with standard glazed windows and double doors with matching white handles for a sleek, modern finish.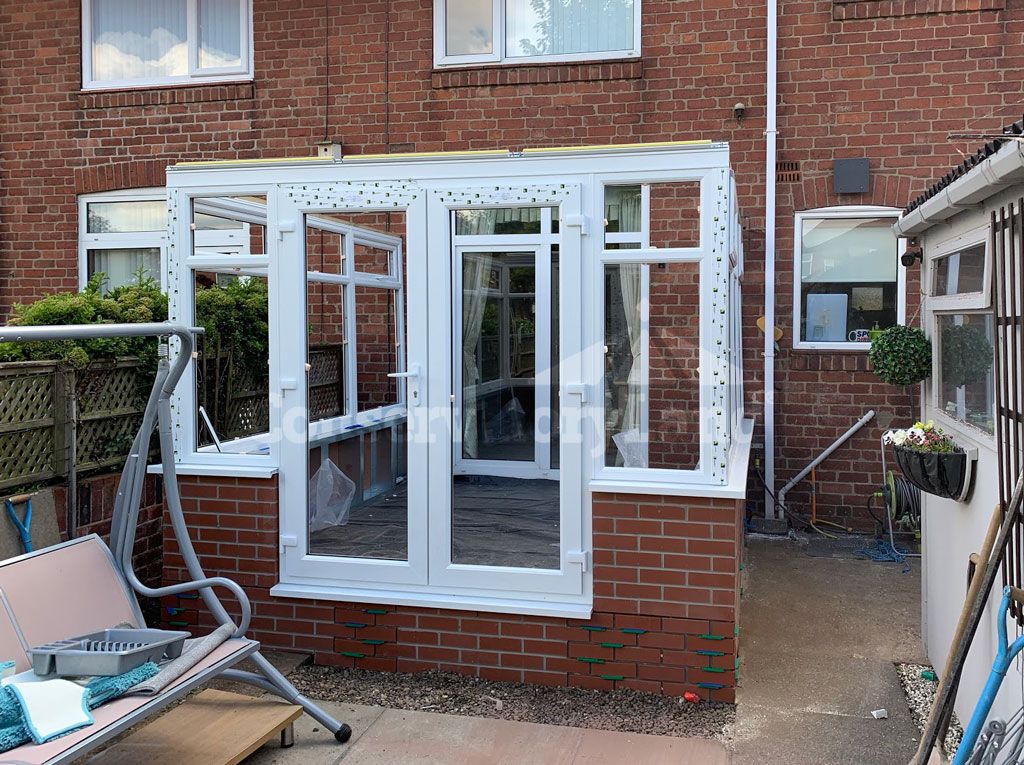 Finally, the installer fitted the 32mm Opal Polycarbonate roof, then cleaned and polished the finished Lean-To – leaving one very happy customer!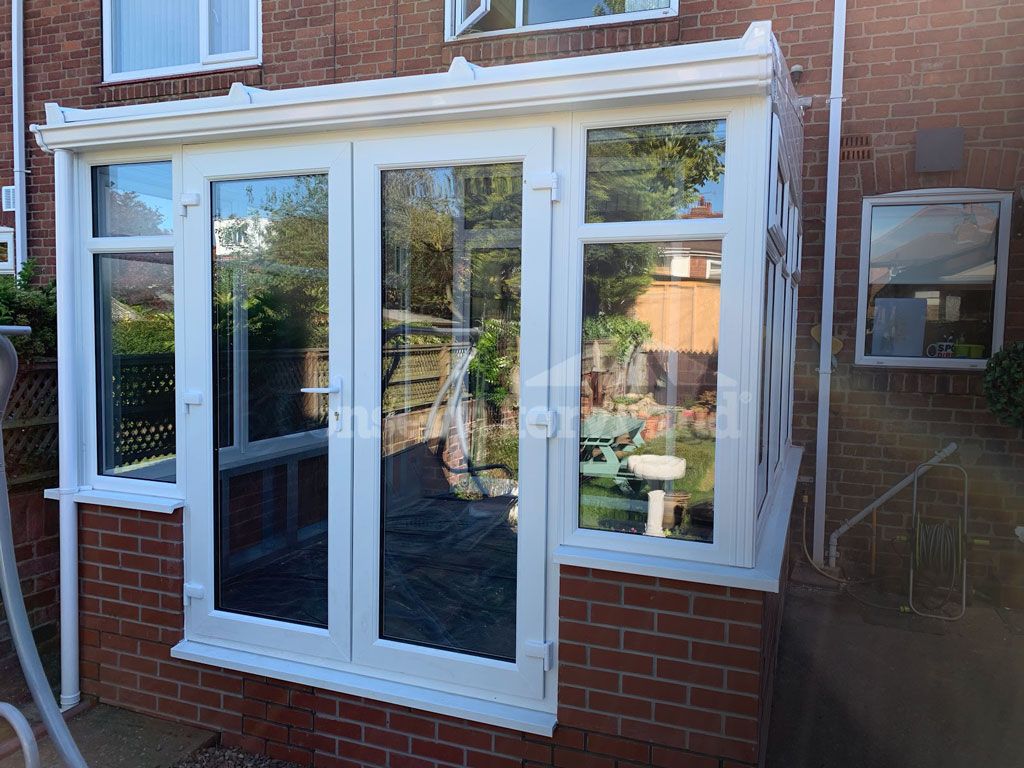 Customer Testimonial
Right from the initial consultation with Conservatory Land to the build, Mr Rai found the whole process completely seamless:
"Conservatory Land are excellent. I honestly didn't think it could be this easy! My conservatory was built exactly to my requirements and the team made the process really simple. Delivery was timely and the installer was very efficient. A great professional job. Overall, a fantastic experience."
Looking to build a DIY conservatory of your own? We'd love to hear from you.
Thanks to our team of reliable approved installers, DIY doesn't necessarily have to mean doing it yourself! You'll have complete peace of mind knowing that your new conservatory will be built to the highest standard.

Want more information (or inspiration)? Check out more of our customer case studies, or order a free brochure.
If you'd like to talk to us about a conservatory project, get in touch today for a free quote.