Our April customer of the month writes to us from Nuneaton, Coventry, about his brand new Edwardian conservatory. Mr Langtree came to us as he wanted a conservatory for his mother's bungalow. The aim was to have a space big enough to fit a couple of chairs and a table, without taking up too much of the garden. He hoped it would provide his mother with somewhere she could sit and enjoy the natural sunlight her garden gets – all year round.

Because he was arranging this conservatory for his mother, Mr Langtree was looking for a great-value, fuss-free provider who would organise everything from the design and build to the delivery and even installation. He also wanted a conservatory company that could create a bespoke extension based on the vision he and his mother had for the space and take into account all the practical considerations they needed to factor in.
It turned out that ConservatoryLand was the perfect end-to-end option, thanks to our network of approved installers. With plenty of years' experience and hundreds of successful conservatory projects under our belts across the UK, our team was on hand to guide Mr Langtree and his mother every step of the way – helping them compare prices and options and weigh up the various advantages and disadvantages before making their decision. The team's knowledge and helpful approach left Mr Langtree confident that ConservatoryLand was the right partner to help make his mother's conservatory dreams a reality.
There were a few different conservatory-style options available to Mr Langtree and his mother, including lean-to and L-shaped. They also had a choice of various roof styles and finishes to pick from to make the space feel truly bespoke and in keeping with the rest of Mr Langtree's mother's home and decor style. Needless to say, she was excited to start planning her new room and how she would use it.
Once the look and finishings were agreed on, our designers set to work creating Mr Langtree's mother's dream conservatory. They opted for an elegant Edwardian style, which was the perfect blend of sleek and modern. Plus, the pitched roof helped create the impression of space and brought in more light – just what they were looking for.
The Specifications
| Name | Mr Langtree |
| --- | --- |
| Location | Nuneaton, Coventry |
| Conservatory style | Edwardian Conservatory |
| Dimensions | 4400mm x 3500mm (made to measure to customer's requirements) |
| Glazing | Standard glass in the windows. Blue Self Cleaning, Solar Control Glass Roof. |
| Base type | ConservaBase with Old Millhouse 7420 OM and Standard Grey |
| Colour | White PVCu, 24mm Blue Self Cleaning, Solar Control Glass for the roof. White handles. |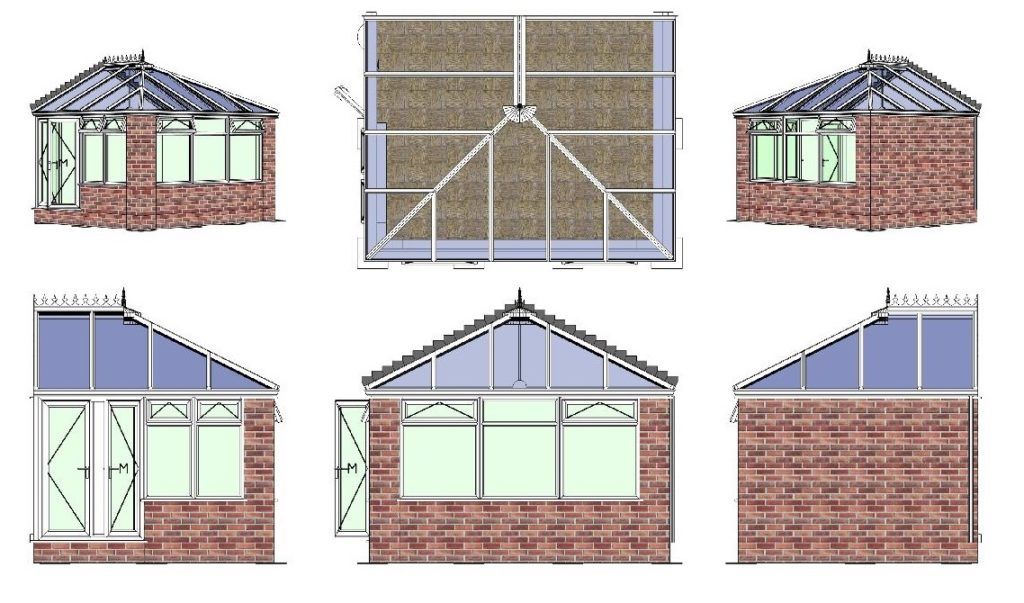 Building Mr Langtree's Edwardian Conservatory
With the design confirmed and manufacturing underway, it was time to prepare Mr Langtree's mother's home and garden for her new conservatory. Double doors to the rear of her bungalow would lead into the new space, making for easy access and a natural flow between the new conservatory and the rest of her home.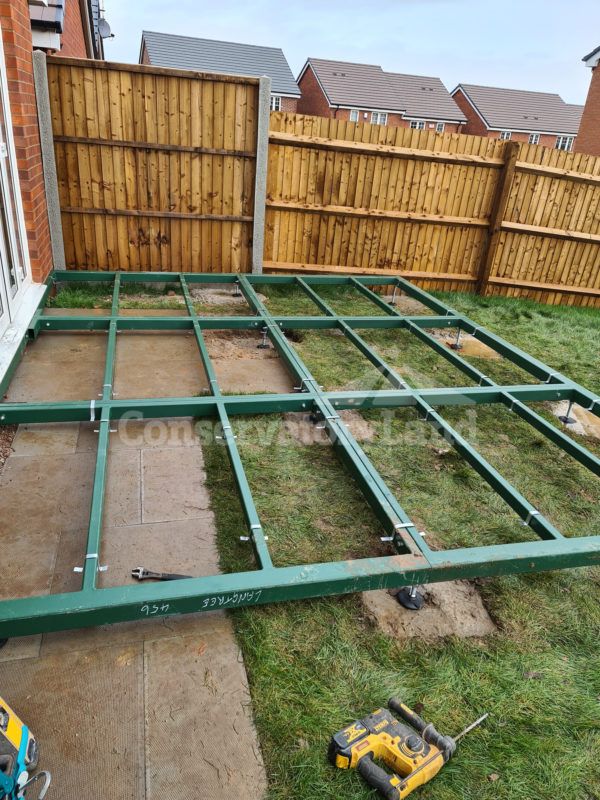 First, the foundations were dug for the ConservaBase system. The nature of this base type means that minimal space is required to create foundations – the installers were able to work around the existing patio and lawn to create the simple holes they needed with no fuss. What's more, each ConservaBase is built to the conservatory's exact size and shape, making for a perfect fit. Once the steel base frame was in place, the team set to work installing the rest of the flooring.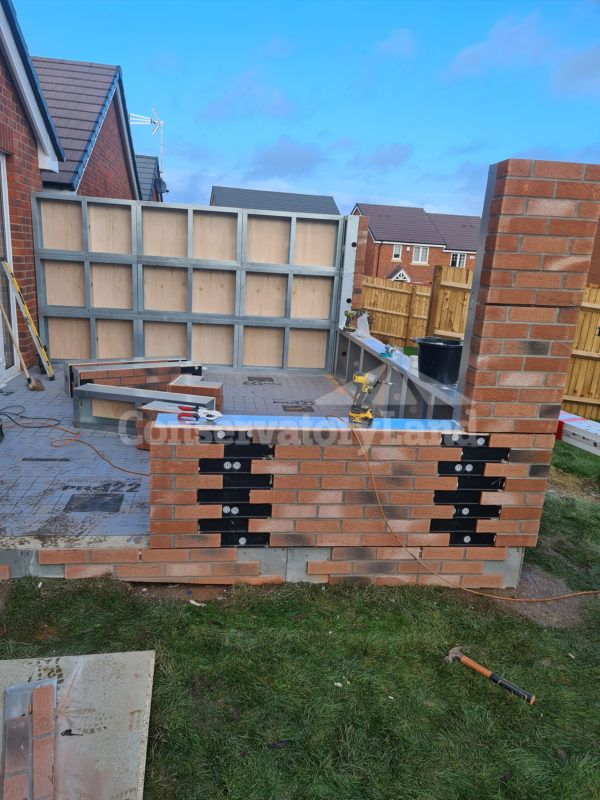 Once the flooring was in place, it was time to work on the walls. Mr Langtree's mother had opted for a mix of dwarf walls and a full wall to ensure she had the utmost privacy in her new conservatory without compromising on the natural sunlight and beautiful views from her garden. The brick finish also helped her new space look from the outside like a natural extension of the rest of her bungalow.
Next, the approved installers assembled the white PVCu frame. At ConservatoryLand, we manufacture all our frames from innovative fully-sculptured PVCu profiles. Thanks to our high-quality materials, they're designed to last a lifetime. Plus, as Mr Langtree and his mother witnessed first-hand, they ensure installation is fast and hassle-free.
Then, it was time for the roof to start taking shape. Mr Langtree and his mother had decided to go for Solar Control Glass. This roof type protects against the sun's rays, reduces the sound of rain and doesn't compromise on your views. It's also self-cleaning, which reduces the amount of time and effort needed to keep your conservatory looking its best. Due to these benefits, Mr Langtree and his mother also went for this glazing finish for the conservatory's windows.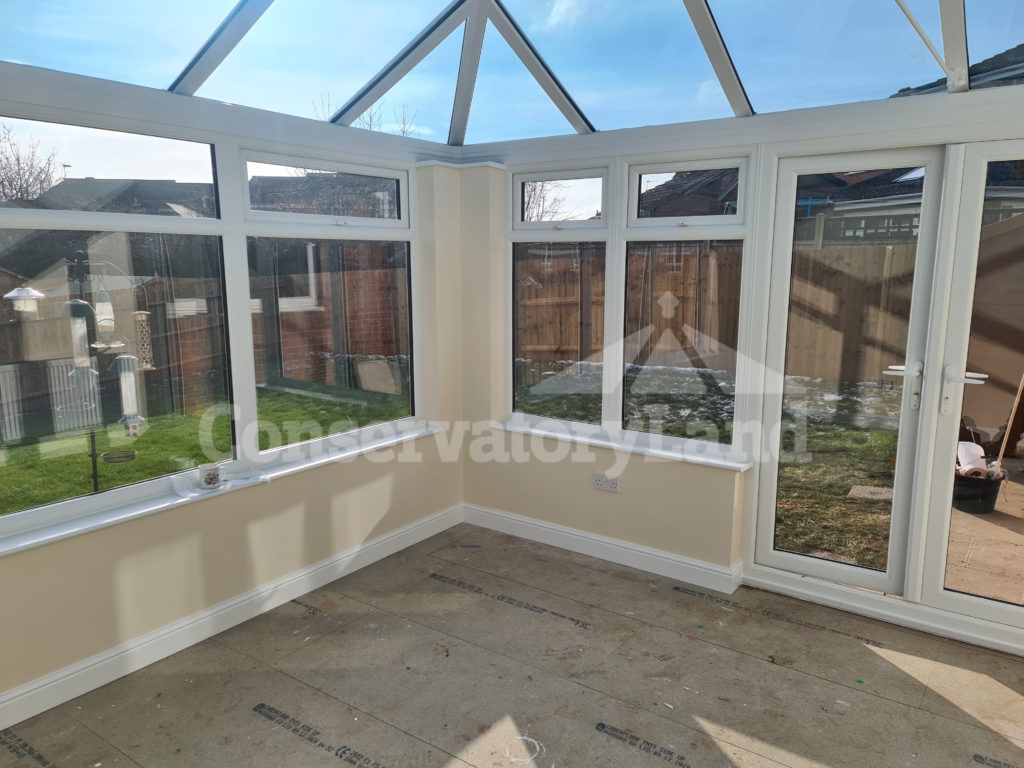 At this point, Mr Langtree and his mother could see her conservatory starting to come to life. For outside access, they opted for double doors opening straight out onto the garden. This kept everything feeling lovely and spacious and meant she could keep the doors wide open and let in plenty of fresh air in the warmer months.
Finally, it was time for the finishing touches. Mr Langtree's mother had chosen a soft yellow colour for her walls to provide the perfect blank canvas for her furnishings and decor. She opted for white handles for the doors to match the frame and had a radiator installed so she could enjoy her new space even in the colder months.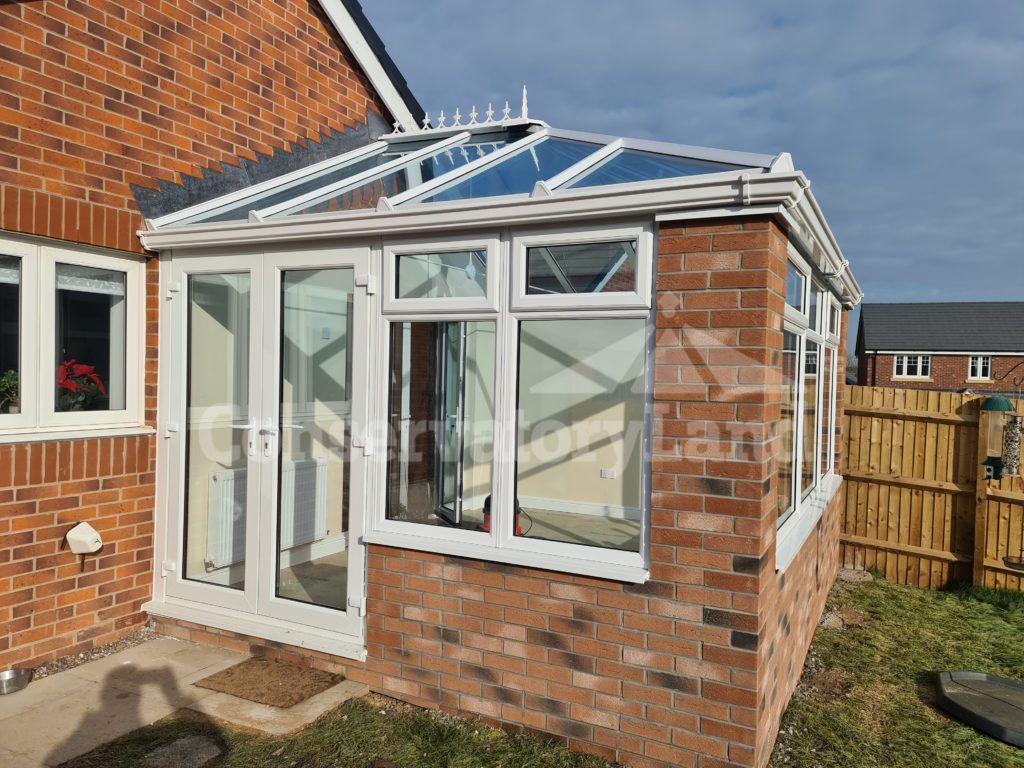 More Happy Customers!
And with that, Mr Langtree's mother's conservatory was finished. She couldn't wait to put it to good use.
Rating our service as "excellent", Mr Langtree was very happy with his ConservatoryLand experience.
Client Testimonial
"I arranged this conservatory on behalf of my mother and found dealing with ConservatoryLand made this home improvement project the easiest I've ever had to organise. Even being in the middle of a world health pandemic with lockdowns to deal with did not stop this company from agreeing on the date for delivering this bespoke product and delivering it on the day stated. As for the quality of the product, we cannot fault it and are really pleased with it. As I did not have the time to install it myself, we used ConservatoryLand's recommended installers and found these guys equally as good. We would have no hesitation in recommending this company."
And he's not the only one who was delighted with ConservatoryLand's service and expertise — read more of our customer case studies and see for yourself!
Are You Feeling Inspired?
Would you like to make your conservatory dreams a reality and join our list of successful customer projects in 2021? Why not order a free brochure today to find out more. Our friendly team is here to guide you and answer your questions every step of the way.
Are you concerned about social distancing? We completely understand. That's why our network of expert UK installers, should you choose to use them, are vetted and approved by us. Your conservatory project will be surveyed, fitted and installed by professionals who will be strictly observing the latest lockdown guidelines at all times. We're a contactless company and, in most cases, won't need to enter your home during your conservatory build. So you can rest assured that your conservatory is being installed safely without worry.