ConservatoryLand's Customer of the Month for April 2023 is Mrs Corney with her Hipped Lean-to conservatory.
Mrs Corney planned to extend her Cambridgeshire home when she first moved in. However, she was still deciding whether to have a conservatory or an extension. After researching, Mrs Corney realised that a traditional build would take longer. She liked the look of the conservatories on our website, so she soon called us instead. After talking on the phone, Mrs Corney knew that a ConservatoryLand conservatory was the solution she needed — and she hasn't looked back since.
Watch Mrs Corney's video testimonial below and see how her conservatory seamlessly blends into her home.
Our dedicated team supported Mrs Corney through every step of her journey. From the initial phone calls discussing whether a conservatory was possible to the assistance offered in making her dream a reality, ConservatoryLand was always there to help.
The entire process was smooth and problem-free. Mrs Corney was able to get any questions answered straight away. Plus, she had the assistance of ConservatoryLand's vetted Approved Installers to build her new room.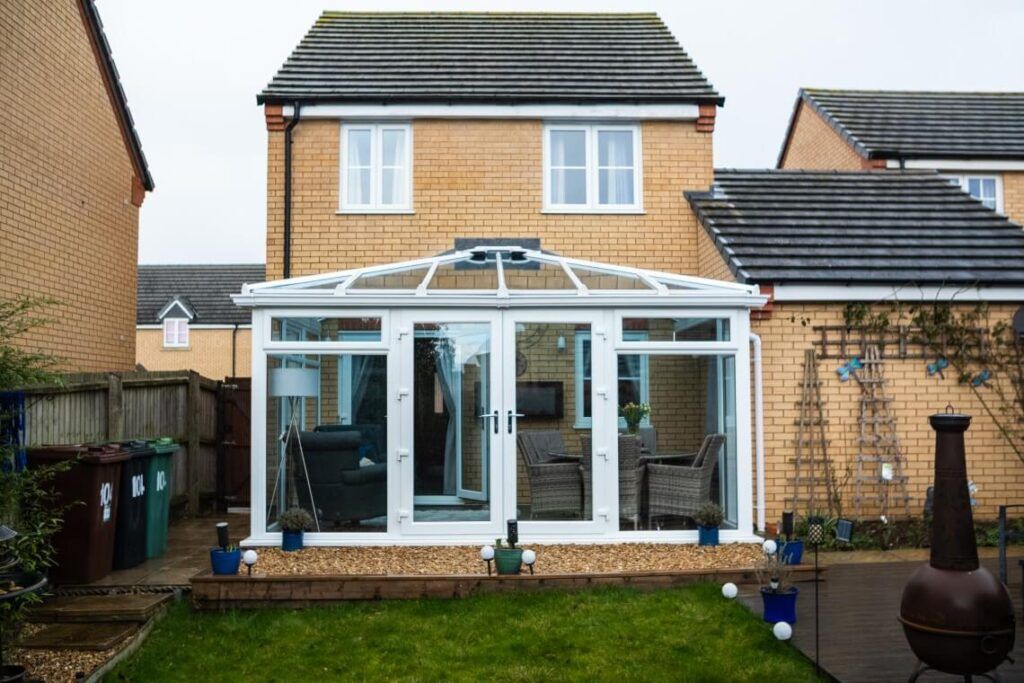 The specifications
| | |
| --- | --- |
| Name | Mrs Helen Corney |
| Location | Peterborough, Cambridgeshire |
| Conservatory style | Hipped Lean-to conservatory |
| Dimensions | 4720mm x 3000mm (made to measure to customer's requirements) |
| Glazing | Standard glass in the windows, Blue Self-Cleaning, Solar Control Glass roof |
| Base type | ConservaBase with uPVC skirt |
| Colour | White uPVC, 24mm Blue-Self-Cleaning, Solar Control Glass for the roof, chrome handles |
Building Mrs Corney's conservatory
Mrs Corney is happy to tackle most home improvement projects herself. However, although our conservatories are suitable for DIY installations, she felt this task was too big to tackle. So, she enlisted the help of one of our Approved Installers — a network of independent installers who have all been vetted by ConservatoryLand.
The Approved Installers did an excellent job. They arrived on time every day and kept everything clean and tidy.
Combining the Approved Installers' professionalism and ConservatoryLand's unique all-in-one base, floor, and wall solution ConservaBase, led to a super speedy installation. Mrs Corney's new conservatory was soon ready to enjoy, and there had been minimal disruptions to her day-to-day life. If Mrs Corney had decided to go with a built extension, she would have likely had to deal with her home being a building site for weeks or even months. With a ConservatoryLand conservatory, she could relax and enjoy her new living space within days.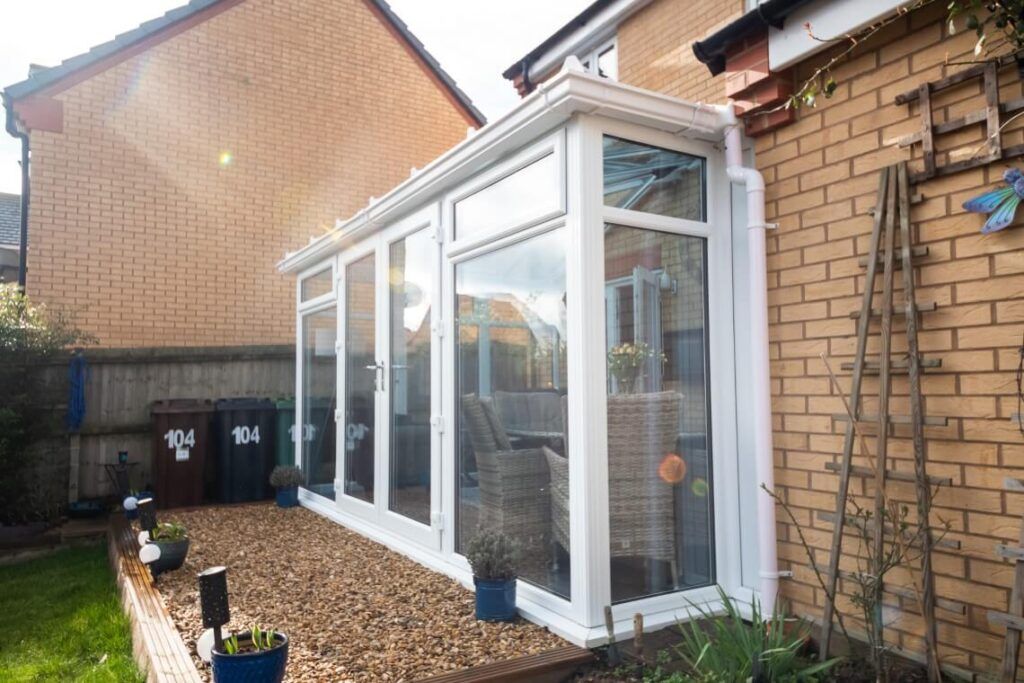 As the ConservaBase doesn't require foundations, building on existing patios is possible. Because of this, Mrs Corney could keep her garden's raised gravel bed without damaging it. The traditional white uPVC conservatory matches her home's windows. Its Lean-to shape also maximises the space between her main living space and garage.
Mrs Corney's Hipped Lean-to conservatory has added a Mediterranean feel to her Cambridgeshire property. She now has a sun-filled space to relax and unwind while looking out to her green garden. As well as being a place of tranquillity, the conservatory also serves as a play area for visiting grandchildren.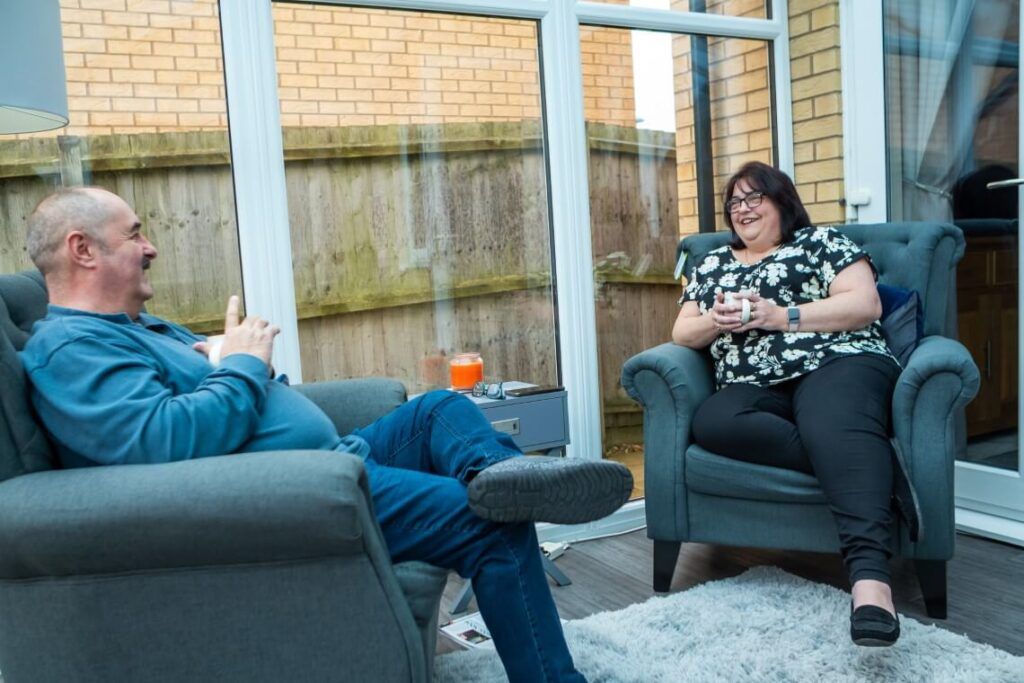 Mrs Corney's Hipped Lean-to conservatory is a much-loved room. In the summer, it becomes her favourite place to be. But her conservatory isn't just for those sunny days; she loves it all year round. At Christmas time, Mrs Corney used the area to host guests — something that would have been impossible to do elsewhere in her space-limited home. Thanks to the extra room, she can now celebrate special occasions with all of her loved ones and make new memories at home.
The Blue Self-Cleaning, Solar Control Glass was the perfect choice for the roof. This regulates the temperature so Mrs Corney can enjoy her new space, whatever the weather. This material stops the conservatory from getting too hot, even on the brightest days. Plus, it keeps the heat in during the winter so the whole family can stay warm during their festive get-togethers.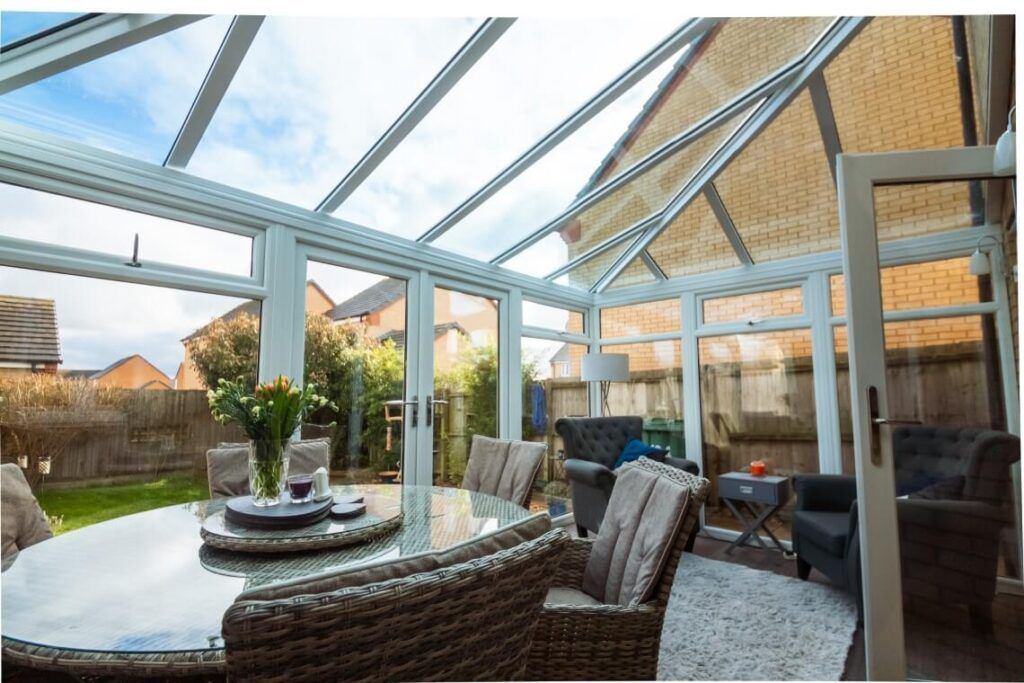 Mrs Corney loves her new conservatory. It's given her the space of a traditionally built extension for less money and, just as importantly, less hassle. She couldn't recommend ConservatoryLand highly enough and has already suggested us to several friends. Mrs Corney says she'll keep advocating for ConservatoryLand's excellent service and finished product.
Are you feeling inspired?
We hear from satisfied customers like Mrs Corney all the time. You'll find more of their stories and testimonial videos by looking at our previous Customer of the Month blogs.
If you're undecided between an extension and a conservatory, download our free brochure and see what you can achieve without building work. While you're taking a virtual flick-through, remember that you usually won't need planning permission for a conservatory, either.
We manufacture made-to-measure conservatories so you can tailor your new room to be exactly what you want. Take the first step to achieving your vision by seeing what you can get for your money with our no-obligation quote generator. You may be pleasantly surprised with what you can get.
Need to talk things through? We're always happy to chat and help you find the right conservatory for your home. Simply call us on 0800 952 8000 or get in touch via our contact form.
ConservatoryLand is a contactless company, so we'll only enter your property if necessary. We thoroughly vet our Approved Installers so you can trust them to construct your conservatory quickly and safely. To learn more about their role and the installation process, visit our Approved Installers page.