Our customer of the month for April bought a large gable conservatory from us, which as you will see from the images, has created a sizeable extension on their home.
The gable conservatory offers the most living space out of all the styles available. It's spacious design, therefore, allows you to take advantage of the optimal floor space available, creating a whole new room for you to enjoy as you please.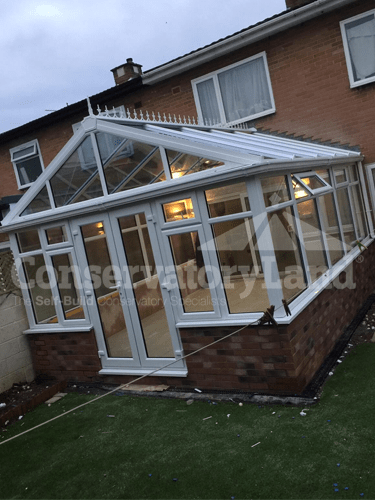 When deciding on their conservatory, the Malik family requested that their large conservatory had a self-cleaning glass roof. This helps lowers the level of maintenance required on the conservatory, so is a popular add-on for many of our customers.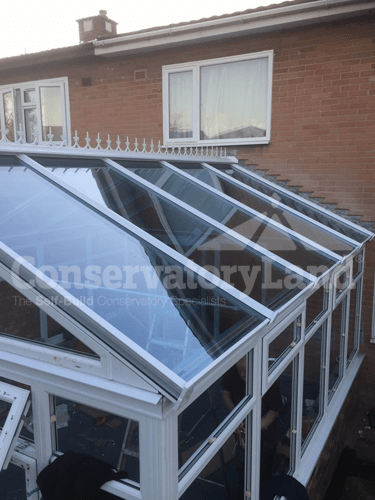 They also wanted a quick build time, so opted for our ConservaBase option. The build itself was also carried out using our approved installer network, giving the family confidence that the build would be finished to a high standard.
The Project Technical Specifications
| Name | Mr Malik |
| --- | --- |
| Location | Slough, Berkshire |
| Conservatory style | large Gable Front conservatory |
| Dimensions | 4100mm x 5000mm (made to measure to customers requirements) |
| Glazing | self cleaning glass roof, Energy Efficient glass in the frames, One side with Obscure Glass. |
| Base Type | ConservaBase, Old Millhouse Brick with Standard Grey Mortar |
| Colour | White handles, White PVCu, 24mm Blue Self Cleaning, Solar Control for the roof. |
To ensure their conservatory matched the brickwork of their home they opted for the 'Old Mill House' brick, to allow for this consistency in design.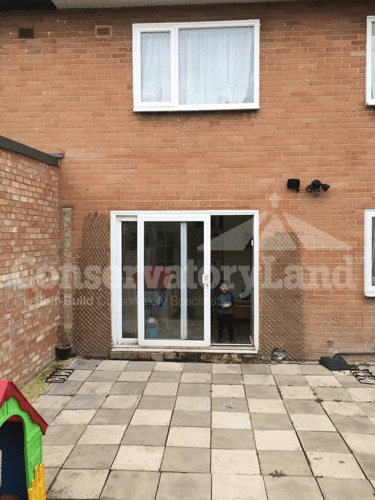 As mentioned, Mr Malik also requested a self-cleaning glass roof. Conservatory specifications also included the use of energy-efficient glass in the frames, along with obscure glass down one side.
Like all our DIY conservatories, the design is very much bespoke to your requirements, so there are a variety of different options to choose from, as is clear in the project specifications of the Malik family.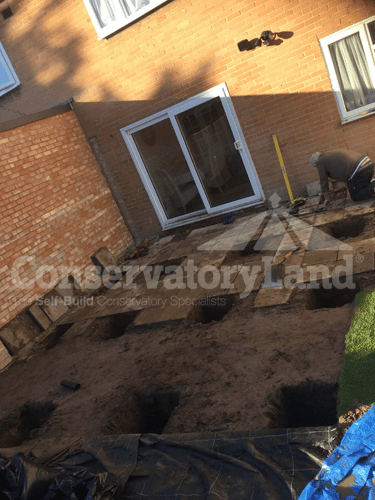 The finished conservatory has really transformed their home, creating a large space to be enjoyed for years to come.
DIY Large Gable Front Conservatory Installation Process
After the design specifications have been finalised the next step is the installation of the conservatory.
The Malik family where keen for their conservatory to be built quickly, so they decided to utilise our approved installer network.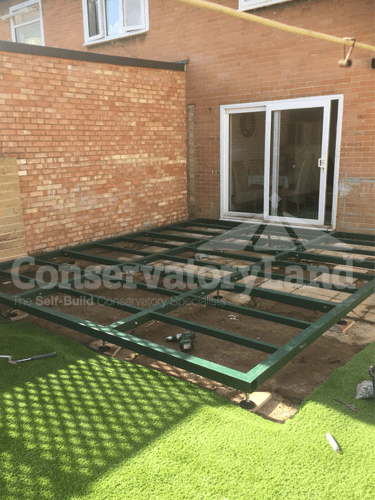 The approved installer network is a group of builders which work independently, however, the quality of their work has been approved by us; so you can be confident your build will be complete to a high standard.
As installers were used for this month's build, there were no real challenges faced during the build process, allowing for a smooth project from start to finish.
Once complete, Mr Malik was very impressed with the services provided by the Approved Installer. His build was complete in a short amount of time and to a high standard.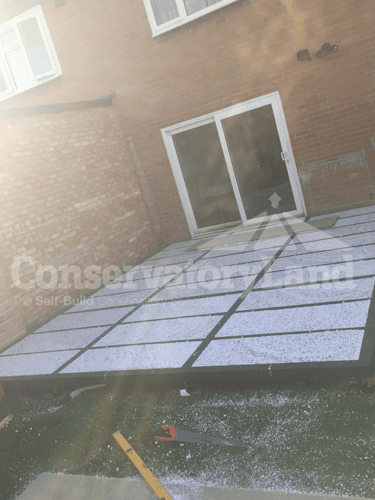 Customer Testimonial
Once the build of the Malik family's spacious conservatory was complete, they were keen to feedback on their experience from start to finish.
It is great to hear such positive feedback, which can be read below.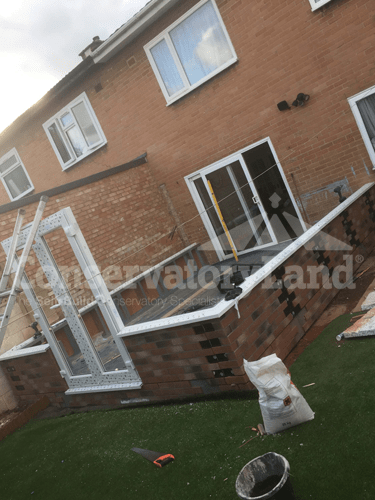 "We have had an extremely pleasant experience with ConservatoryLand from start to finish. From the very first time we arrived at the showroom we were met with the most pleasant hospitality by your staff. At every stage of the ordering, designing and the build we have had the opportunity to liaise with various members of the team who have been very polite, helpful and professional."

"With regards to the Approved Installer, we have been most impressed with the genuine quality and extremely high standard of his build and the expertise of him and his team. His ability to plan the entire project so it continuously went at a swift pace and his attention to detail has been impeccable! He has been polite, respectful to us and our home, extremely hardworking and thorough, maintaining cleanliness as much as possible during the entire build."

"Without a doubt we will most definitely be recommending ConservatoryLand and the Approved installer to all our friends and family!"
If you too are considering purchasing your own DIY conservatory, you will be surprised at just how affordable they really are. Although our conservatory prices are bespoke to your requirements, we have a range of finance options available, making funding the build a simple process.
We also have a range of customer stories for you to read and take inspiration from. So, if you'd like to see more of these we recommend you take a look at our conservatory projects page. This showcases a variety of DIY styles, all with different features and specifications.