A traditional Edwardian conservatory is a favourite of many; the sweeping curves and high windows are elegant and timeless, with a steeped roof lending wonderful bright light into the room below. Our DIY Edwardian conservatories can  – as demonstrated by our customer of the month below – easily be erected without outside help. If however, you'd rather leave it to the professionals, our approved network of installers are on hand to get your dream conservatory up and ready in just a matter of days.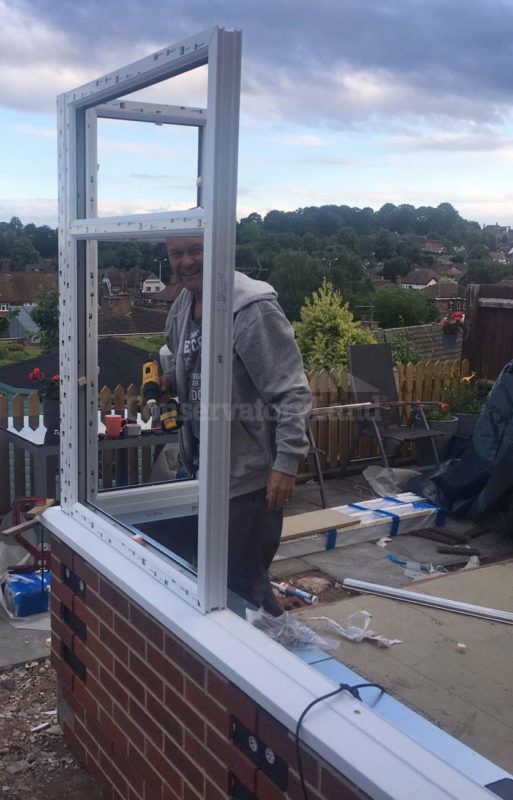 Our August customer of the month, a self-described 'fairly able DIY novice' built his very own Edwardian conservatory from the ground up! Only calling upon some extra help with the roof glass and roof beams, Mr Williams erected his conservatory by himself quickly and easily. Utilising the expert knowledge of the in-house team at Conservatory Land for all his queries with the build as well as our handy downloadable guides, Mr Williams found the process much simpler than anticipated. For anyone interested by the prospect of a DIY conservatory, read on to find out what's involved!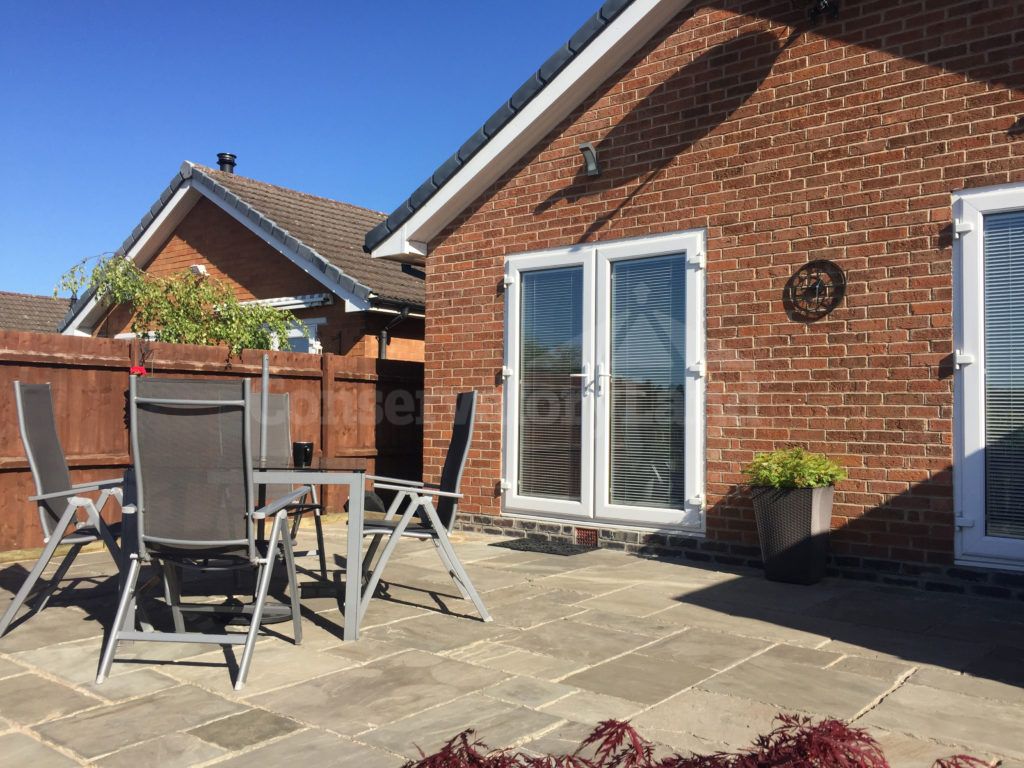 Mr Williams and his family felt uninspired by the existing patio space. Taken up by garden furniture and a few potted plants, there just wasn't enough to warrant keeping it as it was. So Mr Williams carried out some extensive research online and decided to pay the Conservatory Land factory showroom a visit to see our products being made. Mr Williams advised us that, whilst we weren't the cheapest, he'd seen so many positive reviews that he decided to pay a little extra for a better quality product and superior service. After discussing his property dimensions and any potential challenges with the team, the purchase was made and his made-to-measure conservatory delivered on the agreed day.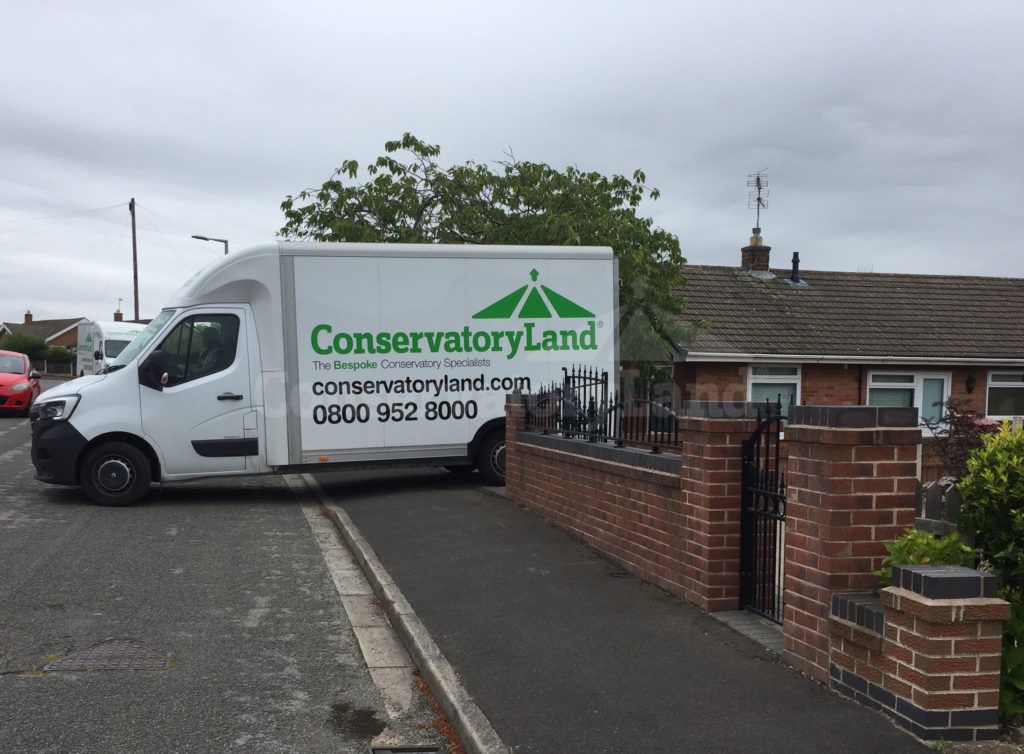 Mr Williams' bungalow sat on a big plot which proved ideal for a conservatory. Although there were plenty of options to choose from – lean-tos, gable front, hipped back – Mr Williams decided an Edwardian conservatory would best suit his property and leave some patio for a small paved garden to enjoy. 
Weighing up the options between our approved network of expert installers and doing it himself, Mr Williams decided to build his conservatory alone. To begin, he measured the area for the conservatory and dug up a large section of the existing patio slabs, exposing the concrete beneath. After preparing the area to ensure solid foundations and a flat, straight surface, Mr Williams laid the framework for his conservatory (helped by his pet Westie, of course!).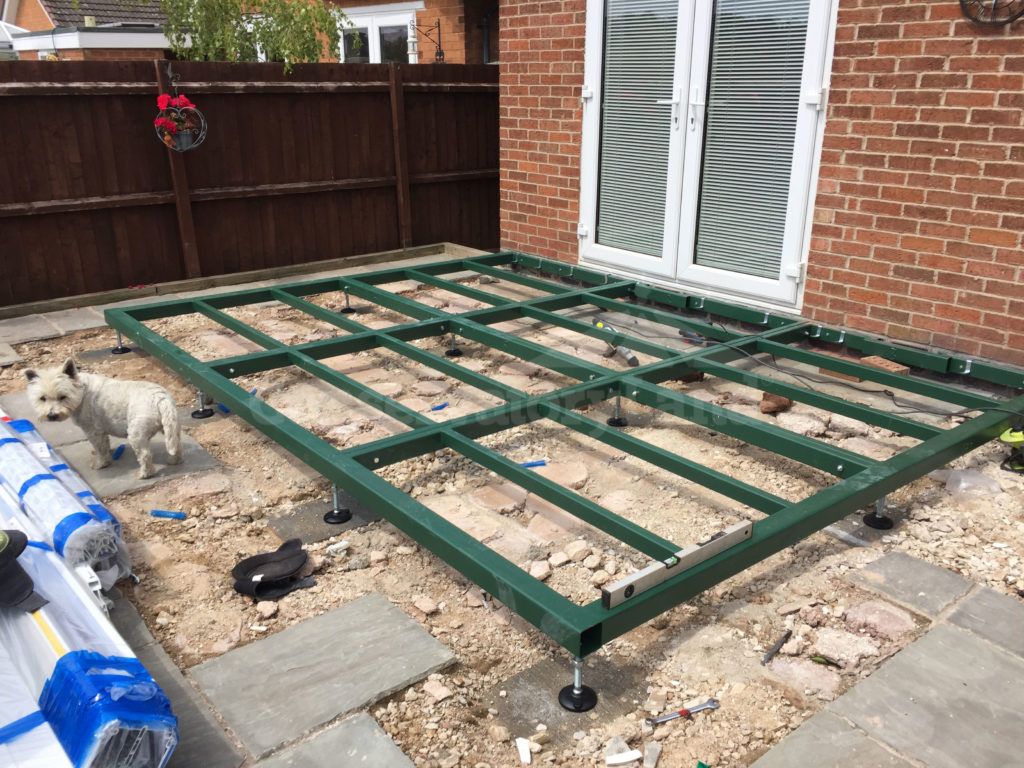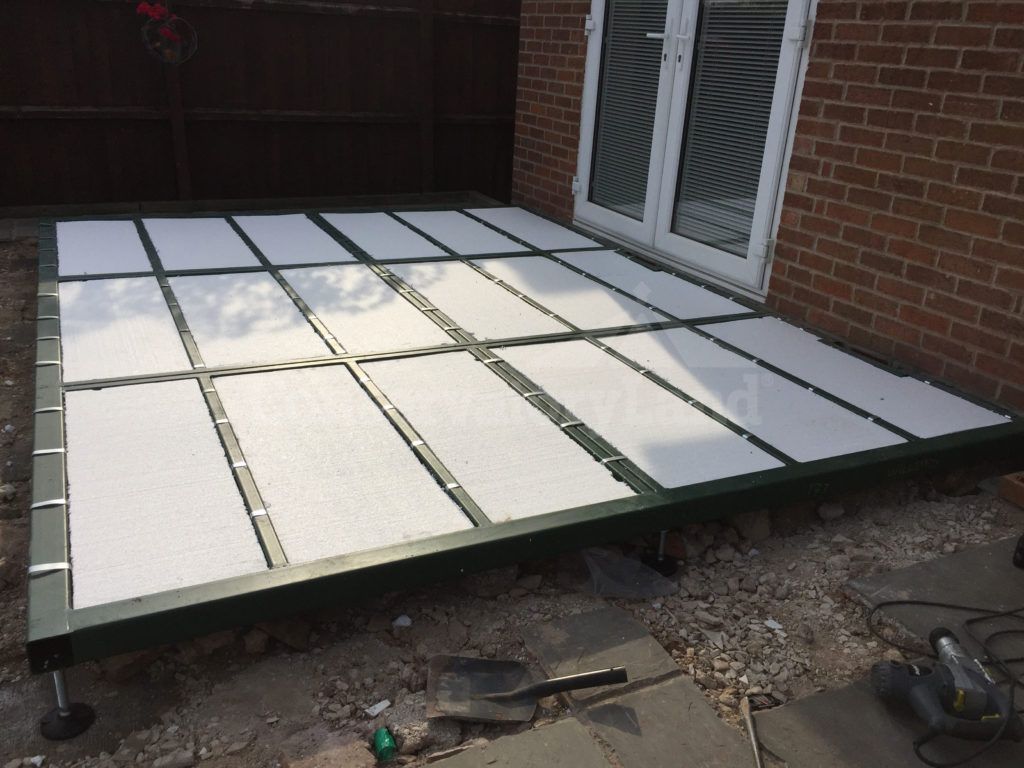 Once the ConservaBase steel base section was fitted, airbricks placed and foundations complete, Mr Williams began fitting the ConservaBase brick wall sections – now it was really taking shape! He chose the ConservaBase with Red Blue Flamed 7427 Brick with Light Sandstone Mortar to match his existing redbrick property, along with white PVCu and handles to match his existing white French patio doors for a consistent and cohesive style.
The Project Technical Specifications
| Name | Mr Ian Williams |
| --- | --- |
| Location | Beeston, Nottinghamshire |
| Conservatory style | Edwardian Conservatory |
| Dimensions | 4000mm x 3000mm (made to measure to customer's requirements) |
| Glazing | Standard glass in the windows. Blue Self Cleaning, Solar Control Glass Roof |
| Base type | ConservaBase with Red Blue Flamed 7427 Brick with Light Sandstone Mortar |
| Colour | White PVCu, 24mm Blue Self Cleaning, Solar Control Glass for the roof, White handles. |
| Door Type | 3 Pane Bi-fold Door |
Keeping it simple and classy with standard glass windows, Mr Williams was keen to upgrade from the standard glass roof and instead chose the blue self-cleaning, solar control glass roof to finish. This meant less upkeep when it came to cleaning his conservatory, with solar control to ensure his elegant new conservatory didn't become overhot in summer or lose heat in the winter. The Conservatory Land self-cleaning roof panels are a great way to keep your conservatory roof shiny and new; when exposed to sunlight, the special coating on each panel breaks down any dirt so that the next time it rains, the dirt simply washes away.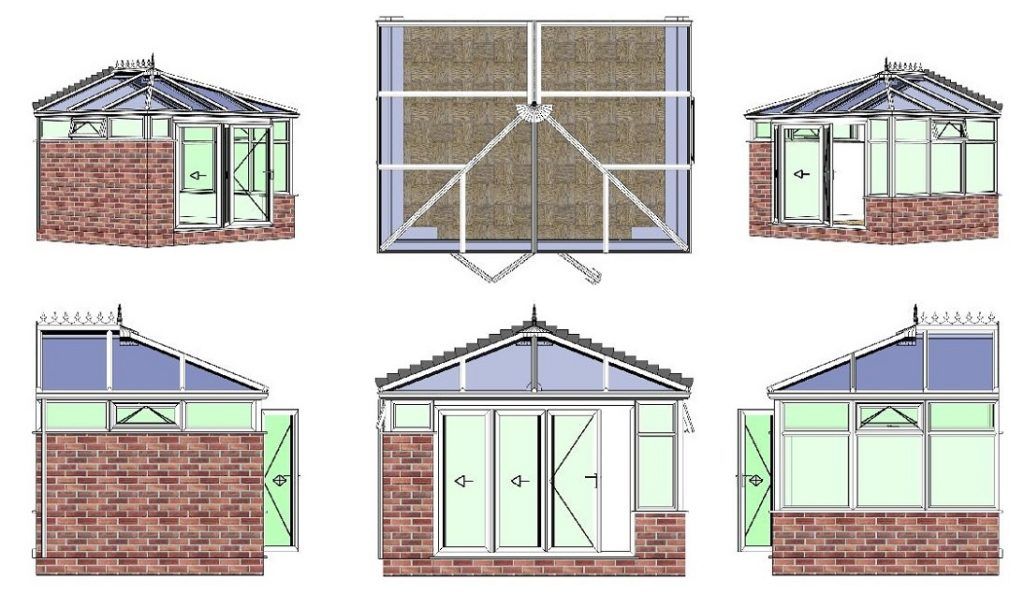 Working with the design team at Conservatory Land, Mr Williams was keen to get his made-to-measure conservatory to really work with the existing space. In light of the surrounding area, Mr Williams chose a brickwork privacy wall for one side of his conservatory as it lay close to the boundary of his plot and the outside view on that side was a fence. Instead, he chose smaller windows atop a standard privacy wall with large windows on the other side of his conservatory to allow for maximum light. To finish, Mr Williams chose a sleek and modern 3 pane bi-fold door to bring the effect of outdoors in for a seamless journey from conservatory to patio and an unobstructed view of the garden outside.
Edwardian Conservatory Installation Process
Before Mr Williams erected his made-to-measure Edwardian conservatory, he got in touch with the team at Conservatory Land. Our dedicated teams are always on hand to help whenever you need us – from purchase to build: "From Stephen and Sam in sales, the helpful delivery team, Dave who advised me how to 'heel and toe' the door glass and the excellent Martin in Customer Support – everyone I spoke with at Conservatory Land was incredibly helpful whenever I needed advice or problem-solving."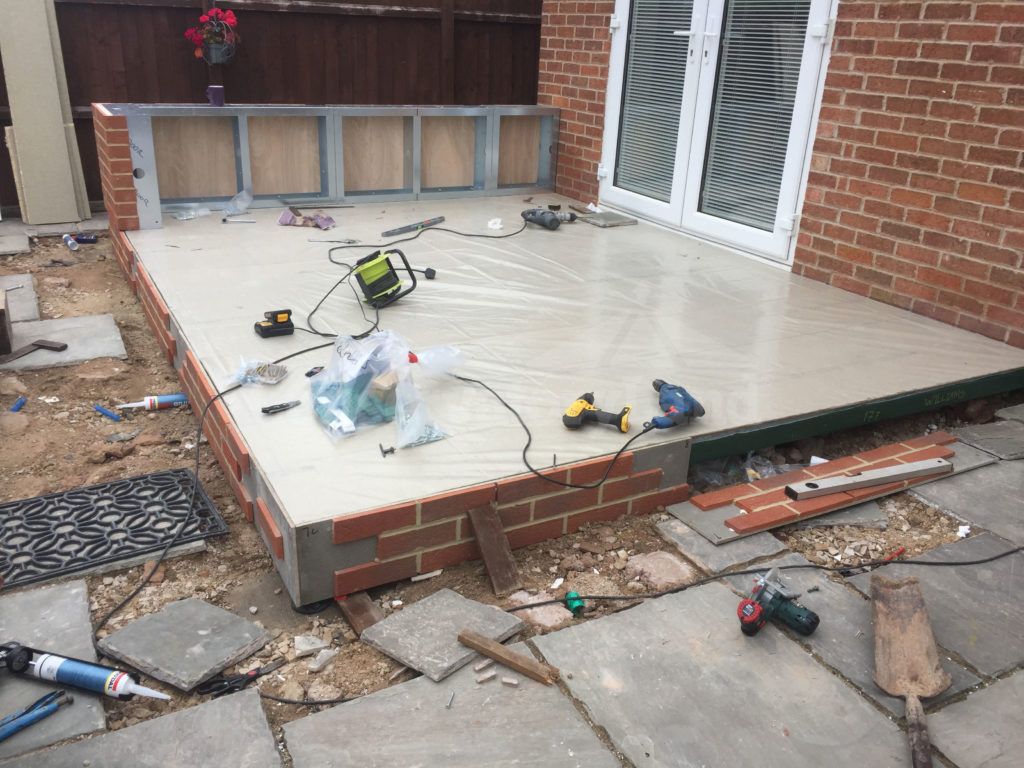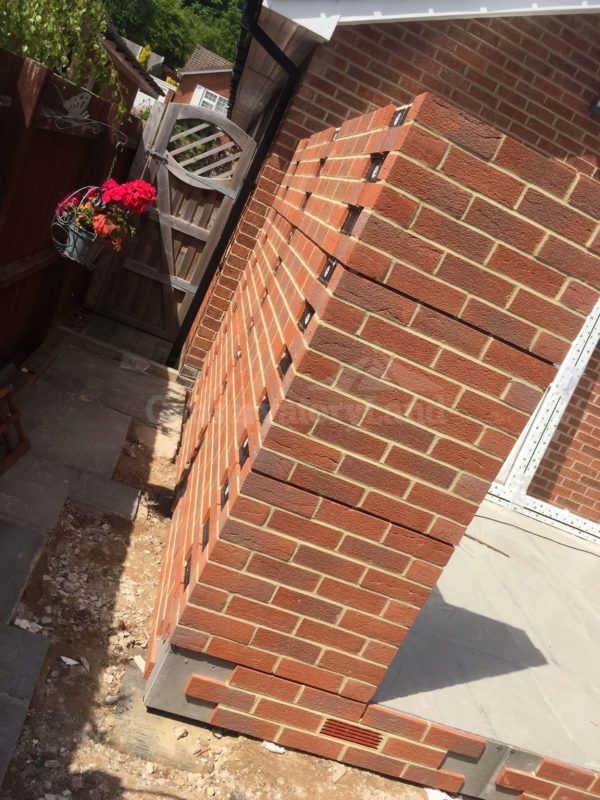 Mr Williams began to build the privacy wall and surrounding brickwork, taking care to fit everything exactly. In just under a day, Mr Williams had taken his patio to the beginnings of a conservatory and now it was really beginning to take shape! Leaving just the glass windows, roof and flooring left to be installed, Mr Williams paused the project for the night and resumed again the next day.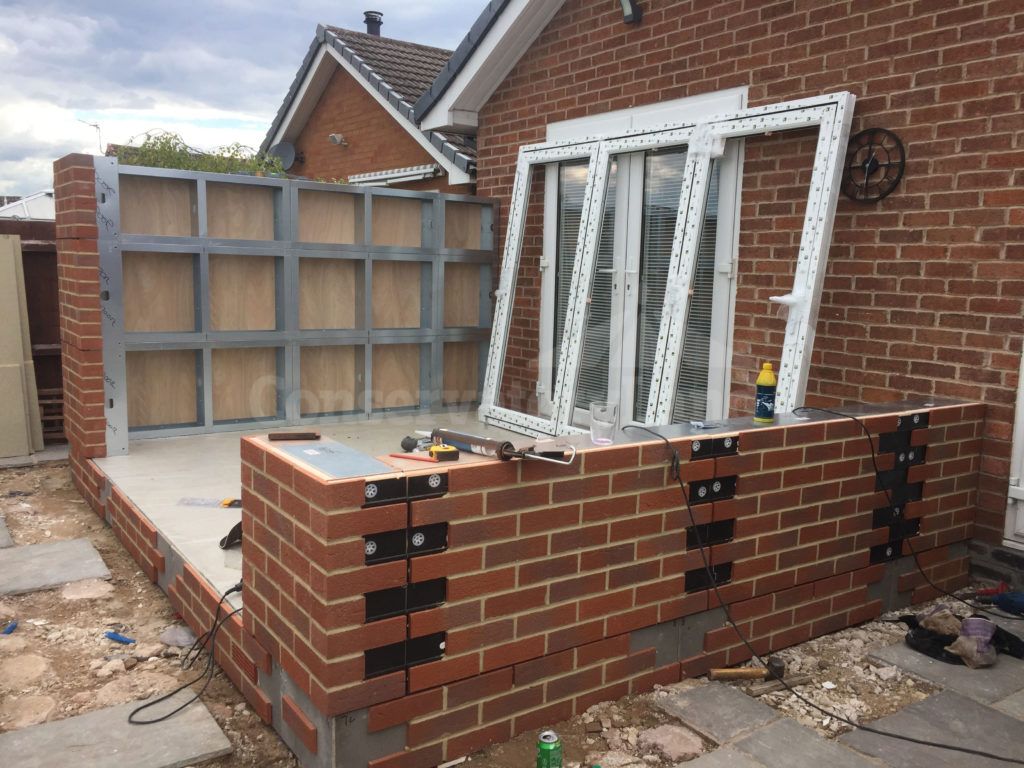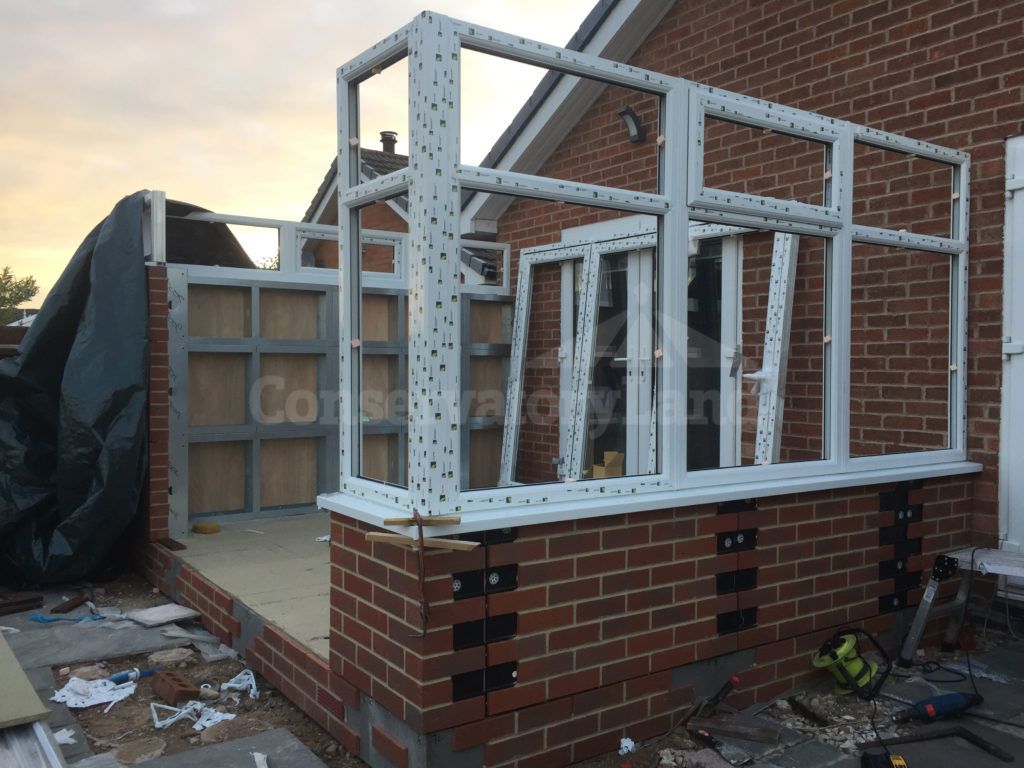 The following day, Mr Williams employed the help of friends and family to fit the roof beams, followed by the standard glass windows and blue self-cleaning, solar control glass roof.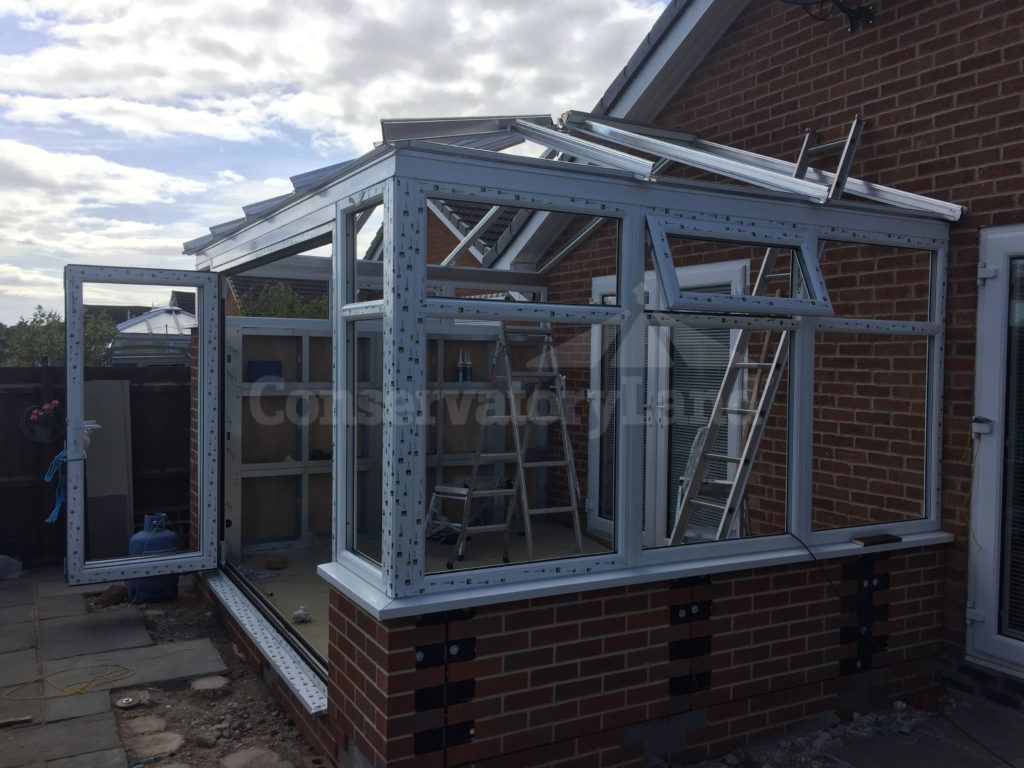 He then went on to add insulation to the privacy wall to ensure no heat would escape in winter.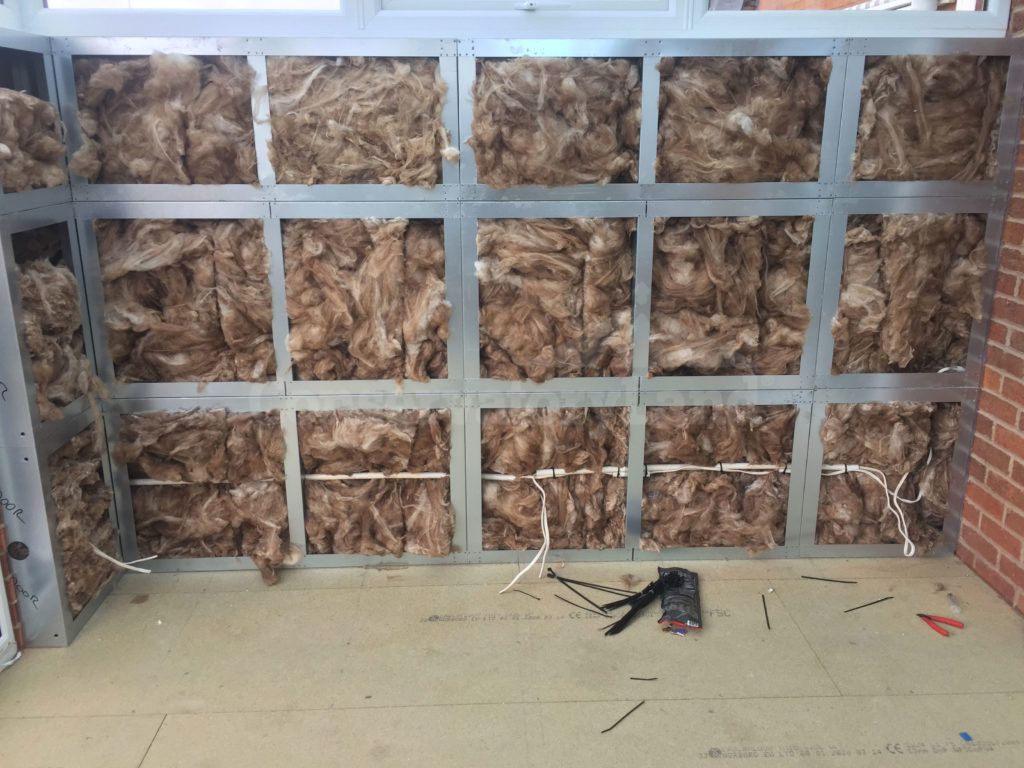 Cleaning everything along the way, Mr Williams was really impressed with the finished result – achieved in just two short days. For the final flourish, he painted his privacy wall a stylish dark charcoal grey and added tiled flooring; now his conservatory was complete!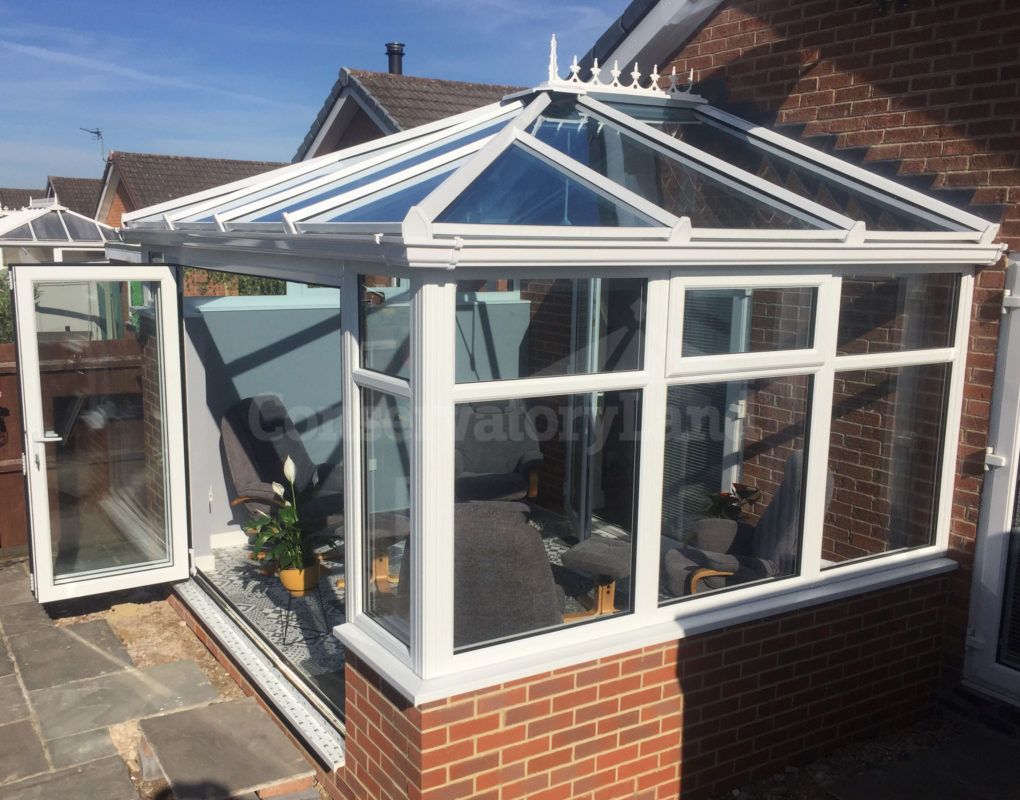 Prior to building his conservatory, Mr Williams had considered moving – but instead, chose to improve his home with a quality conservatory for a budget price! Now his conservatory was ready for decorating. Inspired by the trend for patterned tile flooring, Mr Williams and his family chose a stylish white and grey patterned tile floor to match the charcoal grey recliners bought for the conservatory.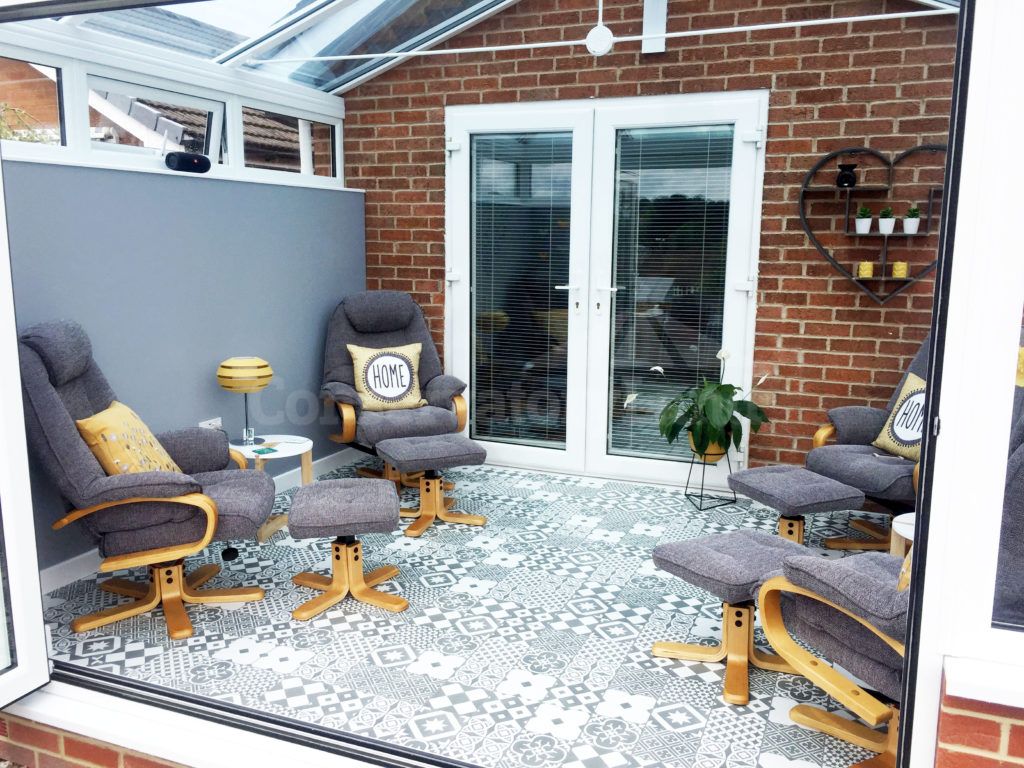 Finished with fashionable mustard accents through the cushions and lampshade, plus a few homely touches including comfy footrests and some homely potted plants, we think Mr Williams has done an amazing job!
Customer Testimonial
Another delighted customer, Mr Williams rated our service as 'excellent' and felt justifiably proud of his DIY efforts: 
"Working entirely alone (apart from some extra muscle to lift roof beams and roof glass), I have completed the build and with it gained a lot of satisfaction. Everything about the Conservatory Land experience has been positive. I want to give a special thanks to Martin in Customer Support because he was there every step of the way with useful advice and tips. A quality conservatory at a budget price. Yes, it's been hard work for one person in their late 50s but the end result is definitely worth it."
Want to try a DIY conservatory yourself? Or perhaps you'd prefer to leave it to the professionals with our approved network of trusted installers? Our team is on hand to get you started — we're just a phone call or click away! 
Want more information (or inspiration)? Check out more of our customer case studies or order a free brochure. 
If you'd like to talk to us about a conservatory project, get in touch today for a free quote.