Our August 2022 Customer of the Month is Mr Xuezhong Sun, who added a Lean-to conservatory to his home in the village of Bramcote, Nottinghamshire.
Mr Sun wanted an additional space where he could relax and read. So, he decided that a conservatory was the solution he needed.
After visiting our workshop and showrooms, Mr Sun chose ConservatoryLand to help him achieve his dreams. By seeing how we work in these environments, Mr Sun knew he could trust us to build the conservatory he wanted.
Watch his video testimonial below to learn more about his experience with ConservatoryLand.
Our expert team welcomed Mr Sun into our factory and proudly showed him how we make every element of a conservatory. Mr Sun was immediately impressed by the production process and now reaps the benefit of our high-quality components every day.
After discussing the various options available, Mr Sun chose a made-to-measure Lean-to conservatory. This cosy addition welcomes light into his home all year round.
The specifications
| | |
| --- | --- |
| Name | Mr Xuezhong Sun |
| Location | Bramcote, Nottinghamshire |
| Conservatory style | Lean-to conservatory |
| Dimensions | 3550mm x 2100mm (made to measure to customer's requirements) |
| Glazing | Standard glass windows, Blue Self-Cleaning, Solar Control Glass roof |
| Base type | ConservaBase with uPVC skirt |
| Colour | White uPVC, 24mm Blue Self Cleaning, Solar Control Glass for the roof, white handles |
Building Mr Sun's Lean-to conservatory
Although our conservatories are suitable for DIY builds, Mr Sun was not confident in installing the room himself. Because of this, he chose to use our Approved Installers to transform his neglected patio into a usable space.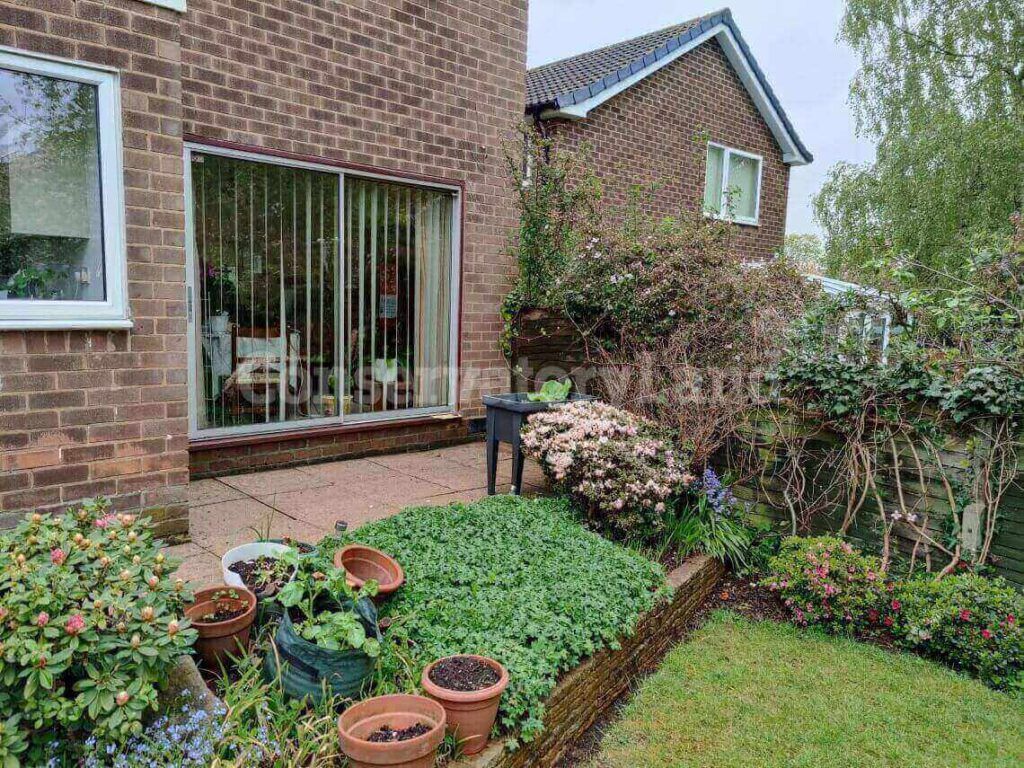 We delivered all elements of Mr Sun's bespoke conservatory directly to his door, ready for a professional to put together. As we vet all of our Approved Installers, Mr Sun knew that they would build this conservatory to a high standard — and they lived up to (and even exceeded) expectations. Mr Sun was impressed by how quickly and efficiently they installed the conservatory.
Mr Sun decided to use our all-in-one base, floor and wall system ConservaBase to speed up the construction. Our unique solution is simple and quick to install. The Approved Installer built solid foundations with minimal disruption to Mr Sun's home life.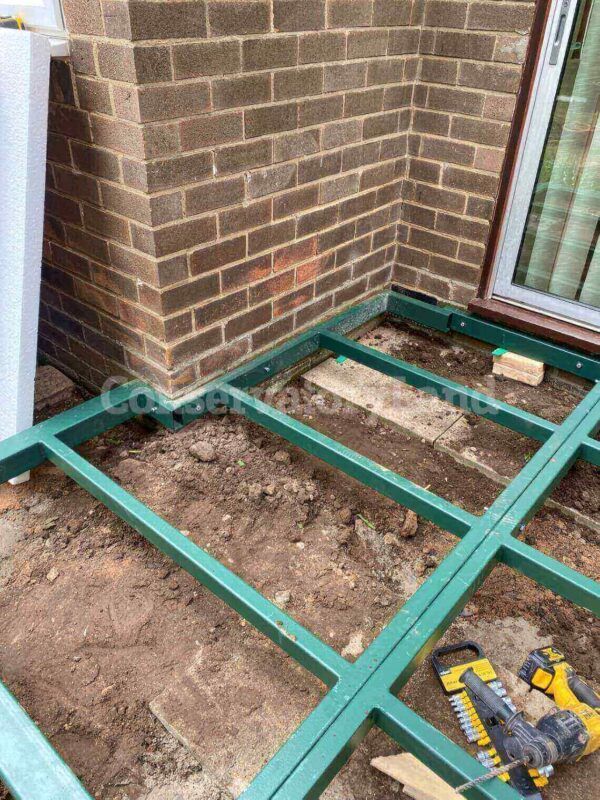 Once the Approved Installer completed the base, they assembled the uPVC conservatory frames. Mr Sun chose a classic conservatory look with white uPVC and matching handles.
Mr Sun's choice of a side door helped him maximise the floor space for furniture while still providing easy access to his sunny garden.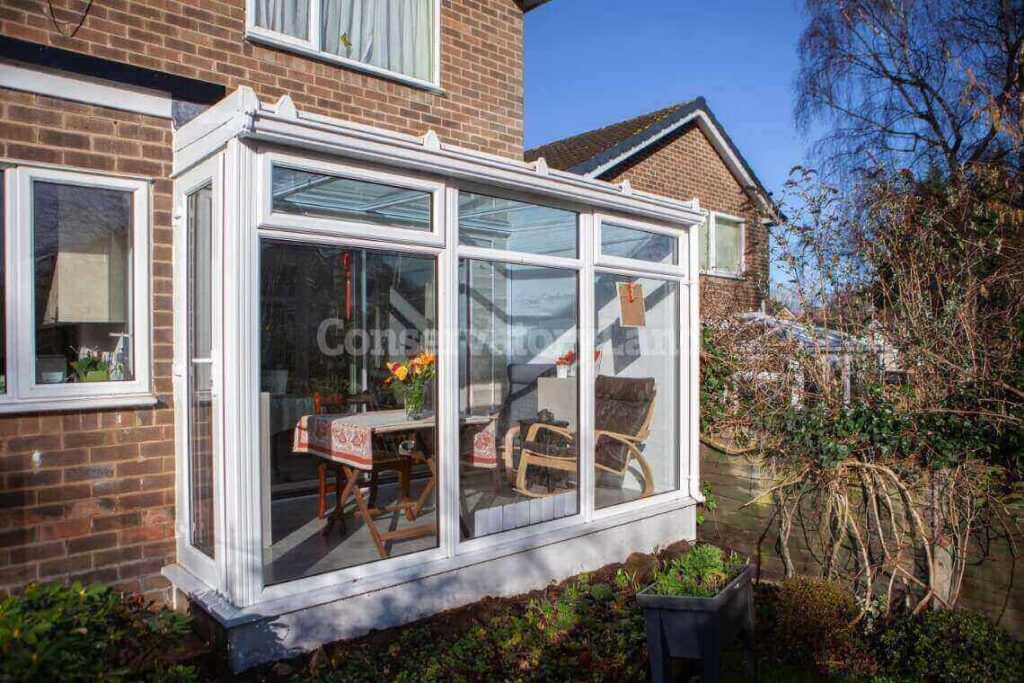 Mr Sun opted for Blue Self-Cleaning, Solar Control Glass roof. This glazing reduces maintenance time and costs as its coating breaks down dirt. It also prevents heat build-up, so the conservatory is always at the right temperature, even on very bright days. Plus, it is quieter than polycarbonate roofs. This means Mr Sun can enjoy reading a book undisturbed — even on rainy days.
Mr Sun loves his new conservatory. He particularly likes soaking up the sunshine each morning and using the space to unwind and sit. It's an enjoyable place to be.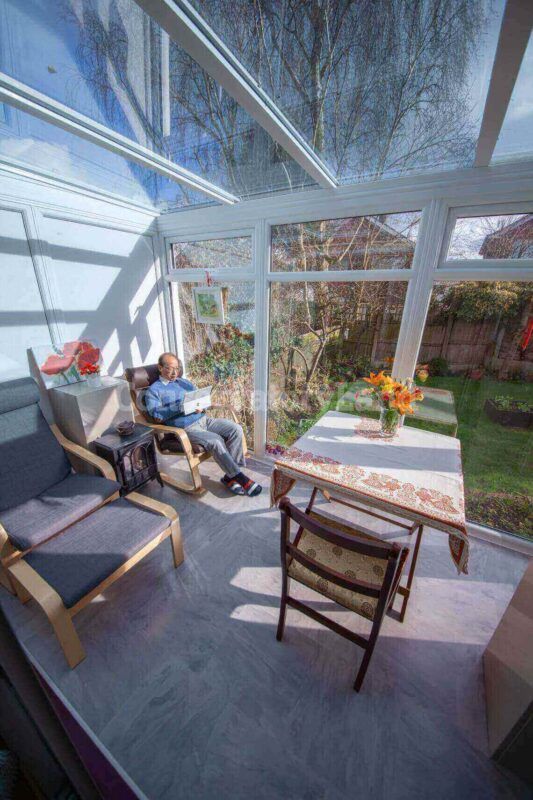 Are you feeling inspired?
Want to join our long list of happy customers and realise your dream of a conservatory? Browse our free brochure and be inspired by our wide range of conservatory styles and customisation options. Want to talk to someone? Our expert team is available to answer any questions.
If you'd like to use a professional to construct your conservatory, as Mr Sun did, then our Approved Installers are here to help. Our UK network of fully vetted professionals can survey, fit and build your perfect conservatory.
We are a contactless company and won't enter your property during the build unless we need to. You can be confident that our Approved Installers will install your conservatory quickly and safely.