Our August 2023 Customer of the Month is Mr Priddy from Ceredigion, Aberystwyth. He's the proud owner of a beautiful — and practical — Hipped Lean-to conservatory.
When he first moved into his home, he started looking for a conservatory via the traditional route. However, he was put off by expensive quotes. A few years later, he found ConservatoryLand and realised that our affordable yet consistently high-quality conservatories would be the perfect solution.
Watch Mr Priddy's video testimonial below and see his finished Hipped Lean-to conservatory.
After discovering ConservatoryLand online, Mr Priddy filled in our contact form and soon received a call back from one of our friendly sales representatives. They helped talk him through his options, with Mr Priddy also looking through our free brochure for inspiration.
Mr Priddy was keen for something sleek and simple. He changed the overall design a few times and tweaked it with the help of the ConservatoryLand until he was pleased with the final product. The Hipped Lean-to style he chose exudes understated elegance — just what Mr Priddy was looking for. The made-to-measure size also meant Mr Priddy could maximise his space without compromising his garden.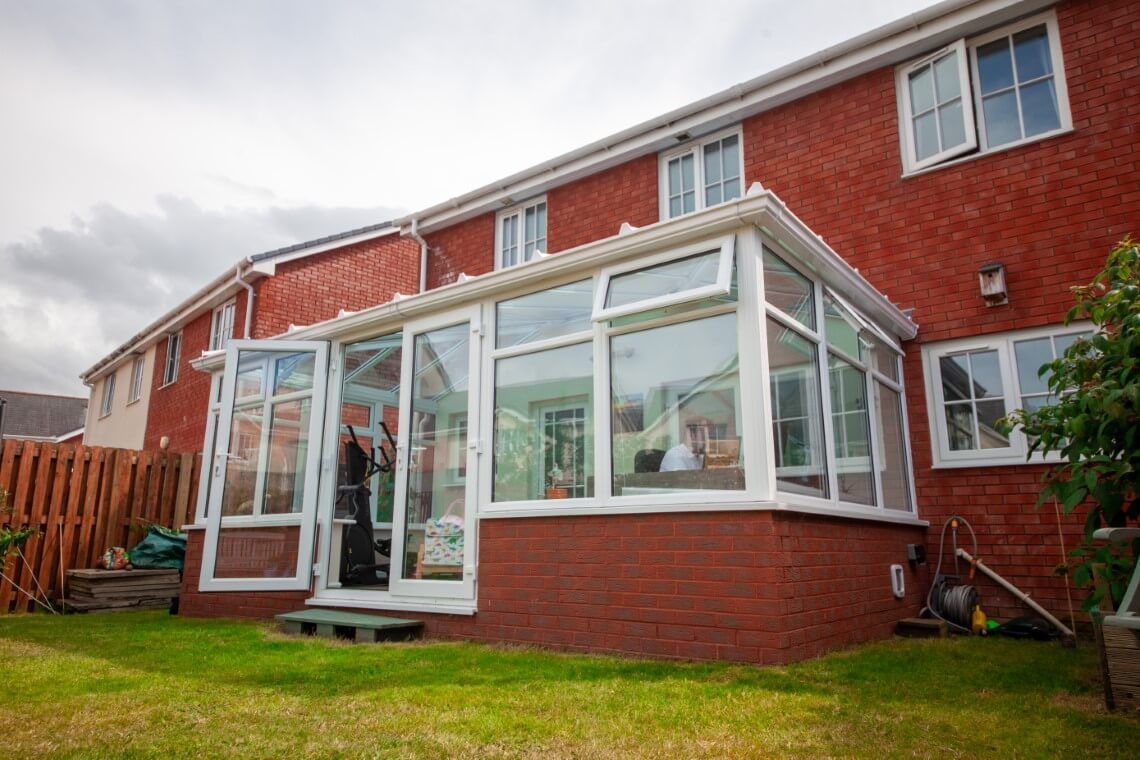 The specifications
| | |
| --- | --- |
| Name | Mr Priddy |
| Location | Ceredigion, Aberystwyth |
| Conservatory style | Hipped Lean-to conservatory |
| Dimensions | 5800mm x 3000mm (made to measure to customer's requirements) |
| Glazing | 28mm Toughened Energy-Efficient Glass in the windows, Blue Self-Cleaning, Solar Control Glass roof |
| Base type | ConservaBase with brick skirt (Red Multi 335) and Brick Red mortar |
| Colour | White uPVC, 24mm Blue Self-Cleaning, Solar Control Glass for the roof, white handles |
Building Mr Priddy's conservatory
Although our conservatories are suitable for DIY construction, Mr Priddy used our Approved Installers — a network of fully vetted independent contractors. This made the process extremely easy, as Mr Priddy could sit back and leave the construction to the professionals.
Mr Priddy was impressed by the friendliness and professionalism of our Approved Installers. They turned up promptly and constructed his new conservatory in just three days, thanks to ConservatoryLand's unique all-in-one base and wall solution, ConservaBase. Because of this, there was no need for messy and time-consuming foundations. Mr Priddy was amazed at how quickly his home was extended with minimal disruption.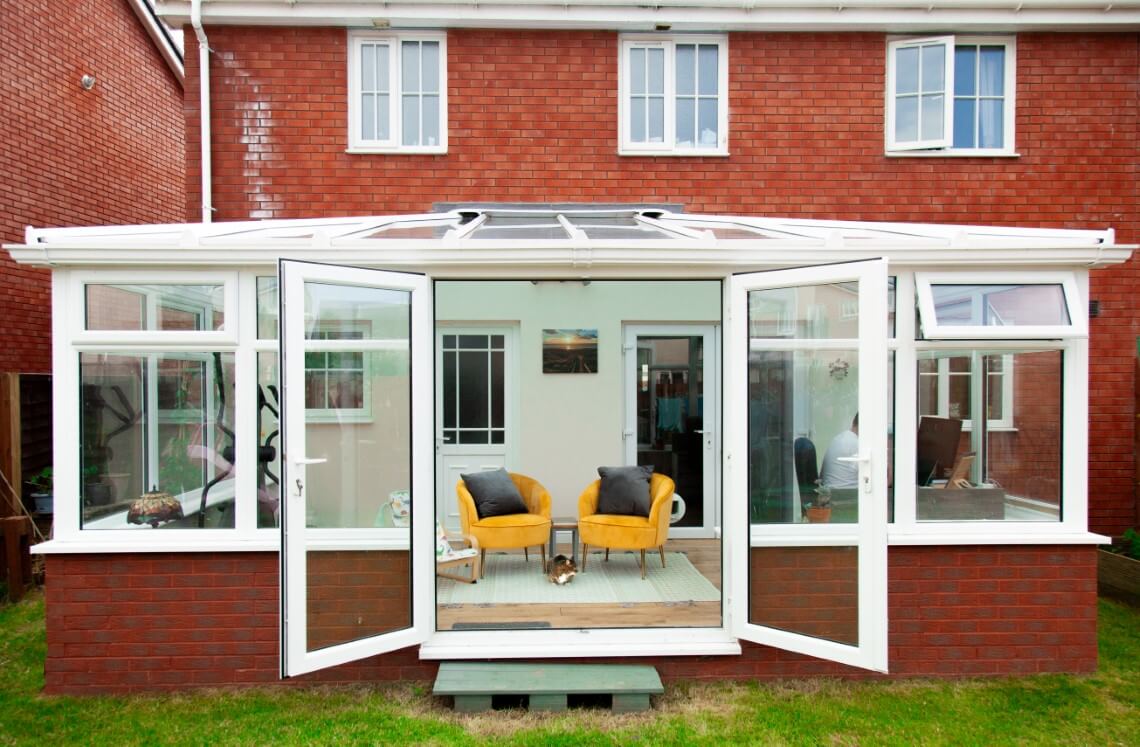 As with every ConservatoryLand build, each element was customised to match the customer's exact wishes.
Mr Priddy opted for a ConservaBase with a Red Multi 335 brick skirt and Brick Red mortar to match his home's existing red brick exterior. Finished with white uPVC windows and handles, this Hipped Lean-to conservatory blends into the original property perfectly. It's like it was always meant to be there.
Mr Priddy's choice of a Blue Self-Cleaning, Solar Control Glass roof helps keep the conservatory temperature comfortable all year round. Plus, it makes for easy maintenance. The Hipped Lean-to style's sloping roof means rainwater runs right off the front. This style, combined with the self-cleaning qualities of the roof type, means Mr Priddy's conservatory can stay sparkling for longer without needing regular cleaning.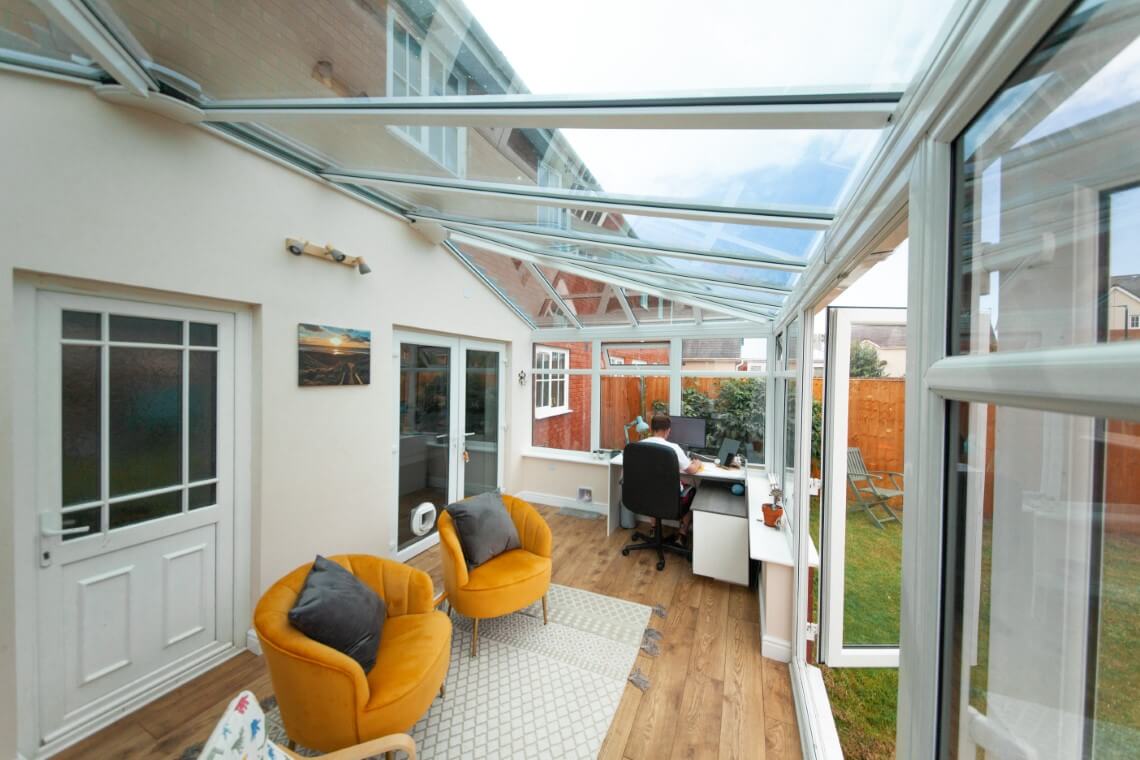 Mr Priddy is delighted with his conservatory. The design opens up the downstairs of his property. It serves as a place to work during the day and a room to unwind in the evening.
Previously, Mr Priddy's only space to work was under the stairs in a dark corner. Now, he can enjoy a proper desk set-up while looking at his green garden. The design has given him more living space in his home without the upheaval of building work.
The new conservatory is exactly what Mr Priddy envisioned, and he'd encourage anyone considering a change to get in touch with ConservatoryLand.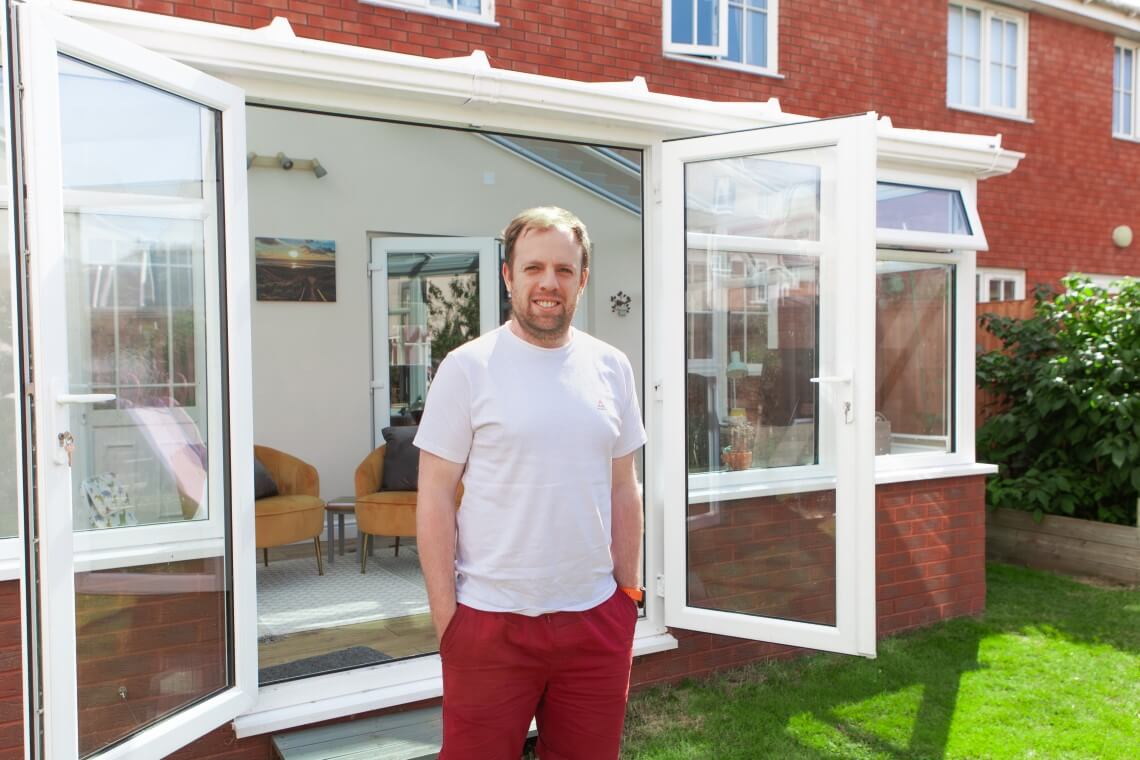 Are you feeling inspired?
Whether you want a conservatory like Mr Priddy's or something entirely different, we can help you realise your vision. At ConservatoryLand, we are proud to manufacture every element of our made-to-measure conservatories. We'll help you customise each part. No compromises are needed here. 
Looking for some design inspiration? You can see more of our customers' chosen conservatories by visiting our previous Customer of the Month blogs (most of which have video testimonials). You can also browse our styles, colours and other customisation options in our brochure.
Once you know what style and size you'd like to explore further, it's easy to get a free, no-obligation, personalised price from our instant quote generator. Not sure what you want, or simply fancy a chat instead? Call us on 0800 952 8000 or fill in our contact form. 
You can also learn more about the fully-vetted contractors we work with on our Approved Installers page. As we're a contactless company, our Approved Installers will only enter your home when needed.