Our December customer of the month writes to us from Milton Keynes about their brand new P-shape conservatory. Just before lockdown, Mr and Mrs Singh decided they wanted to upgrade their detached home with a conservatory that allowed them to bring nature indoors. They wanted a large and open space (similar to a garden room in style) that let them enjoy their beautiful garden from the comfort of their home. Their dream conservatory would add a modern twist and upgrade their living space with gorgeous, panoramic views of the outdoors.
After having a quick look online, Mr and Mrs Singh called Conservatory Land and arranged a visit to our Mansfield showroom. With an idea in mind of what they wanted to achieve, they were keen to understand the options available — and a look around the showroom was exactly what they needed to finalise their vision. As their visit was before lockdown, our expert team at Conservatory Land were able to take them around the showroom, offering guidance and advice on what might be the best style for them. And with plenty of options to choose from — such as Edwardian, gable-front, and lean-to conservatories, plus white and grey PVCu and a range of roof styles and finishings — Mr and Mrs Singh found out they could mix and match various styles and colours to create an entirely bespoke conservatory, exactly how they imagined it. 
Always happy to go the extra mile, the Conservatory Land team even showed them around the manufacturing unit so they could see exactly how their conservatory would be built! Mr and Mrs Singh were delighted; they thought the sales team understood exactly what they were looking for and were there every step of the way, guiding them through which glass, windows, doors, and roof styles would help to bring their dream conservatory to life. 
It was important for them that the new room maximised the available space — and it was clear to our expert team that a standard-design conservatory would have left a lot of space wasted. So the team advised that a bespoke P-shaped conservatory covering most of the width of their home was their best option. The experts showed them how this style of conservatory would mould perfectly to their existing house, really making the most of the patio space to create an airy, modern room. Mr and Mrs Singh loved the mock-up drawings and agreed that this was definitely the best option for creating their dream conservatory. And with their vision finalised, it was time to get technical!
Mr and Mrs Singh spoke to the technical design team directly to ensure the measurements were correct and ready for manufacturing. This was something they hugely appreciated as it made them feel safe in the knowledge that everything would be exactly how they'd imagined. The Conservatory Land technical team are a welcoming and friendly bunch and making sure Mr and Mrs Singh felt involved at every stage was a priority. 
And with all measurements and customisations finalised, Mr and Mrs Singh were ready to order their conservatory. The order confirmation team took time to go over all of the necessary requirements with Mr Singh to ensure that everything was perfect. Then, it was time for the team at Conservatory Land to start manufacturing each bespoke part. Within a matter of weeks, the manufacture was complete — it was time to start building!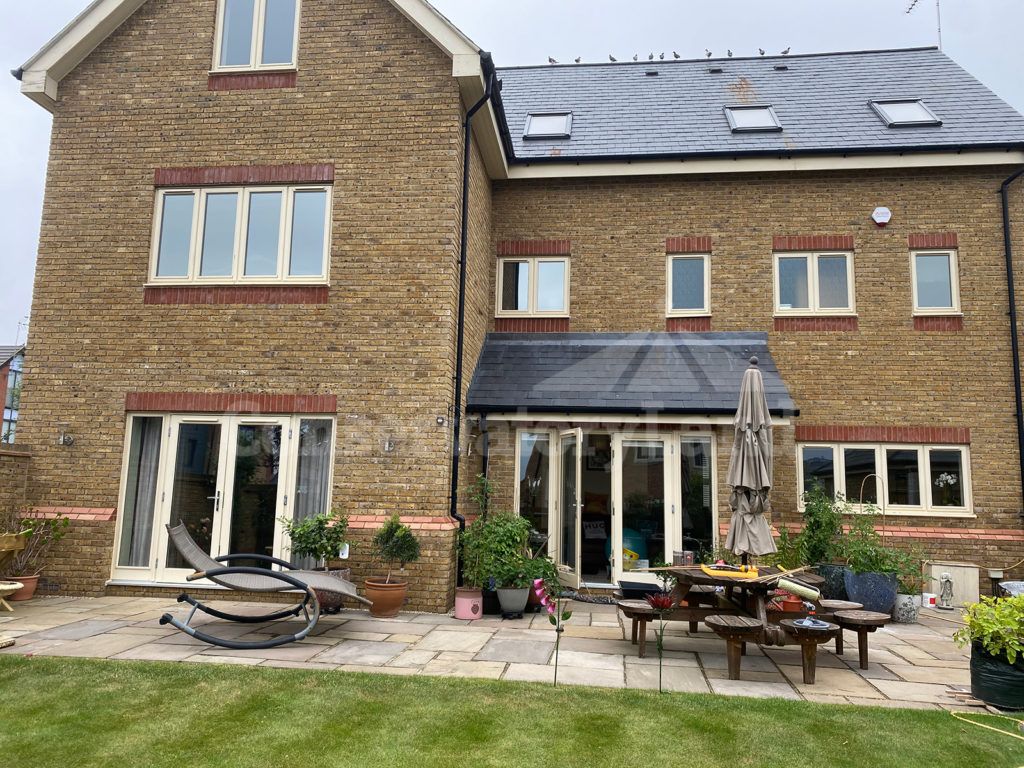 Building the P-shaped Conservatory
Mr and Mrs Singh chose to use our approved installer network to assist with the construction of their P-shape conservatory. Conservatory Land recommended a local installer called Sean who Mr and Mrs Singh were delighted to let handle the build.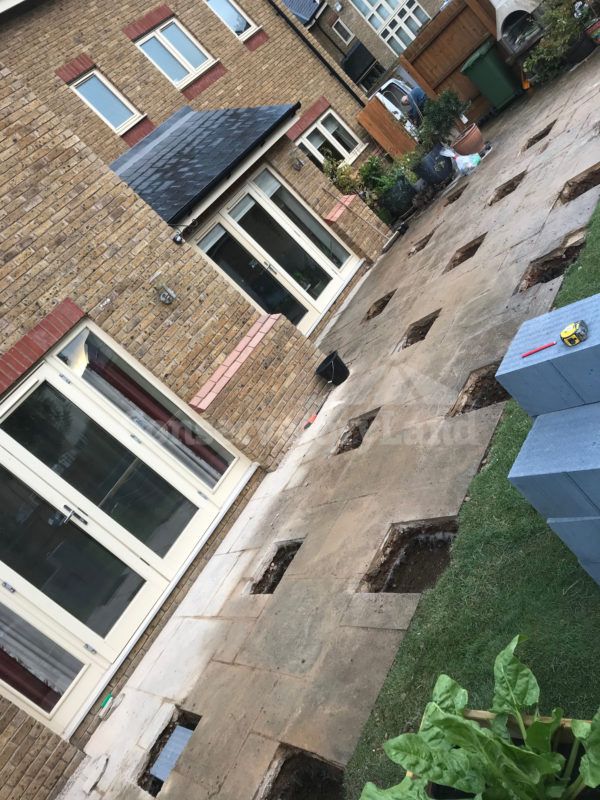 After clearing the garden furniture and potted plants from the patio area, it was time for Sean to lay the foundations. Mr and Mrs Singh chose our all-in-one steel conservatory base, floor, and wall system called a ConservaBase — the strongest steel base you can get. Standing atop just a few easy-to-install concrete pads, the Conservabase was made-to-measure and large enough for Sean to piece together easily without spending hours assembling fiddly parts. With each steel section fully-welded, there would be no flex when Mr and Mrs Singh walked on the floor either, just like with a traditional build.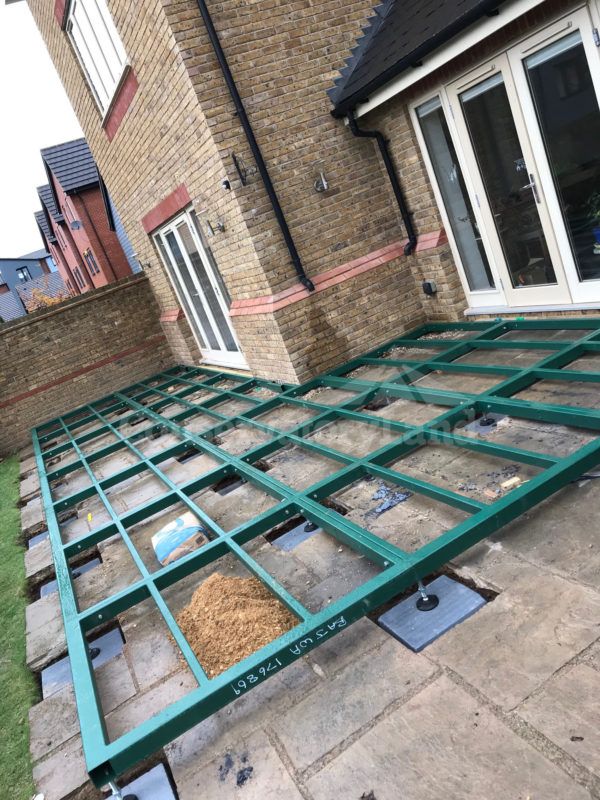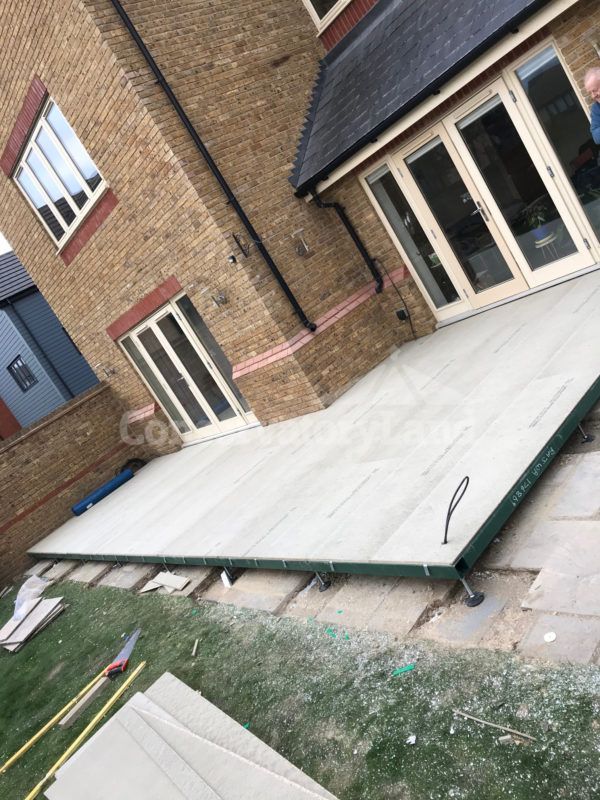 With the Conservabase finished, it was time to build the walls. Because Mr and Mrs Singh wanted a room that brought nature indoors, they opted for fully glass walls and no brickwork base. These panoramic, floor-to-ceiling doors and windows would allow the most light into the room, giving them a gorgeous, modern space from which they could enjoy their beautiful garden. And surrounded by glass on three sides, they'd be able to remain close to the outdoors even in cooler temperatures! It was exactly what they wanted and they were so excited to see their vision begin to take shape.
They chose 24mm Blue Self Cleaning glass for the windows and doors. This meant their conservatory would stay cleaner for longer than if they'd used standard glass, so keeping their new space looking clean and tidy would be simple. Using grey PVCu, their bespoke design added a sleek and modern twist to their home which is exactly what they'd had in mind from the start.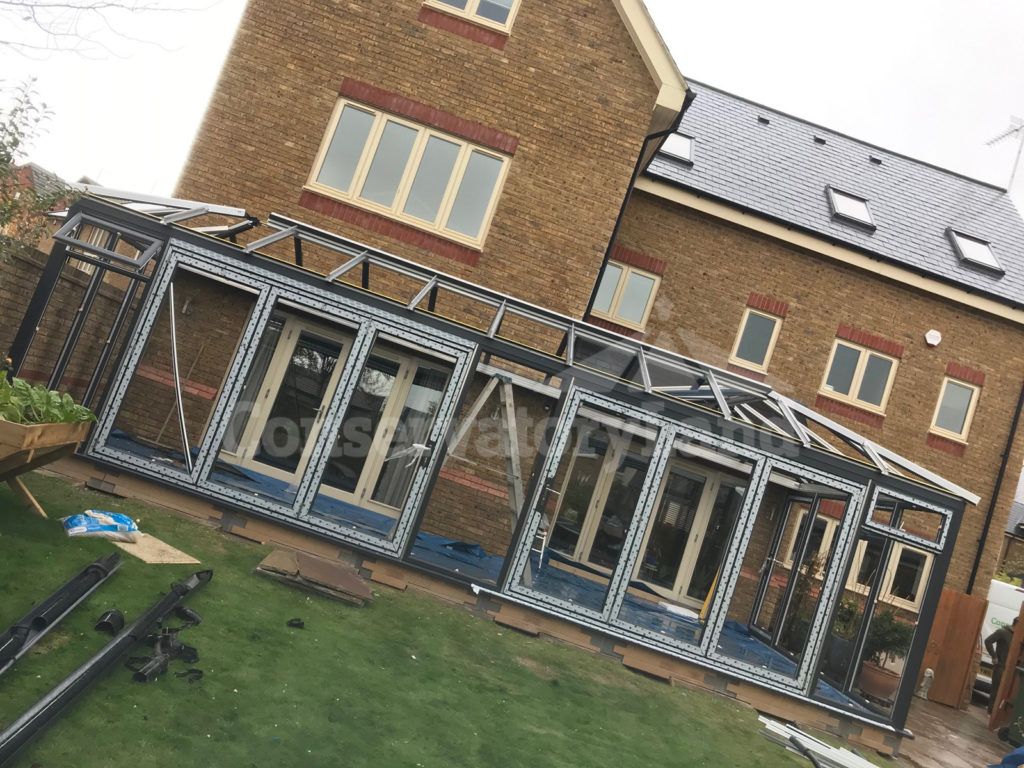 For the roof of their conservatory, Mr and Mrs Singh chose Victorian-style cresting and finials. They loved how this British-inspired style looked atop the modern base and thought it added a real touch of elegance and class to their brand new conservatory. Having been very specific about how they wanted their conservatory to look, Mr and Mrs Singh were delighted that Conservatory Land was able to build an entirely bespoke room, with exactly the look and feel they wanted. They loved how easy it was to customise each part and mix and match exactly what styles and finishings they wanted.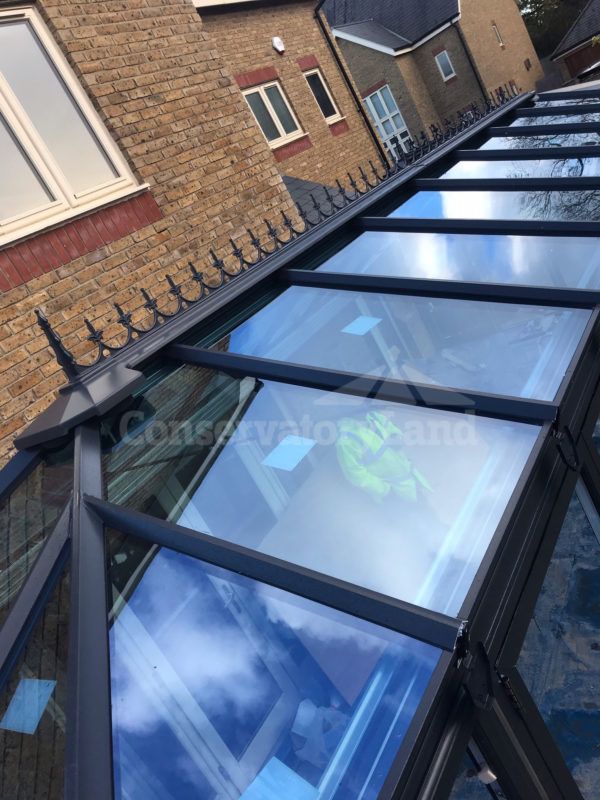 With a glass roof and floor-to-ceiling windows, it was important for Mr and Mrs Singh that the temperature in their conservatory was regulated. They wanted to enjoy their conservatory in the summer months without it getting too hot. So thanks to expert advice from the Conservatory Land team, they opted for solar-control glass. By reflecting and filtering the sun's rays, this high-performance glass would allow daylight into the room without any uncomfortable visual glare — leaving them free to enjoy the summer months in a cool, comfortable room.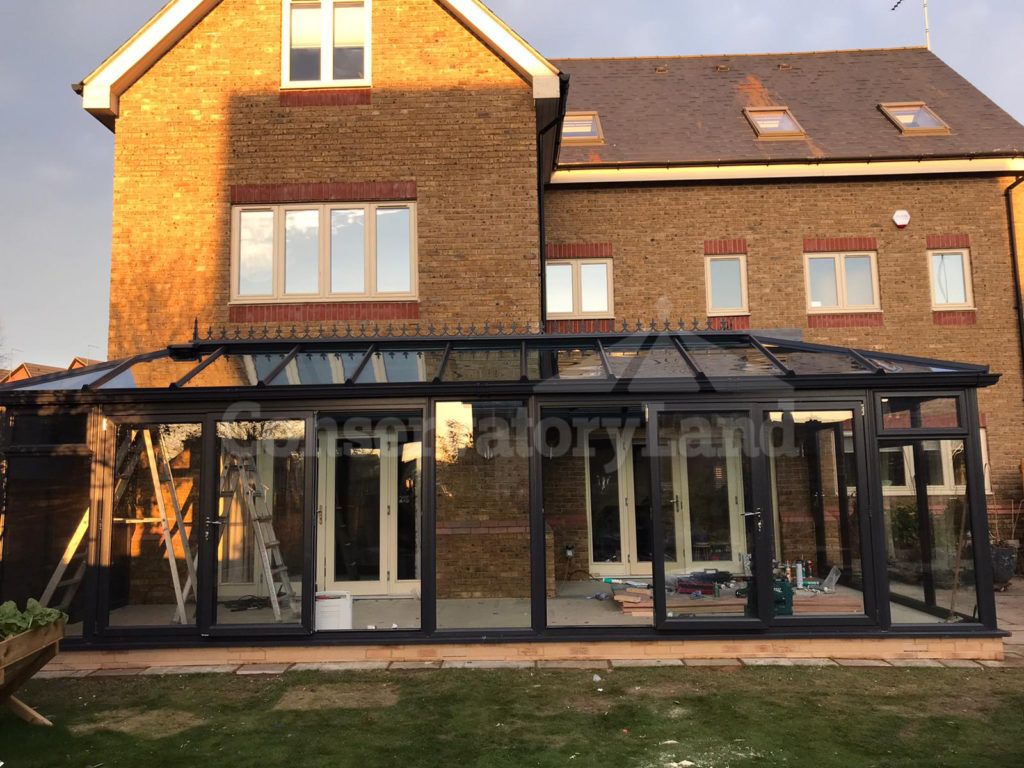 Another Happy Customer!
Mr and Mrs Singh were extremely surprised by how simple and hassle-free the entire process was from start to finish. The Conservatory Land team were on hand every step of the way, offering advice and guidance over the phone whenever it was needed. And Sean, one of our approved installers, easily followed the instructions given by Conservatory Land during the installation, building Mr and Mrs Singh's creative idea even better than they'd imagined! What's more, they were blown away by the speed of assembly and couldn't believe such a beautiful, elegant room had been erected in such a short space of time.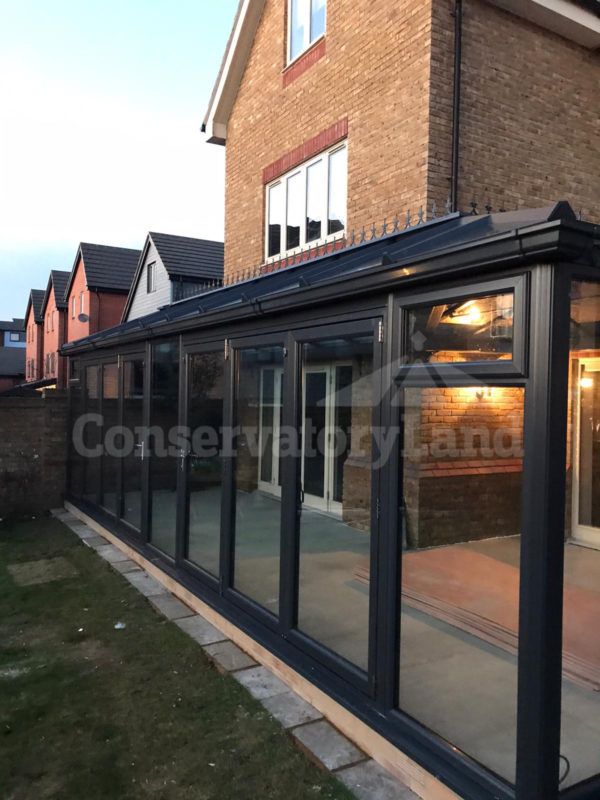 Client Testimonial
Rating our service as 'excellent', Mr and Mrs Singh were over the moon with their brand new P-shaped conservatory:
'I understand that this was one of Conservatory Land's larger projects but we are so happy we went with them – I can't fault them! There was one day where a part was missing and a member from CL drove down to hand it to the installer ready for the next day! Now that's what you call proper customer service.'
And they're not the only ones who are delighted with Conservatory Land's service and expertise — check out more of our customer case studies and see for yourself!
The Project Technical Specifications
| Name | Mr & Mrs Singh |
| --- | --- |
| Location | Milton Keynes |
| Conservatory style | Hipped Back P Shape Conservatory |
| Dimensions | 9000mm x 4300mm (made to measure to customers requirements) |
| Glazing | Standard glass in the windows. Blue Self Cleaning, Solar Control Glass Roof |
| Base type | ConservaBase with Rustic Buff Multi 688 and Light Sandstone |
| Colour | Grey PVCu, 24mm Blue Self Cleaning, Solar Control Glass for the roof, Chrome handles. |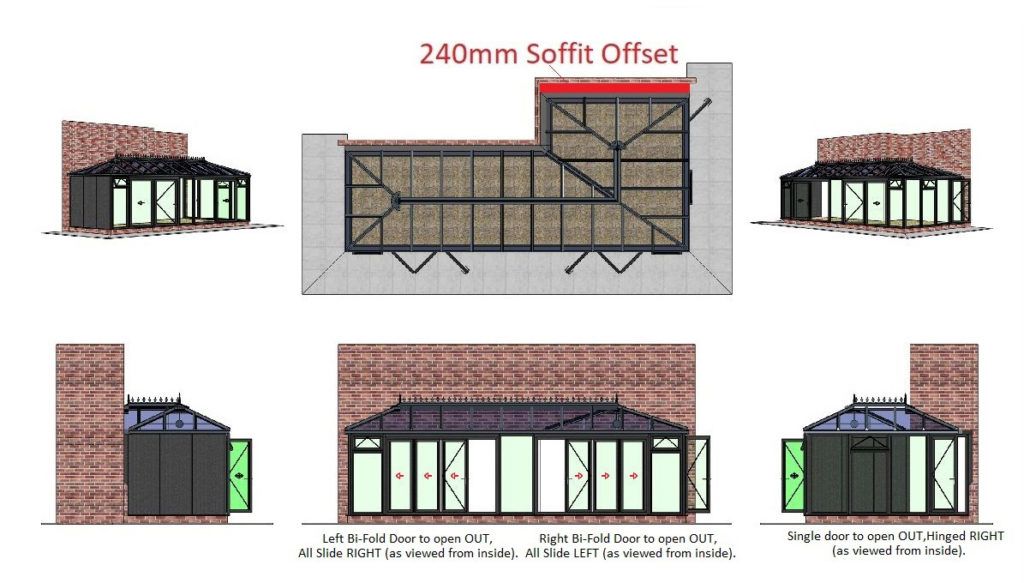 Want to Add Value To Your Own Home?
Do you love the look and feel of Mr and Mrs Singh's modern, spacious conservatory? To explore your own options, get in touch with us today. Whether you'd like a free quote or are looking for inspiration with our free brochure, we're here to help turn your conservatory dreams into a reality. 
And if you're concerned about social distancing, we completely understand. That's why our expert UK installers are vetted and approved by us. Your conservatory will be surveyed, fitted, and built by professionals who will strictly observe the most up-to-date lockdown guidelines at all times. We are a contactless company and, in most cases, we won't even need to enter your home to build your conservatory, so you can enjoy the process without needing to worry.