Our December 2022 Customer of the Month is Mr Clayton, who recently extended his Burton-on-Trent home with a delightful Hipped-Back Edwardian conservatory.
When Mr Clayton and his wife moved house last year, they immediately realised that they would benefit from a conservatory. This new space has helped them extend their living area into the garden, giving them a relaxing place to unwind. They use their new conservatory so much that it's now their favourite room.
Watch Mr Clayton's video testimonial and learn more about his excellent experience with ConservatoryLand.
Once his heart was set on getting a conservatory, Mr Clayton conducted lots of research. After speaking to friends about their personal experiences and reading reviews online, ConservatoryLand became the obvious choice to help make his dream a reality. When Mr Clayton got in touch with ConservatoryLand, he was impressed by the competitive pricing and how well the team responded to every question.
After careful consideration, Mr Clayton decided upon a made-to-measure Hipped-Back Edwardian conservatory. This style — also known as a Double-Hipped conservatory — allowed him to extend his home with a period-influenced design that perfectly complemented the property.
The specifications
| | |
| --- | --- |
| Name | Mr Clayton |
| Location | Burton-on-Trent, Staffordshire |
| Conservatory style | Hipped-Back Edwardian conservatory |
| Dimensions | 4100mm x 3000mm (made to measure to customer's requirements) |
| Glazing | Standard glass in the windows, Blue Self-Cleaning, Solar Control Glass roof |
| Base type | ConservaBase with a brick skirt (Red Blue Flamed 7427) |
| Colour | White uPVC, 24mm Blue Self-Cleaning, Solar Control Glass for the roof, white handles |
Building Mr Clayton's Hipped-Back Edwardian conservatory
Although our conservatory kits are suitable for DIY projects, most customers use our Approved Installers — our network of fully-vetted installers you can trust.
Mr Clayton opted to use our Approved Installers because he wanted tradespeople who could complete the build to the high standards ConservatoryLand is known for. Knowing that the Approved Installers had been recommended by ConservatoryLand offered the reassurance he needed.
Mr Clayton's experience with our Approved Installers was entirely positive. He spoke to them daily and admired how they always stuck to their word. The team would arrive in the morning as promised and work into the evenings to ensure they kept to the project schedule. They were always on hand to answer questions and explained everything clearly throughout.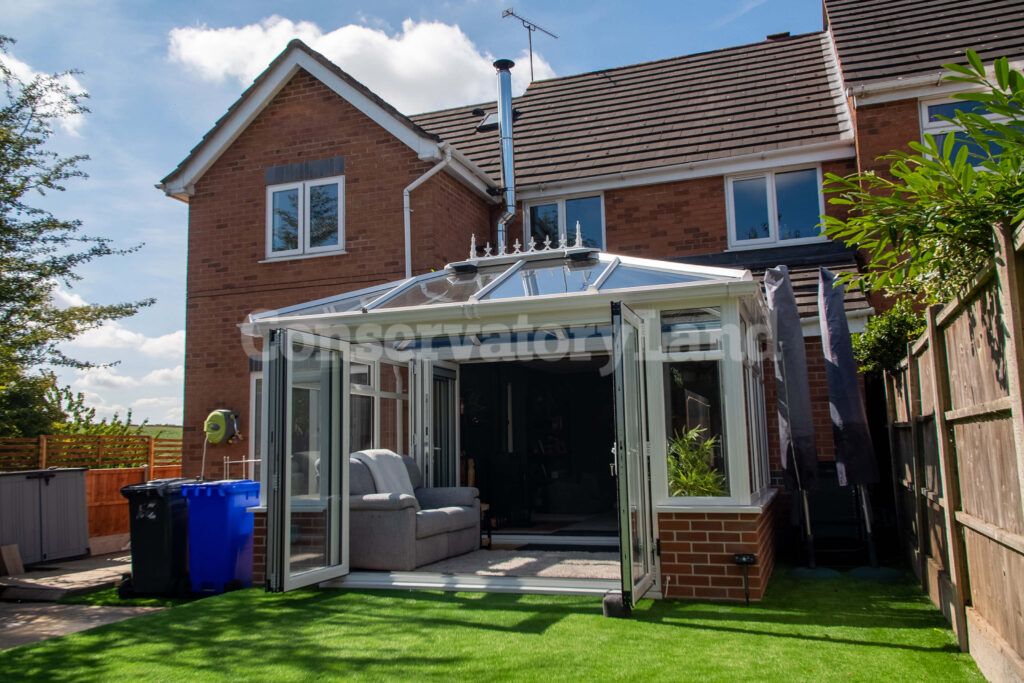 Mr Clayton chose our exclusive all-in-one base, floor and wall system ConservaBase, which sped up the build and reduced disruption. To suit his home's beautiful brick exterior, Mr Clayton picked Red Blue Flamed 7427 for the base's brick skirt. This colour choice helped create a seamless connection between the original property and the new conservatory.
After the Approved Installers finished the base, they assembled the uPVC frames. Mr Clayton chose timeless white frames with standard glass windows, which matched well with his home's existing windows and guttering. He maximised the coordination with white handles.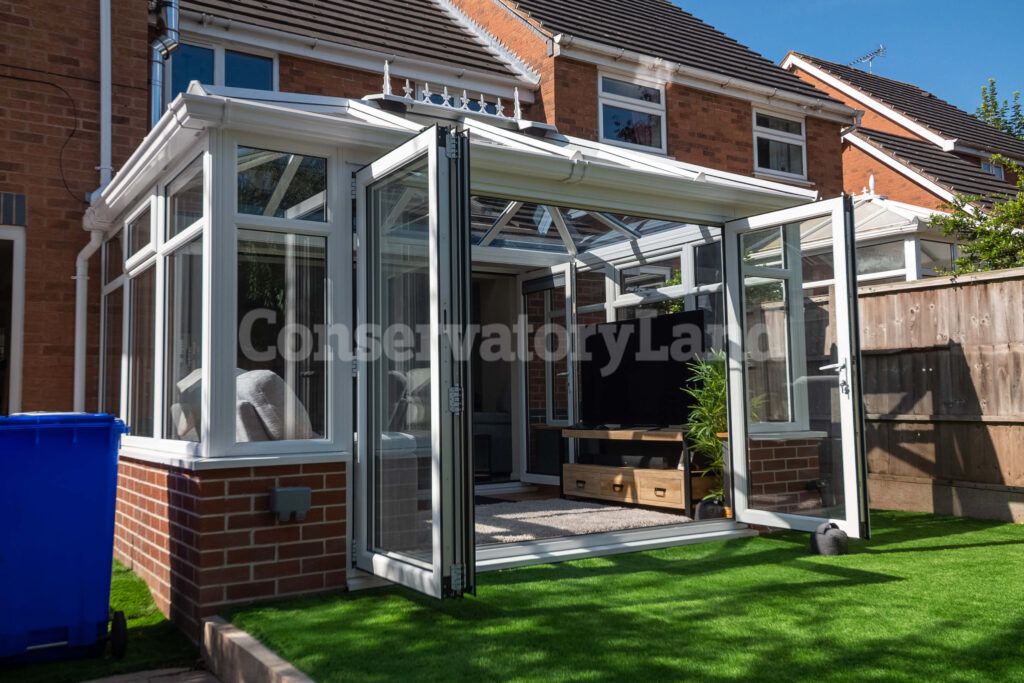 For the sloping roof, Mr Clayton opted for the convenience of our Blue Self-Cleaning, Solar Control Glass Roof. The self-cleaning coating lasts the glazing's lifetime and makes maintenance easier. The coating uses UV radiation — which occurs all year round — to break down dirt. Rainwater will then naturally wash this dirt away. No tricky rooftop cleaning here.
The roof's solar control also helps keep Mr Clayton's conservatory at a comfortable temperature, whatever the weather. Plus, the blue tinting on the glazing reduces glare. Perfect for when Mr Clayton wants to sit back and watch the television or use his laptop.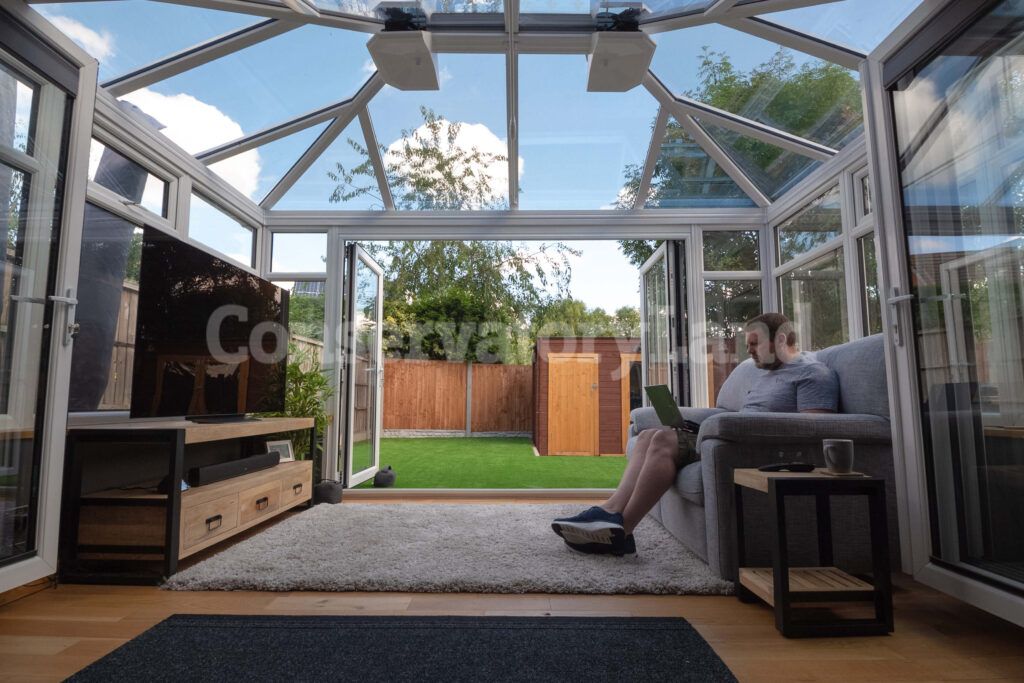 Mr Clayton and his wife adore the extra room they have. It's a practical space they use throughout the year. They now can't imagine their home without their much-loved conservatory. And they would happily recommend ConservatoryLand to anyone considering a similar project.
Are you feeling inspired?
If you'd like to read more stories like Mr Clayton's, take a look at our previous Customer of the Month blogs.
All of our conservatories are unique and made to measure. To see the styles and customisation options available, browse our free brochure. Whatever questions you may have, our expert team is here to talk on 0800 952 8000. ConservatoryLand is a contactless company, so we won't enter your property during the build unless essential. You can count on our Approved Installers to install your conservatory quickly and safely. To find out more about how our UK network of vetted professionals can help you, visit our Approved Installers page.