Our popular DIY lean to conservatory extension kit is one of the most popular choices with our customers – and once again it's the subject of our monthly customer project case study.
This month, we're in the West Midlands – in the beautiful Worcestershire town of Evesham, where Mr and Mrs Baker have built their very own lean-to conservatory from scratch.
Although it's a small conservatory – the Baker's DIY lean to project perfectly complements the space they have to work with. Without invading a large section of garden area, the extension still provides a spacious and comfortable setting that can be used for a variety of purposes.
The picture below was taken before the work was started – and you can clearly see how the new conservatory has genuinely enhanced the back of the house, giving it an altogether more 'complete' feel.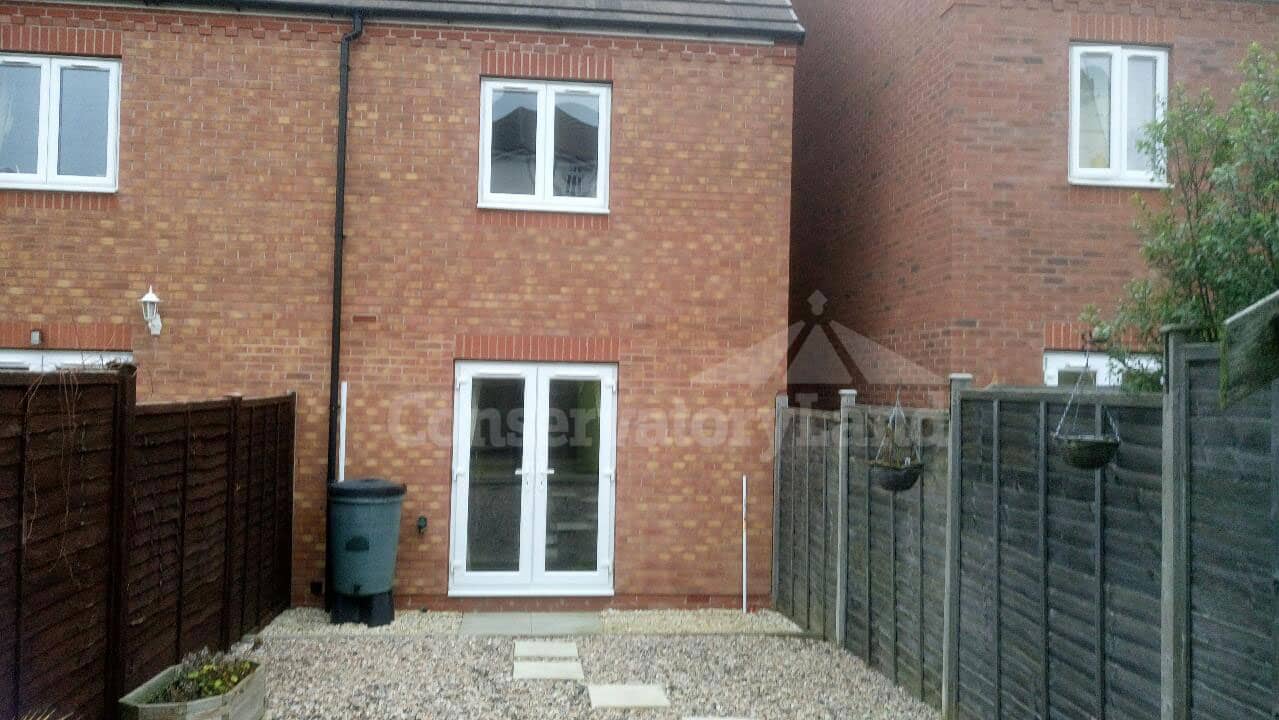 The Project Technical Specifications
| Name | Mr & Mrs Baker |
| --- | --- |
| Location | Evesham, West Midlands |
| Conservatory Style | Lean To Conservatory |
| Dimensions | 3657mm x 2500mm (made to measure to customers requirements) |
| Glazing | Standard glass in the windows. Blue Self Cleaning, Solar Control Glass Roof |
| Base Type | ConservaBase with Rustic Inferno Multi Brick with Standard grey Mortar |
| Colour | White PVCu, 24mm Blue Self Cleaning, Solar Control Glass for the roof, White handles. |
Mr and Mrs Baker ordered their lean-to conservatory complete with ConservaBase and glass roof. However, they wanted a multi-functional roof – with self-cleaning glass.
Although lean to conservatories are perhaps the easiest type of roof to clean manually as they're only slanting outwards in one direction, self-cleaning glazing is still a very sensible option.
The amount of dirt that collects on an external roof glazing panel is not to be underestimated. Keeping it regularly clean can require a fair amount of maintenance. Mr and Mrs Baker were therefore more than justified in their decision to invest in self-cleaning glazing – as it will save time and effort in the long-run.
They also opted for a solar control glass roof. The back garden gets a high amount of sunlight – which would make any prospective conservatory vulnerable to overheating.
Now that they've been installed, the solar control glazing will prevent this issue, ensuring that the Baker's conservatory remains a comfortable place to spend time in the summer.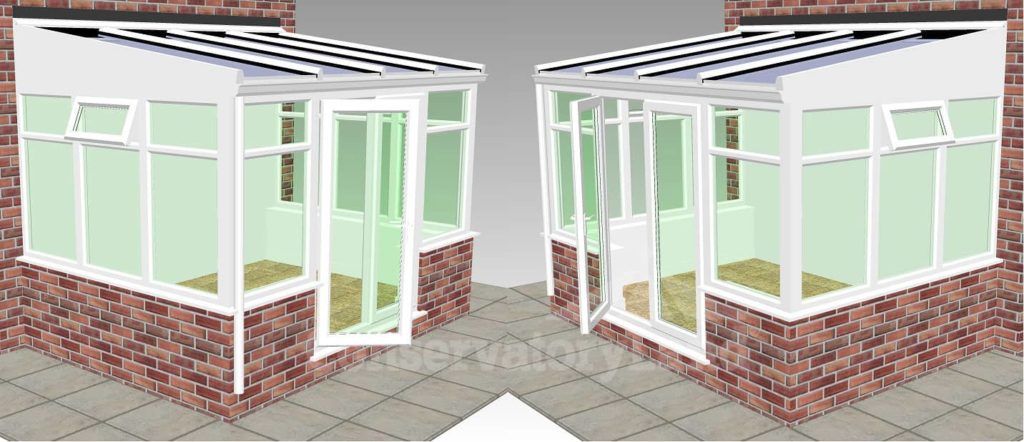 As you can see, the design itself is very simple.
However, as with any other DIY conservatory extension, the Bakers had to get their dimensions exactly spot on to ensure they had enough room either side of the conservatory between the neighbouring fences.
DIY Lean To Conservatory Installation Process
Once the design specifications had been agreed and finalised, it was time to crack on with the exciting part – the build.
Mr and Mrs Baker had no previous experience building a conservatory, but when the parts come made to measure – the assembly process is much more straightforward than you might think.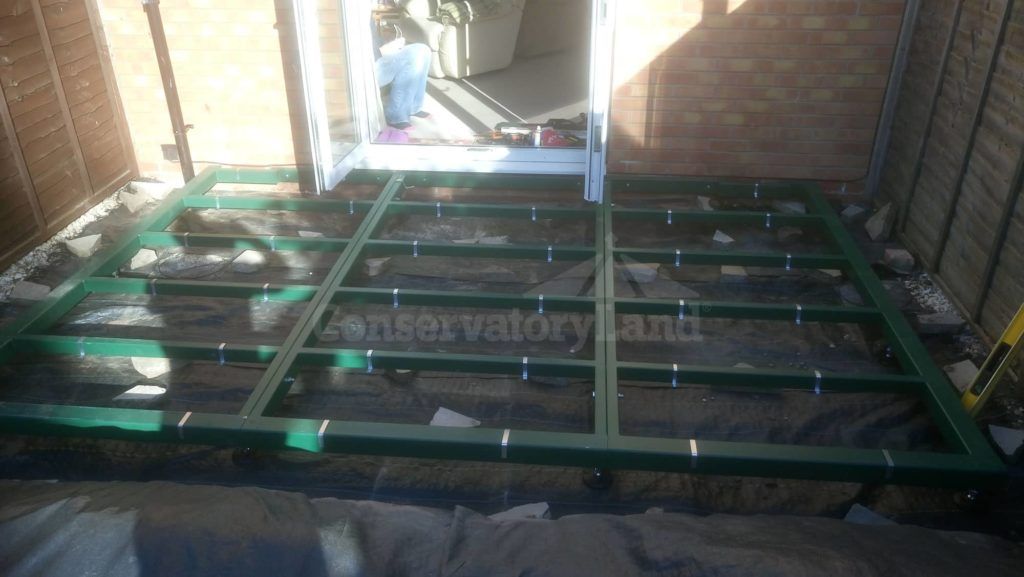 The first stage of installation is to apply the ConservaBase and start the build from the ground up. As you can see, Mr and Mrs Baker started the groundwork in line with the required dimensions – ensuring enough space was left between the fences either side of the extension.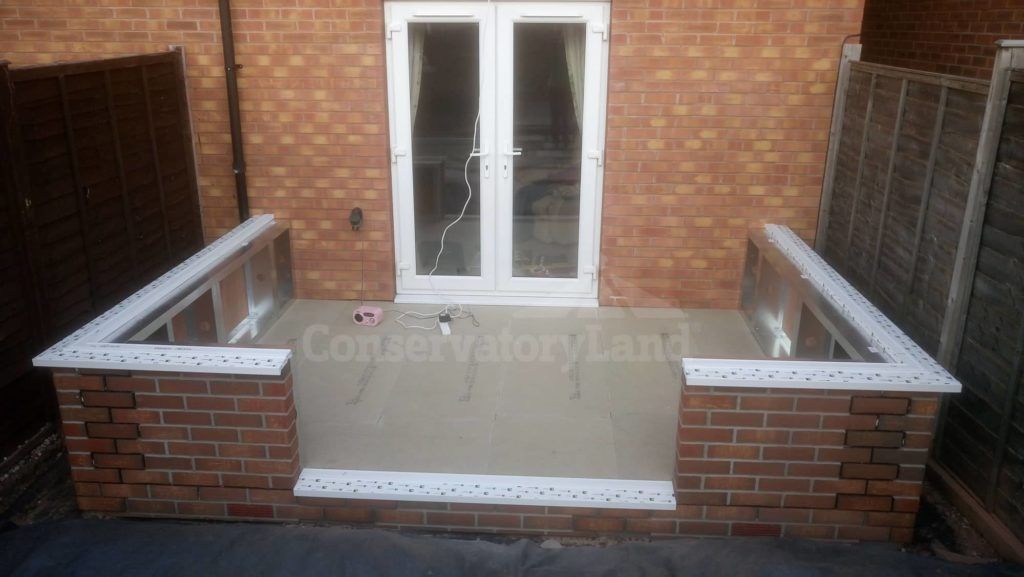 With the base assembled, the next step was to put together the white PVCu frames and glazing.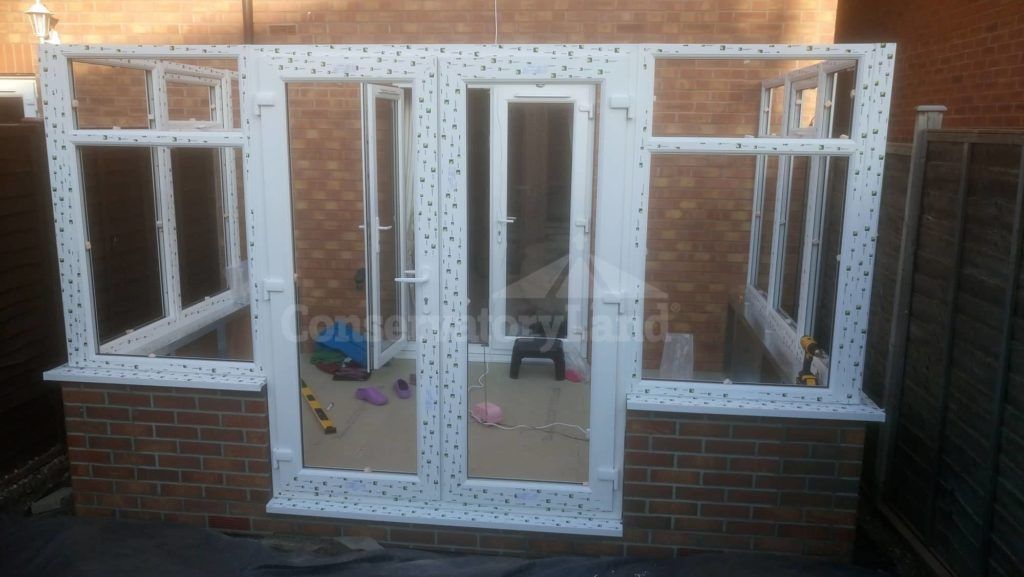 All in all, Mr and Mrs Baker managed to wrap the build up over the course of five days – and you'll agree that it's a job well done. And as you can see – they were delighted with their completed conservatory.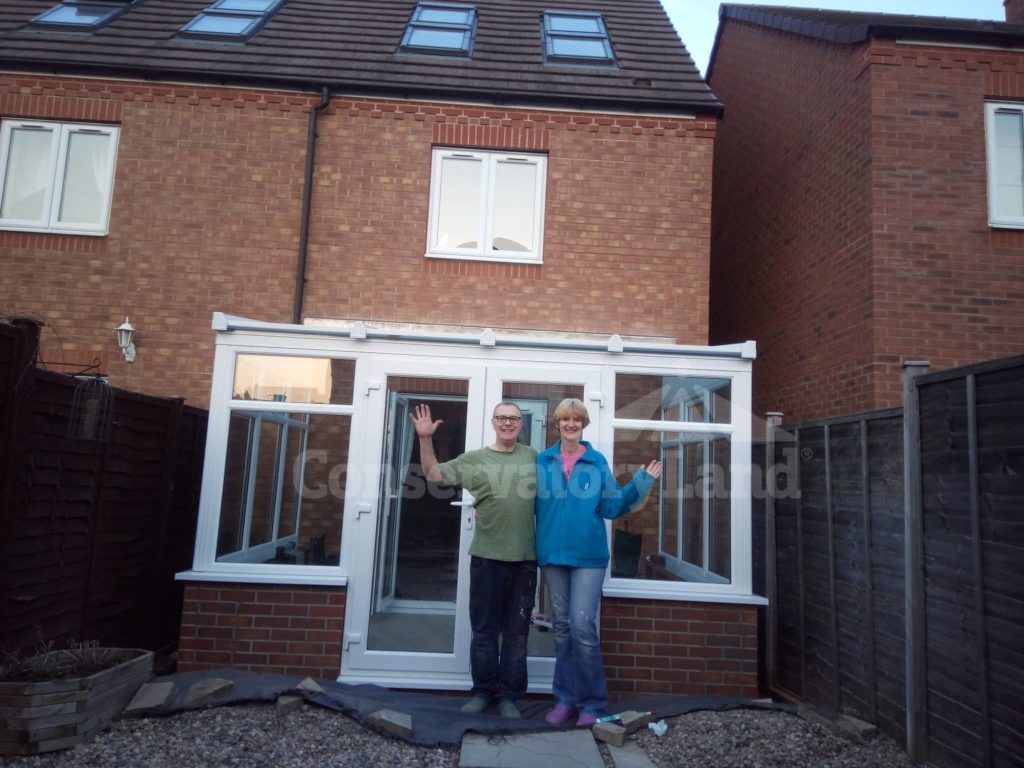 Although Mr and Mrs Baker executed their build for themselves – you don't always have to take the DIY approach.
Our network of approved installers is the perfect place to find tried and trusted conservatory installers that have been approved by us due to the quality of their work.
Customer Testimonial
Mr and Mrs Baker were just as satisfied with the process of installing their conservatory as they were with the finished project.
They said:
"We started on a Monday afternoon and it was completed by 6.30pm on Friday! We needed help from our son in law and daughter to get the glass in the roof. Other than that we did the rest, not bad for two 57 year olds…"


"The conservatory is fantastic and very good quality."
If you're inspired by the above project and want to explore the lean to conservatory route, we're willing to discuss your options with you and answer any questions you might have.
Failing that, we have a range of other inspiring conservatory projects for you to take a look at. It doesn't matter whether you're looking for inspiration or reassurance that you can attempt the build yourself, we're confident that there's enough success stories out there to put your mind at ease.