Meet our February 2023 Customers of the Month — Mr and Mrs Patel with their ConservatoryLand Orangery in Essex.
After the couple decided they wanted additional living space, Mr Patel researched various extension options, orangeries, and conservatories. After discovering ConservatoryLand, the pair soon picked on a bespoke Hipped-Back Edwardian Orangery — and they love the finished product.
Watch Mr and Mrs Patel's video testimonial below and find out how ConservatoryLand has given them a new reason to love their home.
Mr and Mrs Patel chose ConservatoryLand because they were impressed with our offering. They liked how we built our conservatories, the variety of orangeries available, and the product's value.
Plus, Mr and Mrs Patel were thrilled with the quality of the materials. And they were even more impressed with the opportunity to see parts being produced at the ConservatoryLand showroom. This was a fascinating experience that reassured them of ConservatoryLand's high standards. If you're interested in seeing what Mr and Mrs Patel saw, you can book a free factory tour.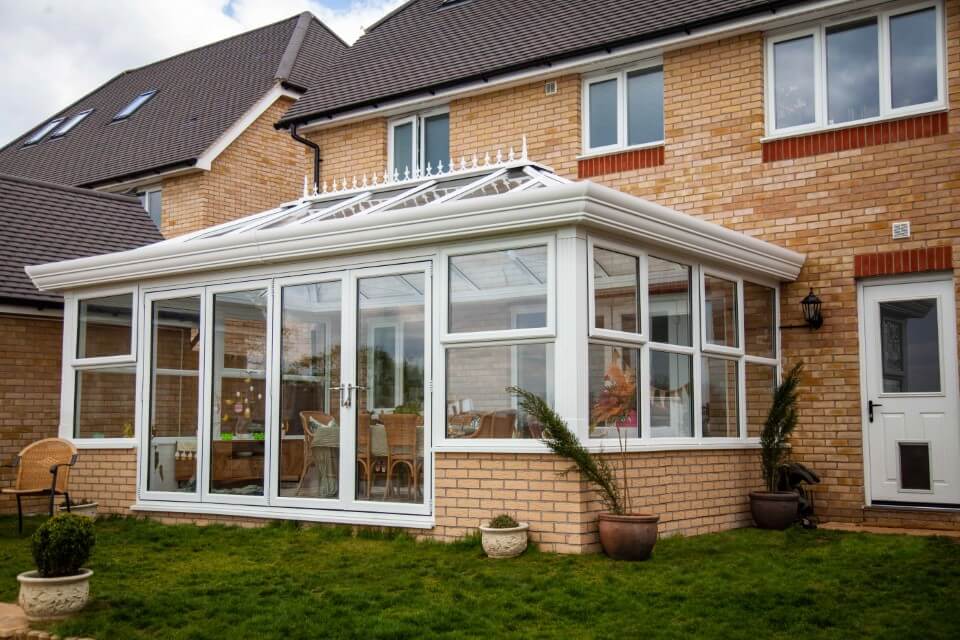 The specifications
| | |
| --- | --- |
| Name | Mr and Mrs Patel |
| Location | Braintree, Essex |
| Conservatory style | Hipped-Back Edwardian Orangery with Corner Pilasters |
| Dimensions | 6500mm x 4000mm (made to measure to customers' requirements) |
| Glazing | Standard glass in the windows, Blue Self-Cleaning, Solar Control Glass roof |
| Base type | ConservaBase with a brick skirt (Rustic Cream 692) |
| Colour | White uPVC, 24mm Blue Self-Cleaning, Solar Control Glass for the roof, chrome handles |
Building Mr and Mrs Patel's conservatory
Once they had seen behind the scenes, Mr and Mrs Patel instantly knew that ConservatoryLand was the right choice for them. However, they still needed to figure out the exact measurement requirements for their Orangery.
The couple decided to use one of our Approved Installers, who helped ensure they got the best Orangery possible. After reviewing Mr and Mrs Patel's suggested measurements, the Approved Installer advised that they could achieve a more impressive finish by extending slightly further than initially planned. The Approved Installer helped them visualise this change and gave them the confidence they needed to go ahead with the impressive build.
Once Mr and Patel finalised the measurements and their design, the Approved Installer built the entire Orangery in just four days. Mr and Mrs Patel were delighted with the size of their Orangery and were extremely pleased with the speed of construction. This fast installation was made possible thanks to our unique all-in-one base solution ConservaBase.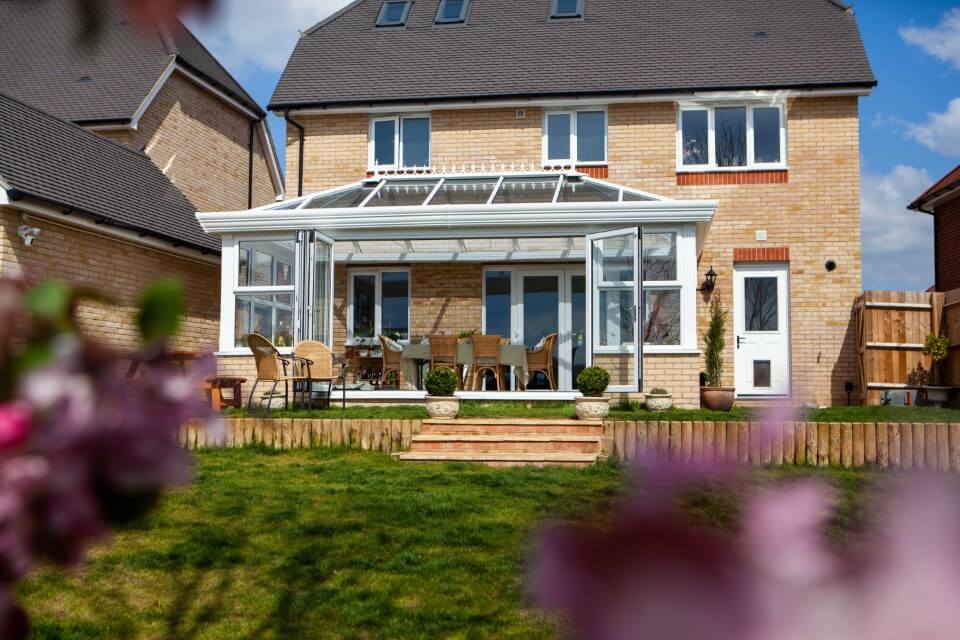 To blend in with their home's exterior, Mr and Mrs Patel picked the Rustic Cream colourway for the ConservaBase's brick skirt. This is almost an exact match with the couple's existing brickwork and helps the Orangery look like it was always meant to be there.
The elegant corner pilasters give their Orangery a smart finish, while the bi-fold doors make it easy to open up their garden to guests. The Patel household loves hosting friends in this new social space. It's ideal for BBQs, serving as a functional area for dishing up food that naturally flows into the outside party.
Mr and Mrs Patel also love sitting in their Orangery on a rainy day. The Orangery's Blue Self-Cleaning, Solar Control Glass roof is quieter than a polycarbonate option, so they still have a tranquil space even during a downpour. And as their chosen roof type helps regulate temperature too, they can enjoy the space comfortably all year round — whatever the weather.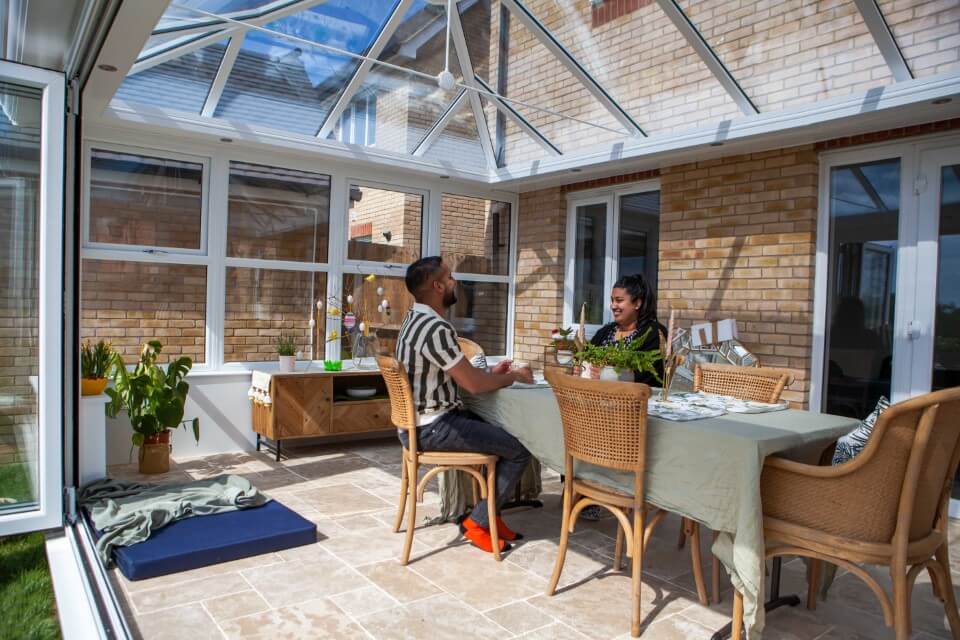 Mr and Mrs Patel adore their new Orangery and would happily recommend ConservatoryLand to anyone who wants an extraordinary room added to their home.
Are you feeling inspired?
You can find more stories like Mr and Mrs Patel's in our previous Customer of the Month blogs. We highlight various styles, so you'll find lots more inspiration.
If you want to improve how you entertain your guests and gain a new living space, take a look at our free brochure. You're sure to find a model that will work for you. And remember, all our conservatories are made to measure, so you can customise your build. We're always happy to chat and answer any questions. Call us on 0800 952 8000, and we can help you realise your dream.
We operate as a contactless company, so we will only enter your home during a build if it's essential. You can rely on our Approved Installers to construct your new living space quickly and safely. To learn more about the installers we work with, visit our Approved Installers page.