October has arrived, which means it is now autumn.
The evenings are getting darker, and the leaves are beginning to fall off the trees.
But it's still the perfect time to build a DIY conservatory.
And to celebrate our newest Customer of the Month.
This time, we're proud to announce that lucky person is Mr Russell Organ, from Birmingham.
Mr Organ purchase a hipped-back Edwardian conservatory from Conservatory Land – one of our best-sellers.
This was to be a replacement conservatory, as Mr Organ was looking to upgrade to a newer model.
This was how the old conservatory looked like: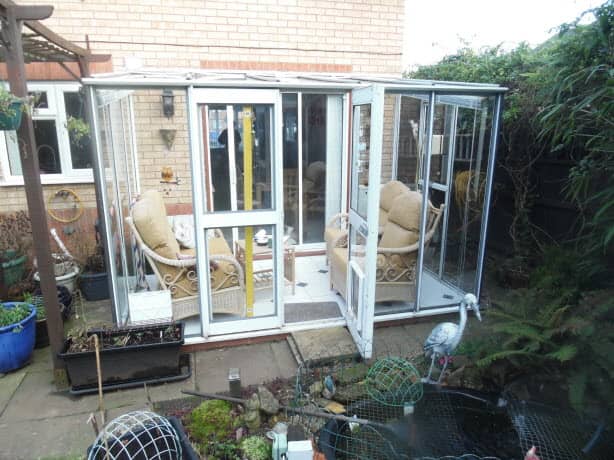 Our ConservaBase walls were installed onto his existing base, which made the whole process a little bit simpler.
Before manufacturing the parts, we completed a few drawings to give Mr Organ an idea of what the finished product would look like – based on his requirements (including his exact measurements).
You can see those drawings below: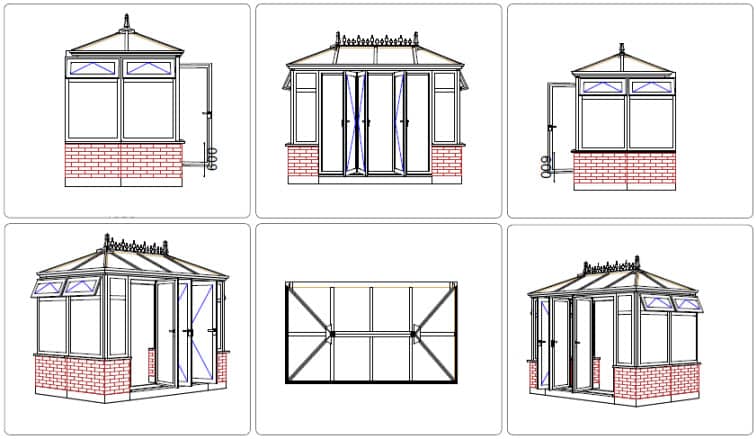 The Project Technical Specifications
As mentioned, Mr Organ opted for a hipped-back conservatory style.
He also chose to include Bi-fold doors in his purchase.
The dimensions of this made-to-measure conservatory were as follows: 3244mm x 1936mm
Pilkington K glass was installed for the windows and doors, whilst white door handles and white PVCu were also decided on.
Location
Acocks Green, Birmingham
Conservatory style
Hipped-Back Edwardian
Dimensions
3244mm x 1936mm (made to measure to customer's requirements)
Base type
Existing base
Walls
ConservaBase walls only - Brick choice was from standard range
Doors
3 Pane Bi Folding Door
Material
PVCu, Polycarbonate
Pilkington K Glass to windows and doors
Colour
White PVCu, 25mm Clear Polycarbonate for the roof
White handles
Planning permission
Planning permission was not required for this size
Warranty
10 Year Guarantee on ALL parts
The Installation Process
Mr Organ, like many of our customers, chose to hire a couple of builders to put the conservatory together.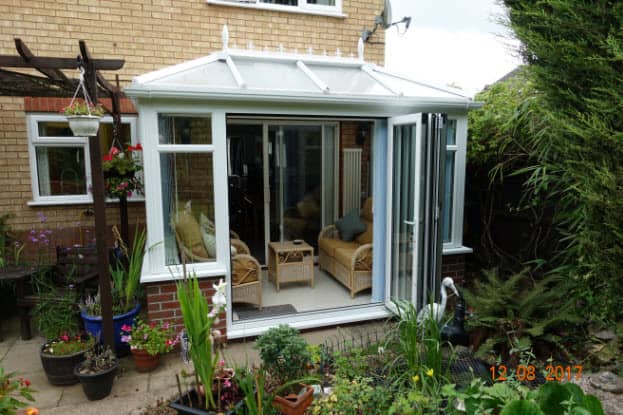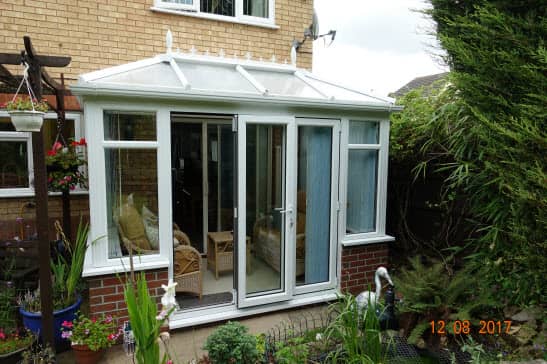 They did an excellent job, and Mr Organ was able to save around 50%, when compared to how much he would have paid for one company to do the whole job.
He also requested a conservatory with bi-fold doors – and we were happy to accommodate this, and provide clear instructions on how these are installed.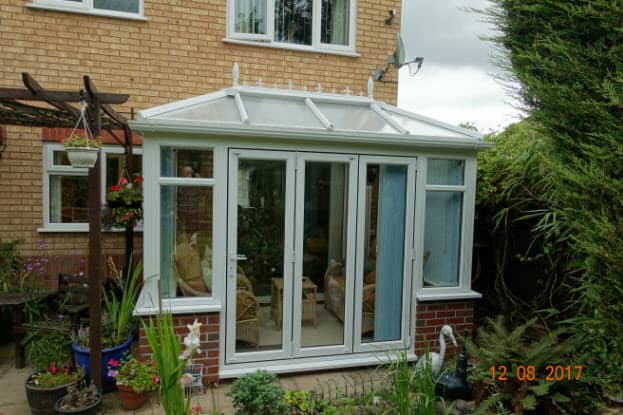 Customer Testimonial
Mr Organ said: "We purchased the Conservatory in the spring of 2017, and looked for somebody to fit it.
"On the day of the arrival, as the ConservatoryLand van arrived, I had two men waiting to offload the new Conservatory.
"It took 2 days to put together, we did pay extra for the Bi-fold doors, and the quality of everything is superb.
"I chose to have a plasterer to fill in the false brick walls on the inside of the Conservatory and vertical blinds to complete the luxury look."
Mr Organ is very happy with his new conservatory – and you can be too!
Give us a call on 08 952 8000 to get started.