Our first Customer of the Month for 2023 is Miss Palette — a proud homeowner in Reading who extended her property with a Lean-to conservatory.
As soon as Miss Palette first saw her new family home, she knew it would benefit from a conservatory. In fact, she was so sure that she put down a deposit with ConservatoryLand before she'd even completed the house purchase. As soon as the keys were in Miss Palette's hands, she couldn't wait to get her conservatory built.
Watch Miss Palette's video testimonial and learn how ConservatoryLand helped her create a transformative space.
Miss Palette and her partner decided to get a conservatory because they wanted their young child to have a playroom. After getting in touch with ConservatoryLand, the couple were impressed by the competitive prices and the efficient ConservaBase option.
When they looked through all the available styles, the pair soon found a conservatory they both liked. The Lean-to option they chose gives them a sun-filled extension they can enjoy all year round. There's plenty of room for their two-year-old to play, and it's easy to switch the space into a quiet zone for the grownups.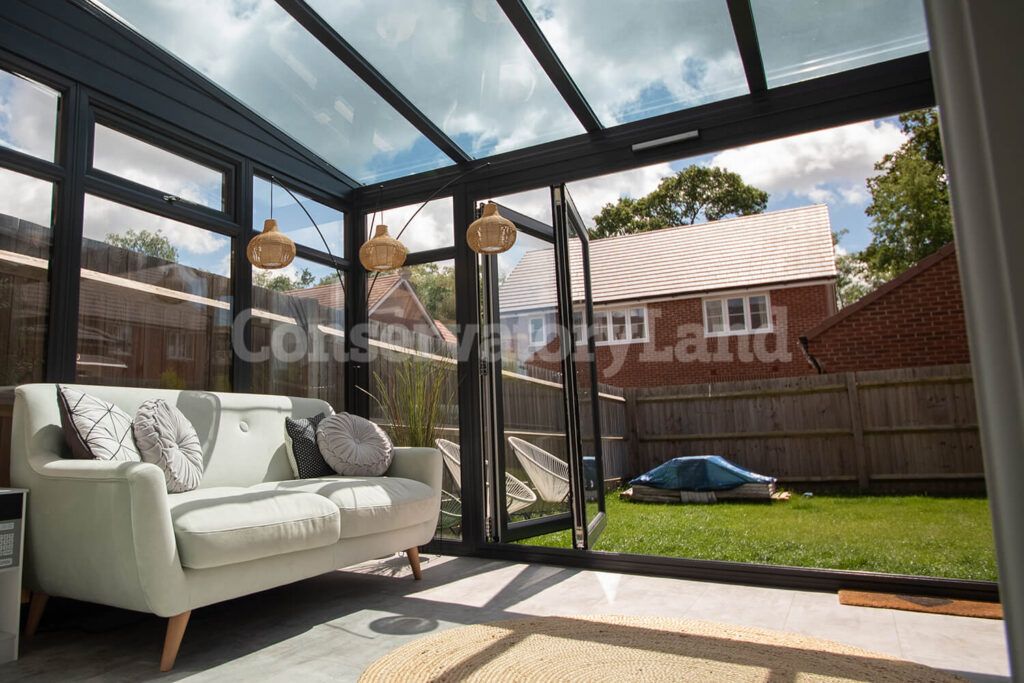 The specifications
| | |
| --- | --- |
| Name | Miss Palette |
| Location | Reading, Berkshire |
| Conservatory style | Lean-to conservatory |
| Dimensions | 4000mm x 3000mm (made to measure to customer's requirements) |
| Glazing | Standard glass in the windows, Blue Self-Cleaning, Solar Control Glass roof |
| Base type | ConservaBase with a brick skirt (Rustic Cream) |
| Colour | Grey uPVC, 24mm Blue Self-Cleaning, Solar Control Glass for the roof, chrome handles |
Building Miss Palette's Lean-to conservatory
ConservatoryLand's unique all-in-one ConservaBase solution particularly appealed to Miss Palette. She was intrigued by the promised quick installation time and was satisfied with the speedy result. Although our customers can build our conservatories themselves, most choose to use one of our Approved Installers. Miss Palette opted for an Approved Installer as she didn't feel confident taking on the job alone. Thanks to the fast base construction and the installer's professionalism, her conservatory was ready to enjoy in just a few days. This was dramatically different from how long her parents' traditional conservatory took to construct many years ago. Her parents were in disbelief that the Approved Installer could complete the high-quality build so quickly.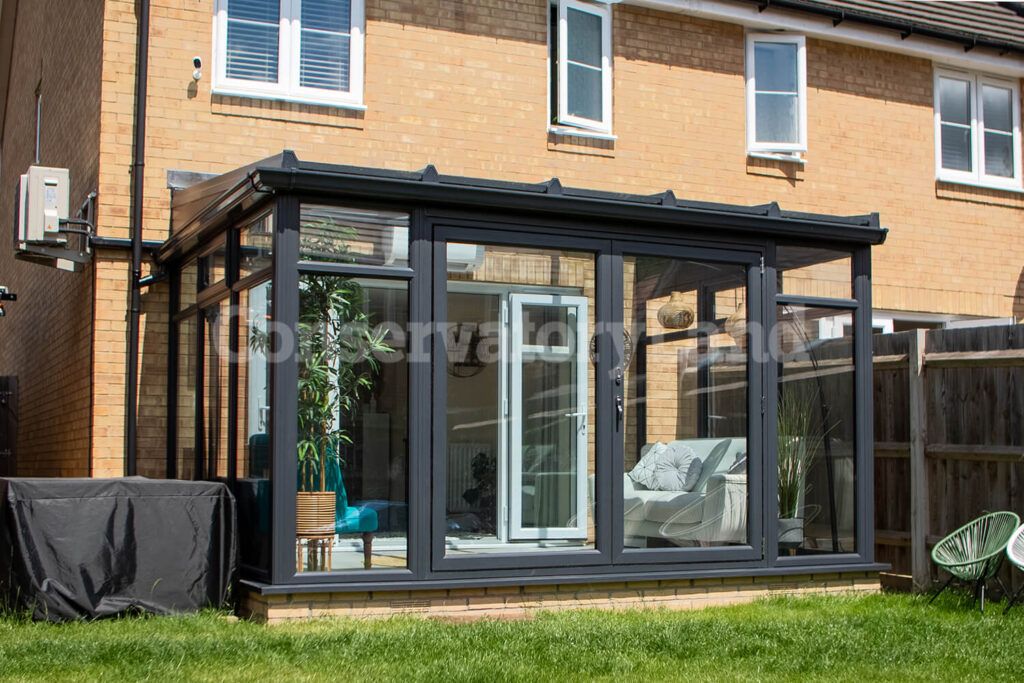 To complement her home, Miss Palette chose a Rustic Cream brick skirt as part of the ConservaBase. She styled her made-to-measure conservatory with modern grey uPVC frames and chrome handles. These contemporary colour choices resulted in a stylish extension.
As for the roof, Miss Palette chose our Blue Self-Cleaning, Solar Control Glass roof. A natural combination of UV radiation and rainwater activates the self-cleaning coating, making maintenance far easier. It also helps with temperature control — keeping the room comfortable on sunny days and cloudy nights.
Miss Palette's new conservatory has changed the way her family live. It's doubled their downstairs living area and connects their garden to their home. Her two-year-old daughter loves her new playroom, and this division has kept other rooms tidy. The conservatory has also doubled up as a welcoming space to host guests.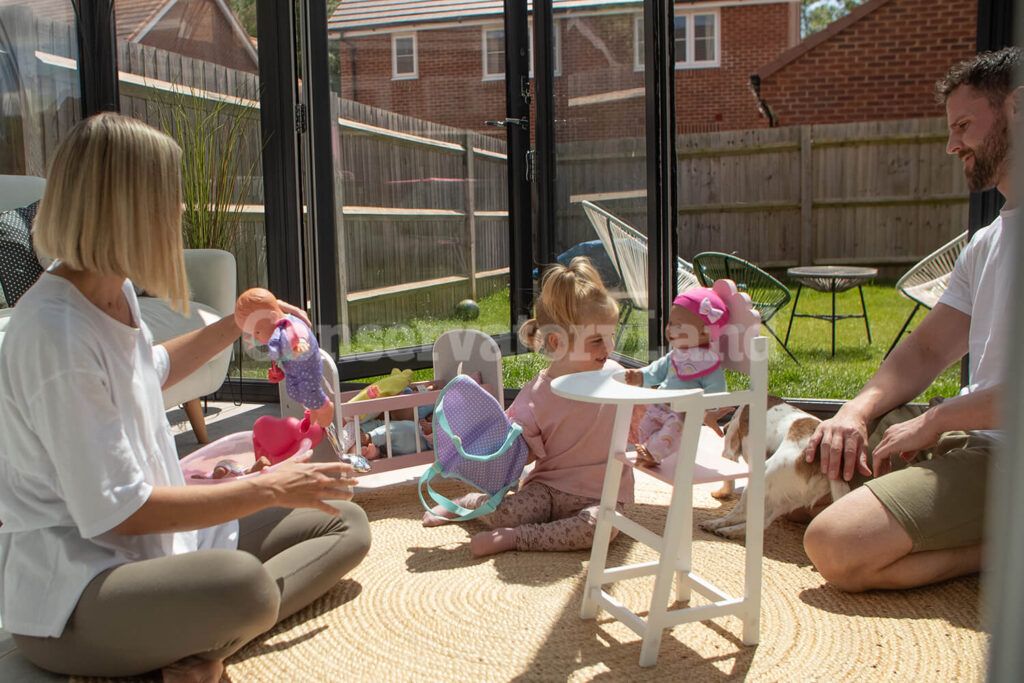 Miss Palette's brother is currently considering a conservatory, and she's already recommended ConservatoryLand to him — and would happily recommend us to anyone else.
Are you feeling inspired?
Want to read and watch more customer stories? Browse our previous Customer of the Month blogs. You'll find plenty of inspiration, showing the broad range of styles and endless customisation options.
No two conservatories are the same. So regardless of whether you want to use yours as a formal dining area, a flexible playroom (like Miss Palette does), or anything else, we're here to help. All of our conservatories are made to measure. You'll find more about our models in our free brochure. Our friendly team is always here to talk through any questions you may have too. Just give us a call on 0800 952 8000. ConservatoryLand operates as a contactless company, so we won't enter your property during a build unless we have to. You can rely on our Approved Installers to install your new room safely and quickly. To find out more about our network of vetted professionals, visit our Approved Installers page.