Our Customer of the Month for July 2023 is Mr Bastow with his Hipped-Back Edwardian conservatory in Barnoldswick, Lancashire. Having a conservatory had been a long-time ambition, and he's overjoyed to have finally achieved it with the help of ConservatoryLand.
Mr Bastow and his wife's previous property wasn't suitable for a conservatory, so as soon as they moved into a new house, they knew they wanted to extend their living space. And they are thrilled to be able to enjoy something they had dreamt about for many years.
Watch Mr Bastow's video testimonial below and see how his vision of a Hipped-Back Edwardian conservatory came to life.
After researching online, Mr Bastow spoke to various conservatory manufacturers and retailers. However, he was left frustrated by overly pushy salespeople. He also found that he couldn't get a price estimate without reps insisting on visiting for exact measurements. He was relieved when he came across ConservatoryLand and impressed by the stark difference in customer service.
Mr Bastow was able to easily get a personalised price with our instant quote generator. Being able to get a no-obligation quote based on his own measurements gave him the confidence to move forward.
Mr Bastow decided on a Hipped-Back Edwardian style conservatory after browsing our brochure for inspiration. He was supported through his decision when talking to ConservatoryLand; he found everyone he spoke to very helpful. Mr Bastow appreciated the speed at which we were able to send over pictures and drawings, allowing him to visualise how the finished product would look before making a final decision.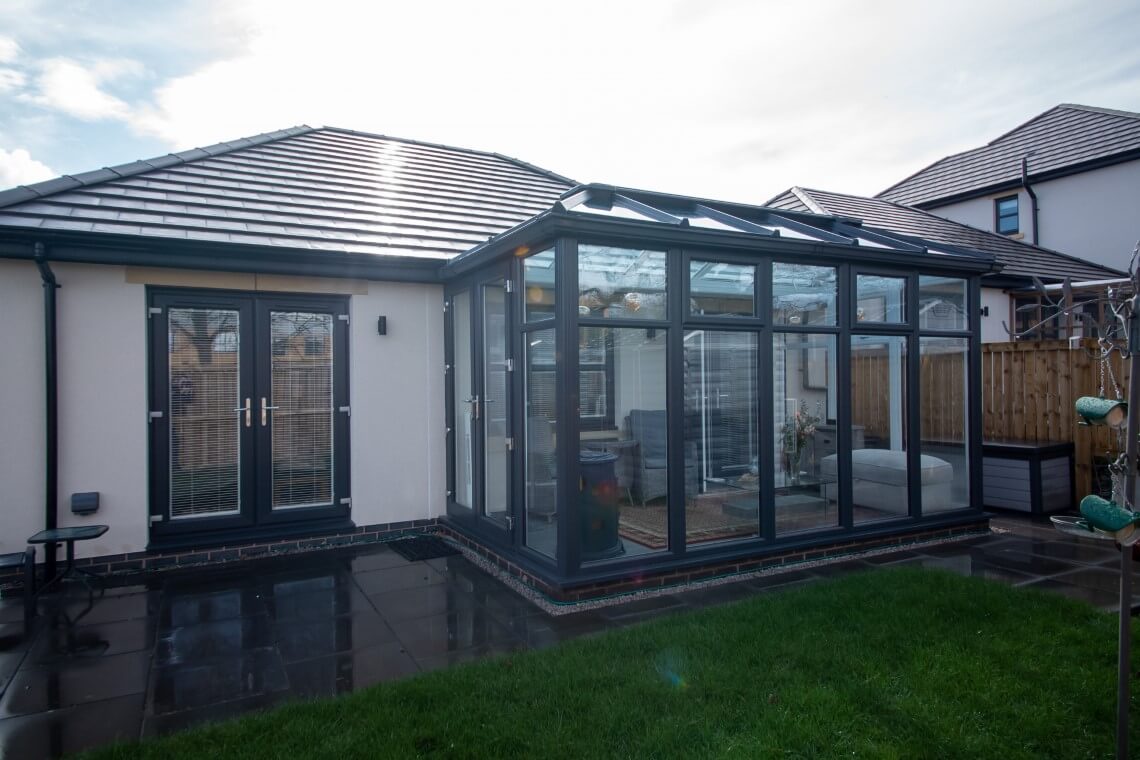 The specifications
| | |
| --- | --- |
| Name | Mr Paul Bastow |
| Location | Barnoldswick, Lancashire |
| Conservatory style | Hipped-Back Edwardian |
| Dimensions | 4500mm x 2500mm (made to measure to customer's requirements) |
| Glazing | Standard glass in the windows, Blue Self-Cleaning, Solar Control Glass |
| Base type | ConservaBase with brick skirt (Rustic Charcoal 697) |
| Colour | Grey/white uPVC, 24mm Blue Self-Cleaning, Solar Control Glass for the roof, chrome handles |
Building Mr Bastow's conservatory
Mr Bastow chose to use one of our Approved Installers — a network of ConservatoryLand-vetted independent contractors. The Approved Installer kept Mr Bastow informed at all times, so he always knew what was happening and why. Most importantly, the work was completed within just two days.
This extremely quick construction was made possible by ConservatoryLand's unique all-in-one base and wall solution, ConservaBase. It makes conservatory construction so simple that it's even possible as a DIY project, although most customers choose to use our Approved Installers like Mr Bastow did. The ConservaBase means there's no need for foundations which minimises mess and build time.
Mr Bastow wouldn't hesitate to recommend people get their conservatory built by an Approved Installer. It was a smooth process from start to finish.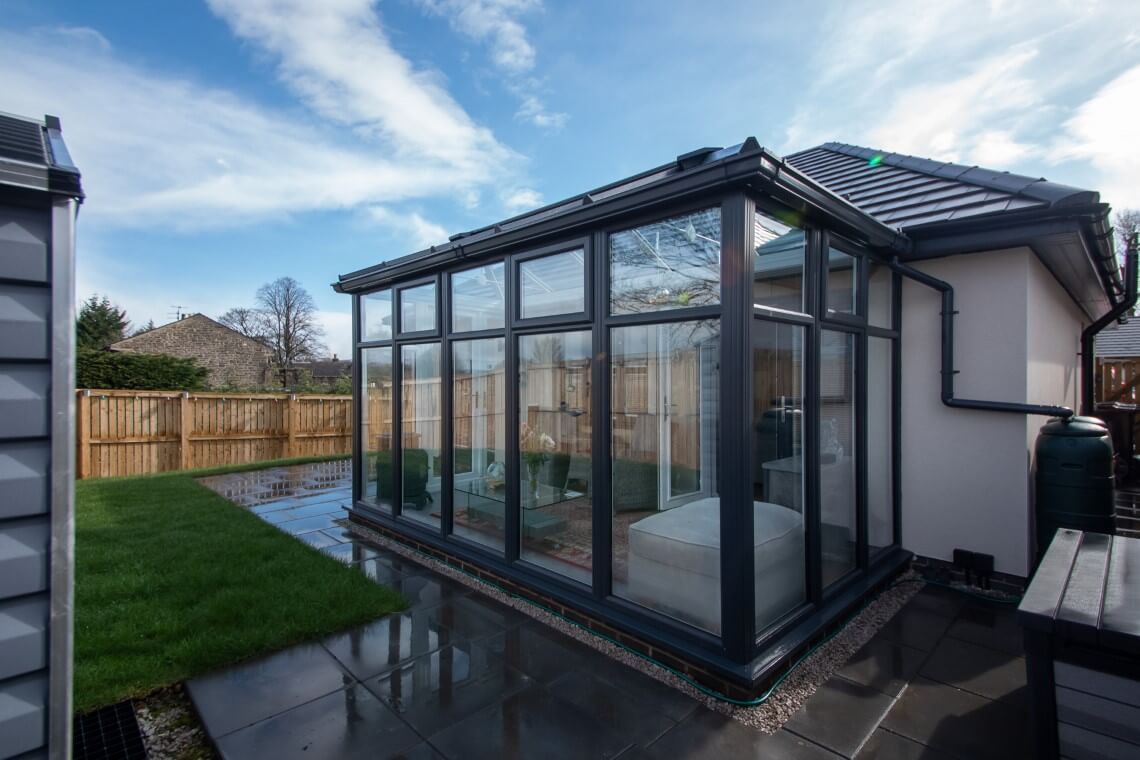 Like every ConservatoryLand project, this was a made-to-measure conservatory. The size, colour, roof type and doors were all bespoke to Mr Bastow's requirements. After wanting a conservatory for years, there was no need for Mr Bastow to compromise on achieving his precise vision.
Mr Bastow chose a stylish grey uPVC for the exterior, in keeping with the colour scheme of his patio, windows and roof. While on the inside, he opted for a traditional white uPVC that helps to create a light and airy feel.
The Blue Self-Cleaning, Solar Control Glass for the roof keeps the room at a comfortable temperature, whatever the weather, so Mr Bastow can enjoy the space all year round.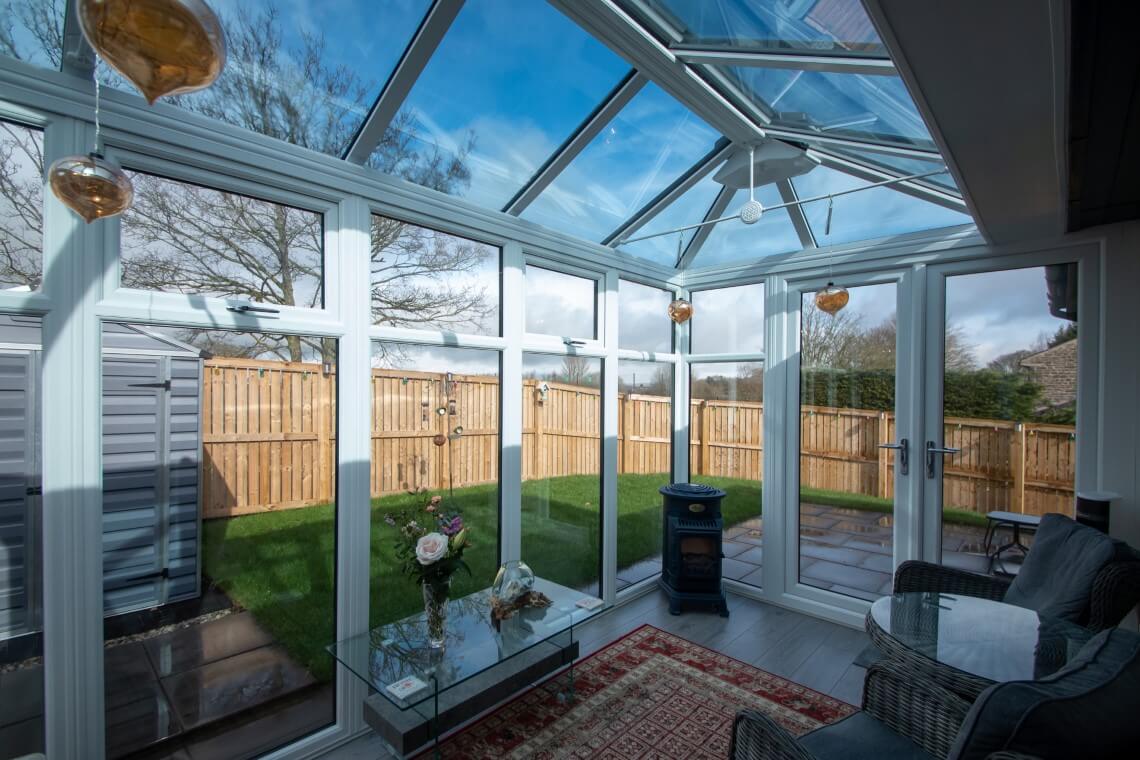 Mr Bastow is delighted with his finished conservatory. After dreaming of having one for years, it was certainly worth the wait — and has proved excellent value for money too.
The timeless Edwardian style creates a welcoming, light-filled space for Mr Bastow and his wife to enjoy. The made-to-measure conservatory is large enough for all the furniture needed to sit back, relax, and watch the birds fly by outside.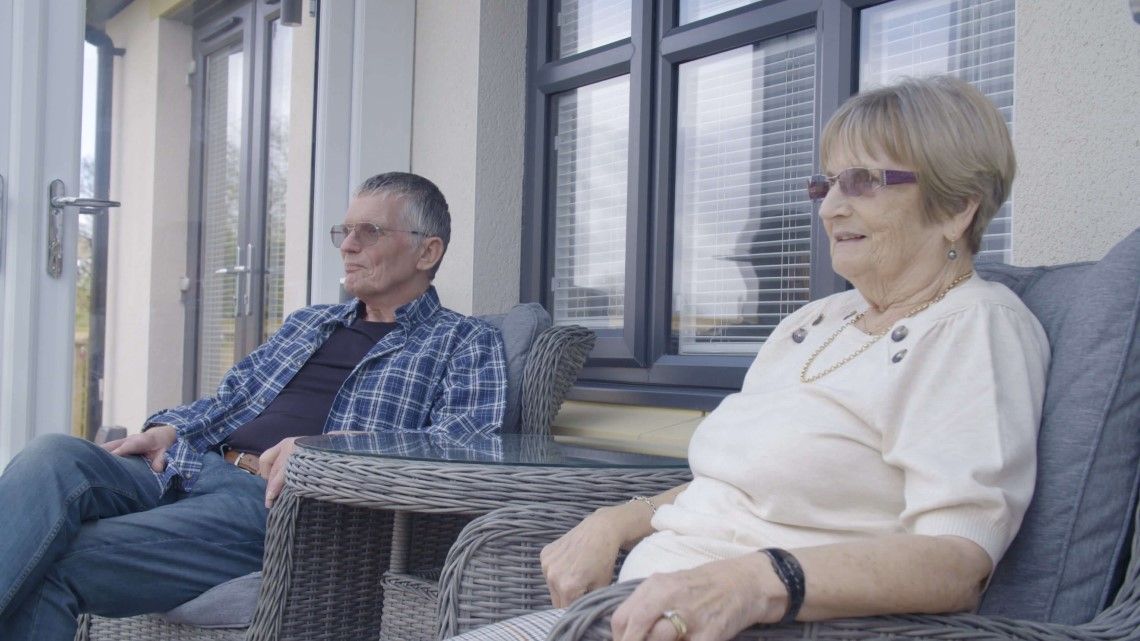 Are you feeling inspired?
Our conservatories are as unique as our customers. We manufacture every element so each aspect can be customised to your exact requirements. You can see how we've helped people realise their unique designs by visiting our previous Customer of the Month blogs. You can also see the wide range of options to choose from in our free brochure.
Once you've got an idea of the style and size you'd like, you can get a personalised price from our instant quote generator. Got any questions? Give us a ring on 0800 952 8000 or fill in our contact form.
You can also find out more about our installation process on our Approved Installers page. We're a contactless company, so our Approved Installers will only enter your home when necessary.