Our June 2023 Customer of the Month is Mrs Bull in Hitchin, Hertfordshire. Her Hipped Lean-to conservatory is an excellent example of how extending your property helps you live the life you want.
Mrs Bull first considered getting a conservatory when lockdowns changed her lifestyle. Suddenly, Mrs Bull had to work from home and change one of her living spaces into an office. With remote working continuing to be a part of her life, a conservatory has helped her reclaim her home.
Watch Mrs Bull's video testimonial below to see her Hipped Lean-to conservatory.
Mrs Bull decided to go with ConservatoryLand because of the unique simple construction process. She didn't want a lengthy building period and appreciated the minimal disruption that ConservatoryLand's all-in-one base and wall solution ConservaBase offered.
The result? A speedily constructed conservatory. There's no need for foundations with a ConservaBase, and the finished conservatory is indistinguishable from one that required advanced building work. Mrs Bull delights in telling visitors about the construction, as her guests always assume it's traditionally built.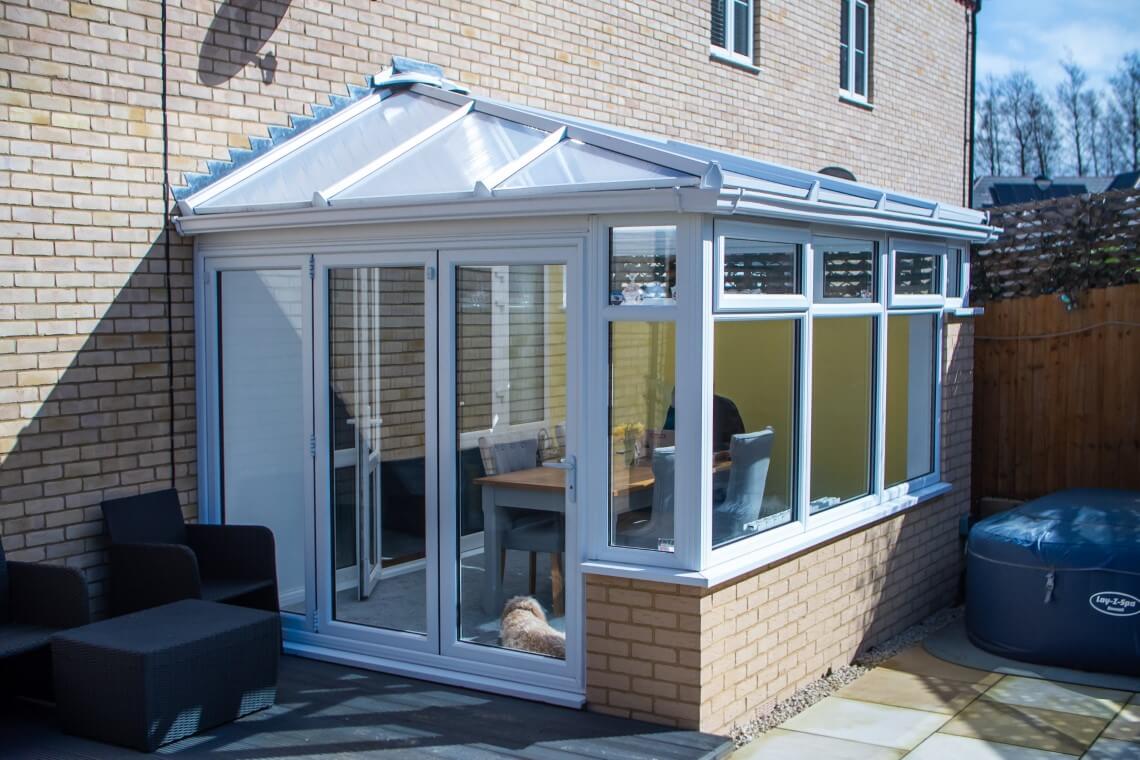 The specifications
| | |
| --- | --- |
| Name | Mrs Alison Bull |
| Location | Hitchin, Hertfordshire |
| Conservatory style | Hipped Lean-to |
| Dimensions | 3800mm x 3000mm (made to measure to customer's requirements) |
| Glazing | Standard glass in the windows, opal polycarbonate roof |
| Base type | ConservaBase with brick skirt (Rustic Cream 692) and sandstone mortar |
| Colour | White uPVC, 25mm opal polycarbonate roof, white handles |
Building Mrs Bull's conservatory
The ConservaBase solution is so simple that you can build it yourself. However, Mrs Bull was busy with other projects, so she used a professional. Mrs Bull selected one of our Approved Installers — a network of independent contractors who ConservatoryLand has vetted.
Every builder was extremely professional and kept Mrs Bull informed throughout. She always knew what was happening, when, and how long for. The reliability of the Approved Installers minimised any disruption. And it was a great experience from start to finish.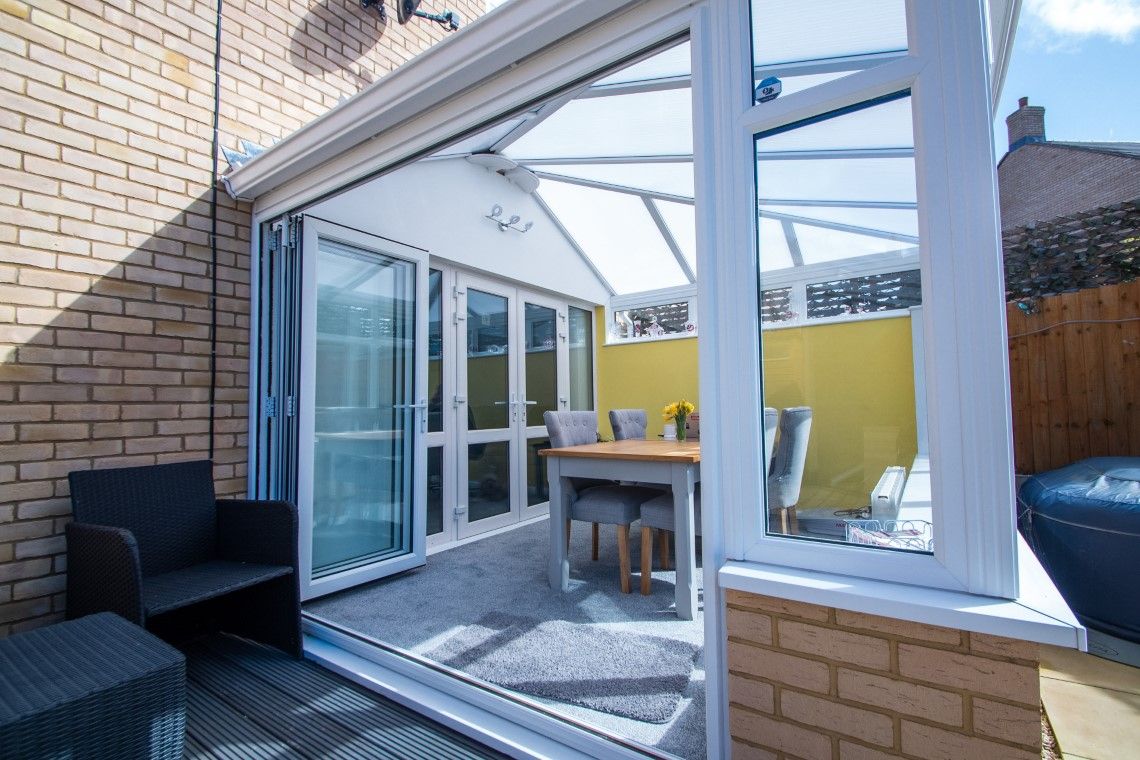 Every element of the conservatory was made to Mrs Bull's precise specifications. The ConservaBase's Rustic Cream 692 and sandstone mortar ensure a seamless blend with the existing home's exteriors. The excellent colour match means the Hipped Lean-to conservatory looks like it was always meant to be part of the property.
Mrs Bull chose a cost-effective polycarbonate roof. This hardwearing option reduces glare — ideal for when using her new space as a home office. Its insulating properties also help keep her conservatory at a comfortable temperature. Plus, the Hipped Lean-to style means rainwater runs off the front of the sloping roof, making maintenance easier.
The bespoke design is finished off with bi-fold doors. These open onto Mrs Bull's decking area, helping to create a welcoming social space inside and outside.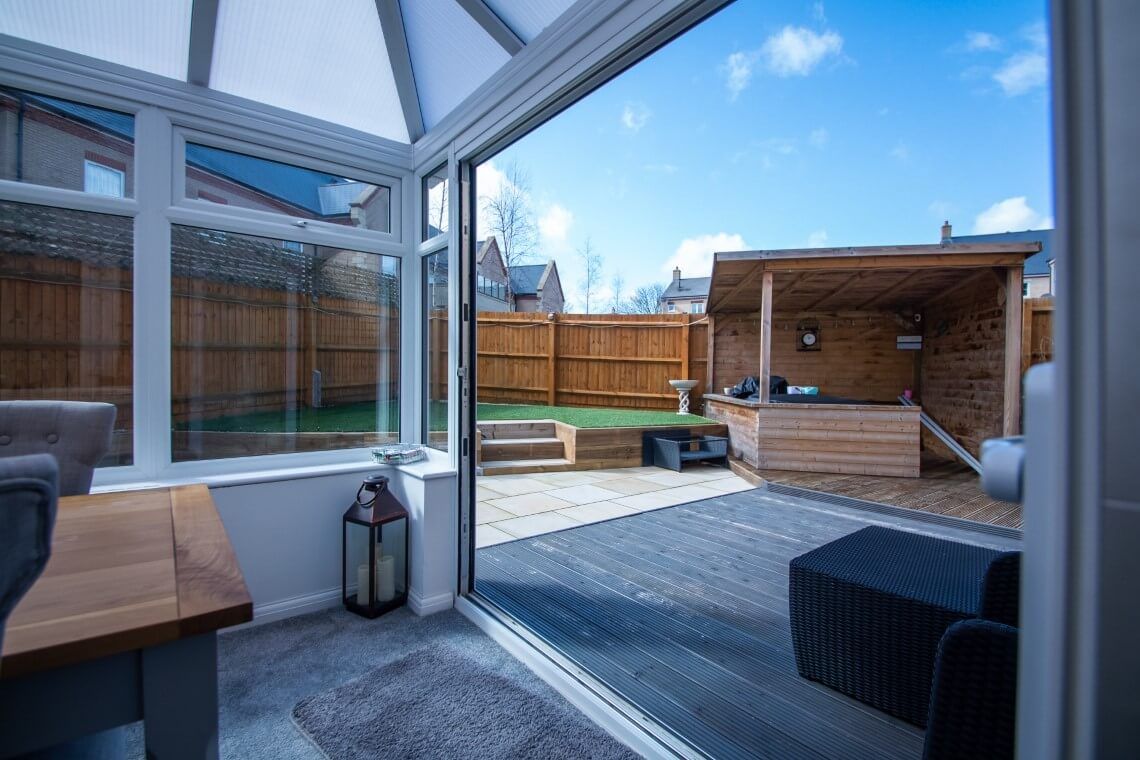 Mrs Bull enjoys hosting family and friends in her garden. The new conservatory has offered a great way of extending her home's outside space when it rains. There's no need to call off the BBQ for poor weather as guests now have a place to shelter. And when it's not being used for entertaining, the conservatory provides more space for indoor living — and working. Mrs Bull can happily work from home in the conservatory while other household members relish the property's living spaces returning to their intended uses.
This Hipped Lean-to conservatory is for work and play. Its versatility gives Mrs Bull everything she was looking for.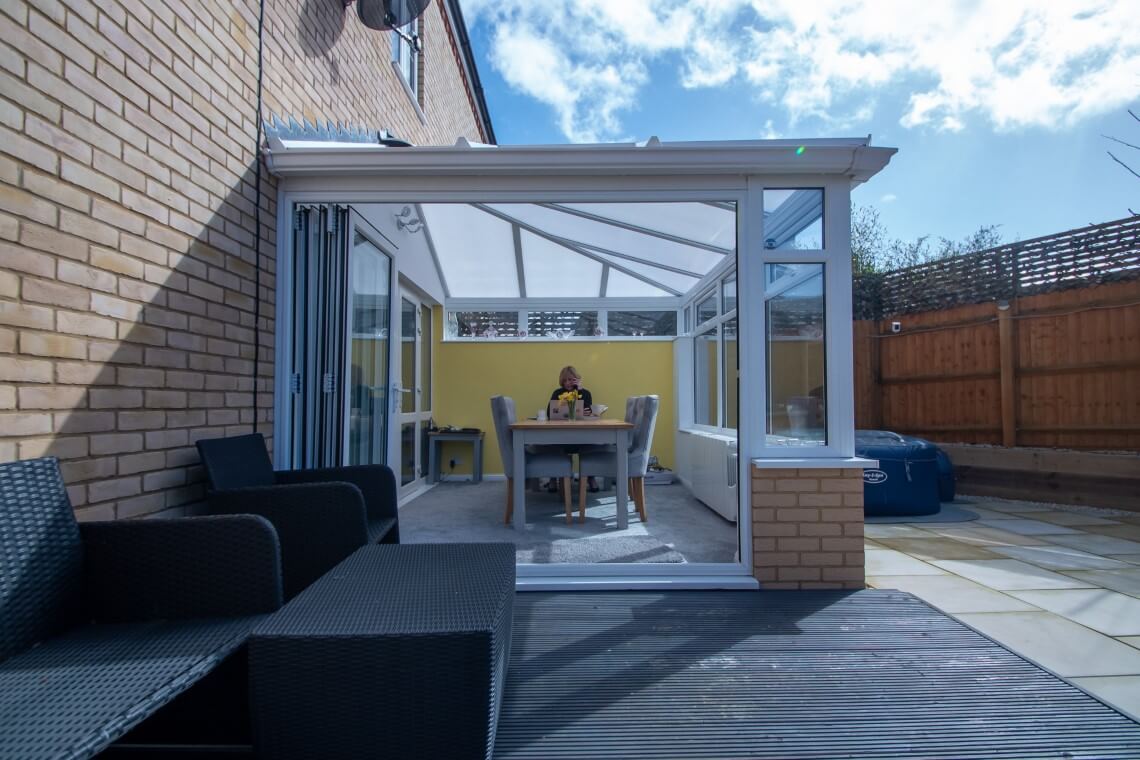 Are you feeling inspired?
All of our conservatories are unique and made to each customer's requirements. You can see more stories like Mrs Bull's by looking back on our previous Customer of the Month blogs. You'll also find more inspiration in our free brochure.
Know what you want? See what you can get for your money with our instant, no-obligation personalised quote generator. If you have any questions, call us on 0800 952 8000 or use our contact form.
To learn more about how we assess our installers, visit our Approved Installers page. ConservatoryLand is a contactless company, so our Approved Installers will only enter your home if needed.