November has arrived, which means it's time for those of us here at Conservatory Land to celebrate one of our many valued customers.
Each month, we take the time to show our appreciation for somebody who has installed one of our conservatories at their home.
This time, that very special person is Jan Durell from Chelmsford, Essex.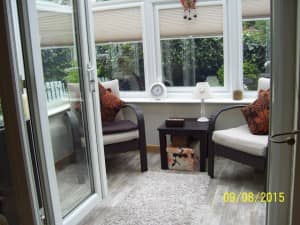 Jan was looking for an extension for two reasons – she wanted extra room for when her family visits, as well as a place where she could to retreat to and read her books.
After considering her options, looking through our selection of conservatory styles and speaking directly with our sales team – Jan decided that ConservaBase was right for her.
While some of our customers will build the extension themselves, Jan thought it best to employ professional builders to do the job for her.
She said: "It was fairly straight forward for them, although they had to contact the Conservatory Land Technical Team a couple of times."
Our employees are always on hand to offer assistance when it comes to the construction work. If you run into any issues, just give us a call.
"The staff at Conservatory Land were most helpful on these occasions", Jan said.
It wasn't an easy job but, as they say, nothing worth having comes easy! The glass panels, at 7ft each in length, were very heavy – and the two builders asked a third to help them out with this part.
But within just 4-5 days, Jan had a brand new conservatory in which she could read her books.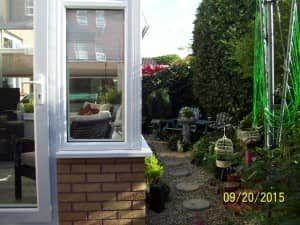 "I am so pleased with the end result and cannot imagine not having my conservatory now", she said.
All in all, it was a successful installation. Jan got some extra space within a short period of time and at a very reasonable price.
She added:
"I would recommend Conservatory Land. A very professional team!"