Our March customer of the month writes to us from Milton Keynes, Buckinghamshire, about their brand new lean-to conservatory. Mr and Mrs Lilley wanted a simple conservatory for the back of their house, large enough to fit a dining table and chairs, to increase their entertainment space. They were up for the challenge of a DIY conservatory as they had the time to devote to the project and a clear vision of what they wanted, so a DIY conservatory provider like ConservatoryLand was a perfect fit.

Mr and Mrs Lilley started by deciding how big they wanted their conservatory to be without sacrificing too much of their garden. Their kitchen was relatively small, so their goal was to create a comfortable dining area to give them some much-needed extra space to entertain family and friends.
Approaching the project as an opportunity to benefit their home's value and as something for them to create together, Mr and Mrs Lilley took their time shopping around for a DIY conservatory provider, comparing prices and options, and weighing up various advantages and disadvantages before making their decision.
It turned out that ConservatoryLand was the perfect option. With plenty of years' experience and hundreds of conservatory builds across the UK, our expert team was on hand to guide Mr and Mrs Lilley every step of the way. The team's knowledge and helpful approach and promise of seamless delivery and clear instructions left them confident that ConservatoryLand was the right partner to help them with their DIY conservatory project.
Having discussed the different options available – such as Edwardian and Victorian conservatories, as well as the various roof styles and finishings they could choose from – Mr and Mrs Lilley were excited to start planning their new space. Our team was on hand to guide them every step of the way, drawing on years of experience and attention to detail to help bring their vision to life.
With the look and finishings agreed on, our designers started creating Mr and Mrs Lilley's dream conservatory. They chose a lean-to conservatory, widely regarded as the most simple, elegant option for both modern and traditional homes. They're all about making the most of natural sunlight without requiring too much room.
The Specifications
| Name | Mr & Mrs Lilley |
| --- | --- |
| Location | Milton Keynes, Buckinghamshire |
| Conservatory style | Lean-To Conservatory |
| Dimensions | 5500mm x 3000mm (made to measure to customer's requirements) |
| Glazing | Standard glass in the windows, 32mm Opal Polycarbonate |
| Base type | ConservaBase with Rustic Golden Multi 684 and Sandstone Mortar |
| Colour | White PVCu, 32mm Opal Polycarbonate for the roof, Chrome handles |
Building Mr and Mrs Lilley's Lean-To Conservatory
With the support of an electrician and plasterer – not to mention some good friends – Mr and Mrs Lilley took on the building of their DIY conservatory themselves. Keen to get going as soon as possible, once the paperwork was in place, they started to remove their old decking and clear their outside space. Then, while we were busy manufacturing their brand new conservatory according to their specifications, Mr and Mrs Lilley started to dig the foundations that would support their new construction. Traditional conservatories require a very large space to be dug out at this stage, but Mr and Mrs Lilley only needed to dig 10 holes to support their conservatory. As well as reduce time and effort, this had the added benefit of not disturbing their drainage system.
While they were waiting for the conservatory itself to be delivered, Mr and Mrs Lilly took out their bay window, old door and roof structure to the back of their property, and replaced them with a new bi-fold door to lead into their new conservatory. This not only saved space but would also let in plenty of light from the conservatory into their house.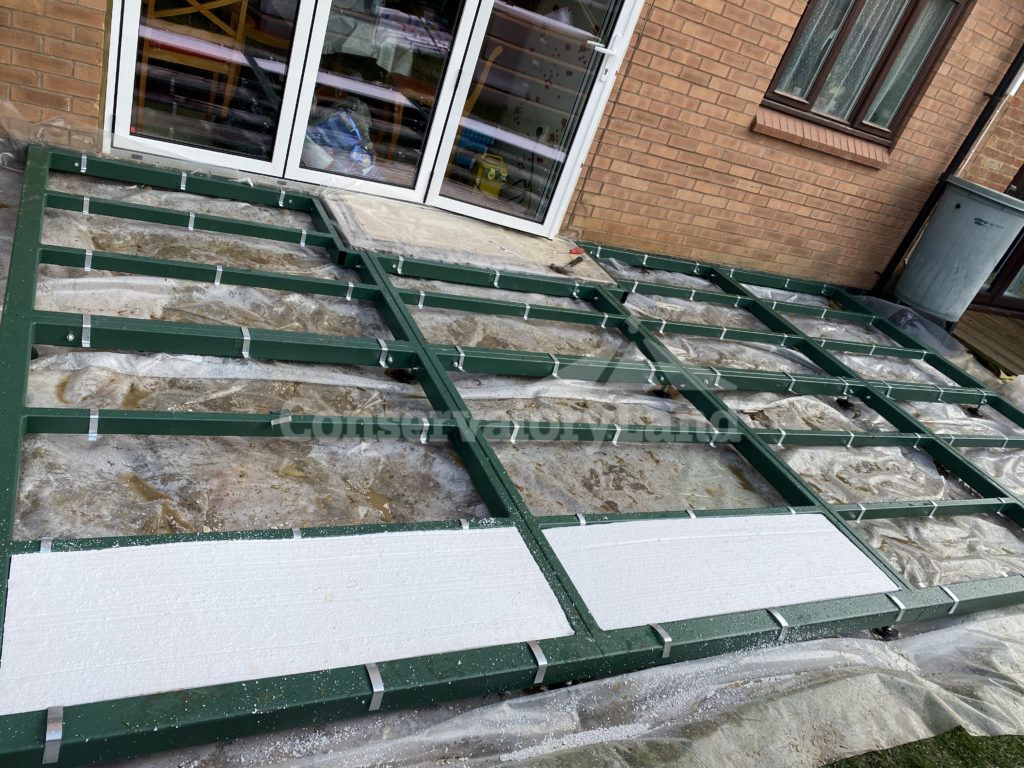 Mr and Mrs Lilley opted for our ConservaBase system for a seamless and quick installation. Each ConservaBase is built to the exact size and shape of the conservatory, which makes for a perfect fit – very important for a DIY build. Indeed, Mr and Mrs Lilley were really pleased that when it came to assembling the steel base frame, it fitted very nicely into the foundation holes. They added polystyrene insulation to the conservatory base to help keep the heat in in cooler months.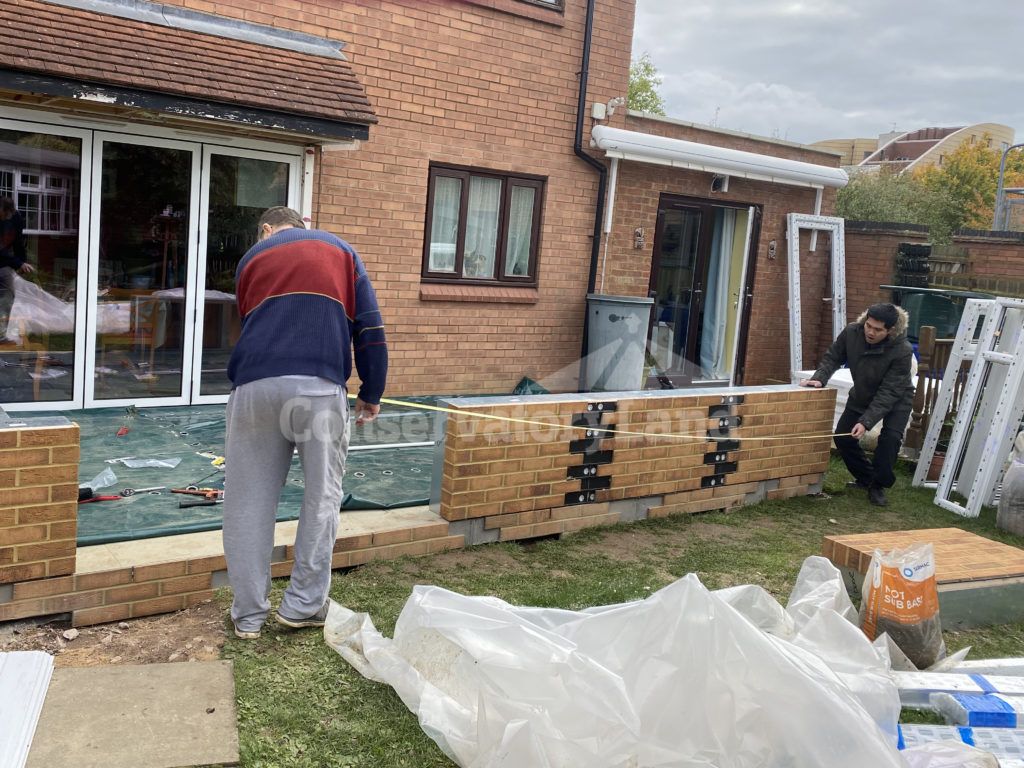 Next up, it was time to install their chipboard flooring. Mr and Mrs Lilley found the simple instructions on the ConservatoryLand website particularly useful here. Then they built the walls, starting with a dwarf brick wall around the base of their conservatory to help their new space feel like a natural extension of the rest of the house. Then they assembled a white PVCu frame, again carefully following the instructions provided by ConservatoryLand.
At ConservatoryLand, we manufacture all of our frames from the latest, fully-sculptured PVCu profiles. They're designed to last a lifetime, thanks to our high-quality materials and expert manufacturing techniques. Plus, as Mr and Mrs Lilley discovered, they make installation speedy and hassle-free.

After that, it was time for Mr and Mrs Lilley to assemble and seal the roof, and fit the glass into the doors and windows. Had everything not been labelled up well when it arrived from ConservatoryLand, Mr and Mrs Lilley said they would have struggled at this stage! For the glazing and roof, they chose 32mm Opal Polycarbonate, to let in as much natural light as possible, while reducing glare and heat build up in the warmer months.
Next, they insulated the side walls – with a little help from a qualified electrician and plasterer – and got to work on the flooring; starting with the underlay for extra insulation, before adding laminate wood on top. At this point, Mr and Mrs Lilley were over the moon with how everything was progressing, and the end was in sight.
For the front of their conservatory, Mr and Mrs Lilley opted for double doors opening out onto the garden. This really allowed them to bring the beauty of the outside into their conservatory, and helped the space feel light and open. Just what they wanted when entertaining in the summer months.
Then it was time for the finishing touches. Mr and Mrs Lilley set to work painting the walls a fresh yellow shade, fitted the skirting boards and window sills, and bought a heater to ensure their conservatory was a space they could truly enjoy all year round. They furnished the space with comfy grey fabric chairs and a marble topped dining table, and accessorised with yellow placemats to match the walls, some glassware, plenty of leafy green plants and fairy lights to finish their look.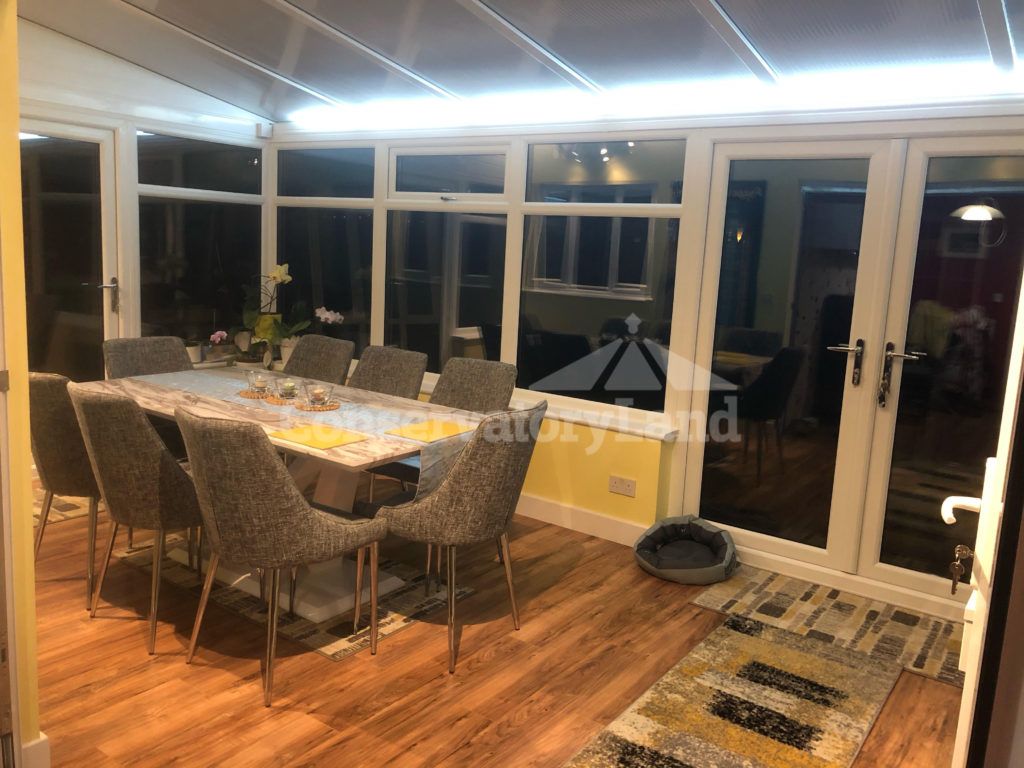 More Happy Customers!
Mr and Mrs Lilley's functional yet attractive conservatory was finished. Having turned it into the dining space of their dreams, they were ready to put it to good use. What's more, they saved a considerable amount of money by choosing to undertake this as a DIY conservatory project – and learned some new skills in the process!
Rating our service as "excellent", Mr and Mrs Lilley were delighted with their ConservatoryLand experience.
Client Testimonial
"From start to finish, ConservatoryLand were excellent. The sales team were knowledgeable and helpful from the outset. I decided to opt for the ConservaBase system, which was tailored to my needs by the design team. The delivery was seamless and I was well informed as to date and times of delivery. Given the year we had in 2020, ConservatoryLand did an excellent job.

The build was relatively straightforward. All parts were colour-coded and intuitively packed. The instructions supplied were clear, but I would urge you to ensure you have them all before starting the build (they are supplied by email, so double-check your inbox).

The quality and finish of the conservatory surpassed my expectations in every way!"
Check out Mr and Mrs Lilley's vlog to find out more about their conservatory project.
And they're not the only ones who were delighted with ConservatoryLand's service and expertise — read more of our customer case studies and see for yourself!
Are You Feeling Inspired?
Interested in joining our growing list of successful customer projects in 2021? Order a free brochure today to find out more. If you have any questions, our friendly team is here to guide you every step of the way.
If you're concerned about social distancing, we completely understand. That's why our network of expert UK installers, should you choose to use them, are vetted and approved by us. Your conservatory project will be surveyed, fitted and installed by professionals strictly observing the latest lockdown guidelines at all times. We're a contactless company and, in most cases, won't need to enter your home during your conservatory build. So you can rest assured that your conservatory is being installed safely without worry.