Our March 2023 Customer of the Month is Mrs Chandler, who recently extended her Derbyshire bungalow with a Hipped-Back Edwardian conservatory — an ideal choice for properties limited by height restrictions.
Ever since Mrs Chandler and her husband built their bungalow seven years ago, they envisioned adding a conservatory. Although taking the next step took them longer than anticipated, they're delighted to finally have the living space they've been dreaming of.
Watch Mrs Chandler's video testimonial below and see the completed construction in all its glory.
After receiving a few quotes and visiting other conservatory providers' sites, Mrs Chandler decided on ConservatoryLand because she was so impressed with the entire process from start to finish. She also particularly liked the insulation options available. The factory tour finalised her decision, and she recommends seeing how things are made to anyone who gets the opportunity.
Mrs Chandler described her experience with ConservatoryLand as "brilliant". Every query was addressed, any minor problems were quickly resolved, and support was available throughout. And most importantly, the finished conservatory was perfect.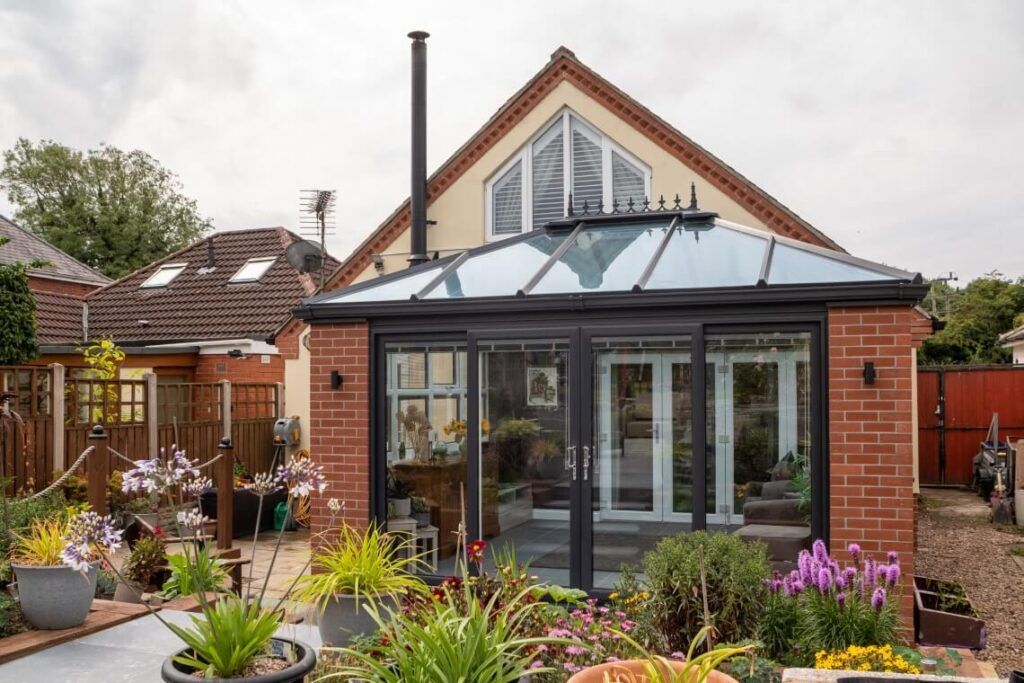 The specifications
| | |
| --- | --- |
| Name | Mrs Chandler |
| Location | Temple Normanton, Derbyshire |
| Conservatory style | Hipped-Back Edwardian conservatory |
| Dimensions | 4750mm x 4000mm (made to measure to customers' requirements) |
| Glazing | Standard glass in the windows, Blue Self-Cleaning, Solar Control Glass roof |
| Base type | ConservaBase with a brick skirt (Montana Red 7450) |
| Colour | Grey/white uPVC, 24mm Blue Self-Cleaning, Solar Control Glass for the roof, chrome handles |
Building Mrs Chandler's conservatory
Although Mrs Chandler's husband had carried out most of the original bungalow building work, the pair felt that a professional would best handle the conservatory installation. For ease, they used our Approved Installers — a network of independent installers vetted by ConservatoryLand.
Mrs Chandler was delighted with the service provided by our Approved Installers. They were happy, tidy, and easy to interact with. As a result, Mrs Chandler would recommend using one of our Approved Installers.
The build was fast, thanks to ConservatoryLand's ConservaBase. This unique all-in-one base, floor, and wall solution speeds up construction by removing the need for separate foundations. It can also be fitted over existing patios, so Mr Chandler's previous handiwork in the garden was left intact despite the building works.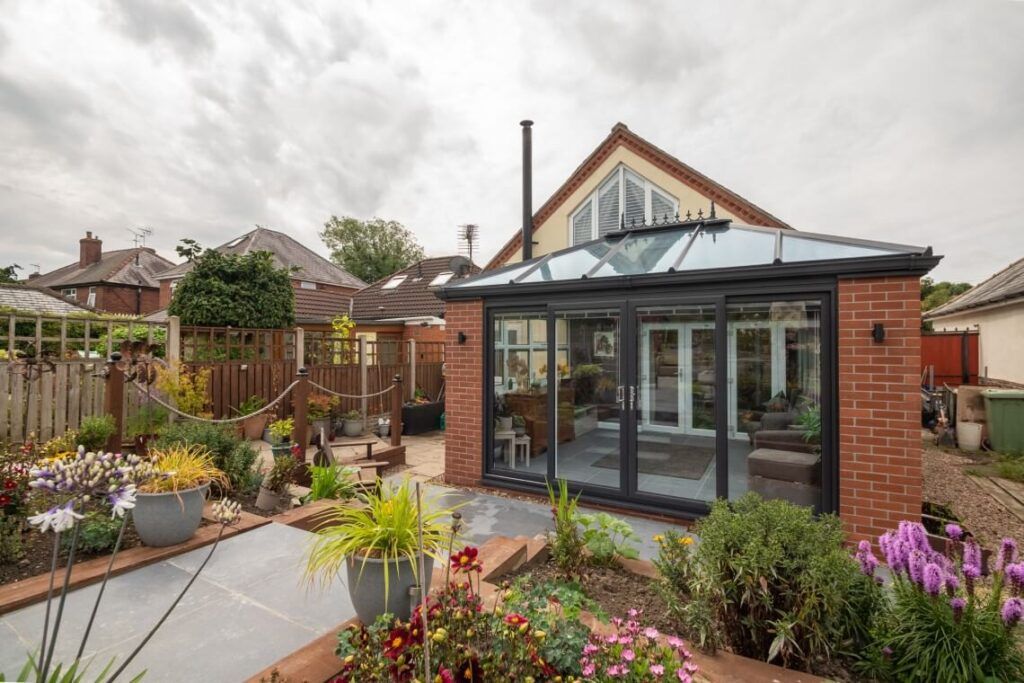 Mrs Chandler chose Montana Red for the ConservaBase's brick skirt to complement the existing exterior. This colour choice perfectly matched the bungalow's original brickwork. The result is an extension that looks like it always should have been there — just like the Chandlers originally planned seven years ago.
The conservatory has helped Mrs Chandler realise her original vision of bringing the garden into her home. She now spends a lot of time in the new room with her husband, enjoying their beautiful garden's well-maintained flora and fauna while sitting indoors. She particularly enjoys unwinding on summer days with the doors open.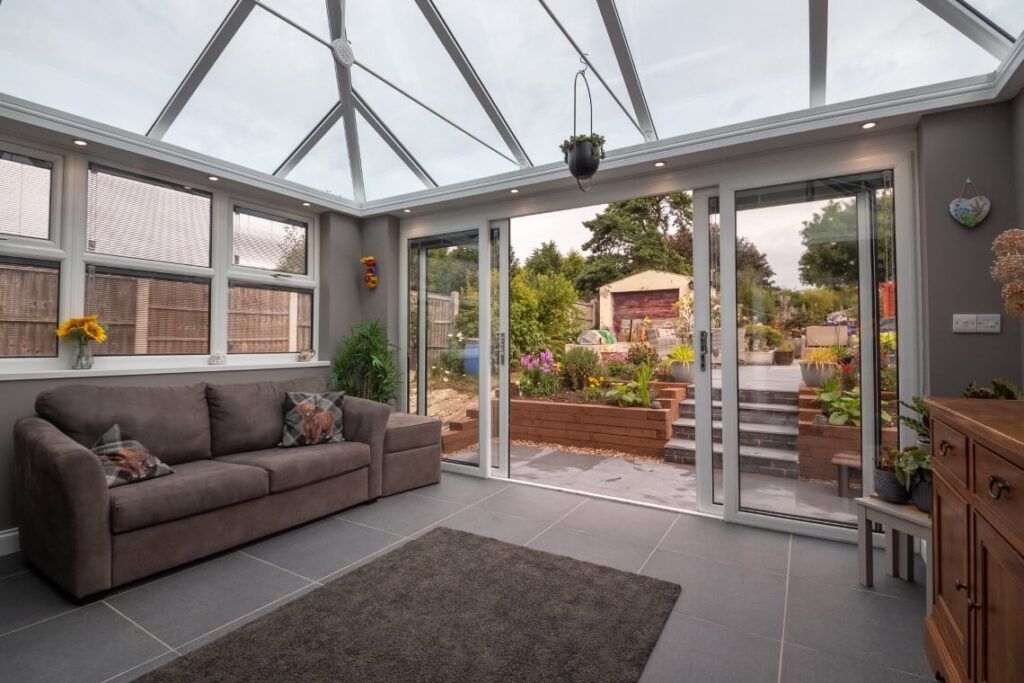 The Blue Self-Cleaning, Solar Control Glass means that the conservatory doesn't get too hot on bright, sunny days. This roof type regulates the temperature and helps the space maintain a comfortable temperature at all times — whether it's the height of summer or the middle of winter.
Mrs Chandler loves her new conservatory and would suggest ConservatoryLand to anyone considering an extension. Her dogs are also big fans of their new space.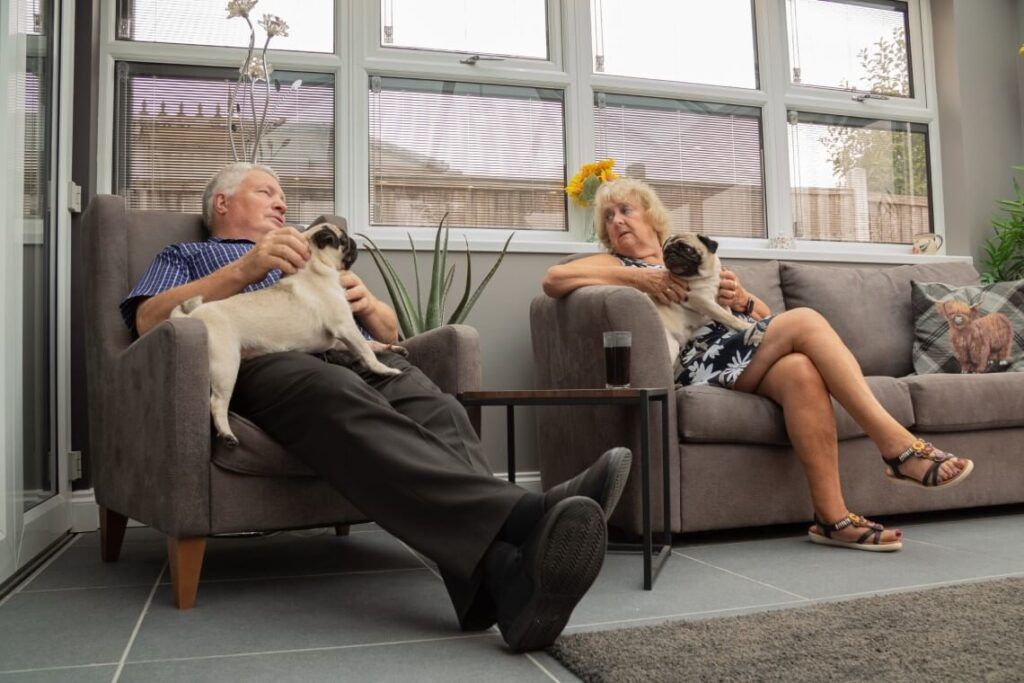 Are you feeling inspired?
Mrs Chandler is one of many happy ConservatoryLand customers. You can find similar stories by scrolling through our previous Customer of the Month blogs.
If you've been thinking about a new conservatory, take a look at our free brochure for some fresh inspiration. You'll be amazed at the possibilities. And because we make each part of our made-to-measure conservatories, you can customise every element to achieve a fully personalised build.
Got any questions? We're always happy to help. Call us on 0800 952 8000, or get in touch via our contact form, and we can start helping you achieve your dream of a conservatory — just like we helped Mrs Chandler.