Our Customers of the Month for May 2023 are Mr and Mrs Daffin, who instructed ConservatoryLand to create the perfect Hipped-Back Edwardian Orangery for their Kent home.
Mr Daffin first stumbled across ConservatoryLand when browsing online while the couple lived in their previous property. When the pair moved into a different abode, Mr Daffin remembered how impressed he was with what he'd seen and the concept of the all-in-one base and wall solution, ConservaBase. So, once the Daffins settled into their new home, they soon sought our help to extend their living space.
Watch Mr and Mrs Daffin's video testimonial below and see their finished Orangery.
Mr and Mrs Daffin were impressed with the service they received throughout their experience. Everything lived up to their expectations.
Mr Daffin appreciated how the team listened and considered every specification, creating a made-to-measure product that met every need. The build was also a smooth process, thanks to our Approved Installers.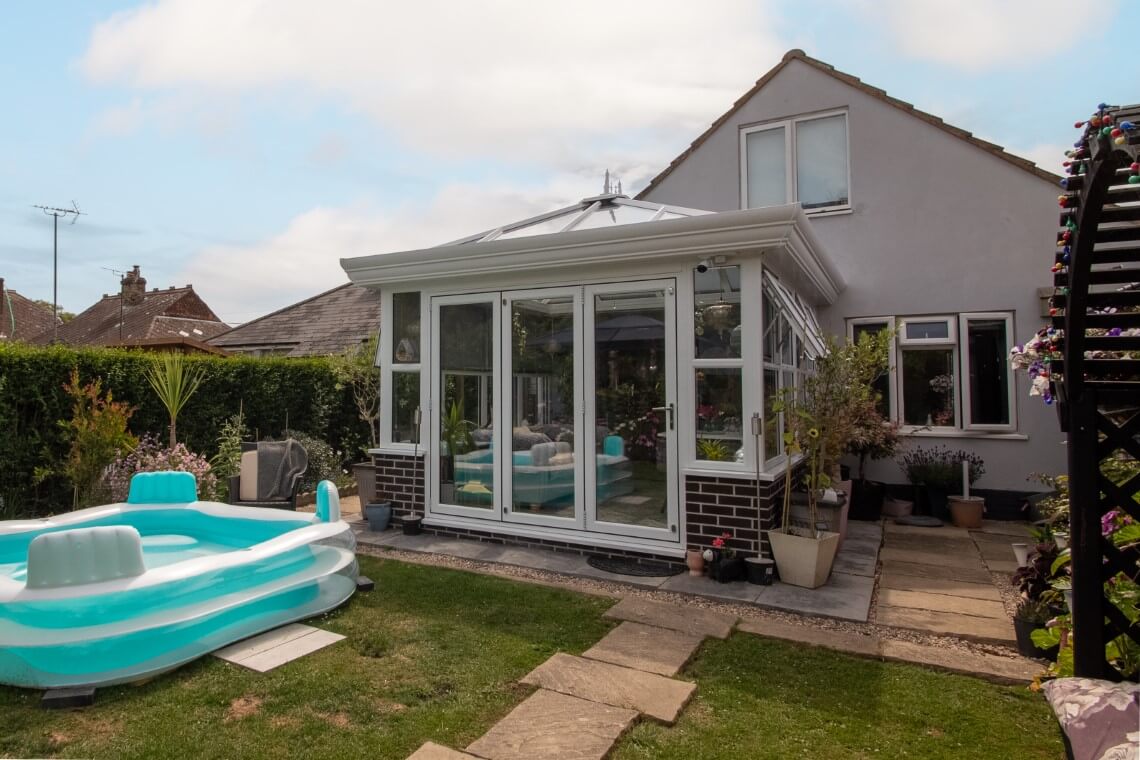 The specifications
| | |
| --- | --- |
| Name | Julie and Ian Daffin |
| Location | Dymchurch, Kent |
| Conservatory style | Hipped-Back Edwardian Orangery |
| Dimensions | 3400mm x 4000mm (made to measure to customers' requirements) |
| Glazing | Standard glass in the windows, Blue Self-Cleaning, Solar Control Glass roof |
| Base type | ConservaBase with brick skirt (Rustic Charcoal 697) |
| Colour | White uPVC, 24mm Blue-Self-Cleaning, Solar Control Glass for the roof, chrome handles |
Building Mr and Mrs Daffin's Orangery
Although our conservatories and orangeries are suitable for DIY installations, Mr and Mrs Daffin wanted to leave this job to a professional. And because Mr and Mrs Daffin rated our support so far so highly, they also trusted our recommendations regarding the installation. The couple opted to work with one of our Approved Installers for convenience.
The Approved Installers are independent of ConservatoryLand but have been thoroughly vetted by us, so the Daffins knew they were reliable. Plus, they are familiar with our processes and products, ensuring a smooth installation — even if the weather goes against them.
Despite battling bad weather during the build, the Approved Installers persevered, stuck to schedule and finished the Orangery on time. Their resilience against the elements particularly impressed Mr and Mrs Daffin. Plus, the Approved Installers were always friendly and respectful. What's more, they made sure that proper aftercare was in place. Mr and Mrs Daffin found it reassuring that the Approved Installers made it known that they wouldn't just install and disappear. If the Daffins need to ask them anything in the future, they are only ever a phone call away.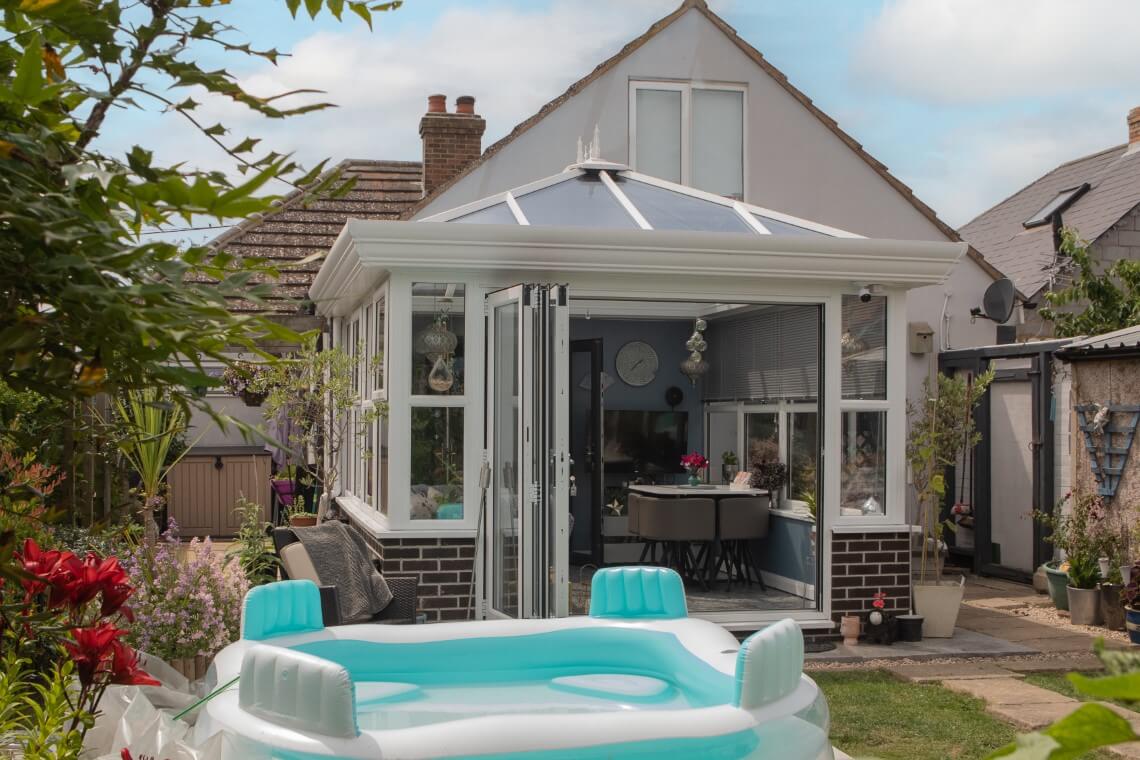 Construction was just as speedy as Mr and Mrs Daffin hoped, thanks to the unique ConservaBase solution. As no foundations had to be dug up, the build could happen quickly and with minimal disruption — even during poor weather conditions. The base's Rustic Charcoal 697 brick skirt contrasts nicely with the traditional white uPVC frame, creating a stylish modern exterior. The ConservaBase increases practicality without sacrificing any aesthetic appeal.
The Daffins designed every element of their made-to-measure Orangery from the base to the roof. The Kent couple chose our Blue Self-Cleaning, Solar Control Glass for the Orangery's roof. This glass's clever technology enables the Orangery to stay cool in the summer and warm in the winter. With excellent temperature control, Mr and Mrs Daffin can enjoy the room all year.
The Hipped-Back Edwardian Orangery is finished with bi-fold doors that open the home into the garden. The Daffins love unwinding indoors while enjoying a clear view of their garden. They also appreciate the easy access it gives them to their garden, making dining al fresco a regular part of their lives.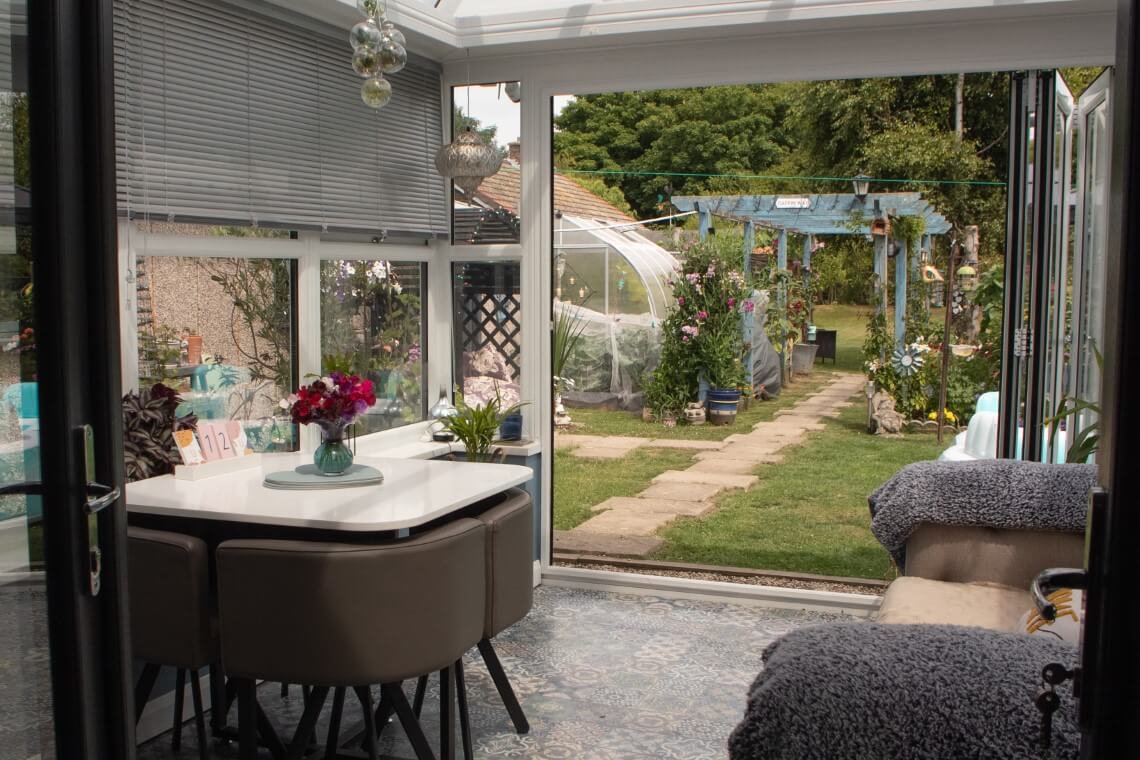 The Hipped-Back Edwardian Orangery is a well-used (and well-loved) space in the Daffins' home. Mrs Daffin loves it so much that she spends more time in it than in any other room.
As well as being a place of tranquillity, the Orangery doubles up as a dining area. Their cleverly compact table, which has chairs designed to tuck in underneath perfectly, maximises the floor space and gives them enough room to fit in a sofa too. Coordinating the Orangery and kitchen flooring creates a kitchen-diner feel and a natural flow between the main house and Orangery.
The Daffins are making the most of their Orangery and — crucially — are making the space work for their unique needs. As every ConservatoryLand conservatory and Orangery is made-to-measure, we always tailor designs to suit each customer's lifestyle.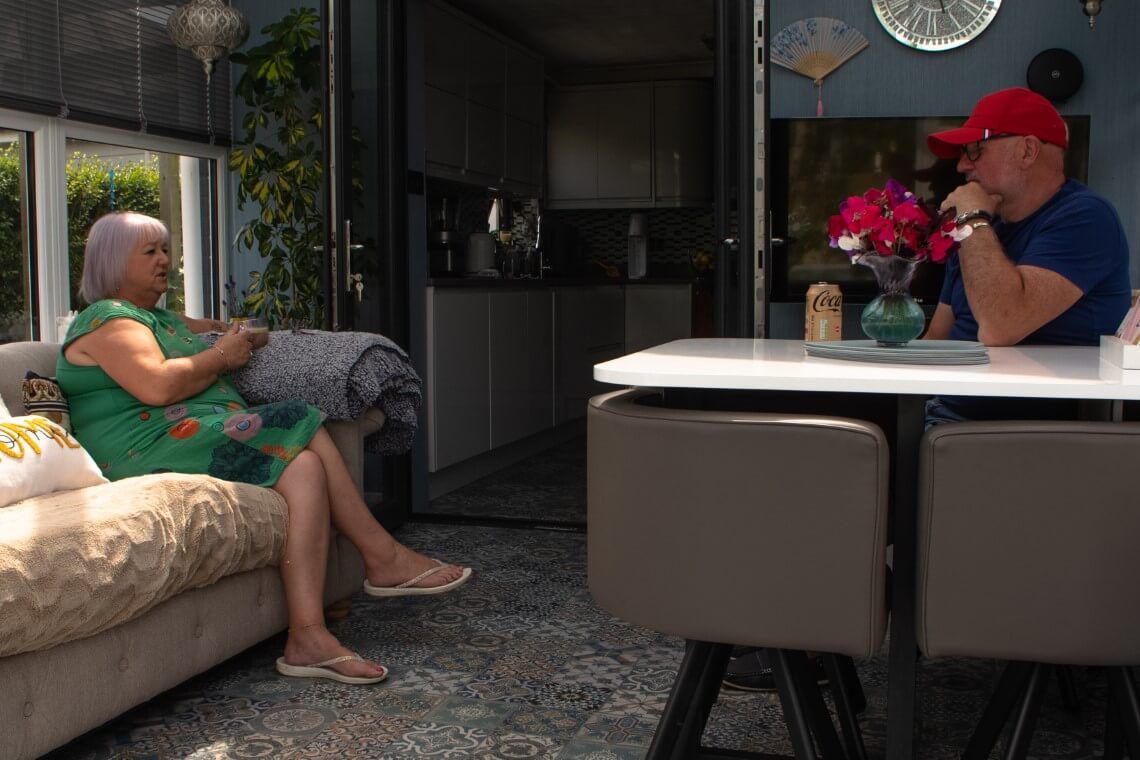 Are you feeling inspired?
We love hearing how our conservatories and orangeries have transformed our customers' homes. You can find more stories and testimonials like Mr and Mrs Daffin's by browsing our previous Customer of the Month blogs.
Every home is different, which is why we only manufacture made-to-measure conservatories, orangeries and porches. To get an idea of the styles available, download our free brochure. Curious about the costs? Find out what you can get for your money with our instant quote generator.
Want to discuss your quote or have any other questions? Call us on 0800 952 8000 or reach out via our contact form.
If you'd like to learn more about how we vet installers and the construction process, please visit our Approved Installers page. As ConservatoryLand is a contactless company, installers will only enter your property if necessary.