Our November customer of the month writes to us from Taunton, Somerset about his brand new Victorian conservatory. Keen to expand and upgrade his home, Mr Roberts got in touch with Conservatory Land to help find the perfect conservatory for him. He wanted something that fit in beautifully with the Cambridge-style, yellow brickwork of his current home and also made the most of the beautiful morning sunshine.
Our expert team at Conservatory Land talked Mr Roberts through which options would work best for his specific space, plus how they could ensure the conservatory looked like a natural extension of his home. With plenty of options to choose from — such as Edwardian, gable-front, and lean-to conservatories — Mr Roberts had a lot to think about. 
The Conservatory Land team were on-hand to answer all of Mr Roberts' questions, discussing the various benefits of each conservatory style and structure, plus covering all the expected costs and project timelines so he could make an informed decision. Thanks to our in-depth experience and expert guidance, Mr Roberts decided that the right option for him was a Victorian conservatory! The classical and contemporary design was an attractive choice for Mr Roberts and he was sure this option would add style, comfort, and value to his home. He liked the Victorian-style roofing and thought this would pair beautifully with his detached home. And with that decision, it was time to get started!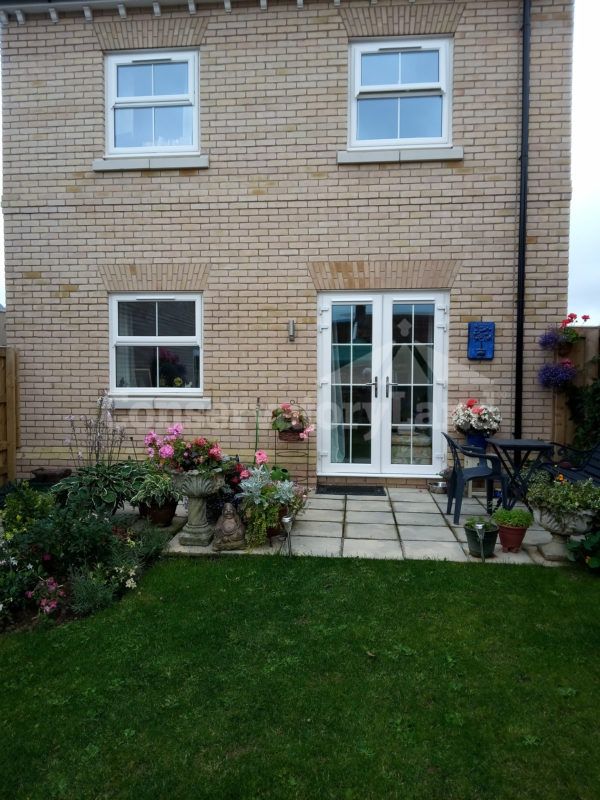 Building the Victorian Conservatory
Mr Roberts decided against building his own conservatory, so opted to use our approved installer network to assist with the construction. Though our conservatories are easy to erect and come with simple-to-follow instructions for those who fancy trying their hand at a little DIY, Mr Roberts was keen to free up his time and have the project managed by an approved installer instead.
Following a quick phone call, Mr Roberts booked a time and date that suited him for the approved installer to visit his home. On the day, the approved installer carried out a detailed  survey of Mr Roberts' home and after a submission of the exact sizes required to Conservatory Land, it was time for us to manufacture all of the parts required. Custom-built to required dimensions,  each conservatory we build is bespoke and created to make the most of your space. Once manufactured and delivered, it was time to start building Mr Roberts' conservatory.
After clearing the beautiful shrubbery and garden furniture from the patio area, our approved installer began to lay the foundations. Mr Roberts chose an all-in-one steel conservatory base, floor, and wall system called a ConservaBase. Custom-made at 3048mm x 2438mm, this size made the most of the space without compromising too much of Mr Roberts' garden. As a keen gardener with plenty of flowers and plants, it was important for Mr Roberts' that the conservatory didn't overrun his back garden — and the bespoke-sized Victorian conservatory was perfect!
Built on top of easy-to-install foundation blocks, the Conservabase took just two days to complete and provided a solid, fully-welded foundation for the brand new room. Bolted directly to Mr Roberts' current home, the Conservabase was strong and safe, just like a traditional house build. And like a traditional build, the flooring wouldn't flex when Mr Roberts or his family walked on it. Instead, it would provide a perfect, flat, and solid base for whichever floor furnishings he preferred to lay on top; whether carpet, linoleum, or tiles.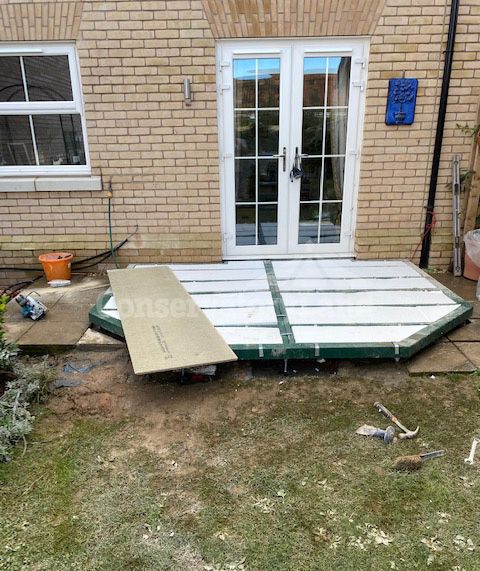 Next up, it was time to build the walls. Mr Roberts opted for Rustic Cream bricks and Standard Gray Mortar in keeping with the look and feel of his current home. The similar brickwork meant his brand new Victorian conservatory felt like a natural extension of his new home, and fit in perfectly with the surroundings. You could barely tell where the old house ended and the conservatory began!
Following the erection of the walls, the elegant windows and door frame were cut in white PVCu to match the existing windows in his home. Mr Roberts wanted to enjoy his beautiful garden from his brand new room, so adding a pair of double doors was a no-brainer. With the ability to open them up on warm, sunny days, Mr Roberts was excited to create a gorgeous space in which he could relax with a cup of coffee and enjoy the fresh, garden air.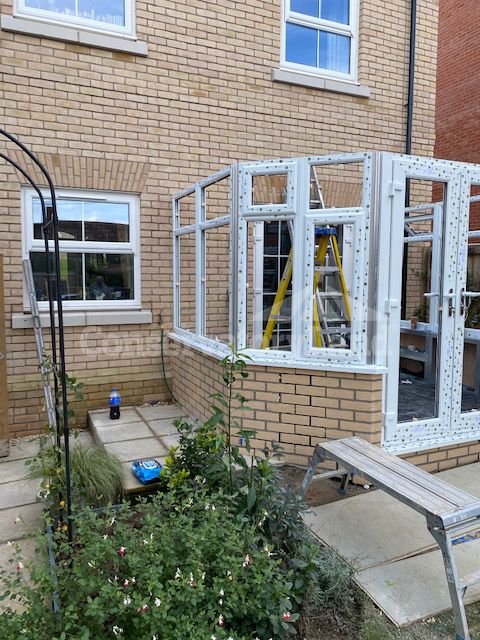 With the sunshine falling in Mr Roberts' garden in the morning, he was keen to maximise the natural light and so opted for standard glass windows lining each wall of his conservatory. These large windows would allow in plenty of sunlight, giving him a bright and airy room that he could enjoy all year round. But with all that morning sunshine, it was important the conservatory could effectively regulate heat. So thanks to expert advice from the Conservatory Land team, Mr Roberts opted for blue self-cleaning and solar-control glass. By reflecting and filtering the sun's rays, this solar-control glass would allow daylight into the room without any uncomfortable visual glare — so he could enjoy his morning coffee in a cool, comfortable room! The blue self-cleaning glass would also stay cleaner for longer than standard glass, so keeping his brand new conservatory looking clean and tidy would be simple. 
With the classic Victorian-style finishings, Mr Roberts' conservatory looked exactly how he'd pictured it would. What's more, he was extremely surprised by the quality, appearance and speed of assembly — he never dreamt such a beautifully built room could be completed in such a short space of time and to such a high standard.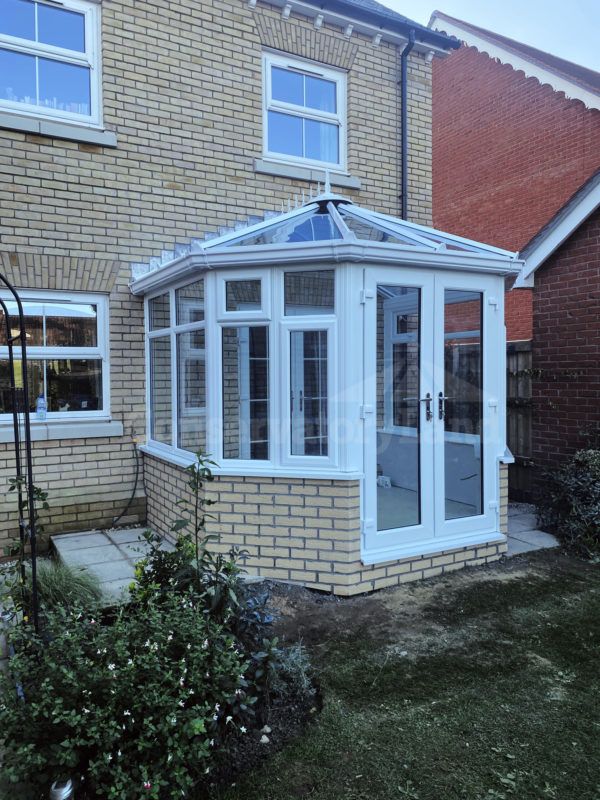 Another Happy Customer!
Thanks to our experienced team at Conservatory Land and our approved installer network, planning and building Mr Roberts' Victorian conservatory took no time at all. The conservatory arrived on the day stated, in great condition and ready to be assembled. 
And with similar brickwork and window frames to Mr Roberts' home, his conservatory looked as though it was born to be there. He was absolutely delighted and couldn't wait to start adding furniture and finishing touches to his brand new space. 
Client Testimonial
Rating our service as 'excellent', Mr Roberts was delighted with his conservatory: 
"All the staff I dealt with were patient and courteous and I've been extremely surprised by the quality, appearance and speed of assembly. I'm delighted with the finished product and would definitely recommend ConservatoryLand."
And he's not the only one who is over the moon with Conservatory Land's service and expertise — check out more of our customer case studies and see for yourself!
The Project Technical Specifications
| Name | Mr Roberts |
| --- | --- |
| Location | Taunton, Somerset |
| Conservatory style | Victorian Conservatory |
| Dimensions | 3048mm x 2438mm (made to measure to customers requirements) |
| Glazing | Standard glass in the windows. Blue Self Cleaning, Solar Control Glass Roof |
| Base type | ConservaBase with Rustic Cream 692 and Standard Grey Mortar |
| Colour | White PVCu, 24mm Blue Self Cleaning, Solar Control Glass for the roof, Chrome handles. |

Want to Add Value To Your Own Home?
If you've been inspired by Mr Roberts' beautiful conservatory and would like to explore your own options, get in touch with us today. Whether you're ready for a free quote or need some inspiration with our free brochure — the expert team at Conservatory Land are here to make your conservatory dreams a reality. 
And if you're concerned about social distancing, we completely understand. That's why our expert UK installers are vetted and approved by us. Your conservatory will be surveyed, fitted, and built by professionals who will strictly observe the most up-to-date lockdown guidelines at all times. We are a contactless company and, in most cases, we won't even need to enter your home to build your conservatory, so you can enjoy the process without needing to worry.