Our November 2022 Customer of the Month is Mrs Muniba Ozdemir from Birmingham. Mrs Ozdemir is the proud owner of a delightful Edwardian conservatory, which she uses as an inviting dining room.

After dreaming of having a conservatory for many years, Mrs Ozdemir finally took the plunge after reading ConservatoryLand's glowing reviews online. She wanted somewhere to sit and dine in peace, and a conservatory offered the perfect solution.
"It's changed my life. I'm just so happy with it. I have a buzz all the time."
Watch Mrs Muniba Ozdemir's video testimonial to learn more about her ConservatoryLand experience.
After hearing about other customers' positive stories, Mrs Ozdemir knew she could trust ConservatoryLand. She was also impressed by the team's professionalism when she got in touch. ConservatoryLand were there to help answer any questions. As it was Mrs Ozdemir's first conservatory, she wasn't sure how things would work, but she was extremely pleased with how smooth the process was — and the end product, of course.
After exploring ConservatoryLand's many styles, Mrs Ozdemir opted for a made-to-measure Edwardian conservatory. She could extend her home with an elegant, timeless design customised to her precise requirements.
The specifications
| | |
| --- | --- |
| Name | Mrs Muniba Ozdemir |
| Location | Birmingham, West Midlands |
| Conservatory style | Edwardian Conservatory |
| Dimensions | 3600mm x 3000mm (made to measure to customer's requirements) |
| Glazing | 25mm bronze polycarbonate |
| Base type | ConservaBase with a brick skirt (Old Millhouse 7430 OM) |
| Colour | Grey/white uPVC, bronze polycarbonate, chrome handles |
Building Mrs Ozdemir's Edwardian conservatory
Our conservatory kits are suitable for DIY projects, but many of our customers choose to utilise one of our Approved Installers rather than build it themselves.
Mrs Ozdemir decided to use our Approved Installers because they can work hand in hand with ConservatoryLand. She didn't need to explain anything or show them plans or maps — they already knew what they were doing.
We vet all of our Approved Installers, and Mrs Ozdemir saw this process herself. A ConservatoryLand inspector was on-site to oversee the installation, witnessing the transformation from a tired patio to a much-loved living space.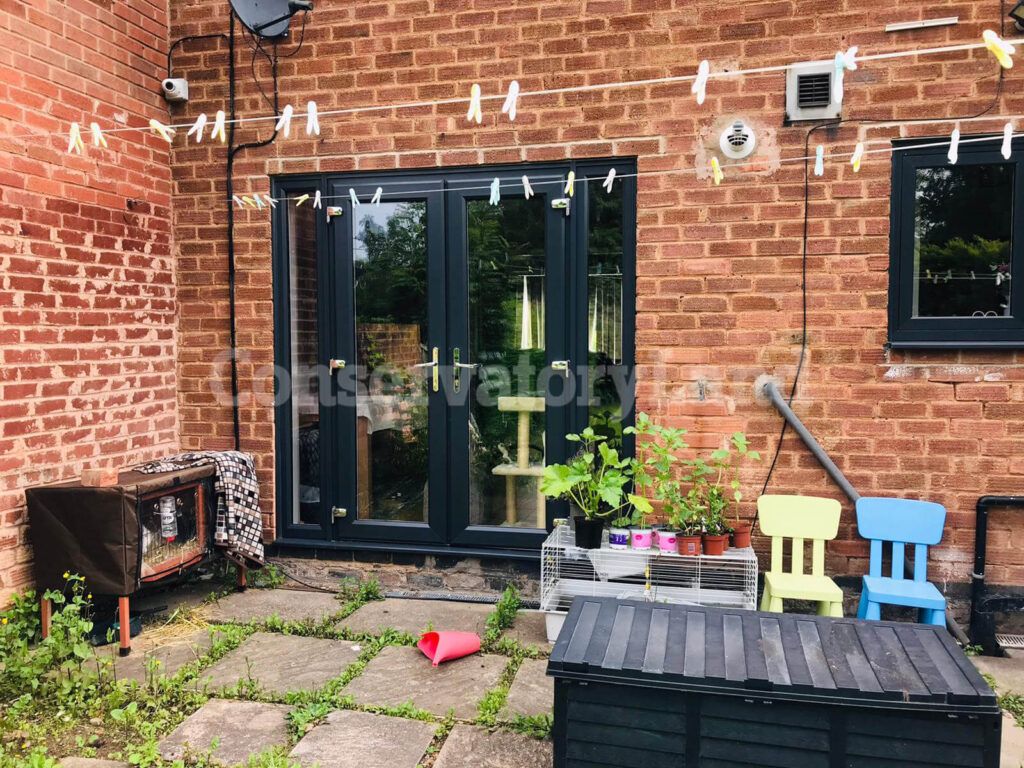 Mrs Ozdemir selected our exclusive all-in-one base, floor and wall system ConservaBase. This easy-to-install option sped up the building process, with the entire conservatory finished in a super speedy four days. Mrs Ozdemir chose an aesthetically pleasing ConservaBase with a brick skirt. Her colour choice of Old Millhouse 7420 OM has resulted in a stunning conservatory that blends in well with her home's existing brickwork.
Once the Approved Installers established solid foundations with the base, they assembled the uPVC frames. Mrs Ozdemir chose a classic, clean white for the inside while picking grey for a modern, sophisticated exterior. She finished the look with coordinating chrome handles.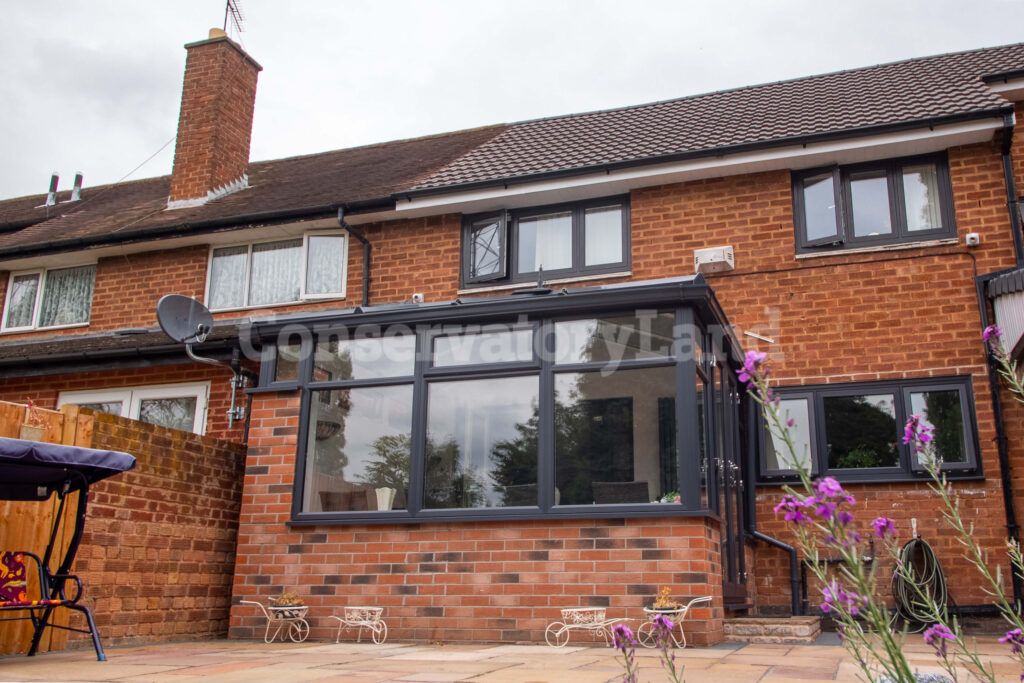 As for the roof, Mrs Ozdemir picked durable 25mm bronze polycarbonate. This option is cost-effective and lightweight. Plus, it can reduce glare by up to 80%.
The spacious Edwardian conservatory style is ideal for furnishing. Mrs Ozdemir has enough room to comfortably fit her family dining table, with enough chairs to host dinner parties.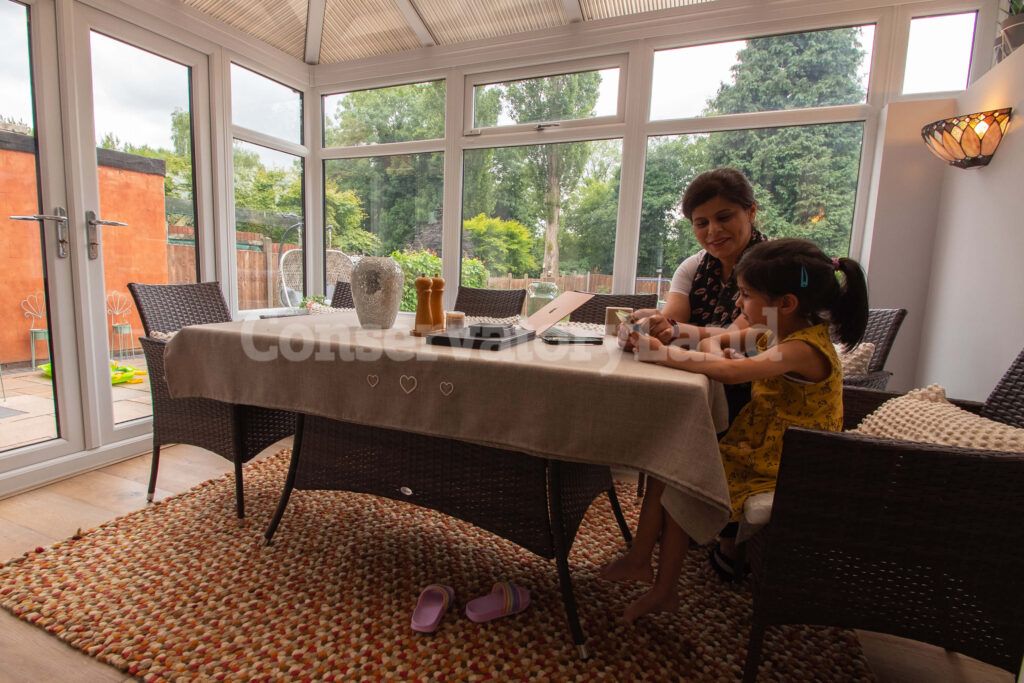 Mrs Ozdemir loves her new space — as do her guests. She had always wanted a conservatory and is delighted that she's realised her dreams. She now has the enticing room she needs to dine and entertain family and friends. And the space she needs for eating every day. Mrs Ozdemir is so happy with her conservatory that she's considering using ConservatoryLand to build a porch.
Are you feeling inspired?
Do you want to join our list of happy customers?
Take the first step to make your vision a reality and browse our free brochure. You'll find plenty of inspiration and information about our conservatories. Every one of our models is fully customisable, so you can design the conservatory that suits you and your unique style.
Fancy a chat? We're happy to help. Call us on 0800 952 8000 and our expert team will answer your questions.
And if you want assistance with installing your conservatory, you can read more about our UK network of vetted professionals on our Approved Installers page.
As a contactless company, we won't enter your property during the build unless necessary. Our Approved Installers will install your conservatory — or porch (like Mrs Ozdemir's next project) — quickly and safely.