Our October customer of the month writes to us from Waterlooville, Hampshire about his brand new Edwardian conservatory. Having just bought a quaint, semi-detached home with a lovely garden, Mr Tenchev was keen to expand his new space with a sun-soaked room from which he could enjoy his garden, all-year-round. 
Most importantly for Mr Tenchev was finding a cost-effective solution for the additional space he needed. Having assessed his options and spoken to our helpful team at Conservatory Land, he decided that a conservatory was the way to go. A modern, airy room at a reasonable price was exactly what he was looking for to extend his brand new home.
Our expert team at Conservatory Land talked Mr Tenchev through his options, from lean-to and Victorian styles to orangeries and gable-front conservatories. With so many options to choose from, finding a style that would best suit Mr Tenchev's current surroundings and style preferences was easy. Timeless and elegant, Mr Tenchev opted for an Edwardian conservatory. Offering a sleek and spacious additional room at a reasonable price, he was happy that an Edwardian conservatory would look great against the brickwork of his new home. So with that decided, it was time to get the build underway…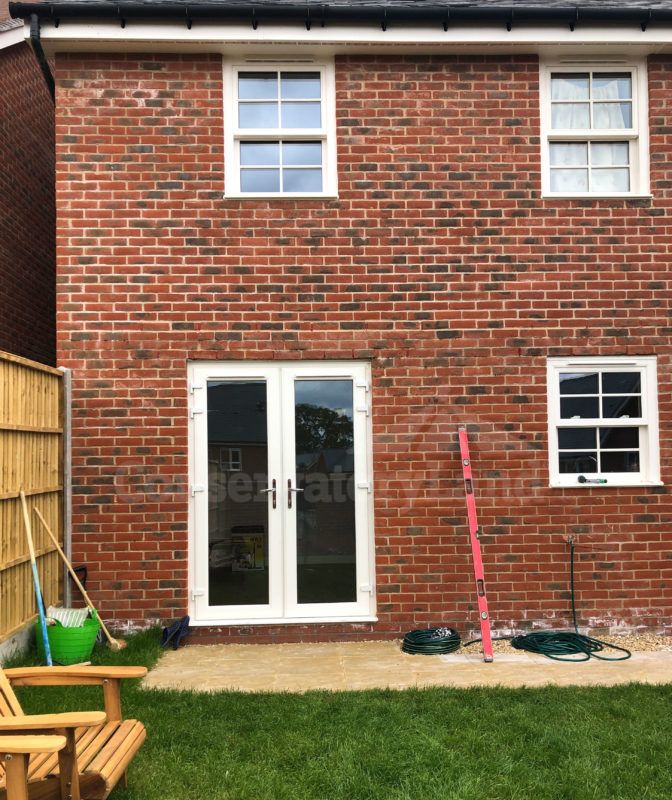 Building the Edwardian Conservatory
First up, it was time to lay the foundations. As the ground in Mr Tenchev's new garden sloped slightly away from his house, our experts at Conservatory Land needed to manufacture his ConservaBase (an all-in-one steel conservatory base, floor and wall system) to accommodate this. By supplying this bespoke steel base, they were able to avoid the need to build up a concrete base — a step that would have been costly and time-consuming. Mr Tenchev required a cost-effective solution for his conservatory build, so he was delighted we were able to manage the problem at a reasonable cost. What's more, making a bespoke base took no time at all thanks to the expertise of our team — we've been doing this a while, after all!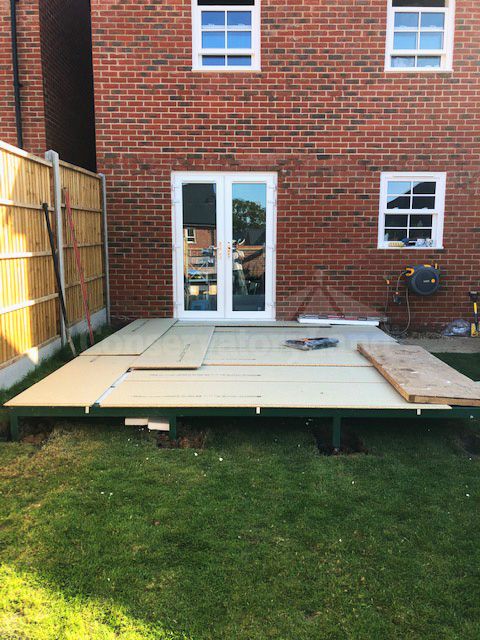 Once the steel base was signed, sealed, and delivered, we fitted the ConservaBase walls with Old Millhouse 7420 OM Brick and Light Grey Mortar. Standing atop a few easy-to-install concrete pads, a ConservaBase is the strongest steel base you can get for a DIY conservatory. With each steel section fully-welded, Mr Tenchev's conservatory base was solid and would not flex when he walked on it. But even better than that, he was delighted that his brand new base came with a 10-year guarantee — another huge benefit of using Conservatory Land for his project! 
Once the custom foundations and Conservabase were laid, it was time to build the conservatory walls. In keeping with the brickwork of his current home, Mr Tenchev opted for a gorgeous red-brick for his conservatory walls. The similar brickwork meant his brand new Edwardian conservatory felt like a natural extension of his new home, and fit in perfectly with the surroundings. Erected in no time at all, Mr Tenchev's conservatory was really starting to take shape!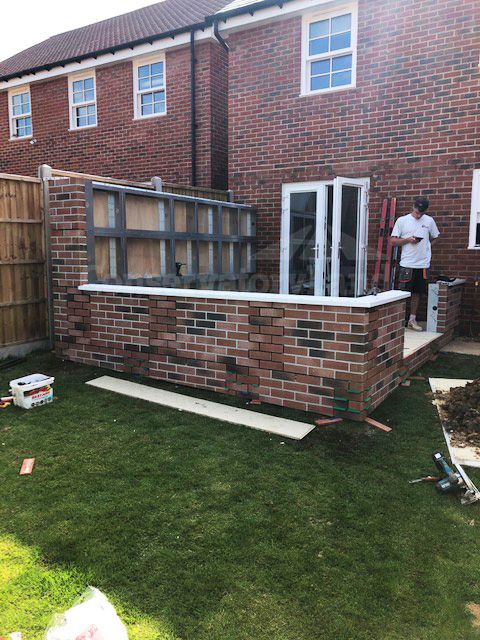 For the conservatory windows, Mr Tenchev selected standard glass. The elegant window frame was cut in white PVCu and was chosen to match the existing windows in his home. Mr Tenchev wanted a modern, airy space that would allow him to enjoy the view of his garden in all weathers, so large and panoramic windows were a must! Luckily, all of our conservatories are fully bespoke, so Mr Tenchev was able to build a space that was simply perfect for his requirements. He opted for large windows that would allow plenty of sunlight into his conservatory, giving him a bright and spacious room for all of his family to enjoy. 
For the roof, he opted for blue self-cleaning, solar-control glass. Conservatory Land uses only the very best PVCu profiles, so Mr Tenchev knew he was getting the highest quality for his money. And by reflecting and filtering the sun's rays, the solar-control glass of his conservatory roof would allow daylight into the room without any uncomfortable visual glare. This meant he would be able to enjoy his conservatory all year round! The self-cleaning glass would also stay cleaner for longer than standard glass, so the upkeep of his brand new space would be super simple.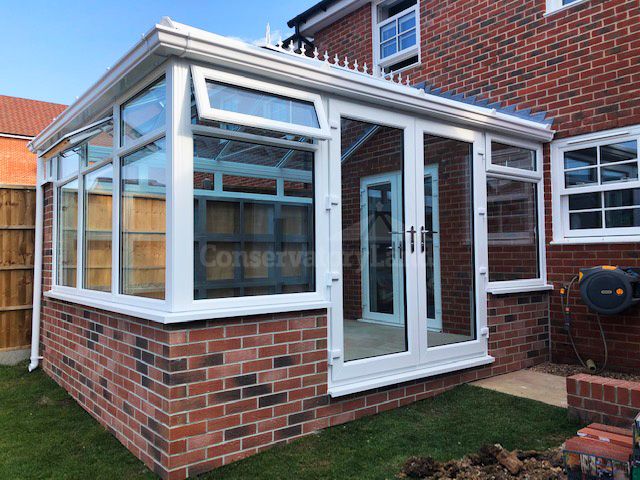 Finally, our Conservatory Land experts fitted double doors with chrome handles to the side of Mr Tenchev's conservatory. These gorgeous double doors were perfect for opening up during the summer months to enjoy the garden, and allowed for a beautiful full-length view of their outside space throughout the year. Mr Tenchev was delighted with how his conservatory looked, it immediately felt as though it was meant to be there! 
Another Happy Customer!
Thanks to our experienced team at Conservatory Land, Mr Tenchev's brand new conservatory was erected in no time at all. The delivery and build all went smoothly and we were on hand every step of the way with advice and insight into each stage of the installation process. Mr Tenchev couldn't believe how easy and cost-effective his Edwardian conservatory was to build, nor how much extra space it added to his brand new home.
And with large windows, a glass roof, and a double door entrance, his conservatory really made the most of natural sunlight, so his family were free to enjoy the garden and outdoors from the comfort of their home — in all weathers! Having just bought a new house but knowing he needed more space, Mr Tenchev now had a brand new room to enjoy. And the best part? It was all within his budget and was installed in no time at all!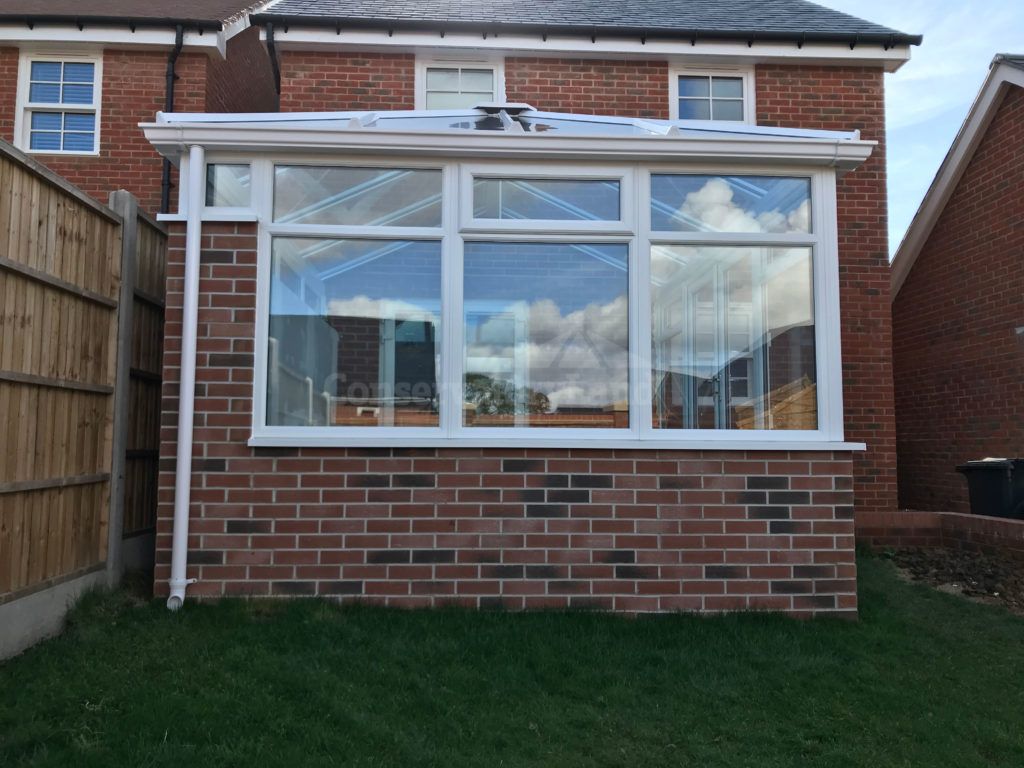 Client Testimonial
Rating our service as 'excellent', Mr Tenchev was absolutely delighted with his brand new conservatory:
"It has been a wonderful experience with Conservatory Land from the first phone call to the final completion. My family and I are very happy with the conservatory."
And he's not the only one who is over the moon with Conservatory Land's service and expertise — check out more of our customer case studies and see for yourself!
The Project Technical Specifications
| Name | Mr Tenchev |
| --- | --- |
| Location | Waterlooville, Hampshire |
| Conservatory style | Edwardian Conservatory |
| Dimensions | 3500mm x 4000mm (made to measure to customers requirements) |
| Glazing | Standard glass in the windows. Blue Self Cleaning, Solar Control Glass Roof |
| Base type | ConservaBase with Old Millhouse 7420 OM Brick and Light Grey Mortar |
| Colour | White PVCu, 24mm Blue Self Cleaning, Solar Control Glass for the roof, Chrome handles |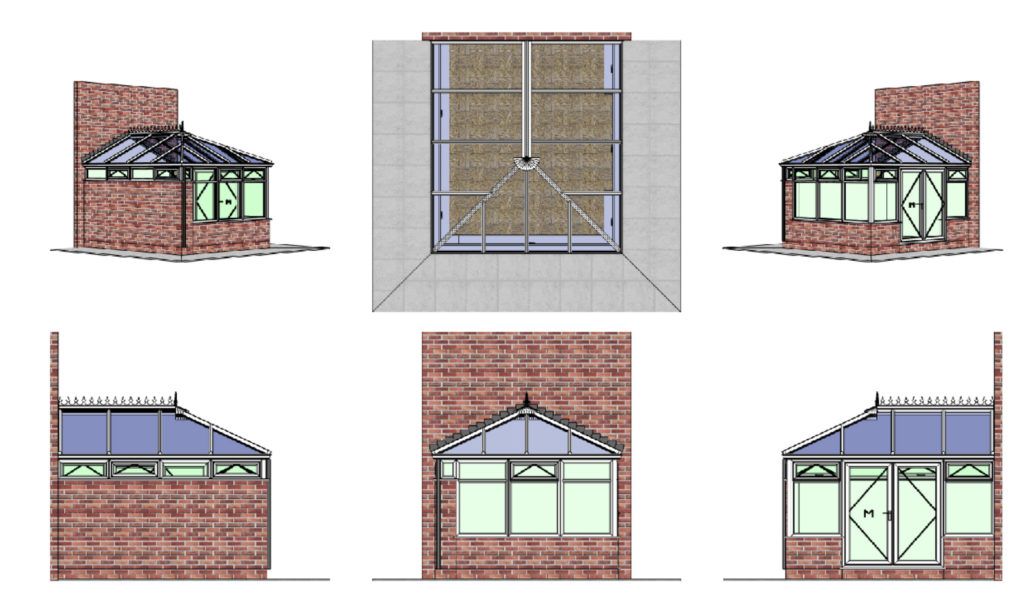 Interested in Adding a Conservatory To Your Home?
If you're inspired by Mr Tenchev's gorgeous new conservatory and would like to explore your own options, get in touch with us today. Whether you've done your research already and would like a free quote, or need some inspiration with our free brochure — the expert team at Conservatory Land are here to make your conservatory dreams a reality. 
Concerned about social distancing? We completely understand; that's why our expert UK installers are vetted and approved by us. Your conservatory will be surveyed, fitted, and built by professionals who will strictly observe the most up-to-date lockdown guidelines at all times, so you can enjoy the process without needing to worry.