Our Customer of the Month for October 2023 is Ms Karimupfumbi in Shirebrook, Nottinghamshire. Her Hipped-Back Edwardian conservatory is an excellent example of how you can make the most out of large outdoor spaces.
Ever since moving into her home two years ago, she has envisioned making the most of her large garden to create an additional living area. After discovering ConservatoryLand, she picked her bespoke Hipped-Back Edwardian conservatory and is delighted with the finished product.
Watch Ms Karimupfumbi's video testimonial below and find out how ConservatoryLand has transformed her home.
Ms Karimupfumbi chose ConservatoryLand over other providers after seeing our customer reviews and testimonials highlighting our professionalism and the overall quality of our conservatory offering. During the build, she particularly liked how our dedicated team updated her through every step of the journey. From progress phone calls to answering any questions she had, ConservatoryLand was always there to help.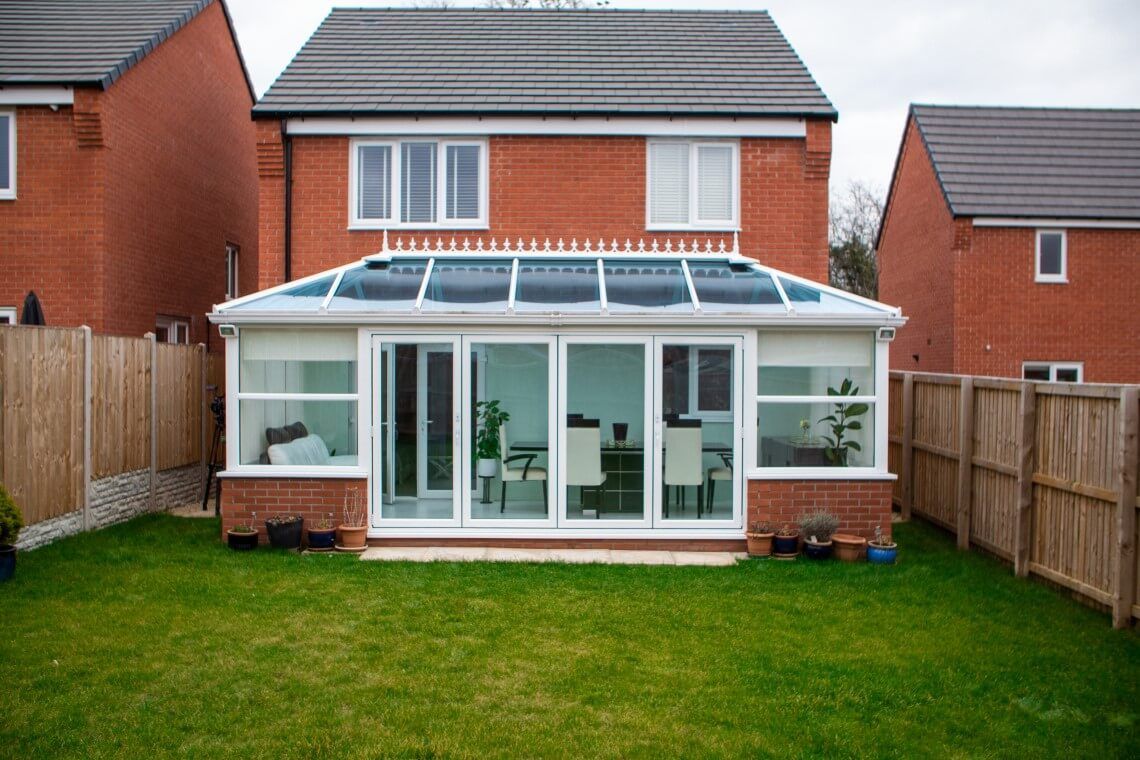 The specifications
| | |
| --- | --- |
| Name | Ms Annah Karimupfumbi |
| Location | Shirebrook, Nottinghamshire |
| Conservatory style | Hipped-Back Edwardian Conservatory |
| Dimensions | 6700mm x 3000mm (made to measure to customer's requirements) |
| Glazing | Standard glass in the windows, Blue Self-Cleaning, Solar Control Glass roof |
| Base type | ConservaBase with brick skirt (Montana Red 7450) and standard grey mortar |
| Colour | White uPVC, 24mm Blue Self-Cleaning, Solar Control Glass for the roof, white handles |
Building Ms Karimupfumbi's conservatory
While our conservatories are suitable for DIY assembly, Ms Karimupfumbi opted to use our Approved Installers, a network of thoroughly screened independent contractors. This choice significantly simplified the process for Ms Karimupfumbi, allowing her to get on with her day as usual while the professionals handled the construction.
Our Approved Installers impressed Ms Karimupfumbi with their friendly, professional manner. In just a few days, the team built her new conservatory using ConservaBase, ConservatoryLand's unique all-in-one base and wall solution. As a result, there was no need for messy and time-consuming foundations and Ms Karimupfumbi was delighted at how easy and stress-free the process was.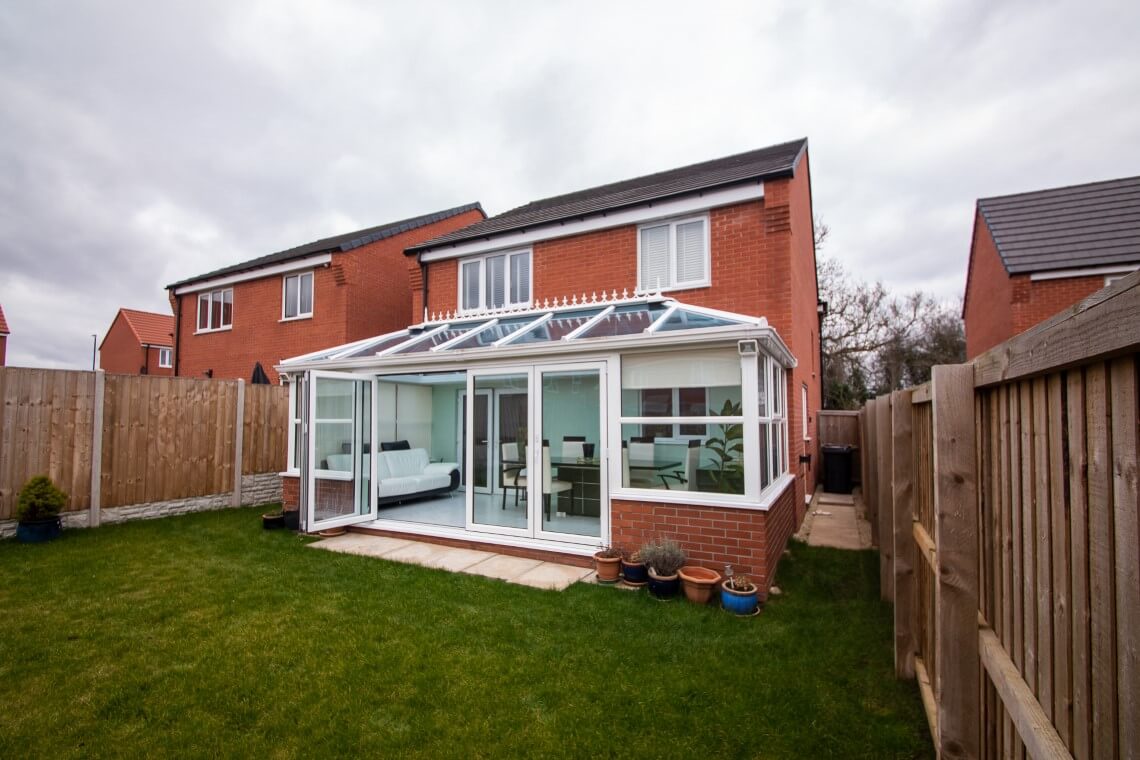 Like all of our conservatories, Ms Karimupfumbi was able to customise her Hipped-Back Edwardian conservatory to make it unique to her preferences.
Ms Karimfumbi's choice of a traditional white uPVC frame blends seamlessly with her home's windows. The frame can be made with one colour on the inside and another on the outside. Here, she opted for white on the interior to give her new space a light and airy feel. The base's Montana Red 7450 brick skirt contrasts nicely with the traditional white uPVC frame, creating a sleek, modern exterior. The excellent colour match means the conservatory looks like it was always meant to be part of the property.
The Blue Self-Cleaning Solar Control Glass for the roof keeps the room at a comfortable temperature, whatever the weather, so Ms Karimupfumbi and her husband can enjoy the space whatever the season.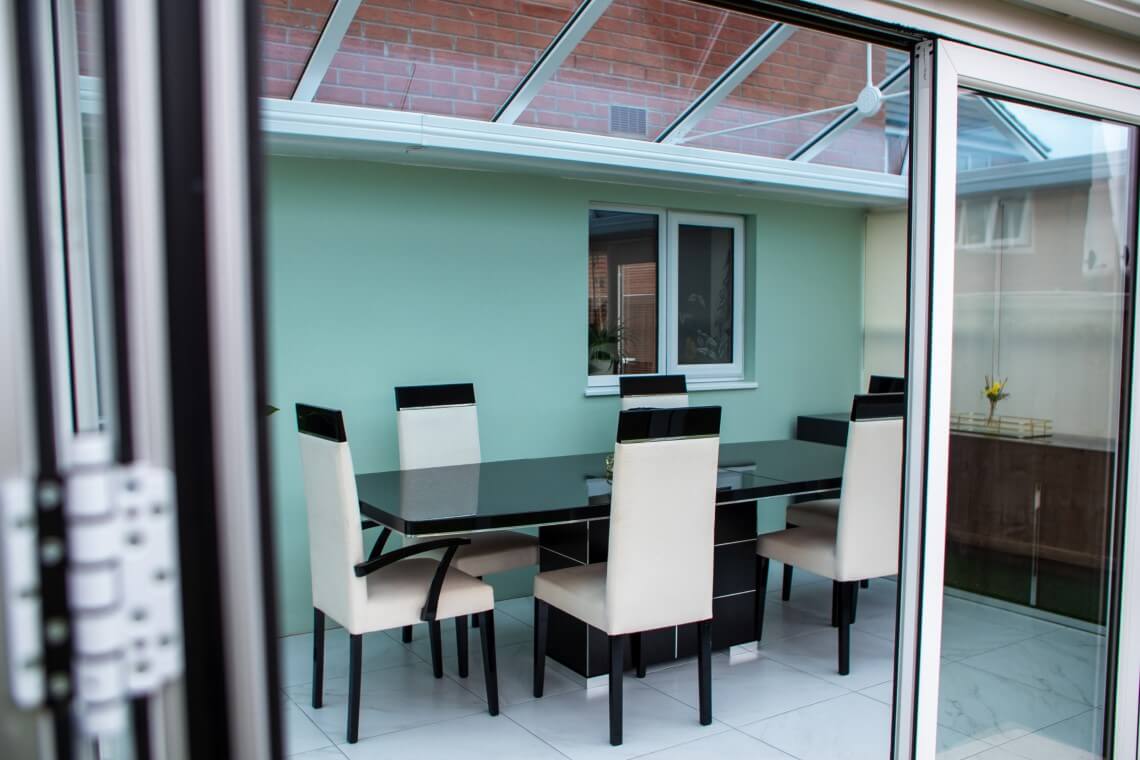 Ms Karimupfumbi loves working from home while enjoying a clear view of her beautiful garden in the summer months. The Hipped-Back Edwardian conservatory is finished with bi-fold doors that open the home into the garden, creating a welcoming, sun-filled space and giving her a peaceful place to relax with easy outdoor access.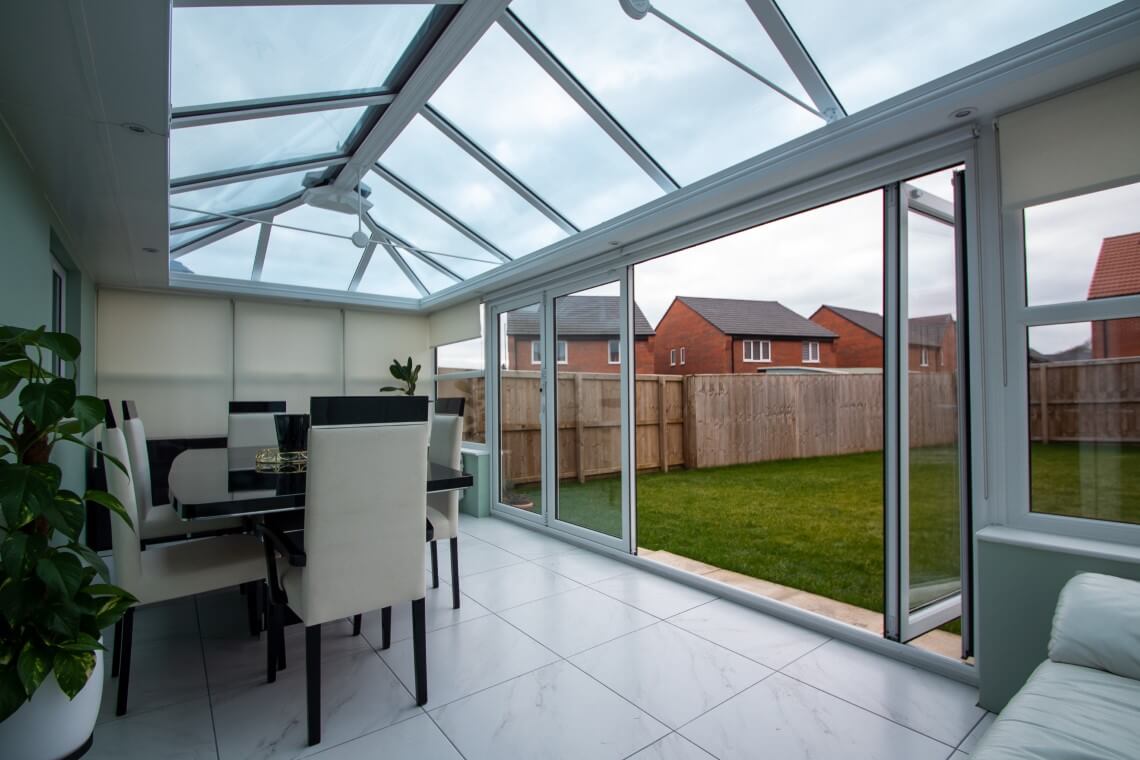 Not only can she use it as a home office, but the conservatory also doubles up as a dining area. Thanks to the versatility of her new conservatory, Ms Karimupfumi and her husband are making the most of their new space and making it work for each of their needs.
Overall, Ms Karimupfumi found the experience with ConservatoryLand enjoyable and recommended us to her friends and family considering an extension.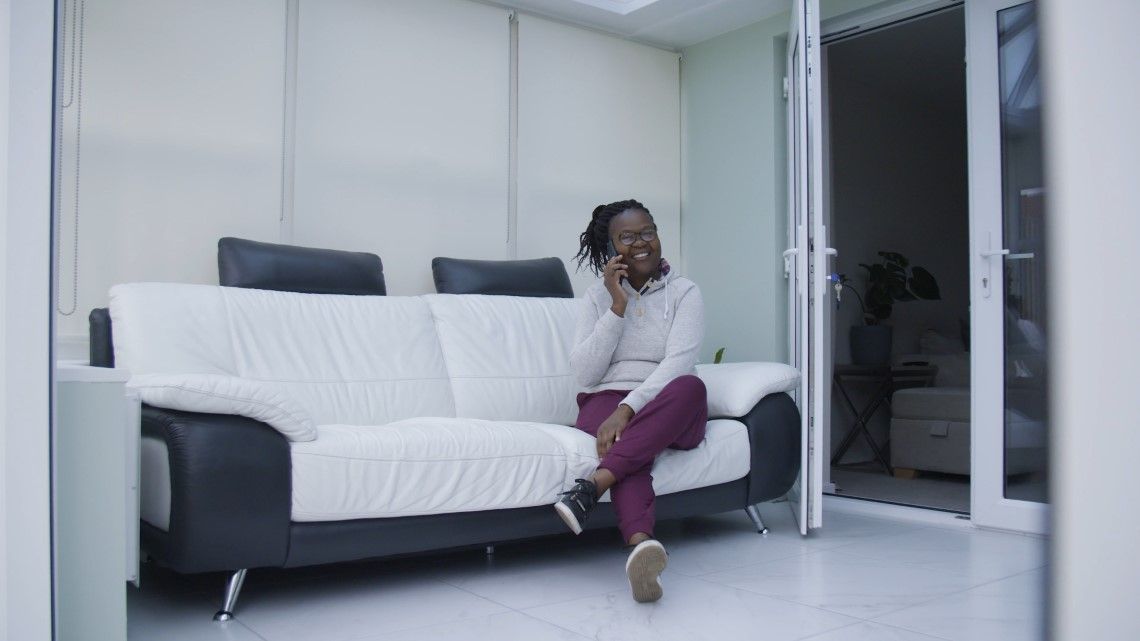 Are you feeling inspired?
If you would like to transform your living space, get in touch today. Whether you're looking for a room to entertain your guests, a new dining area or a home office like Ms Karimupfumbi, take a look at our free brochure. You're sure to find a model that will work for you. And remember, all our conservatories are made to measure, so you can customise your build.
You can find more stories and testimonials like Ms Karimupfumbi's by browsing our previous Customer of the Month blogs.
If you already have a style and size in mind, it's quick and easy to get a free personalised price with our instant quote generator. You'll receive a no-obligation quote within seconds. Want to talk through your options? Call us on 0800 952 8000 or fill in our contact form.
To learn more about the fully-vetted contractors we work with, visit our Approved Installers page. Because we're a contactless company, our Approved Installers will only enter your home when necessary.