Our July customer of the month purchased a replacement conservatory from ConservatoryLand, and was very pleased with the finished product.
Purchasing a DIY conservatory has the added benefit of a quicker build time, allowing you to make the most of the new space.
And what better time to enjoy it than in the summer months. Allowing you to step out of your conservatory and into the garden – creating a real feel of openness.
Mr Brown from Chester will definitely be making the most of his new conservatory now the weather is warmer.
He purchased a lean-to conservatory to replace his existing model.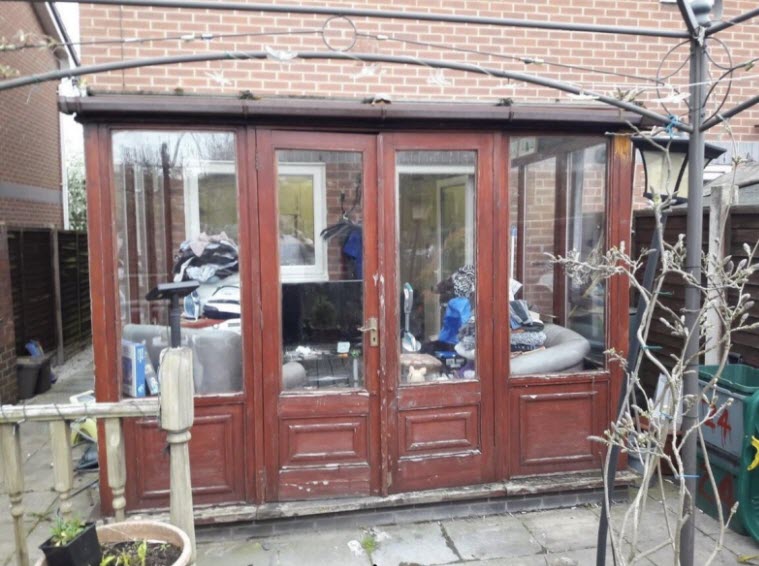 The name is given to the fact the roof slopes down, allowing rain water to run off; making it look as if it was leaning against your house.
If you are considering replacing your existing conservatory you'll probably be thinking – how much does a DIY lean-to extension cost?
Here at ConservatoryLand we pride ourselves in offering low prices, with every quote being bespoke to you and your requirements.
And with a free quotation service, alongside a range of competitive finance packages, you can feel confident that you'll be able to purchase a conservatory that's right for you.
The Project Technical Specifications
| | |
| --- | --- |
| Location | Chester, Cheshire |
| Conservatory type | DIY Lean-to Conservatory |
| Base type | Existing Base |
| Glazing | Standard glass |
| Material | PVCu, smooth insulated panels, chrome handles, 25mm Bronze Polycarbonate for the roof |
| Colour | White |
| Planning permission | Planning permission was not required for this size |
| Warranty | 10 Year Guarantee on ALL parts |
As the project was about replacing an existing build, conservatory plans focused around this.
And being the chosen conservatory company, we had to overcome a range of challenges.
The key challenge involved the tired wooden conservatory which stood there.
In particular, it was crucial that the conservatory size exactly matched the existing base, as this was what the customer would build on.
Once this was overcome, Mr Brown was able to build his conservatory over a weekend using the instructions provided.
Take a look at the customers CAD drawings below.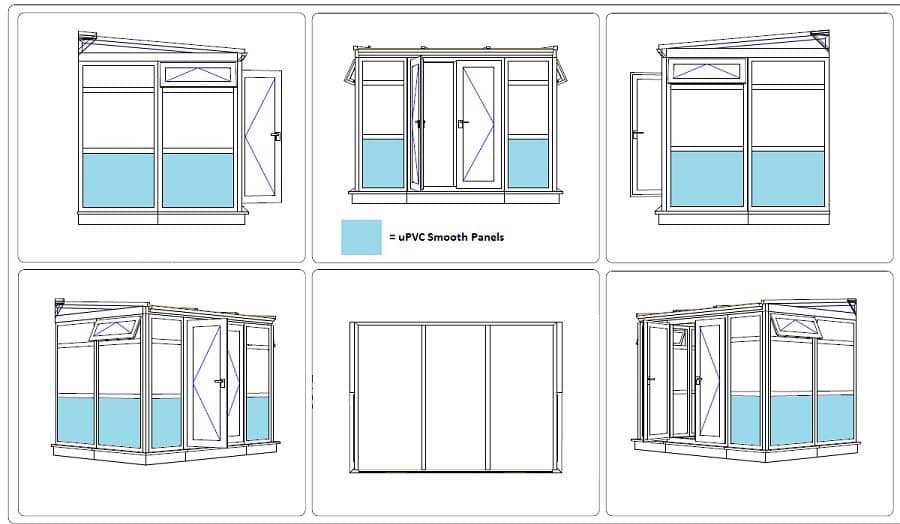 The Installation Process
The speed of build was largely influenced by the fact our lean to conservatory designs are one of the simplest models to build yourself.
Prior to commencing the conservatory construction, Mr Brown called technical support a few times, whom provided him with the confidence to get building.
In just 1 weekend his new conservatory was built.
And as you can see from the images below, the transformation is amazing.
Upgrading the tired looking model to a white, modern PVCu conservatory.
With the assurance of knowing all parts have a 10 year guarantee.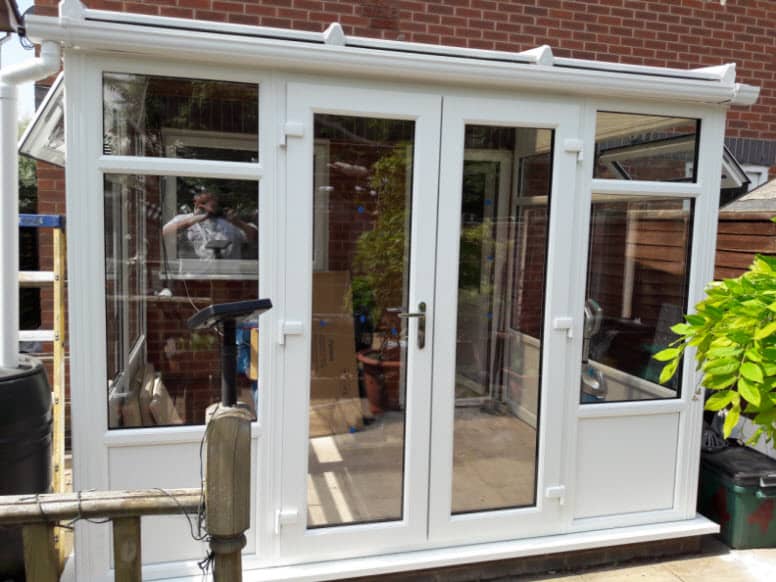 Customer Testimonial
After completion we were able to get customer feedback on the whole experience.
Mr Brown said:
"A very well built DIY conservatory, good instructions and fully supported through the build."
"Needed some more guttering at my request and this was sent the same day. Great service and would recommend to anyone doing a DIY conservatory. It was built in a weekend."
If Mr Brown has made you consider building your own DIY conservatory, then why not get a bespoke conservatory quote today – free of charge.
Then you too could soon have a brand new conservatory built, to enjoy for years to come.