Our September customer of the month, Mrs Lampacher, writes to us from Evesham, Worcestershire, about her brand new lean-to conservatory. Having dreamed of a space that her children could enjoy all year round, Mrs Lampacher was looking for a hassle-free provider who would handle everything from the design and construction to the delivery and installation of her new conservatory.
Our expert team was on hand to guide Mrs Lampacher every step of the way, thanks to years of experience and plenty of conservatory builds under our belts. The team's knowledge and helpful ideas gave her the confidence that ConservatoryLand was the perfect partner to help bring her vision to life.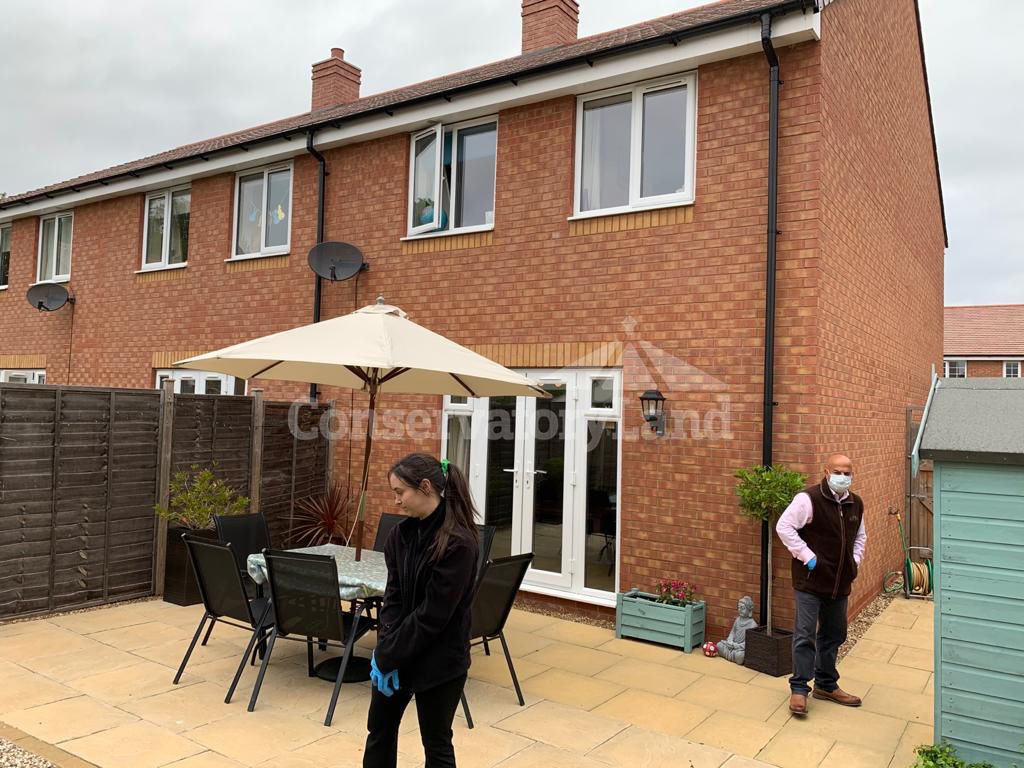 Following discussions around the options available, including Edwardian and Victorian styles, Mrs Lampacher chose a sleek and elegant lean-to conservatory. Using her specifications and requirements, our designers created a mockup of the conservatory.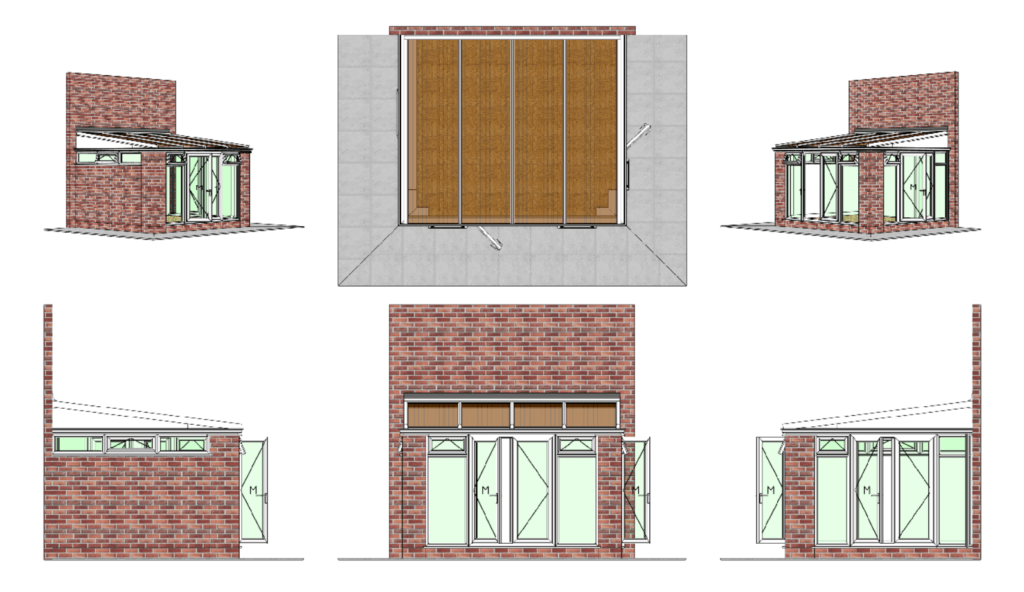 The Specifications
| Name | Mrs Lampacher |
| --- | --- |
| Location | Evesham, Worcestershire |
| Conservatory style | Lean-To |
| Dimensions | 4100mm x 3500mm (made to measure to customer's requirements) |
| Glazing | Standard glass in the windows, Bronze 25mm Polycarbonate Roof |
| Base Type | ConservaBase with Rustic Inferno Multi 686 with Standard Grey Mortar |
| Colour | White PVCu, 25mm Bronze Polycarbonate Roof, White handles. |
Building Mrs Lampacher's Lean-To Conservatory
Mrs Lampacher opted for our made-to-measure ConservaBase system — a base, floor, and wall system custom-built to the exact size and shape of her conservatory. This is a quick and easy-to-install option, perfect for both self-assembly and professional installation.
Choosing to use our network of approved installers to help build her conservatory, Mrs Lampacher was delighted to know the job would be completed quickly and to the highest standard without any mess.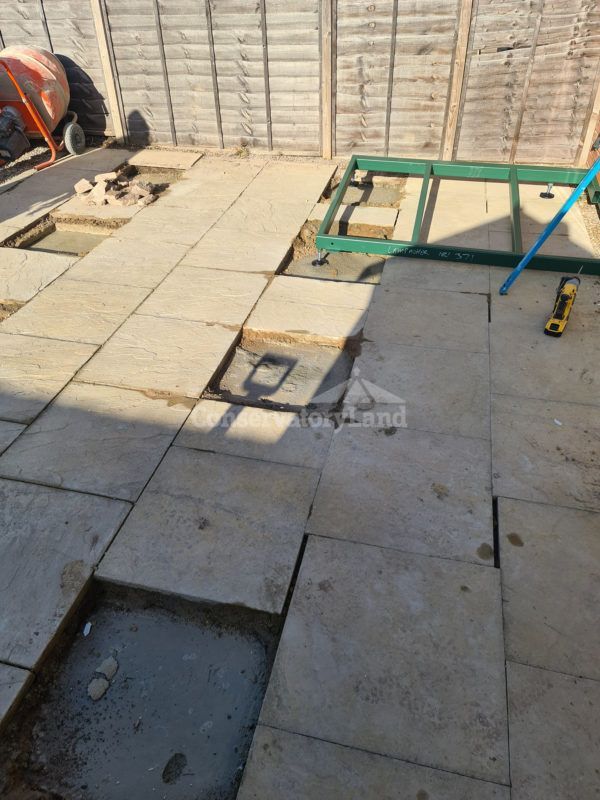 After digging the foundations, the installers fitted concrete blocks before installing the steel base frame and insulation sheets.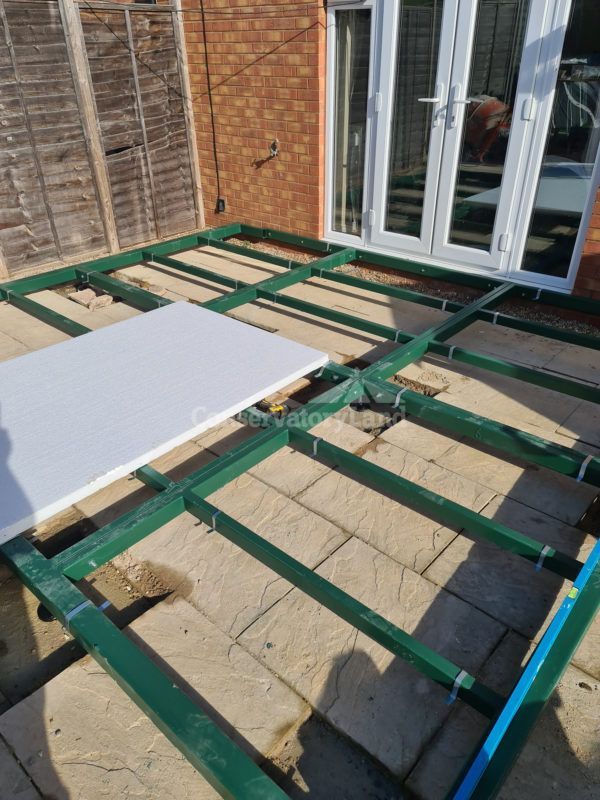 With the foundations and flooring in place within a matter of hours, the conservatory walls were ready to be built. Mrs Lampacher chose a rustic inferno brick finish with grey mortar to beautifully match the brickwork on her home.
She also wanted plenty of natural light in her new space, and the team here at ConservatoryLand had the perfect solution. We designed and installed a three-quarter height wall with high windows on the side that faced the neighbour's property to help maximise the amount of light entering the conservatory.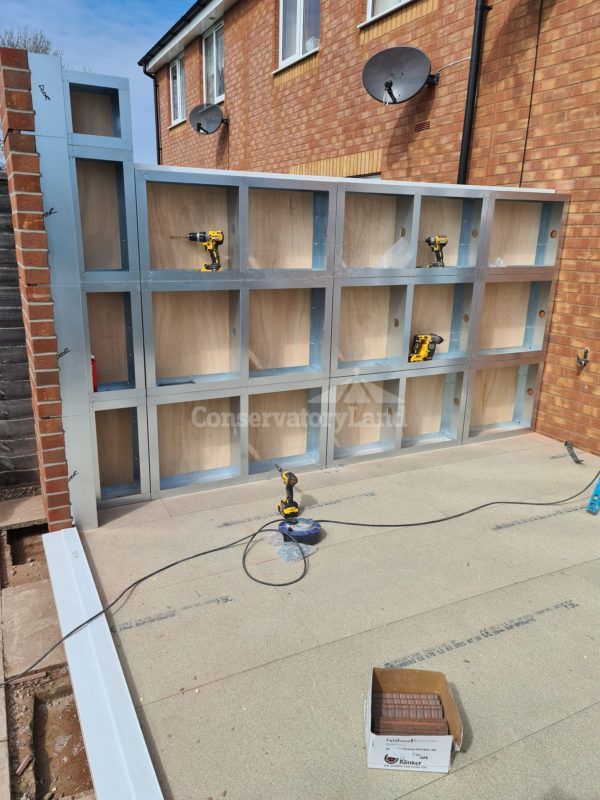 Mrs Lampacher chose white PVCu frames to match the window frames in her home. Thanks to our high-quality conservatory frames made from fully-sculptured PVCu profiles, her conservatory was quick to assemble and built to last.
Each element of the build was entirely up to Mrs Lampacher. She wanted an open and airy space so she chose two sets of double doors — on the front and on the left side of her conservatory. Mrs Lampacher will be free to open the double doors out into her garden, increasing the sense of airiness.
Next up, Mrs Lampacher chose bronze polycarbonate for the roof, which is a popular and cost-effective option. She was also delighted to know that her lean-to conservatory would receive plenty of sunlight thanks to the sloping roof. Finally, it was time to add the finishing touches and handles, and the installation was ready to furnish and enjoy. Mrs Lampacher's light-filled new space was exactly as she had envisioned it — all at a reasonable price!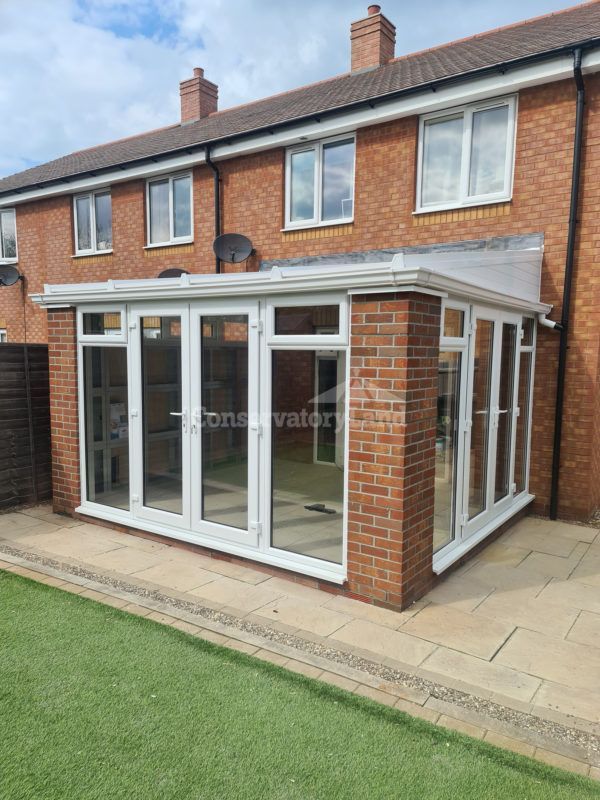 Another Happy Customer!
Mrs Lampacher's bespoke lean-to conservatory was a huge success. The build took only three days, and she was extremely happy with the quick installation and our friendly team. Thanks to our high-quality materials, Mrs Lampacher and her family can enjoy their brand new space all year round — for years to come!

Client Testimonial
Rating our service as "excellent", Mrs Lampacher was delighted with her ConservatoryLand experience.
'The entire process, from choosing my design to purchase to the build, was so smooth and pain free. All team members were professional – and the builder left no mess after installation. The conservatory took only three days to install and the quality is top class. The brick selection has made the conservatory match the rest of the house perfectly. I am super happy with it and my two young daughters love playing in their sunny conservatory.'
And, like Mrs Lampacher, we have many more happy customers who were thrilled with ConservatoryLand's service — explore our customer case studies.
Are You Feeling Inspired?
Fancy joining our growing list of customer projects? Order our free brochure for more information. Our team is on hand to guide you every step of the way if you have any questions.
Feeling concerned about social distancing? We completely understand. If you choose to use our network of expert UK installers, they are vetted and approved by us. Your conservatory will be surveyed, fitted, and built by professionals who observe the latest Covid-19 safety guidance at all times. We are a contactless company, and in most cases, we won't need to enter your property during the build. So you can feel confident your conservatory project will be installed safely, without any hassle or worry.