Our Customer of the Month for September 2023 is Mr Robbins with his Lean-to conservatory.
Ever since moving into his home in Worthenbury, Wrexham two years ago, he has envisioned extending his property to create a dining room. That dream has now come true, thanks to ConservatoryLand.
Watch Mr Robbin's video testimonial below and find out what he thinks of his new dining area.
Once Mr Robbins decided that a conservatory was the right option for creating his dining area, he called ConservatoryLand. He found the team very helpful and was pleased that he could customise every element. We sent Mr Robbins a pack in the post, and he filled it in with everything he wanted, including his preferences for the roof, door and windows.
The result? A modern, sun-filled Lean-to conservatory. As the conservatory follows directly from the kitchen, it's well suited to serve as the dining room Mr Robbins desperately wanted. Plus, it opens onto the decking, which creates a welcoming connection between Mr Robbins' home and his garden. Perfect for creating an al fresco feel — even when the weather doesn't permit outdoor dining.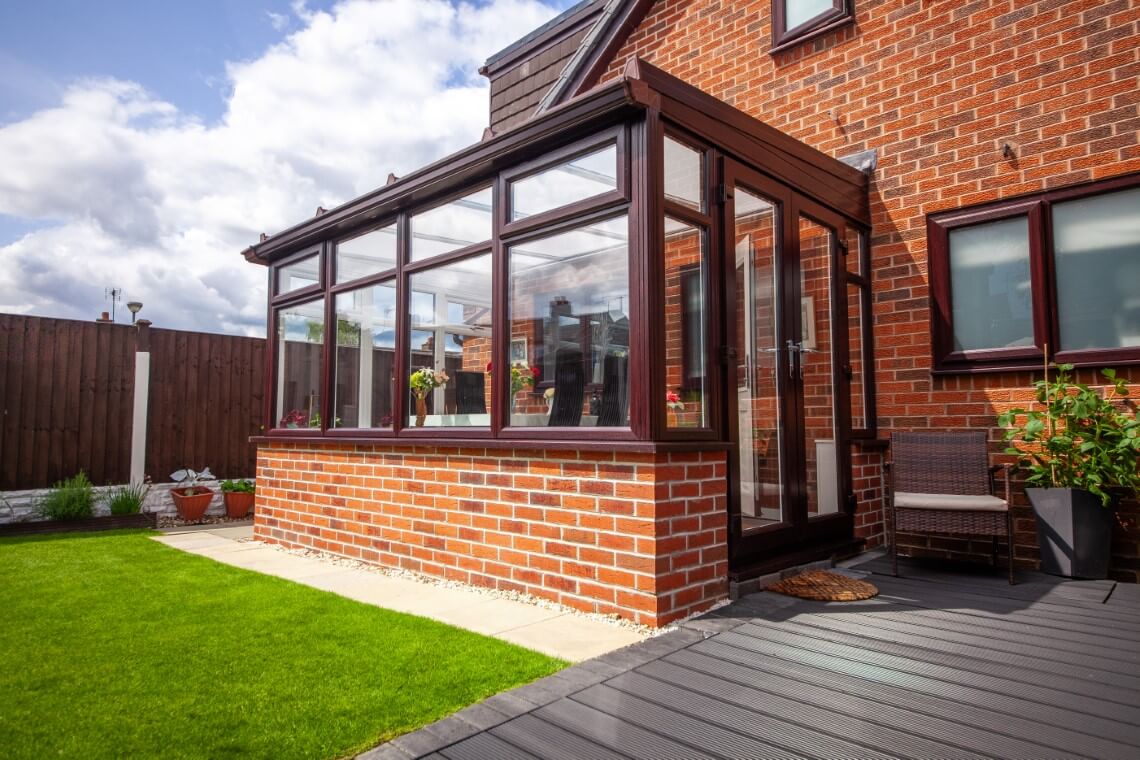 The specifications
| | |
| --- | --- |
| Name | Mr Robbins |
| Location | Worthenbury, Wrexham |
| Conservatory style | Lean-to conservatory |
| Dimensions | 4000mm x 2500mm (made to measure to customer's requirements) |
| Glazing | Standard glass in the windows, 25mm opal polycarbonate roof |
| Base type | ConservaBase with brick skirt (Rustic Orange Multi 687) |
| Colour | Rosewood/white uPVC, opal polycarbonate roof, chrome handles |
Building Mr Robbins' conservatory
A benefit of choosing one of our conservatories over a traditional extension is the reduced disruption. If Mr Robbins had chosen a standard build for his dining room, he would have had to put up with a lot of digging for foundations, lots of mud going in and out of his home, and reduced access to his garden for a longer period. But thanks to our unique all-in-one base and wall solution, ConservaBase, the Approved Installers simply dug a few holes and constructed the conservatory easily — as if it was a flatpack.
There's no need for foundations with the ConservaBase, which speeds up the construction process and minimises mess. The Approved Installers started work on Monday morning and finished by Thursday evening.
Because of the easy construction process, all of our conservatories are suitable for DIY builds. However, most of our customers choose to use our Approved Installers — a network of independent contractors, vetted by us. This can offer peace of mind and makes things even speedier than tackling the project yourself.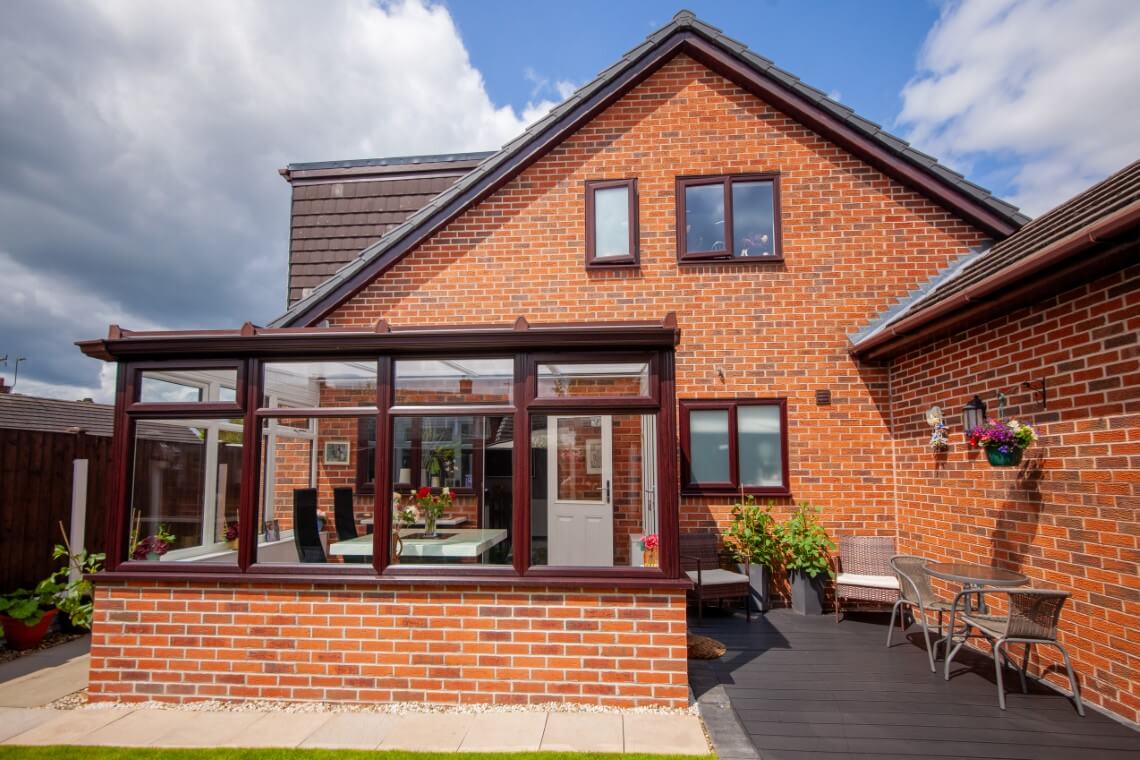 Like all of our conservatories, Mr Robbins' design is unique. Each aspect has been carefully chosen by the homeowner.
Mr Robbins' choice of a ConservaBase with a Rustic Orange Multi 687 brick skirt blends beautifully with his home's existing brickwork. As for the windows, our uPVC window frames can be made with one colour on the inside and another on the outside. Here, Mr Robbins opted for white on the interior to give his dining room a light and airy feel. In contrast, he picked a rosewood finish for the exterior, which complements his property's other windows. With so many options to choose from, there's no need to compromise.
When it came to the roof, Mr Robbins was able to customise the glazing and the thickness. In the end, he went for a cost-effective polycarbonate roof in an opal colour option.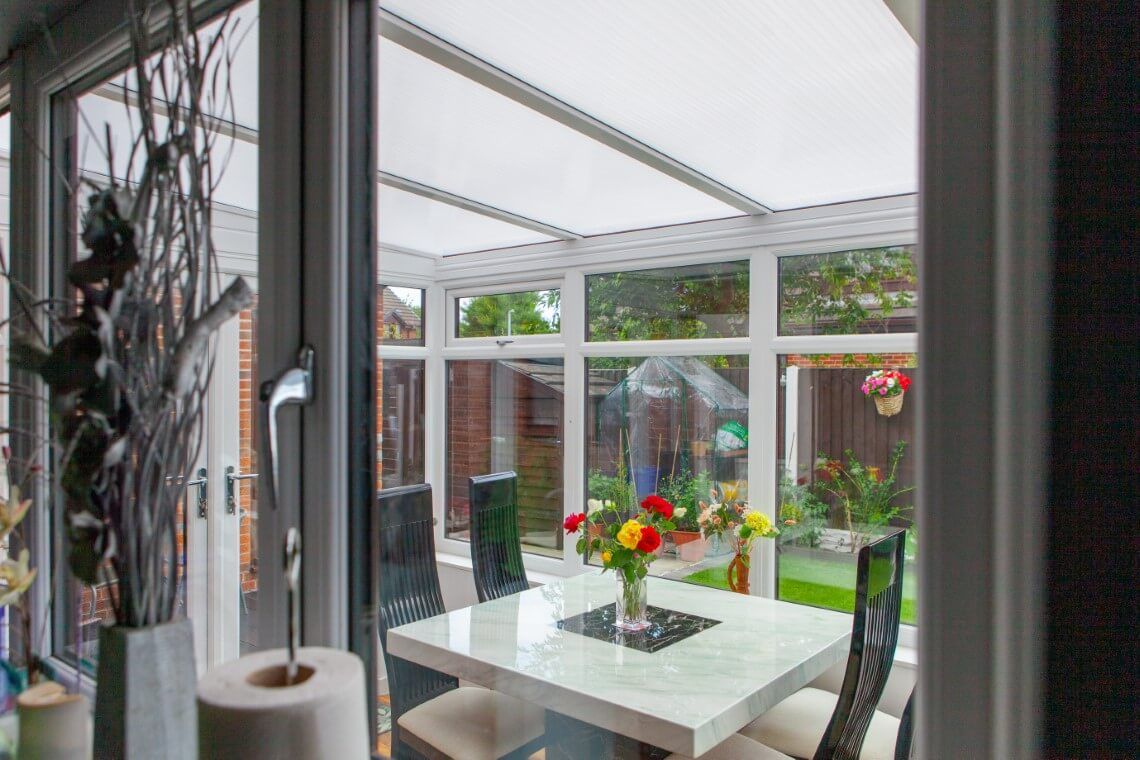 Mr Robbins loves his new conservatory — and so does his partner. They now relish having a dining room to entertain friends and family, away from the rest of the house. The conservatory has become a tranquil place for adults to unwind while children play in the living room or the garden.
The dining area has given Mr Robbins more freedom to welcome people into his home. He found the entire experience with ConservatoryLand enjoyable and would happily recommend us to anyone considering an extension.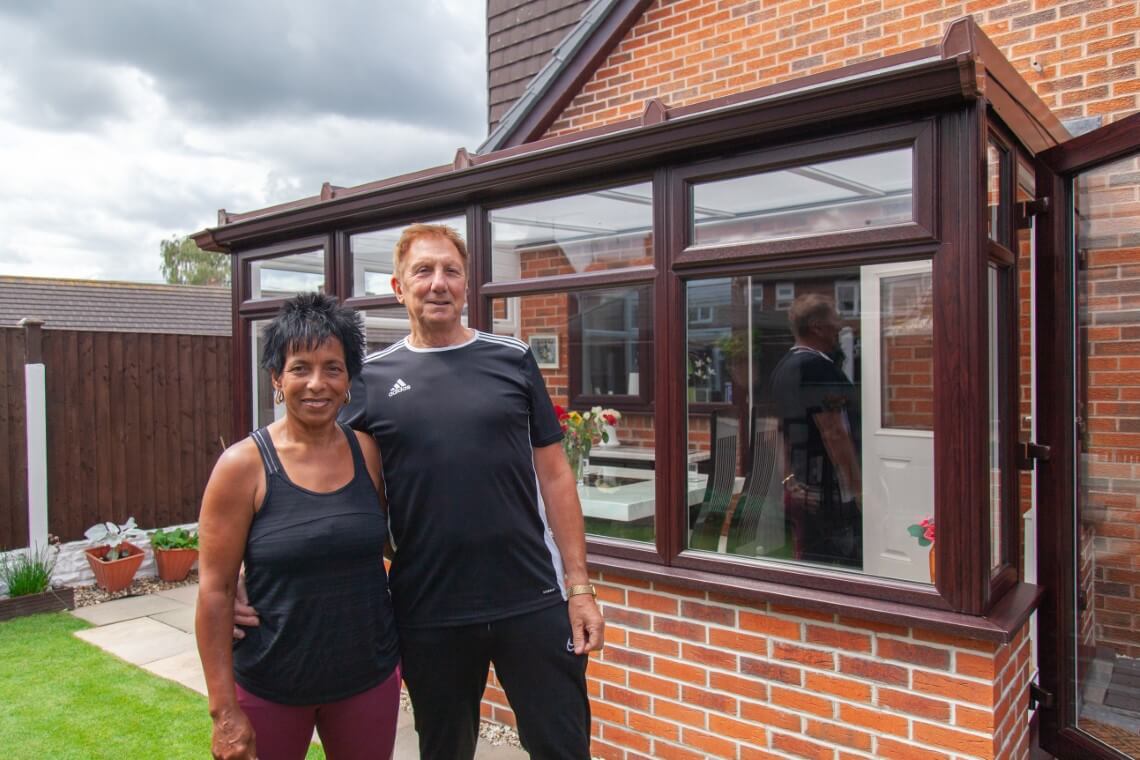 Are you feeling inspired?
If you would benefit from a new space like Mr Robbins', get in touch. We only sell made-to-measure conservatories, so you can customise your design to meet your requirements — whether you want to use the space as a dining room, playroom, home office, or simply somewhere to unwind and admire your garden. Whatever you want, we can help.
If you're undecided about what design to choose, you can browse our previous Customer of the Month blogs and our brochure for inspiration.
Once you have an idea of the style and size you'd like, it's quick and easy to get a free personalised price with our instant quote generator. You'll receive a no-obligation quote within seconds. If you're unsure and want to talk through your options, call us on 0800 952 8000 or fill in our contact form.
To learn more about the fully-vetted contractors we work with, visit our Approved Installers page. Because we're a contactless company, our Approved Installers will only enter your home when necessary.