For those who don't have enough dining space at home, transforming your conservatory into a dining room is the ideal solution.

Thanks to high-quality, modern materials, a dining room in your conservatory provides an airy and light-filled space that benefits from comfortable temperatures all year round.

Whether you're looking to create a space to hold dinner parties or a small conservatory dining room for your family to enjoy, we'll explore how to convert a conservatory into a dining room in this guide.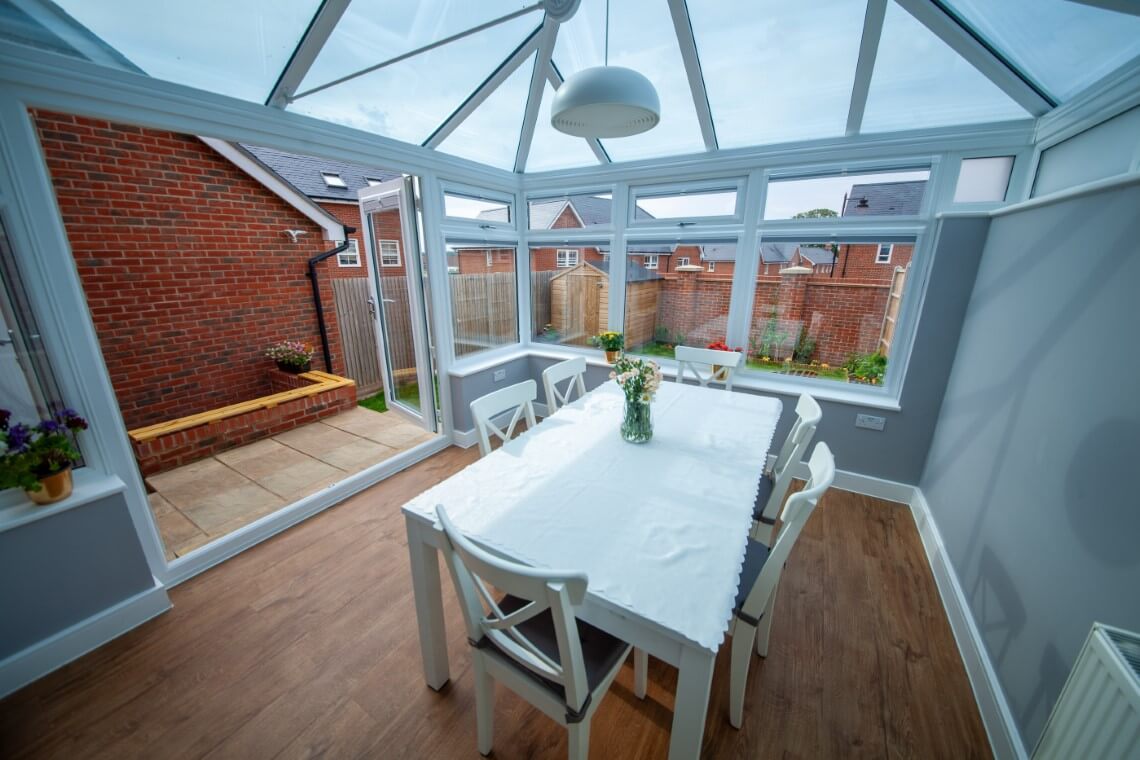 Can you use a conservatory as a dining room?
Conservatories can be used for various purposes, including as a dining room. With its transparent roof and large panes of glass, your conservatory most likely offers plenty of natural sunlight. This makes it a great spot for enjoying your mornings while providing a perfect setting for dining and unwinding in the evenings.
Designing your conservatory dining room
There are plenty of design options to consider that will make your conservatory dining room a space you and your family will love.

Here are a few design ideas:
1. Elegant design
To maximise the bright setting, you could opt for a glass-top dining table that reflects the room's light.

Glass is a popular option as it enhances the large glass panes in your conservatory. It also complements all colour schemes and different materials of chairs.

To add even more luxury, you might pick velvet furniture. A distinctive rug or lighting fixture that serves as the room's focal point could help set off an elegant interior.
2. Contemporary dining
Contemporary design often incorporates minimalist decor, uncluttered interiors and simplicity.

Tables in block colours like white or grey work well in modern conservatories. You could also contrast this with an accent colour — think bright-coloured chairs or vibrant artwork.

You might want to consider functional furniture like a coffee table that also works as a storage box. This helps to create that clean, contemporary dining room.
3. Traditional design
You could opt for a wooden table and wicker chairs to create a more traditional conservatory design.

Wicker and rattan furniture is more resistant to sunlight and less likely to fade, making it practical conservatory furniture. It also offers low maintenance, as rattan and wicker are easy to clean.
For more ideas, check out our conservatory interior guide.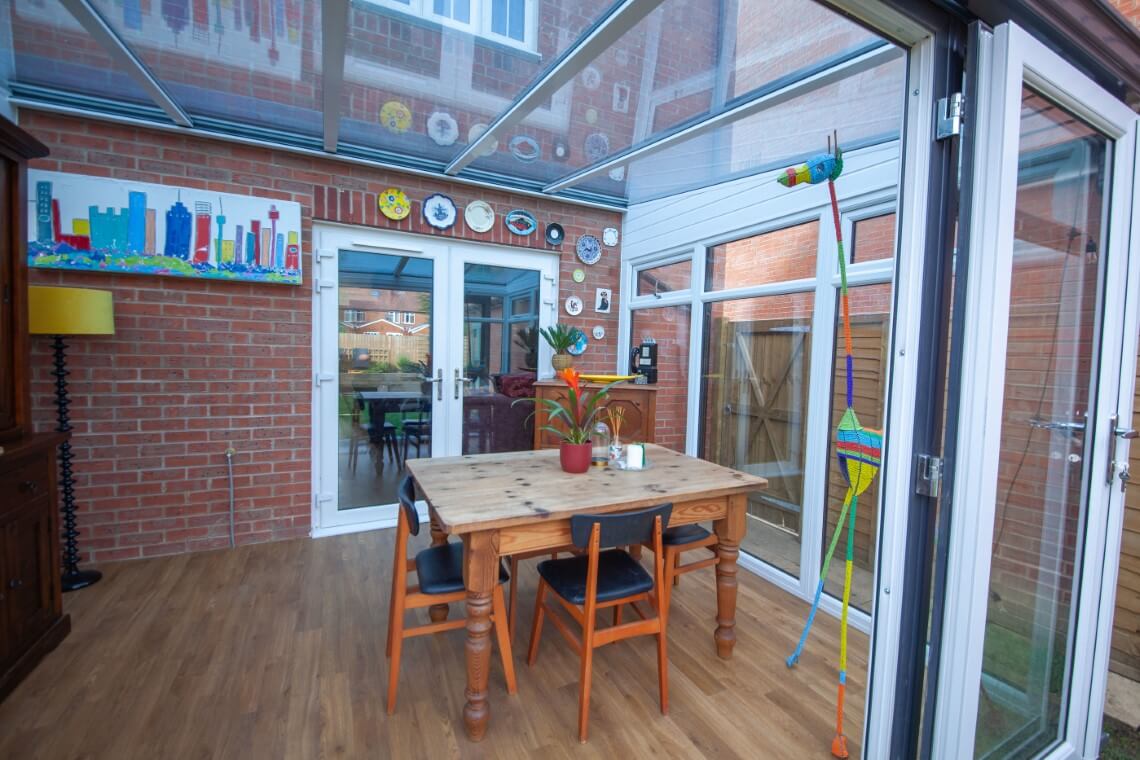 Smaller conservatory dining room ideas
If you're concerned your conservatory is too small, there are many small conservatory dining room ideas and space-saving options to consider.

You could opt for dining furniture that doesn't take up too much room. A fold-away table and chair set is handy if the dining room in your conservatory is only a temporary set-up.

Bench-style seating stored underneath a table also saves space when it's not in use.

Space-saving and multi-functional furniture are ideal for small conservatories, especially if you want to use your extension as a lounge and dining room.

The placement of your furniture is also important. For example, a dining table in the centre of your conservatory may take up too much room. To save space, place a small dining table against a conservatory wall.
If you want to add a small conservatory dining room to your home, make sure it works best for your needs and budget. Choosing the right shape and customisation options can affect how you use it.
Bi-fold doors are a popular choice for more light and airflow. You could add windows to the design to provide ventilation all year. If you have a lot of neighbours, a privacy wall could ensure your living space is peaceful and private.
Get in touch with our team for more helpful ideas about designing a new conservatory dining room.
Tips for conservatory dining room furniture
Conservatory dining room furniture comes in a variety of shapes and sizes. Here are some tips to consider when choosing the right furniture for your space:
An extendable conservatory dining table maximises your space when you don't need a full table spread. Simply extend the table when the occasion calls for it.
Avoid heavy and solid dining tables. Bulky furniture not only takes up a lot of space but can also make your conservatory appear much smaller than it is, especially if you have other furniture in the room.
Fold-away tables are an excellent choice when you plan to use your conservatory for a different purpose in the future. When not in use, you can quickly move it to storage.
Light-coloured conservatory dining tables are another popular option as they brighten the room. You might choose to contrast the style with colourful patterned chairs that add a pop of colour.
Store extra chairs for your conservatory dining table if you have storage space. Or opt for folding chairs that can hang on the wall or lightweight stools you can stack. This will mean you always have additional seating ready whenever you need it.
Build your dream conservatory dining room with ConservatoryLand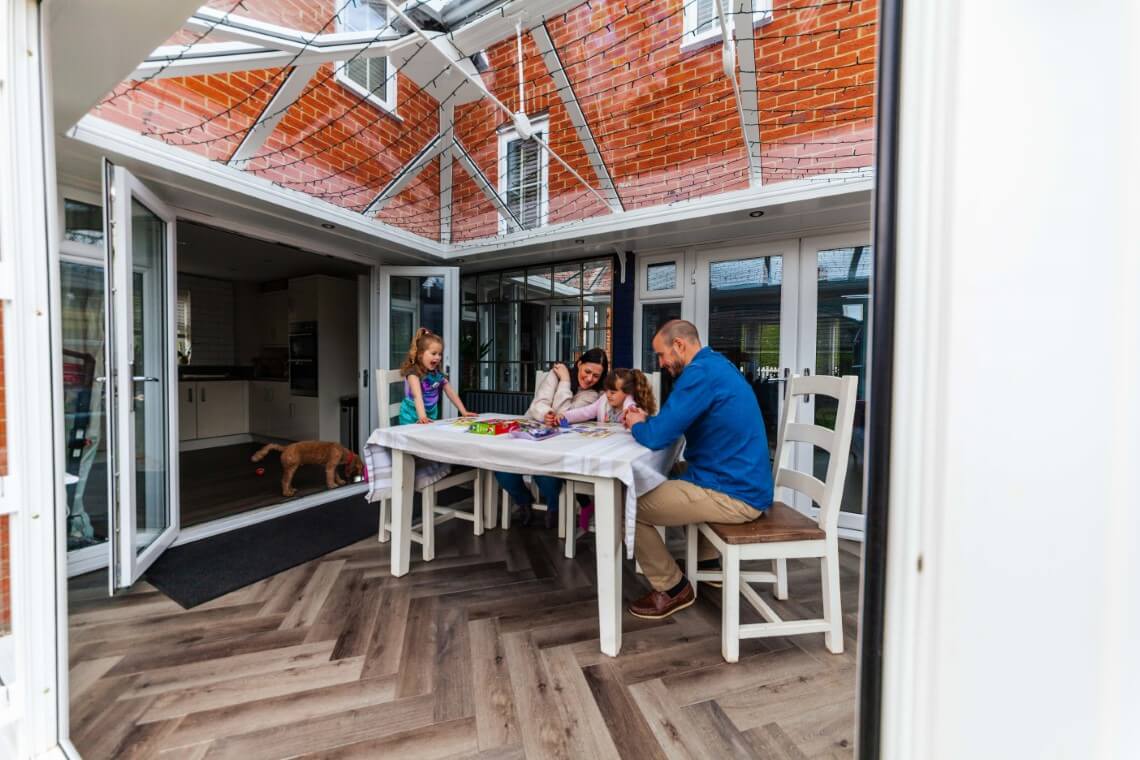 A conservatory dining room is a great way to utilise your additional living space. Not only will the room provide plenty of sunlight, but you'll also be able to enjoy the seamless, airy transition between your indoor and outdoor areas.

At ConservatoryLand, we offer large and small conservatories made-to-measure based on your needs and budget. Our friendly team is on hand to help bring your dream conservatory to life if you have any questions.

Design your dream conservatory today using our quote engine. For more information about our range of conservatory styles and customisation options, download a free brochure.