While conservatories are generally exempt from building regulations (providing they meet certain conditions), this doesn't eliminate the need for conservatory foundations.
Conservatories, like brick extensions, are only as strong as their foundations and require solid ground to ensure the structure's longevity.
The condition of the land that you're building on will influence the type of foundations you choose. Several factors, such as soil type and nearby drains, should be considered.

In this guide, we'll explore whether you need foundations for your conservatory, ground type considerations and more.
In this guide, we'll cover:
Does a conservatory need foundations?
Yes, conservatories usually need foundations.

Foundations ensure a structure's safety and stability. They work by transmitting the load of the building safely to the ground. This helps to prevent uneven settlement and damage to the structure and surrounding buildings.
Ground type considerations for conservatory footings
It's important to know the ground conditions you plan to build on because it determines the type of footings you need — such as shallow footings or deep foundations.

Let's look at various ground types that can impact your conservatory footings.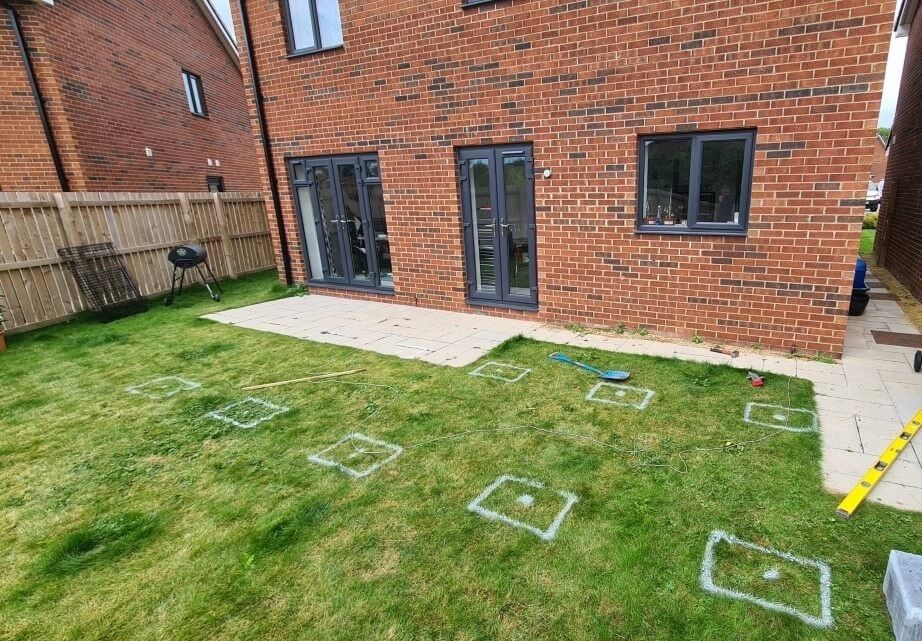 1. Clay soil
This soil typically comprises around 40% water. Building on clay soil requires careful planning, as it's known to shrink or swell, affecting the building foundations. If you plan to build on this soil type, you will likely need deeper foundations to avoid impacting the conservatory's stability and longevity.
2. Reclaimed soil
If your home is built on reclaimed land, such as a marsh or industrial land, adding a conservatory will require extra support to stabilise the structure.
3. Surrounding shrubbery and trees
Surrounding trees can affect your conservatory foundations. Trees and shrubs absorb moisture from the soil, causing it to shift and shrink. The amount of movement is determined by the size and type of the trees.
Please note this isn't an exhaustive list, and there may be other ground-type factors you'll need to consider.
What else could impact conservatory foundations?
Consider the location of the drains in your garden, inspection covers and sewers.
A drain can impact where the installation takes place, as building regulations state you must contact your sewerage company if you plan to build over or near a drain.
For more information, visit our blog on building a conservatory over a drain.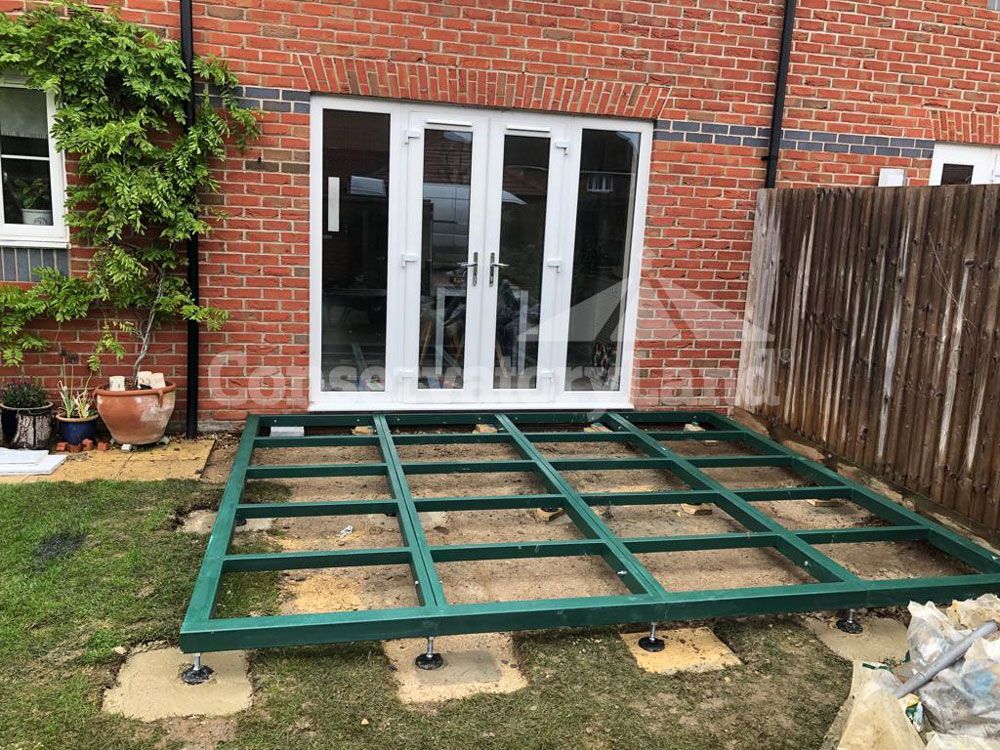 Building regulations for conservatory footings
All buildings must have adequate foundations, with the level of adequacy varying based on extension type.

You don't need to reach a minimum conservatory footing depth or width to comply with building regulations. However, ensuring your conservatory footings are adequate for the weight load is important so that the structure is solid and stable.

Find more information about the building regulations for conservatory foundations on Planning Portal.
How deep should conservatory foundations be?
Building regulations do not state a minimum conservatory foundation depth.

The depth of your foundations will depend on the size of your structure and the ground conditions.

Contact your local authority before starting the project if you have questions about your conservatory footings.

At ConservatoryLand, many of our customers use ConservaBase, our long-lasting conservatory base system. It provides solid and stable foundations and can handle heavy loads and pressure, making sure that your conservatory is safe and secure.

The ConservaBase fitting is simple — you'll dig holes at least 450mm square and 450mm deep to accommodate foundation blocks, which will securely support the structure.
How do you lay the foundations for a conservatory?
ConservaBase is suitable for professional and DIY construction. With its simple installation process, you can quickly and easily lay the foundation for your conservatory without needing any specialised equipment — and without all the mess.

Watch our video below to learn how to lay footings for a conservatory.
Can you build a conservatory without foundations?
You can build a conservatory without foundations, but we wouldn't recommend it.

Foundations provide a stable base for conservatories, helping to distribute the weight evenly and preventing it from shifting over time.

Without proper foundations, a conservatory can sink and shift, resulting in severe problems, such as water leaks, structural instability and cracked walls or floors.
Reasons to choose ConservaBase
Our unique solution ConservaBase helps streamline the conservatory installation process. It's an all-in-one conservatory steel base, floor and wall system that eliminates the need for conventional conservatory foundations.
Our steel base offers a range of benefits:
Easy installation – our standard base can be fitted in a day
No need to relocate manholes or drains – they can be left in place and made easily accessible
Minimal disruption and mess – no need for skips or concrete lorries
Learn more about ConservaBase.