Back to list
Let's talk about conservatory lighting.
Owning a conservatory, you have the benefit of a new room which is flooded with natural light. 
Therefore, in the day time, you don't need to worry too much about your room not being light enough.
However, with the conservatory being largely glass, the level of light you get will depend on when the sun is out. Consider alternate conservatory lighting ideas for when the sun goes down.
As lighting is not needed all the time, this guide aims to share how to get the most from your conservatory lighting, alongside factors to consider and lighting inspiration.
Things to consider when choosing conservatory lighting
Although choosing conservatory lighting may seem like a choice based on personal preference, there are a range of factors you should consider prior to deciding.
Conservatory positioning
The direction of which your conservatory (and house) is positioned will largely affect how much natural light flows through your conservatory.
For example, if your conservatory is south facing, you will require less additional sources of light as the natural light will flow through from sunrise until sunset.
A north-facing garden however typically means that more often than not – your garden largely shaded during hours of sunlight – so the use of conservatory lighting is more of a requirement, as you cannot rely on natural light sources.
Therefore, your conservatory positioning can largely influence your reliance on additional light sources.
Conservatory glazing (including roof)
The type of glass you opt for can affect the amount of light that enters your conservatory. Certain types of glass will reduce the amount of light that enters your room so it's worth doing your research prior to the build.
At ConservatoryLand we offer a range of conservatory glazing types, with a variety of options to choose from.
Conservatory purpose
The level of lighting required for your conservatory is also very much dependant on the purpose of the room. You may only be using the room at specific times of the day, so this will affect how much or little you need.
For example, if you are using your conservatory as a room to relax and read a book in, you may only need a reading lamp for the evenings.
Conservatory roof shape
When choosing your conservatory design, your choice of roofing will affect whether you are able to have a central ceiling light as a feature. If you opt for a more irregular shape of the ceiling, your primary source of lighting is likely to be restricted to a wall light or freestanding options.
Therefore, you should factor in the type of lighting you require when designing your conservatory.
Conservatory lighting ideas
When it comes to picking your lighting there is a wide range of conservatory lighting solutions, which you opt for is very much dependent on your conservatory design and personal preference.
To help inspire you, however, we have shared some of the popular options.
Low-level lighting
If you do not need a primary source of lighting you may opt for multiple low-level lighting sources such as table lamps.
Having more than one lamp means you can add or reduce the level of lighting required, as and when you see fit.
Floor lamps
Free-standing floor lamps is a great conservatory lighting solution, especially if you plan to have your conservatory as a reading room to relax in.
Floor lamps are strong enough to distribute the light throughout your conservatory but are also perfect if you need a concentrated light source (when reading for example).
Picture lighting
If you have enough wall space in your conservatory and like to hang artwork, you may combine lighting with your art, and opt for picture lighting.
Although the prime purpose is to shine the light on the pictures, they do too provide lighting to your room, so it's a savvy option to consider if you don't require too much additional lighting in your conservatory.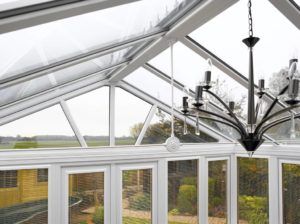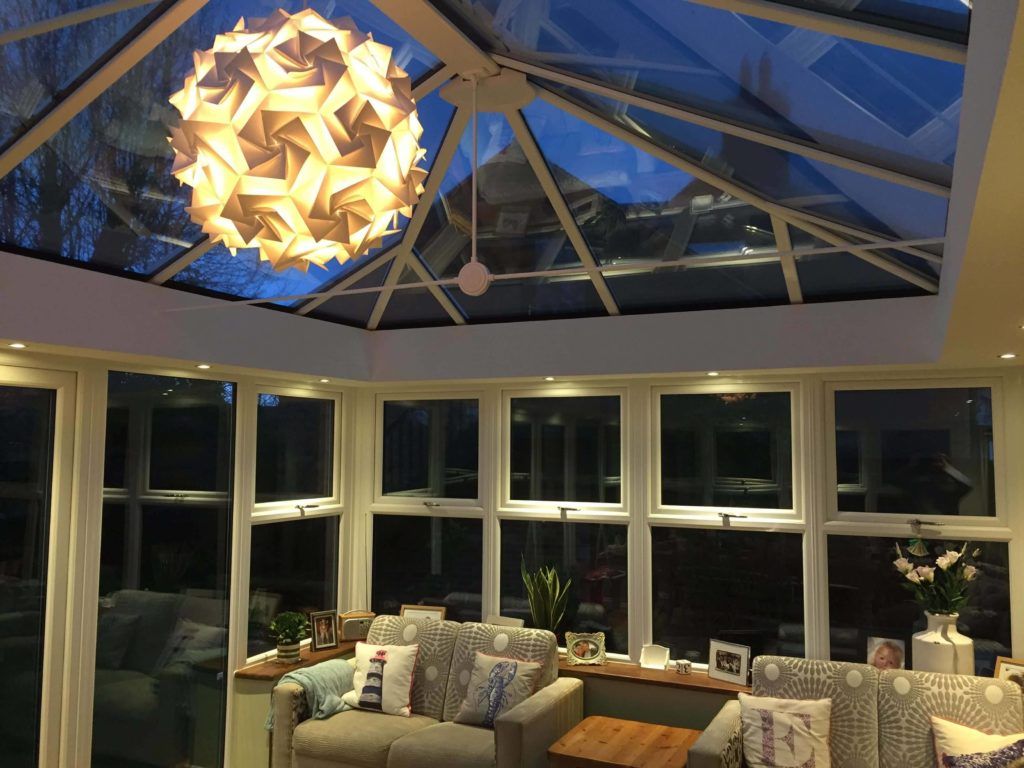 Lights for a conservatory roof
Pendant lighting
Pendant lighting can add a great focal point inside your conservatory. Obviously, you need the conservatory roof light fittings installed already if you're going to pursue this option. 
It depends on what type of roof you have, but it's likely that you'll need an electrician to feed the required wiring through to the fitting area in a safe and responsible manner. 
Hanging down, the light bulb is covered by a shade meaning there are a huge range of styles to choose from, so you are likely to find something to your taste.
If you want to opt for a more contemporary design, however, you may go for an industrial style pendant light which features a metal/rust affect shade.
Wire lighting
If you are opting for a modern, minimalist design then choosing wire lighting is the perfect option. In a lot of these designs, the bulb is the feature and is on display.
The advantage of this option is the style allows for multiple bulbs, providing a brighter source of light. The wires can also be arranged in a creative style to add a unique decorative effect. 
These work well inside the conservatory to create a relaxing, ambient setting – or can be draped across the top of the roof if you want to add more emphasis when the sun goes down.  
LED strips or spotlighting
Again, this works very much in the same way as wire lighting – only the LED effect is more subtle.
If you have the wiring available, then LED spotlights are a perfect way of distributing the light sources around your conservatory at low cost and minimal fuss.
Many of these fittings allow the option to dim and brighten the light which helps create the perfect ambiance in your conservatory.
Alternatively, LED strip lights offer a simple conservatory lighting solution. They don't just need to be confined to your conservatory roof, either. Try placing LED strip lights under shelves or around skirting boards, for a modern feel.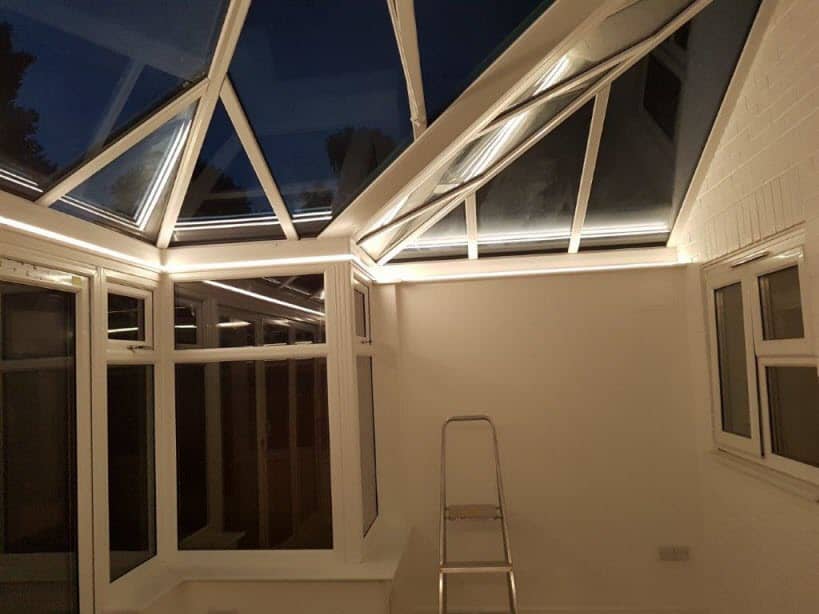 Conservatory wall lighting options
Your 'conservatory walls' could be one of two things; the dwarf walls that make up the base of your conservatory, or the exterior wall of your house that's now within your conservatory.  
Decorative lights for walls and brickwork can take many forms – most of which we've already mentioned above. 
Wire lights and LED lights are always a good option for interior and exterior walls as they're easy to fit – and can bring your conservatory walls to life for cheap. 
It depends on your personal preference and budget.
Final thoughts on conservatory lighting
So, when it comes to selecting your conservatory lighting, there is a range of factors to consider.
You want to make sure you make the most of the natural light available, whilst opting for additional lighting options which complement the space.
If you are not yet a conservatory owner, however considering the purchase, why not request a brochure free of charge today.
In here you will see the range of DIY conservatories and additional features that we offer.