While they might not be the first thing that you rush out excitedly to buy for your conservatory – conservatory roof blinds have a number of benefits.
Often overlooked by many conservatory owners, it's important to never underestimate their effectiveness when used for a number of different purposes.
If your curious about how conservatory roof blinds could benefit your conservatory – then you've certainly come to the right place.
Below, we've listed the advantages of conservatory roof blinds – along with some worthy alternatives you could also consider.
This should help you weigh up whether it's a good idea for you.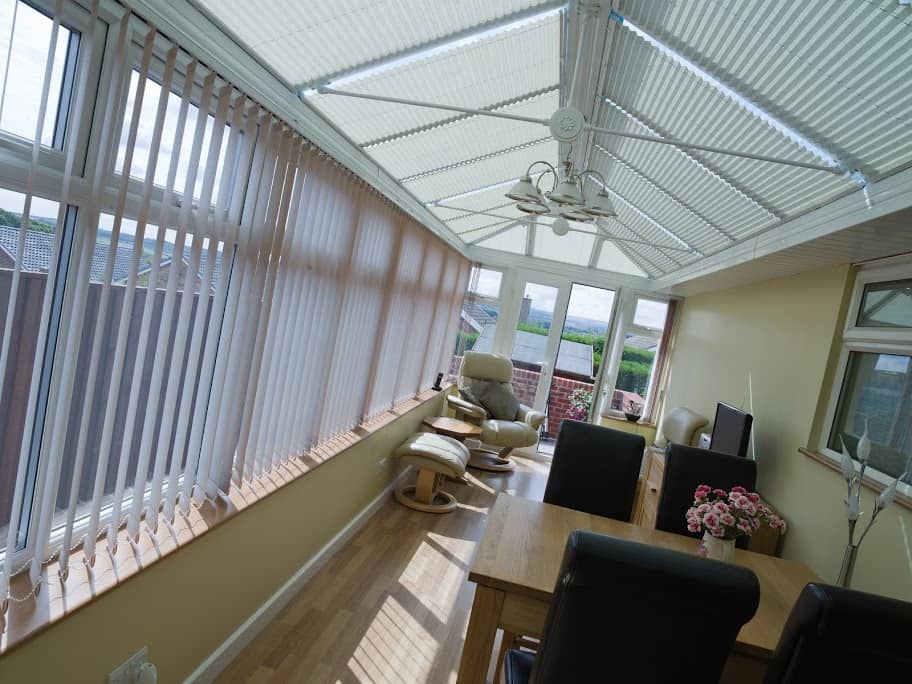 Benefit 1 – Temperature Regulation
It can often be difficult to get your conservatory's temperature just right.
It doesn't matter whether it's the coldest week of the winter or the height of summer. Conservatories aren't known for their ability to retain heat effectively in the winter (especially when you consider their mostly made of glass in the majority of cases), while in the summer they can heat up dramatically like greenhouses.
However, there are things you can do to combat this – fitting conservatory roof blinds being just one of them.
Conservatory roof blinds can act as an insulating layer in the winter and a sun block in the summer.
This helps you keep your conservatory's temperature at a comfortable level throughout the year – which is obviously great if you spend a lot of time in there.
Benefit 2 – Light Management
This is heavily related to the point above, especially when you consider the effect that sunlight has on the temperature of your conservatory.
However, one problem many people experience in some conservatories is a level of brightness that can be often overwhelming when the sun is blaring down on it at quite a high intensity.
Imagine if you have a TV in your conservatory. The last thing you want is for the sunlight to cause discomfort and distort your view of the screen.
With well-positioned conservatory roof blinds, you can control the amount of natural light that is filtered into the room.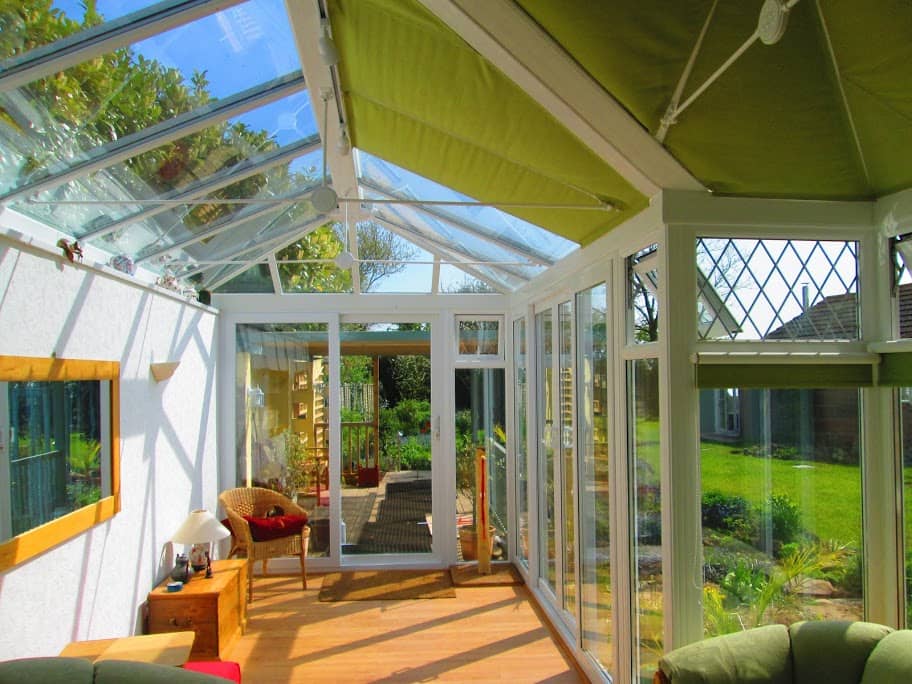 Benefit 3 – Privacy
If your house is overlooked, then you might want to consider conservatory roof blinds – simply as a way of maintaining some privacy.
People often find when they add a conservatory to their home, that it's a lot easier for neighbours to see right into their home. Just think of the amount of clear glass that makes up a conservatory.
The best blinds for conservatory roof panels are those that can provide privacy from an elevated view.
Benefit 4 – Aesthetic Quality
You'll be surprised at the effect conservatory roof blinds can have from an interior design point of view.
They can often make your conservatory feel a little more 'homely' and cosy – thanks in no small part to their ability to enable you to regulate the inside temperature and maintain privacy.
You might find that blinds add that all important finishing touch to your conservatory once it's ready to be used.
Benefit 5 – Noise Reduction
Although conservatory roof blinds are not entirely 'sound cancelling' they can help to keep the noise down when it's raining or hailing outside.
Some people can find it therapeutic, but that monotonous patter of heavy rain or hailstones can be irritating over a long period of time. It's surprising – but blinds can almost filter the sound of impact on the conservatory roof and help keep noise to a minimum.
It's a subtle yet effective way to reduce noise – and while it won't stop the problem completely, it certainly helps.
Types of conservatory roof blinds
The conservatory roof blinds cost does vary on the type, of which there are five main ones:
Thermal conservatory roof blinds –

these do exactly 'what's said on the tin'.

They're

usually made of thicker material which is better for insulation, and work wonders for heat retention.

Perfect fit conservatory roof blinds –

perfect fit blinds are easily attachable to UPVC roof or window panels if measured out properly. There's no need for drilling any holes for screws here.

Conservatory roof pleated blinds –

arguably the most common type of conservatory roof blinds. Pleated blinds are usually available in a range of fabrics and authentic designs that will help to breathe life into your conservatory.

Conservatory roof sail blinds –

sail blinds are designed for shade. They won't cover the whole surface area of your conservatory's roof – which is good, as it enables light to spill inside without causing too much brightness.

DIY conservatory roof blinds –

it might work out cheaper to design and fit your own conservatory roof blinds. Simply choose a type of material that works best for you, and you're good to go.
Alternatives to conservatory roof blinds
Besides conservatory roof blinds, there are a couple of other options you could try to get the same benefits.
The first approach you could try is fitting a conservatory glass film to your roof.
This type of product is specifically designed to prevent glare from sunlight making its way through conservatory roofs.
Since it's a clear film – this still enables you to enjoy the natural light from outside, just without the downside of having to squint when it's particularly bright. It's a simple yet effective way to enjoy your conservatory while avoiding the intensity of the sun.
Another worthwhile (yet slightly more disruptive) alternative is to have a solid roof fitted.
This essentially consists of replacing your existing roof panels with new panels that are specifically manufactured to withstand levels of ultraviolet light much more effectively. They also have better insulation properties than polycarbonate roof panels, for instance.
If you're interested in discussing conservatory roofs and any other products you could use to improve your existing conservatory, we'd be delighted to address any concerns you might have.
If you're interested in a new conservatory, feel free to request our brochure – or get a free quote for your own DIY conservatory today.