When you invest time and money in a conservatory, you want it to look its best.
Maintaining a clean conservatory ensures that your space remains pleasant. But one thing that can be a challenge is cleaning a conservatory roof.
Your conservatory roof is exposed to the elements all year round, including heavy rain, torrential hail and wildlife damage.
A conservatory roof is susceptible to collecting dust and dirt — even on the inside — because there are plenty of hard-to-reach areas.
Here, we'll run through some top tips on cleaning a conservatory roof so your space remains pristine.
What equipment is required to clean your conservatory roof?
Cleaning your conservatory roof properly requires the right equipment.
A conservatory roof cleaning kit typically includes a telescopic washing brush, a bucket (for warm soapy water) and a sturdy step ladder.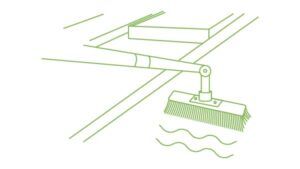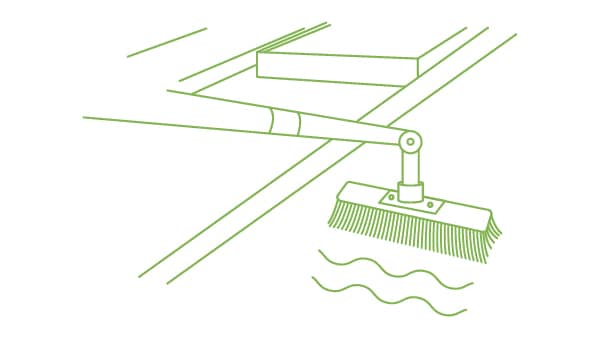 You can use a pressure washer or garden hose to rinse the roof thoroughly.

Depending on the size of your conservatory roof and how dirty it is, you may want to add items to your cleaning kit, such as extra sponges, special cleaning solutions and a hosepipe.
Is it safe to clean your own conservatory roof?
Remember to take care when cleaning a conservatory roof.

First, you should assess whether you can safely reach the roof from the ground using a telescopic brush.

If you plan to access the roof with a ladder, do so safely. You should avoid stepping on glazing bars as they're not designed to support the weight. It could also be unsafe to stretch across the roof panels to clean those hard-to-reach spots. While crawl boards can help distribute weight, we don't recommend walking over your conservatory roof.

Consider hiring a conservatory roof cleaning specialist if you're not confident cleaning it safely.
How to clean a conservatory roof
Before you clean your conservatory roof, keep in mind that not all conservatory roofs are made of the same materials.

A polycarbonate roof can be easier to clean than a glass roof because it's less likely to chip or crack under light pressure.

When cleaning a glass conservatory roof, check to see if it has any special coatings, such as self-cleaning glazing, that should not be cleaned with harsh chemicals.

We'll look at the differences between cleaning both conservatory roof types below.
Cleaning a conservatory polycarbonate roof
Most modern conservatories are made of glass and uPVC, but some conservatory roofs are made of polycarbonate.

The great thing about polycarbonate roofs is that they are far less likely to chip or crack than glass panels.

To safely clean a polycarbonate conservatory roof, you need to have a strong set of ladders.

However, conservatory roofs are not designed to support much weight, so we wouldn't recommend leaning on the polycarbonate panels. When possible, use an extendable brush and warm soapy water.
After you've finished cleaning, inspect your gutters for any debris. After all that trouble, you don't want to end up with a blockage.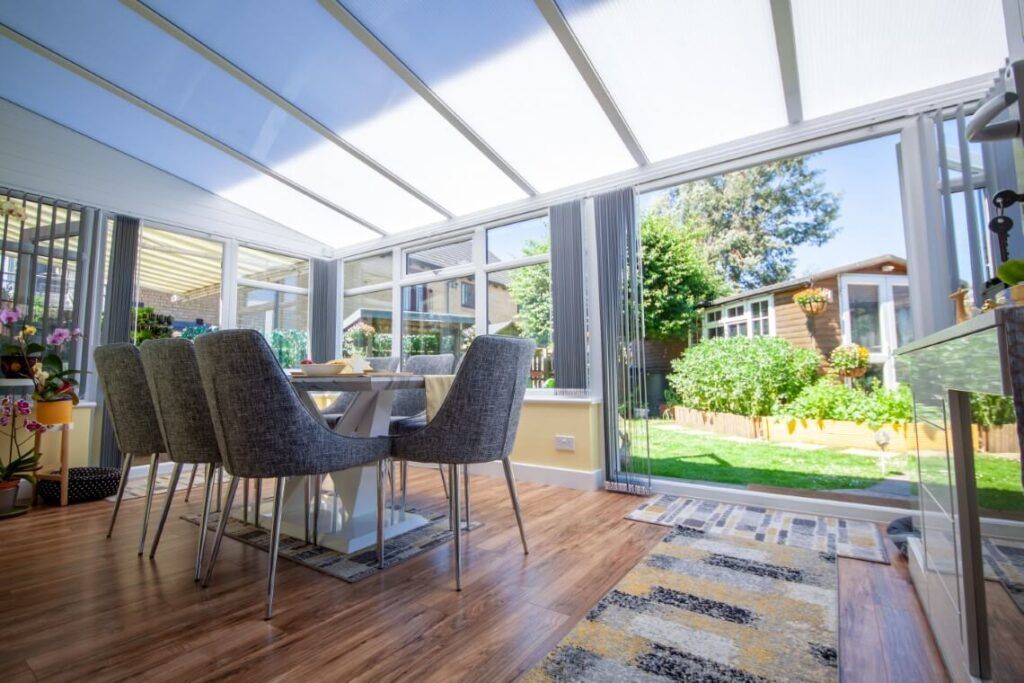 Cleaning a conservatory glass roof
Cleaning a glass roof is similar to a polycarbonate roof, only you'll need to be more careful when brushing the panels. If you're too firm, you could chip or crack the glass, which can be costly to replace.

Another thing to bear in mind when cleaning a glass conservatory roof is the weather. Avoid hot and sunny periods if possible, as glass can dry too quickly in warm temperatures, leaving smudges and smears behind. For best results, clean a glass roof on an overcast day.

Use a mild conservatory roof cleaning solution to remove tougher stains. However, if you have self-cleaning or easy-clean glass, there are specific cleaners you'll want to avoid. Some cleaning solutions can damage the special coating on the panel's surface, so check the cleaner carefully before using it.

For more information, take a look at our our guide on conservatory cleaning top tips.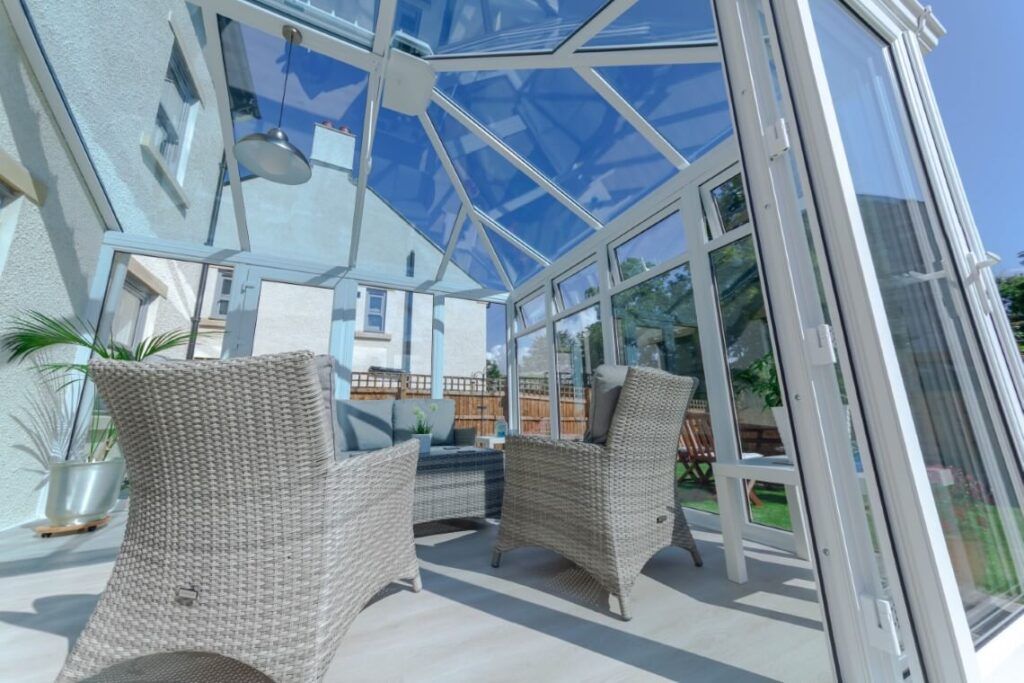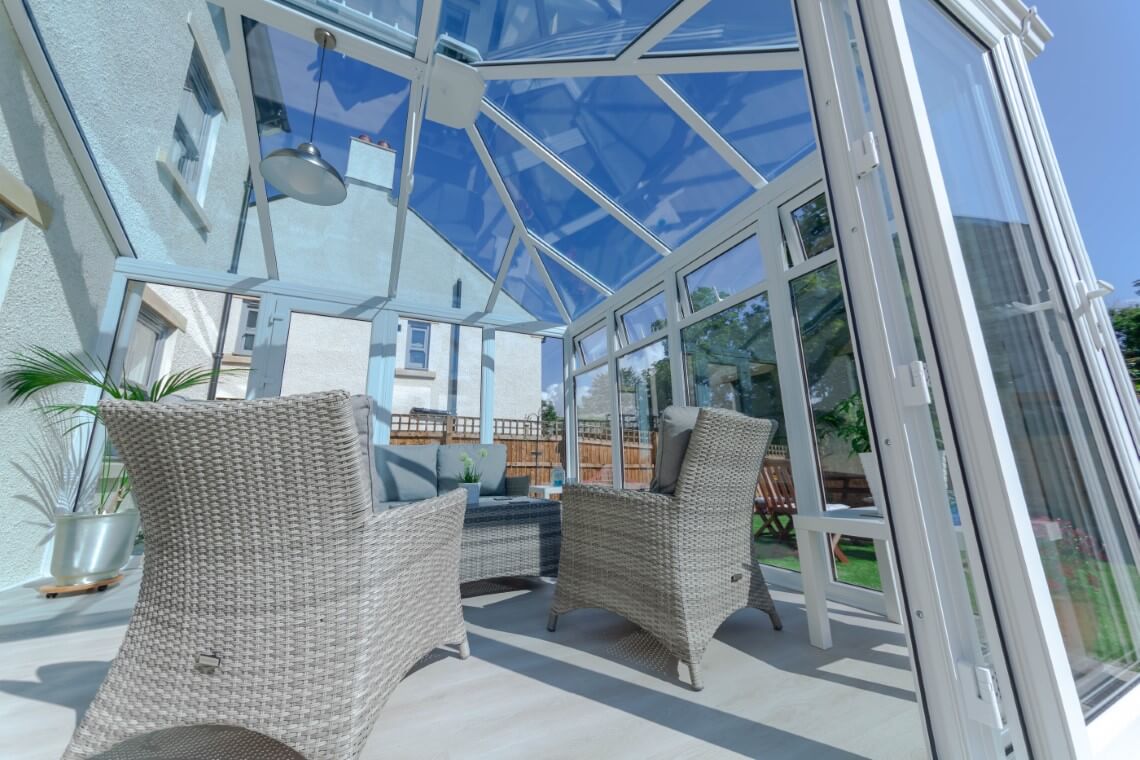 How to clean inside a conservatory roof
When deciding how to clean the inside of a polycarbonate roof or glass roof, there are various factors to consider.
You'll still need a wet cloth, ladder and an extendable telescopic brush. Avoid sloppy brushes and messy buckets, so your floor doesn't get wet.
Most of the dust and dirt will have accumulated between the glazing bars, which a large brush cannot reach. Instead, you may need to reposition your ladder to get up there and apply a wet cloth yourself.
Should you remove conservatory blinds when cleaning the conservatory roof?
You'll probably be surprised by the amount of dust that collects in the space between your conservatory roof blinds and the roof panels.
Removing conservatory roof blinds can be a long and tedious job. In most cases, you can use a ladder to get up high to unscrew the blinds. Be careful not to damage the blinds when taking them down. You may need an extra pair of hands to help you once you've dismounted them.
Alternatively, if you'd rather leave your blinds in place, a vacuum will engulf most dead insects or dust that may have collected on or around your blinds.
Self-cleaning conservatory glass — how does it work?
Although it won't always alleviate the need for the odd spring clean, self-cleaning conservatory roof glass does offer low maintenance.

Our conservatory glass roof glazing combines self-cleaning with solar control. This means that once the roof panels are exposed to sunlight, the coating breaks dirt down, allowing rainwater to wash it away. It's a simple and effective technology that makes conservatory roof cleaning much less frequent and tedious. It also helps regulate temperatures, so your living space remains comfortable, whatever the weather.
Low maintenance with self-cleaning glass from ConservatoryLand
If you're looking to replace an existing conservatory roof or are interested in installing a new conservatory altogether, contact our friendly team for more information.

Want to find out more about our conservatories? Download a free brochure and explore our range of conservatory styles and customisation options.