Back to list
When you invest time and money into a conservatory, naturally – you want to do your best to keep it looking spick and span.
Besides interior design, furnishing and controlling the temperature as effectively as possible throughout the changing of the seasons, keeping your conservatory clean is just one important part of ensuring that it's always a pleasant place to spend time.
This is all day-to-day maintenance and housekeeping – which is all fairly straightforward.
One thing that can be a challenge though, is keeping your conservatory clean from the outside – especially the roof.
Conservatory roof cleaning isn't as simple as you might think. All year round, your conservatory roof is exposed to the elements from the outside. This includes everything mother nature throws at it – from torrential hail and rain downpours to wildlife damage.
Even from the inside, a conservatory roof is susceptible to collecting dust and dirt. That's because it's hard to reach the various nooks and crannies from a reasonable height (depending on the size of the conservatory, of course).
However, there are ways you can remedy this problem – and we're going to discuss the main steps to consider right here.
Conservatory roof cleaning equipment
To tackle the cleaning job required for a conservatory roof, you're going to need to get your hands on the right equipment.
A decent conservatory roof cleaning kit will usually consist of a telescopic extendable wash brush, a bucket of warm soapy water and a sturdy step ladder. That is literally all you need.
Obviously, you might want to add things to your ensemble depending on what sort of job you have on your hands – but you really don't need to push the boat out in terms of cost when it comes to a normal conservatory roof cleaning exercise.
If you're giving the conservatory a fairly rigorous wash from the outside, you might want to use a pressure washer, or garden hose to rinse the roof properly.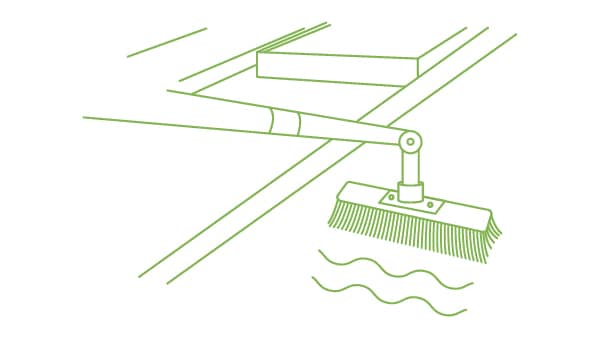 How can I clean my polycarbonate conservatory roof
Before you get all the cleaning equipment you need to start the job, you first need to take stock of the material your roof is made from.
Most modern conservatories are mostly made from glass and/or uPVC, but there are still a few conservatory roofs made from polycarbonate. The great thing about polycarbonate roofs is that they are much less likely to chip or crack than glass panels.
Although, you'd never intend to damage your own roof, accidents can still happen when cleaning – but you needn't worry about that too much when cleaning a polycarbonate roof. However, you should always take your own safety into account when doing this task.
To clean a polycarbonate conservatory roof safely, you need to make sure you have a decent set of ladders. You should never climb on to a conservatory roof – irrespective as to whether it's made from polycarbonate or glass.
Obviously, conservatory roofs are not made to bear much weight, so even if you have ladders – we wouldn't encourage leaning on the polycarbonate panels either. Stick to an extendable brush and warm water.
Once the job is done, make sure you check your guttering for any debris. You don't want to end up with a blockage after you've gone to all that trouble.
Cleaning conservatory roof glass
The same principle applies when cleaning glass – only you'll need to be more careful in terms of brushing the panels too firmly. Once you've chipped or cracked glass panels, they can be fairly expensive to replace.
Another thing you might want to bear in mind when cleaning a glass conservatory roof, is the weather. Avoid hot and sunny days if you can.
Sometimes glass can dry too quickly on warm days, leaving smudges and smears behind on the glass. If possible, try to clean a glass roof on an overcast day for the best possible results.
For tackling tougher stains when cleaning both glass and polycarbonate roofs, you could experiment with a gentle, specialist conservatory cleaning solution.
That being said, if you're dealing with self-cleaning or easy clean glass – some chemical cleaners are a no-go. That's because certain solutions can damage the self-clean/easy clean coating on the surface of the panel.
For all other considerations, it's worth taking a look at our conservatory cleaning do's and don'ts – just to be sure you're barking up the right tree. There's also a section on conservatory roof cleaning.  
How to clean
inside
a conservatory roof
Indoors, you'll need to apply a little more finesse to your work. No sloppy brush and buckets (although feel free if you've laid down some waterproof protective mats or blankets to stop the floor getting wet – but this probably isn't likely).
You'll still need a wet cloth, ladder – and even an extendable telescopic brush (as long as you're not using too much soapy water). Have a good look around and see where the most amount of cleaning is needed.  
It's likely that most dust and dirt will have collected in between the glazing bars where a large brush won't be able to reach.  Therefore, you'll need to reposition your ladder as you see fit, so you can get up there and apply a wet cloth yourself.
Obviously, this is quite a manual and time consuming job – but you'll be pleased with the results once you do it, and you probably won't need to get up there again at least for a few weeks.
How to remove conservatory blinds for cleaning
You'll probably be surprised by the amount of dust that collects in the space between conservatory roof blinds (if you have them) and the conservatory roof panels themselves.
Removing conservatory roof blinds can be a long and tedious job – which is why it's probably best for two people to do it. The likelihood in most cases, is that you'll have pleated conservatory roof blinds that just fold up and down – in which case you probably won't even need to take the blinds down to clean the inside of the roof.
However, if you do – it's simply a case of using a safe ladder to get up there and manually unscrew the blinds. Just to make sure that you're not damaging the blinds when taking them down – you'll probably need an extra pair of hands to help you once you've dismounted them from the roof.
If you'd rather just clean the blinds themselves, the best thing to do is use a vacuum to engulf any dead insects or dust that may have collected up there.
Self-cleaning conservatory glass
Although it won't always alleviate the need for the odd Spring clean – self-cleaning conservatory roof glass does make maintenance much easier.
Our conservatory glass roof glazing combines self-cleaning with solar control.
This means that once the roof panels are exposed to sunlight, the coating breaks dirt down, allowing rain water to 'sheet' down the glass and wash dirt away. It's a simple and effective technology that makes conservatory roof cleaning a much less frequent and tedious task.
If you're looking to replace an existing conservatory roof, or interested in erecting a new DIY conservatory altogether – we'd love to tell you more about our innovative self-cleaning conservatory glass.
Go ahead and check out our free brochure today for more information.