Back to list
Conservatories are built to be air and water tight, which ensures no leakages from rain water. It does however mean that they can be prone to condensation.
This is most likely to occur when the temperature outside starts to drop, as this is the time you increase the heat indoors.
With rising temperatures in your conservatory, and minimal ventilation, moisture can build in the air. When this moisture hits the cold windows it can turn to water (condensation).
Our efforts to ensure heat does not escape, can therefore often be detrimental.
This guide will therefore provide you with the necessary conservatory condensation advice, to help you limit your chances of getting this, and solutions if you do happen to incur it.
What causes condensation in a conservatory?
As highlighted, condensation occurs when there is a contrast in temperature and limited ventilation in a room to regulate this.
When the hot air meets the colder surface of a window it condenses into water.
Conservatory condensation is common, and when it comes to defining what causes condensation, we have outlined the factors that influence this below:
The temperature of your room: As the days get cooler you are likely to increase the temperature in your conservatory, especially considering the walls of your extension are largely glass. The rising temperatures are likely to contribute to conservatory condensation.
The level of moisture in the air: With limited air vents there is no natural way for this air to escape. The moisture of the air will therefore further build. It is therefore recommended that you do not air out clothes in your conservatory, as this further contributes to the level of moisture apparent in the air.
The temperature of your windows: The larger the contrast in temperature between your windows and room, the bigger chance you have of developing condensation. This is why winter time is a common time for this to occur.
An accumulation of the above along with little ventilation can be what largely causes condensation in your conservatory.
The air must be able to regulate and escape, and when this is restricted water droplets occur on your interior windows.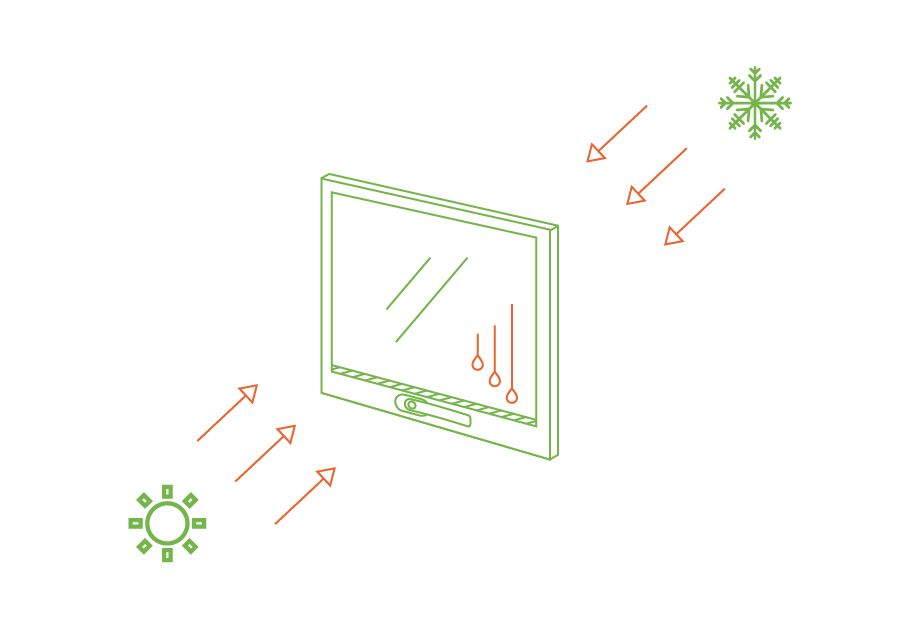 How to stop condensation in a conservatory?
When it comes to preventing condensation in your conservatory there is a variety of things you can do. So don't worry if you do find condensation is apparent, this can easily be stopped.
The below points, are all things you should do if you do find condensation on your windows.
Ventilate your Conservatory: If you have budget available you may want to consider installing a roof vent or an extractor fan to help circulate the air in your conservatory. Alternatively, leaving your windows slightly ajar daily, should help better ventilate your room.
Consider buying Condensation Catchers: These are handy to have in your conservatory as they capture the excess moisture in the air, stopping it turning into condensation when it hits your windows.
Allow air to flow through your conservatory: Although you especially want to keep your conservatory warm in cooler months through using things such as heaters, or increasing your radiator temperature, you should ensure the air can freely flow through your room. We therefore recommend you open your window for a short amount of time daily to allow any excess air to escape. Opening the doors from your conservatory to the rest of your home will also help reduce the build-up of excess moisture.
Purchase a Dehumidifier: A dehumidifier works in a similar way to a vacuum, in the way that it draws the air in, stripping the moisture out of it. The moisture is collated inside. These are cheap to buy and are one of the best ways to stop condensation.
Stop drying laundry in your conservatory: Although your conservatory provides the perfect sun trap to dry out your clothes, we recommend you avoid doing this. The moisture from the clothes is likely to further enhance the chances of condensation building up, so alternatively dry them outside if possible.
Limit the number of plants housed in your conservatory: Having multiple plants in your conservatory can cause humidity levels to rise. Purchasing plants such as a peace Lily or reed palm however, will actually help reduce your humidity levels as they absorb the moisture from the air.
If you do have this, we recommend you try to eradicate this straight away using the above methods, as leaving condensation can cause further issues such as mould; which you ideally want to prevent.
Finding a solution to condensation in conservatory
In reality there is no one perfect conservatory condensation solution, it is very much dependant on the type of conservatory you have and its uses.
For example, a conservatory with more windows, or one that features double doors is likely to be better ventilated as there is greater opportunity for the air to escape.
An open plan conservatory which leads directly in to your home isn't likely be suffer from condensation, as air will flow freely throughout.
Trying out the above prevention techniques one by one, and testing the effects of each, will help you find the best solution for you.
Dehumidifiers for conservatories
As mentioned, purchasing a dehumidifier is a great solution to prevent condensation in your conservatory.
Using one regularly will help eliminate any excess moisture you may have in the air, therefore reducing your chances of getting condensation.
Dehumidifiers are also good for preventing things such as damp and mould; which can also build up due to having excess moisture in the air.
You can purchase a dehumidifier for as little as £10, with there being an option to buy one which can be hung on your wall – ideal if you have a smaller conservatory.
Whether you buy a plug in or non-electric is completely up to you, it very much depends on the size of your room and how much you want to pay.
Conservatory ventilation systems
If you are wanting more of a fixed conservatory ventilation system, then there are a few options you can consider; we have highlighted these below.
Conservatory Ceiling Fan: As mentioned purchasing a ceiling fan can aid ventilation in your conservatory. As the fan can work in both directions, it's perfect for use across the year, as in the warmer months it will provide a downward draft to cool the air. In the winter however, you can reverse the direction of the fan to re-circulate the hot air – ensuring the air is well circulated throughout your room. There is also an option to purchase one of these with or without a light, depending on your requirements.
Conservatory Roof Vents: These are installed in your conservatory roof and used as a way to aid ventilation – allowing the excess air to escape, thus limiting the build-up of moisture. These can be purchased as either manual or electric. More advanced vents have rain sensors and thermostats, so are temperature controlled; detecting whether or not the vent should be open based on the room temperature.
Conservatory Extractor Fan: Finally, you may consider installing an extractor fan to your conservatory. These can be noisy however, but work well for ensuring the air flow is consistent throughout your conservatory.
Looking at all your available options will ensure you find a ventilation system that is within your budget and works effectively in your conservatory.
You should now be equipped with all you need to know when it comes to preventing and removing condensation from your conservatory. You should therefore be able to quickly eradicate this if it does happen to start occurring.
Feel free to get in contact with us however, if you'd like any further advice and recommendations.