Conservatories are designed to prevent leaks and draughts, thanks to their water-tight construction. However, they are susceptible to condensation.
When the temperature dips, you might turn to heating options, such as electric radiators or underfloor heating. With all that warmth and little ventilation, condensation could form in your cosy conservatory, which no one wants.
We've outlined our top tips on preventing excess moisture and condensation in your conservatory and some solutions if it suddenly appears.
What causes condensation in a conservatory?
Condensation happens when there is a contrast in temperature and limited ventilation in a room. When hot air meets the cold surface of a window, it condenses into water.
Conservatory condensation is common. Here are some factors that can cause it:
The temperature of your room:

You may consider heating solutions like electric heaters to keep your space warm in the winter. The sudden temperature rise in your conservatory can contribute to condensation.

The moisture in the air:

A lack of airflow can result in excess moisture. Avoid airing clothes in your conservatory, as this can contribute to the moisture level in the air.

The temperature of your windows:

Condensation is more likely when the temperature difference between your windows and your room is greater. This is particularly common in winter when using heating appliances in your conservatory because of the contrast in temperature outdoors and inside.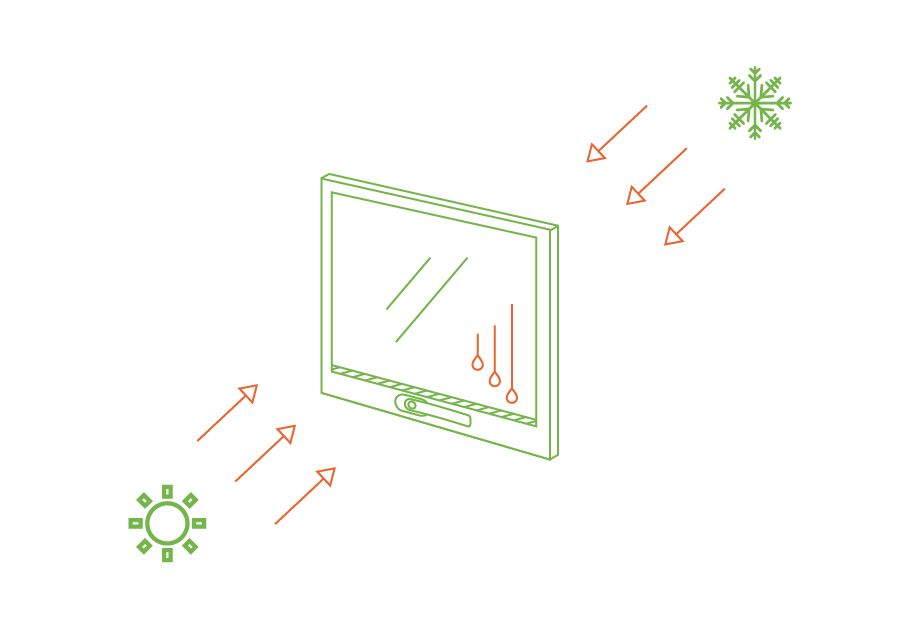 How to stop condensation in a conservatory
It is crucial to deal with condensation as soon as possible. Equally, preventing condensation from forming in the first place is just as important.

Here are some ideas to prevent condensation to ensure your conservatory remains dry and comfortable.
Ventilate your conservatory:

If you have the budget, you might want to consider installing a roof vent or an extractor fan to circulate the air in your conservatory. Alternatively, leaving your windows slightly ajar can help ventilate your room.

Consider condensation catchers:

These are useful in your conservatory because they capture excess moisture in the air, preventing it from condensing when it hits your windows.

Increase air flow:

Although you'll want to keep your conservatory warm in the colder months, you should ensure that air flows freely through the room. Consider opening windows for a short period each day to allow excess air to escape. Opening the doors into your home will also help reduce moisture.

Use dehumidifiers:

A dehumidifier draws in air and extracts moisture from it. These are low-cost options and one of the most effective ways to prevent condensation.

Stop drying laundry:

Your conservatory is an ideal sun trap for drying laundry, but the moisture from your clothes will increase the chances of condensation. Whenever possible, avoid drying clothes in your conservatory.

Remove houseplants:

Conservatory plants can often raise humidity levels. Choose plants that absorb moisture from the air, such as peace lilies and reed palms, to help reduce humidity levels.
Finding a solution to condensation in conservatory
The right solution to condensation depends on the type of conservatory.
For example, a well-ventilated conservatory with several windows or double doors will help prevent condensation. On the other hand, if your conservatory lacks windows and you're unable to open the doors, you might use dehumidifiers and condensation catchers to reduce moisture build-up.
It's important to stay on top of condensation as it could cause further issues, such as dampness and mould. Try out different solutions until you find a suitable method for your conservatory.

Dehumidifiers for conservatories
As highlighted above, using a dehumidifier is a great way to prevent condensation in your conservatory.
Using dehumidifiers regularly will help eliminate moisture in the air, lowering your chances of conservatory condensation.
Dehumidifiers also help prevent dampness and mould, which can quickly develop when there's excess moisture in the air.
You might choose to invest in an electric unit or opt for a low-cost single-use dehumidifier, depending on the size of your conservatory and your budget.
Conservatory ventilation systems
If you want a fixed conservatory ventilation system, there are a few options you can consider:

Conservatory ceiling fan: A ceiling fan can improve ventilation in your living space. Most fans work in both directions, so it's ideal throughout the year. In the warmer months, it will provide a downward draft to cool the air. In the winter, you can reverse the fan's direction to circulate the hot air.
Conservatory roof vents: These are installed in your conservatory roof and aid ventilation. Available as either manual or electric, roof vents allow excess air to escape to limit moisture build-up. Some advanced options have rain sensors and thermostats to detect when the vent should open and close.
Conservatory extractor fan: Some types are noisy but work well to ensure consistent airflow throughout your conservatory.
It's important to stay on top of any sign of condensation in your conservatory. Put our tips into practice to prevent moisture build-up in your living space, and ensure good ventilation to keep mould and dampness at bay.
For more ideas on helping your living space remain comfortable – whatever the weather – check out our guide on managing the temperature in your conservatory.