Our December customer of the month, Mr Reddington, writes in from Hucknall, Nottingham, about his brand new lean-to conservatory. He was looking to invest in a bright and airy extension big enough to house a dining table and chairs.
After reading some of our reviews, he approached ConservatoryLand to discuss bringing his vision to life.
With years of experience and a passion for durable, custom-made spaces, our team was on hand to support Mr Reddington throughout the project. Having explored the range of design options with our team — such as Victorian and Edwardian — Mr Reddington chose a lean-to conservatory.
Simple and modern, our lean-to conservatories allow plenty of natural light into the space thanks to their sleek, sloping roofs. After Mr Reddington selected his preferred size and customisation options, our designers created a mockup of his conservatory.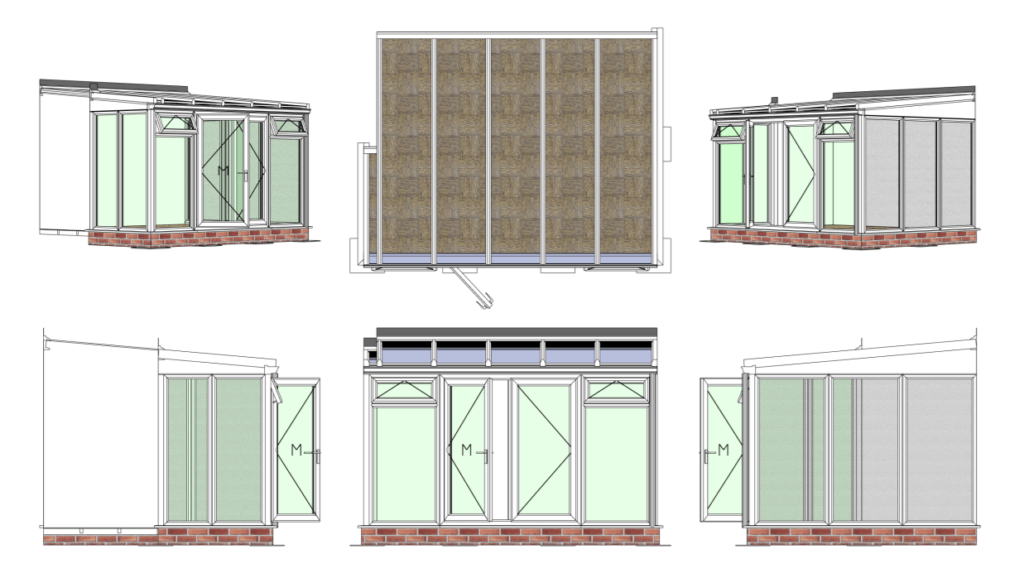 The Specifications
| Name | Mr Reddington |
| --- | --- |
| Location | Hucknall, Nottingham |
| Conservatory style | Lean-To Conservatory |
| Dimensions | 3900mm x 3000mm (made to measure to customer's requirements) |
| Glazing | Standard glass in the windows, Blue Self Cleaning, Solar Control Glass Roof |
| Base Type | ConservaBase with Brick Skirt (Red Multi 335 with Grey Mortar) |
| Colour | White PVCu with Chrome handles & hinges |
Building Mr Reddington's Lean-To Conservatory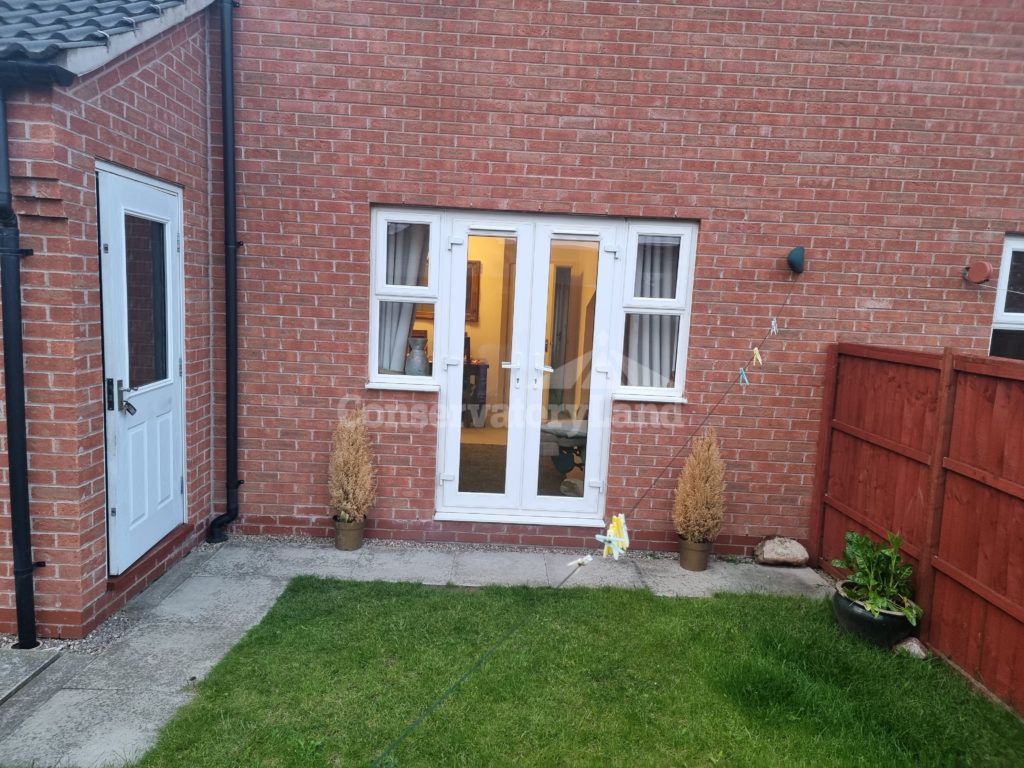 Mr Reddington chose to use our network of thoroughly vetted approved installers to help construct his lean-to conservatory.
The installer began by preparing the area for the foundations. Mr Reddington opted to use our ConservaBase for a seamless build. This all-in-one base, floor and wall system is ideal for both a DIY and professional installation. Thanks to our modern manufacturing methods, there's no need to spend hours assembling fiddly parts or digging up heaps of soil.
After fitting the easy-to-install concrete pads, the installer constructed the steel base. Every piece fits together effortlessly, so installation is much faster than a traditional build. Next, insulation sheets were installed so Mr Reddington's conservatory would benefit from safe, solid and moisture-resistant foundations.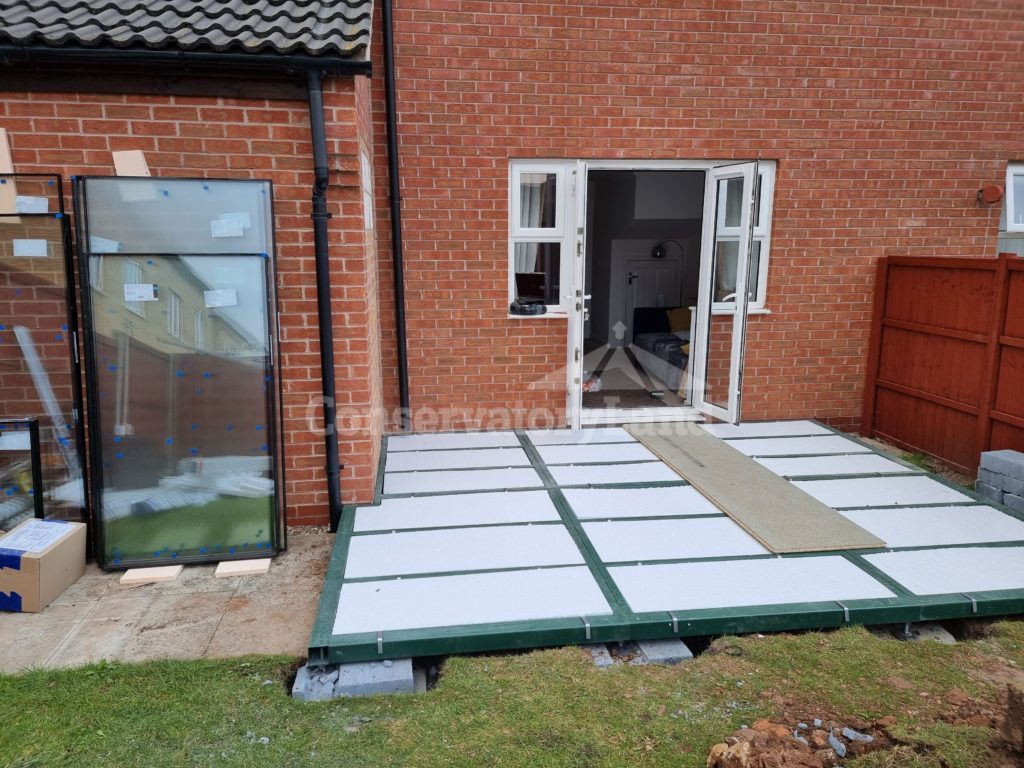 With the steel base in place, the installer was ready to assemble the walls and roof. Mr Reddington chose white uPVC for his conservatory to match the frames in his home. He also wanted to make sure his new space had privacy. We suggested obscured glass along the neighbour's side for maximum privacy while still letting plenty of natural light into the conservatory.
Mr Reddington had one concern about the build — he needed his new conservatory and ConservaBase to wrap around a small extension wall and fit the stepped brickwork at roof height. Our expert team assured him that this wouldn't be a challenge — our conservatories and ConservaBase systems are made-to-measure to ensure the perfect fit.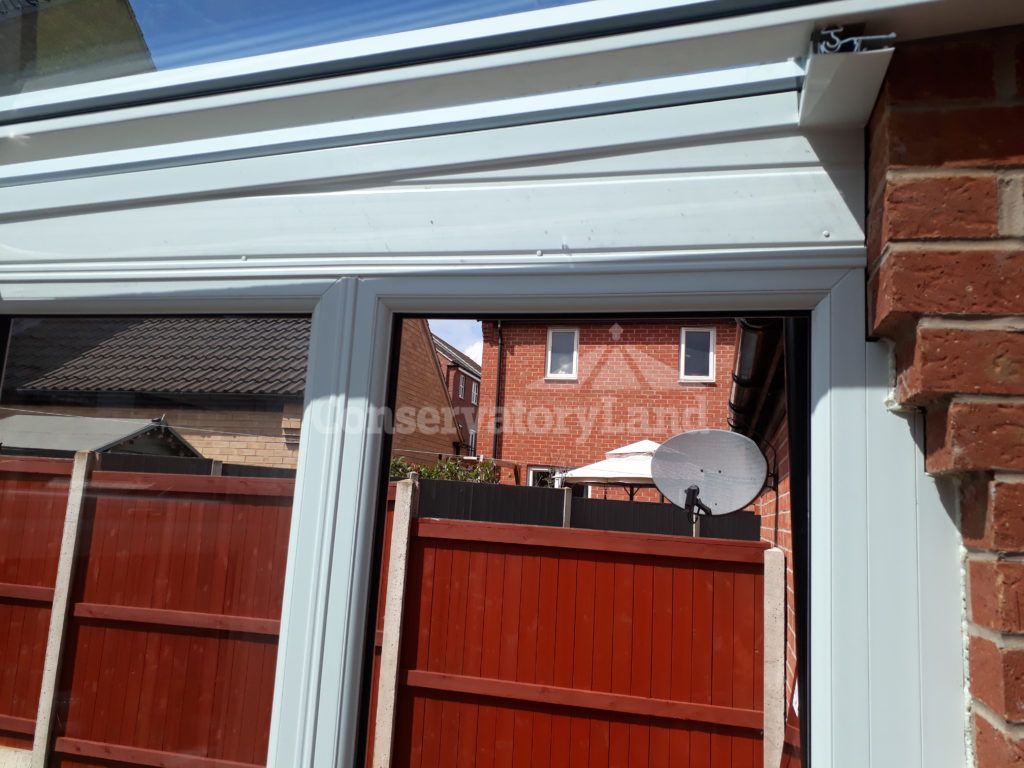 For the roof, Mr Reddington chose blue self-cleaning, solar control glass, an option that offers lower noise levels than polycarbonate roofs. Plus, our high-performance, solar control roof option reduces heat build-up during the summer. And thanks to the convenient self-cleaning glass that breaks down dirt, Mr Reddington will enjoy low maintenance on his conservatory roof all year round.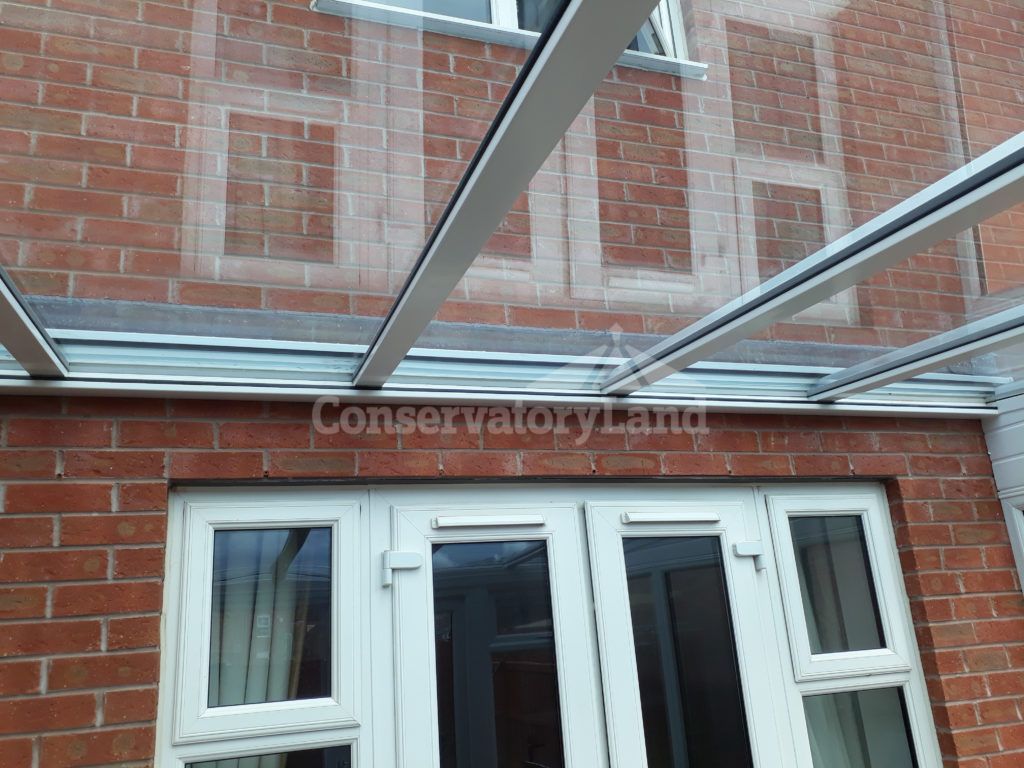 Mr Reddington will be able to enjoy lots of sunlight in his new space thanks to the sloping roof with clean, straight lines. He chose French doors for the front of his conservatory to maximise the amount of natural light that enters the space. Plus, during the summer, he'll be able to open up the room for plenty of fresh air.
Finally, it was time to add finishing touches and chrome handles. Delighted with his light-filled, modern conservatory, Mr Reddington added a dining table and chair. Now, it was exactly as he'd envisioned it — all at an affordable price. What's more, the space will remain comfortable in whatever the weather, for years to come!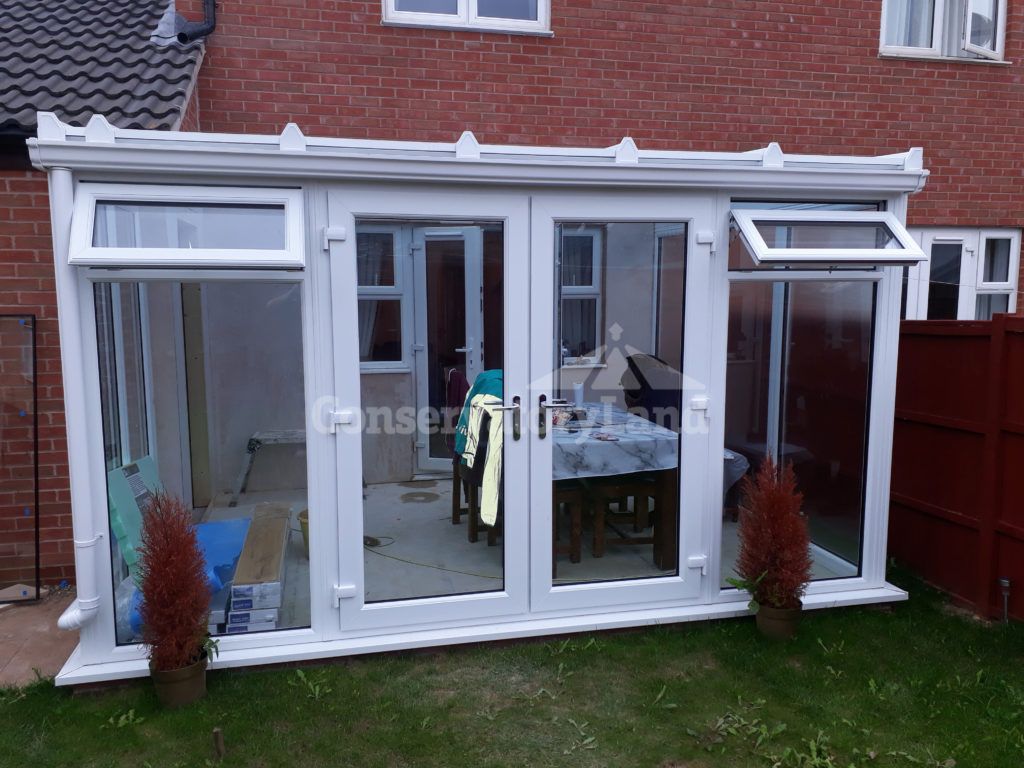 Client Testimonial
Rating our service as "excellent", Mr Reddington was thrilled with his modern lean-to conservatory:
'A brilliant company. I'm really happy with the conservatory, build quality, price, and support at every step. The installation team was great. I'm a very happy customer. Highly recommended.'
Like Mr Reddington, we have many more happy customers delighted with ConservatoryLand's service — just take a look at our customer case studies.
Are You Feeling Inspired?
Inspired to join our growing list of customer projects? Get your free brochure and explore our broad range of conservatory styles and customisation options. If you have any questions, our team is on hand to help you every step of the way.

Concerned about social distancing? We completely understand. If you choose to use our network of vetted and approved UK installers, your conservatory will be surveyed, fitted and built by professionals observing the latest Covid-19 safety guidance at all times. We are a contactless company, and in most cases, we don't need to enter your property during the build. You can feel confident your conservatory project will be installed safely, without any hassle.