With their classic design and elegant finish, it's no surprise that Edwardian conservatories are among our most popular styles at ConservatoryLand. 
This month's case study tells the story of Mrs King, who needed to replace her old rotten wooden conservatory with a new, high-quality structure. So, she called upon our local approved installer network in Chelmsford, Essex, to find an assembly expert who could help. 
The result? One happy customer and a beautiful looking conservatory…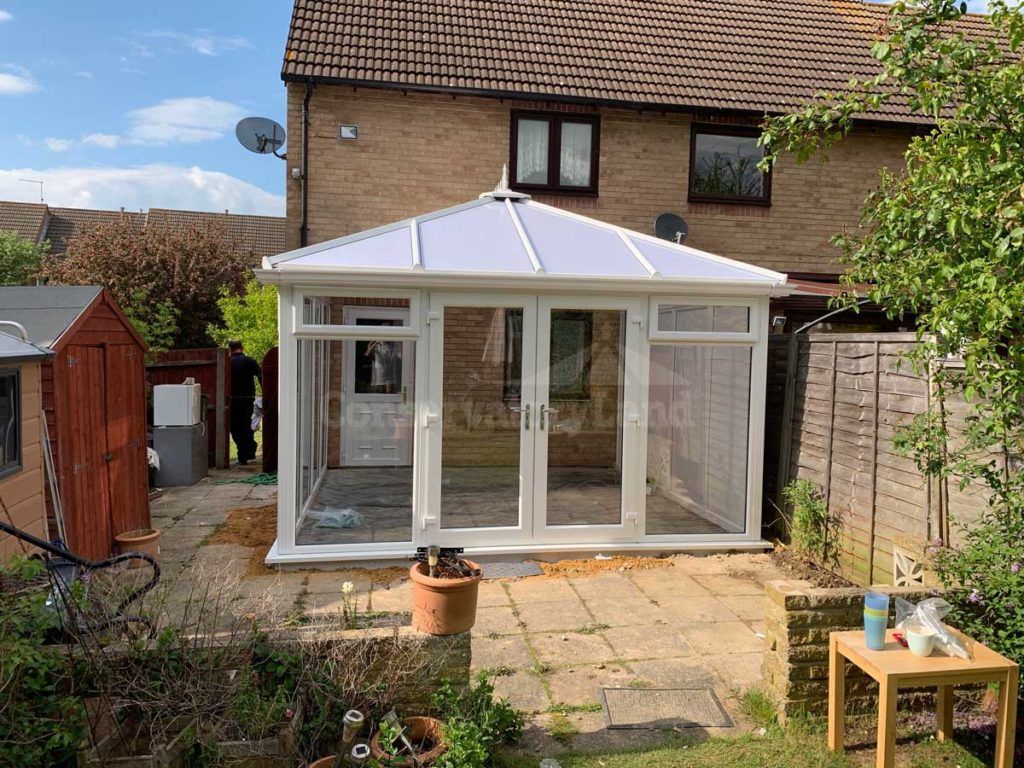 The approved installer was able to get the new, more spacious conservatory erected in just three days. Not bad for a substantial four-metre squared construction. 
The Project Technical Specifications
| Name | Mrs King |
| --- | --- |
| Location | Chelmsford, Essex |
| Conservatory style | Edwardian Conservatory |
| Dimensions | 4000mm x 4000mm (made to measure to customers requirements) |
| Glazing | Standard glass in the windows. 25mm Opal Polycarbonate |
| Base type | ConservaBase with PVCu Skirt |
| Colour | White PVCu, 25mm Opal Polycarbonate, Chrome handles. |
Neither dwarf walls or external brickwork were required for Mrs King's conservatory. Instead, the installer used a ConservaBase, skirted with an attractive white PVCu to finish. 
Mrs King opted for standard glazed glass for the floor to ceiling windows, which would let in as much natural light as possible. A polycarbonate roofing system was also installed, to help reduce heat build-up. That way, Mrs King could enjoy the sun all year round, without her conservatory overheating in the summer. 
Taking her needs and requirements into account, we developed a CAD drawing to show Mrs King what her new conservatory would look like once completed.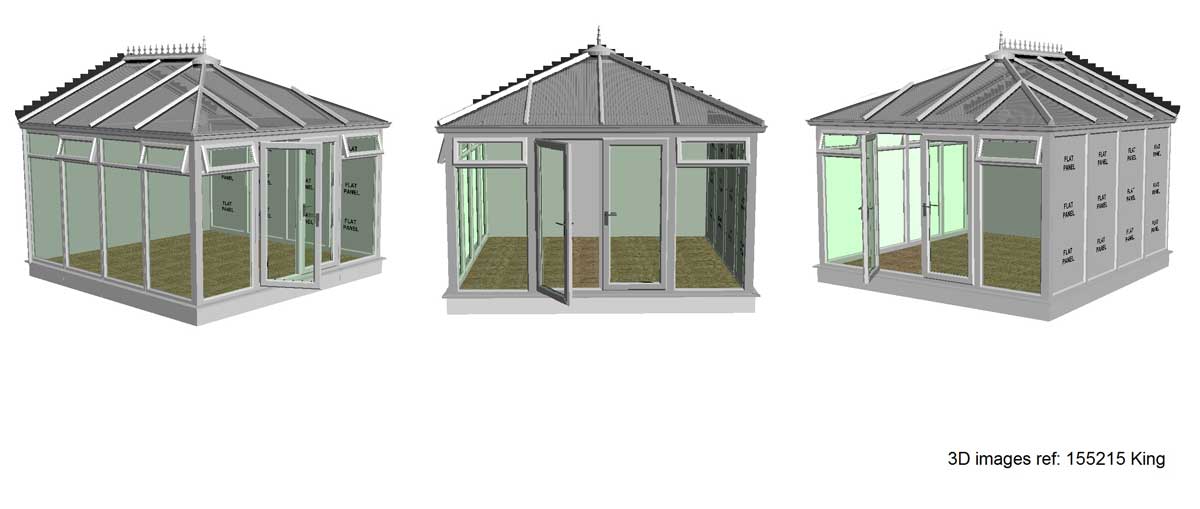 As you can see, the customer wanted double doors that opened out onto her patio – leading onto the grassy lawn ahead. We also included small windows at the top of the structure, to let in fresh air without compromising on the beautiful views too much with lower UPVc frames. 
We know that sometimes, it's the little things that matter. That's why it's our pleasure to cater to small design functionalities like this, as we know it ensures our customers ultimately get the conservatory they want and need. 
One challenge for this project was that before construction of the new conservatory could start, the old conservatory needed to be removed. It was only then that we could establish what size space we were working with. Once this happened, our team was able to manufacture Mrs King's conservatory to the dimensions perfectly. 
Edwardian Conservatory Installation Process
Mrs King's brief was that she wanted a high-quality conservatory she could enjoy all year round. 
The approved installer she sourced was not only able to build the conservatory in just three days, but they used their skill and precision to ensure that the finish was of the highest quality. 
Starting with the ConservaBase, the installer laid and aligned the foundations required for the conservatory – taking care that these also sat evenly against the fence beside them.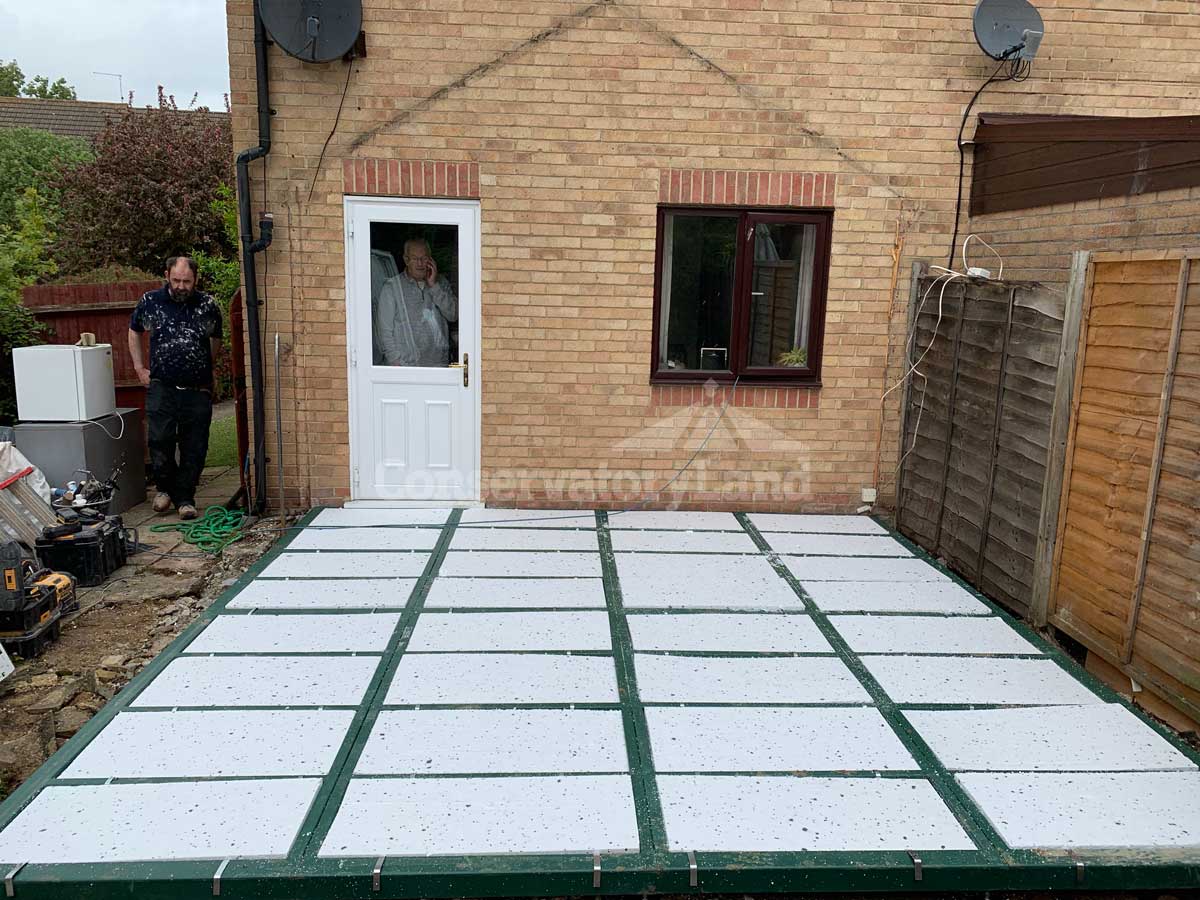 With the ConservaBase firmly secured to the ground, the installer had the solid foundations they needed to build the conservatory from the ground up. 
Next, it was time to start carefully assembling the frames.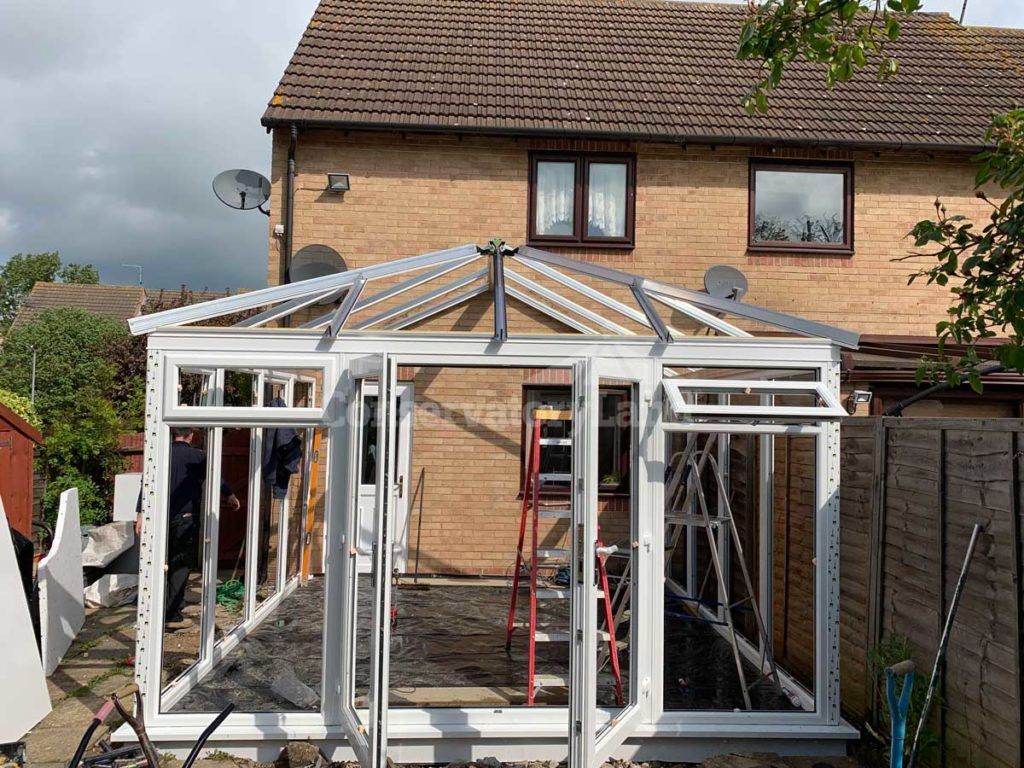 Once the frames were in place, the installer could insert the standard glazing for the walls and the polycarbonate roof.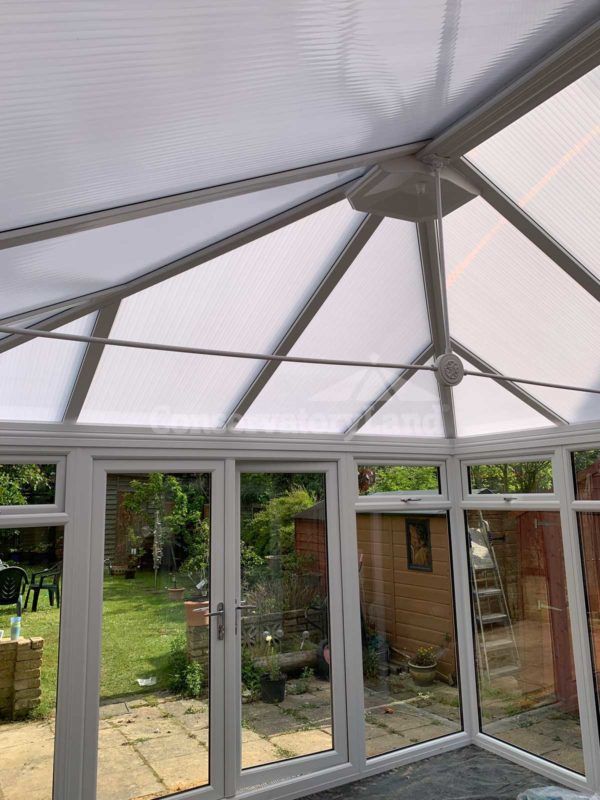 The approved installer added a couple of final finishing touches, before cleaning and tidying everything up – leaving Mrs King's conservatory ready for her to enjoy.
Customer Testimonial
It's safe to say that Mrs King was delighted with her new, upgraded conservatory – from the building process to the finished result. 
She said:
"The approved installers constructed our conservatory within three days. They have done an excellent job and left everything clean and tidy. I was particularly impressed with the precision engineering of the conservatory and how it all came together. ConservatoryLand contacted me every day to ensure I was happy with everything. This also gave me confidence in the company. I have no hesitation in recommending ConservatoryLand. Thank you for my beautiful new room."
Interested in an Edwardian conservatory project of your own? We'd love to hear from you. 
Thanks to our network of reliable approved installers, you can ensure your new conservatory is built to the highest standard. 
If you'd like more information (or inspiration), check out our other customer projects, or order a free brochure. 
Alternatively, if you're ready to get going with your new conservatory project, contact us today for a free quote.