Our customer of the month for December purchased a Gable Fronted Edwardian Conservatory, which is one of the most spacious styles that we offer. In fact, the design of the gable fronted conservatory offers the most living space – so it really does create a great addition to your home especially if you are looking to make this extension a room of its own.
As you can see from the pictures The Brosnan family have created an additional living space, which I'm sure you will agree is a great size, and perfect for relaxing in after a long day.
The gable front means that the roof is front facing as oppose to sloping. This increases the feeling of space within the conservatory. This style of conservatory also has a square floor plan, which likens to a standard room in a house. This therefore makes furnishing the extension a much simpler process.
The Technical Specifications
| Name | Mr Sean Brosnan |
| --- | --- |
| Location | Nottinghamshire |
| Conservatory style | Gable Fronted Edwardian |
| Dimensions | 5000mm x 3000mm (made to measure to customers' requirements) |
| Base type | ConservaBase |
| Materials | Standard glass, Chrome handles and ConservaBase |
| Colour | White PVCu, 25mm Opal Polycarbonate for the roof |
Like all of our conservatory designs, we work with our customer to create a made to measure extension which aligns with their requirements.
Prior to the build we received a brief from Mr Brosnan, which allowed us to create the Gable end conservatory designs which matched his specifications.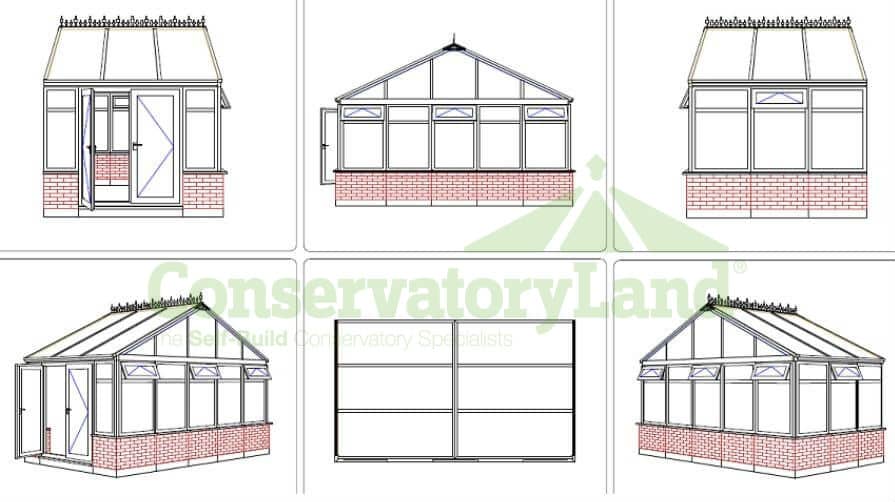 When it came to the build Mr Brosnan had work commitments and therefore opted to use an approved installer. Utilising this network allowed the build to commence straight away, without any delays.
During the build there were a few challenges which the builders had to overcome in order to successfully build the conservatory.
In particular, there were two brick walls which formed a partition to the garden, which had to be accounted for. We had to ensure the conservatory measurements allowed for enough space to walk around the conservatory.
In addition to this, we also had to re-work the conservatory gable end designs to accommodate the French doors at the side, instead of the front; to allow for enough room for them to open.
As you will see from the finished product, our bespoke offering allowed these challenges to be easily overcome, with the approved installer building the conservatory to a high standard. And it's great to hear that the Brosnan family where delighted with the conservatory quality, alongside the little time it took to build.
The CAD design for the conservatory can be seen above.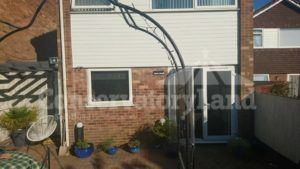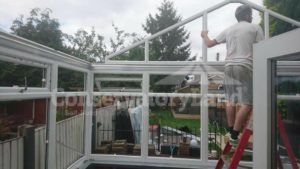 The Installation Process
As mentioned our customer opted to utilise our approved conservatory installer network. Making use of our approved network allows for work to commence straight away, as often when it comes to building your own conservatory, life events can get in the way, causing delays to the build itself.
Given the challenges faced during the conservatory installation process, I think you can agree that the finished extension is a real asset to their home. The conservatory style has provided them with a spacious living room which they can enjoy for years to come.
The design of their conservatory shows just how bespoke we can be when it comes to meeting your specific design requirements.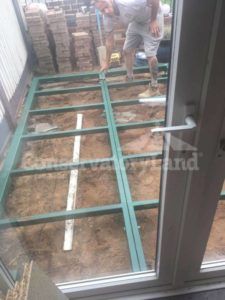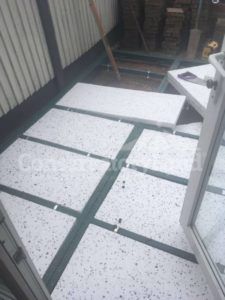 Customer Testimonial
When it came to the Brosnan family reflecting on the service offered by ourselves, we were delighted to receive the below review from them.
Mr Brosnan shared:
"Pretty straight forward from ordering to delivery, as I didn't have time myself, we had ours fitted by an approved installer and I would recommend them any day. Very good at what they do and very helpful. We did have a small issue with a roof part, however, this was quickly rectified and replaced without any fuss. All seems good and I would recommend ConservatoryLand."
The advantage of purchasing a DIY conservatory from ourselves, is that they are made to measure. We work closely with you to ensure any problems are rectified quickly, providing a personalised service from start to finish.
If you too would like your own conservatory, why not request a quote free of charge today.