Our first customer of the month for 2021 writes to us from South Yorkshire about her brand new lean-to conservatory. Having been let down by other conservatory companies, Miss Watson was looking for a reliable provider who could help her build her dream space. She turned to Google and found Conservatory Land. And after reading some of our fantastic reviews and successful customer stories, she decided to get in touch.
Miss Watson knew she wanted a small conservatory for the back of her house — big enough for a small table and some chairs, and somewhere she could put her feet up and relax in. With an idea in mind of how she wanted her brand new space to look, Miss Watson was delighted to find the sales experience with Conservatory Land entirely hassle-free, "it was absolutely spot on", she said. 
The team discussed the various options available with her — such as Edwardian and gable-front conservatories, plus white and grey PVCu and a range of roof styles and finishings. Miss Watson was impressed to find out she could mix and match her favourite styles and colours to create an entirely bespoke conservatory in line with her own ideas. Having discussed her plans with our team, we were on hand to offer advice and guidance to ensure Miss Watson's conservatory would be exactly how she pictured it — while also using our expert knowledge to make the best use of her available space. 
Miss Watson decided to go for a lean-to conservatory, which is widely regarded as one of the most simple and suitable options for both modern and traditional homes. Adding a distinctively Mediterranean feel to her home, a lean-to conservatory would make the most of natural sunlight — despite the small space she had to play with. 
And with the measurements and customisations decided upon, it was time for Conservatory Land to begin manufacturing the bespoke parts needed for Miss Watson's lean-to conservatory. Throughout the entire process, our team kept her informed of progress; something she found really useful. And despite a national lockdown, her conservatory was delivered on time without a single delay. Miss Watson was delighted!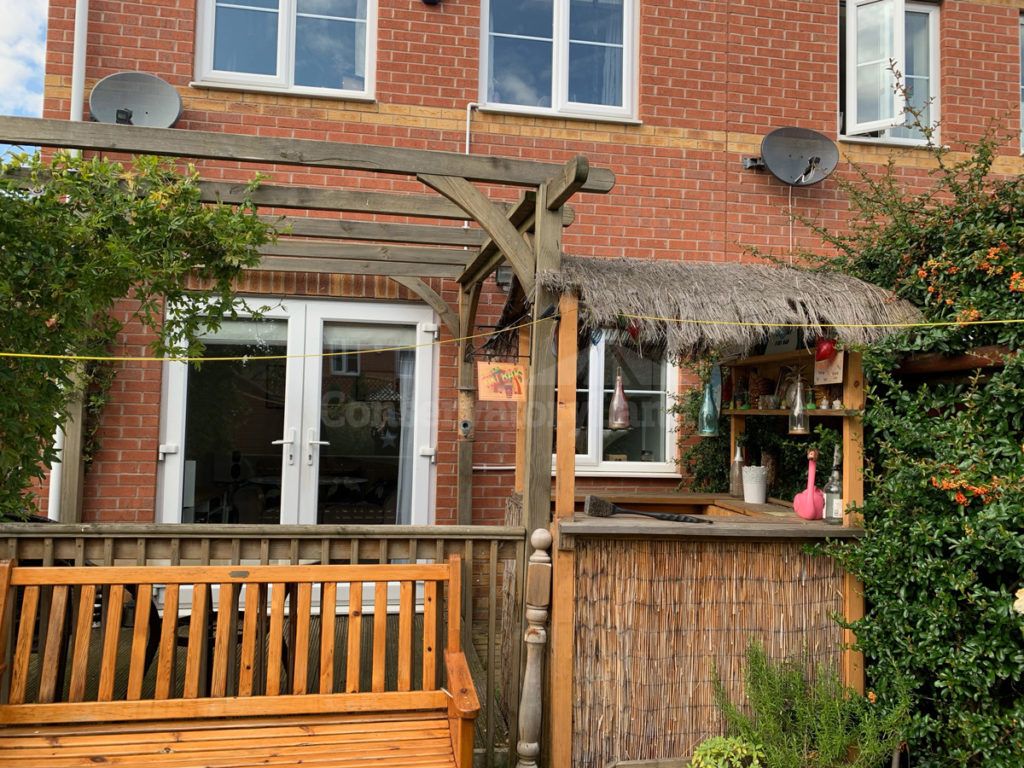 Building the Lean-To Conservatory
Having previously been used as an outdoor bar area, Miss Watson decided it was time to turn her patio into a light-filled, modern room instead. She was keen to turn the space into somewhere she could enjoy in all weathers — rain, snow, or shine! And a conservatory was just the thing.
Choosing to use our approved installer network to assist with the construction of her conservatory, Miss Watson found a local installer to manage the build. And with each installer thoroughly vetted, she could rest assured that the job would be completed quickly and to the highest standard. It was time to get started!
After clearing away the garden furniture and dismantling the bar area, the first step was to lay the foundations. Miss Watson loved how our ConservaBase (an all-in-one steel conservatory base, floor, and wall system) sped up the installation process. With easy-to-install concrete pads, the ConservaBase was made-to-measure and pieced together easily, so there was no need to spend hours assembling fiddly parts!
With the ConservaBase erected in just a few short hours, it was time to get started on the walls. Miss Watson was keen to build a space that let in a lot of light yet still felt like a traditional room, so she opted for a dwarf-wall in Rustic Golden Multi and Standard Grey Mortar. She was delighted to see that the brand new brickwork base mirrored the detailing on her current house — it looked as though it was born to be there!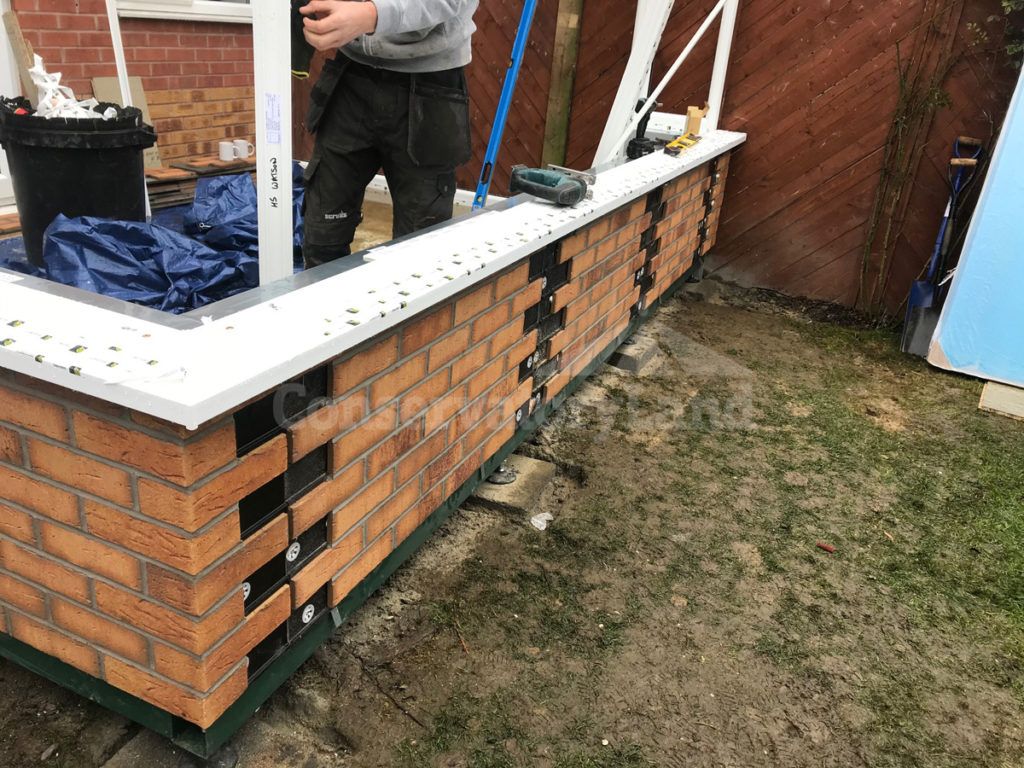 Once the dwarf-wall was complete, it was time to install the windows. In keeping with the style of her current home, Miss Watson opted to have the windows cut in White PVCu, finished with stylish white handles to match. These large windows would allow the most light into the room, giving her a modern space from which she could enjoy her beautiful garden all year round. It was exactly what she'd wanted and she was so excited to see her vision begin to take shape.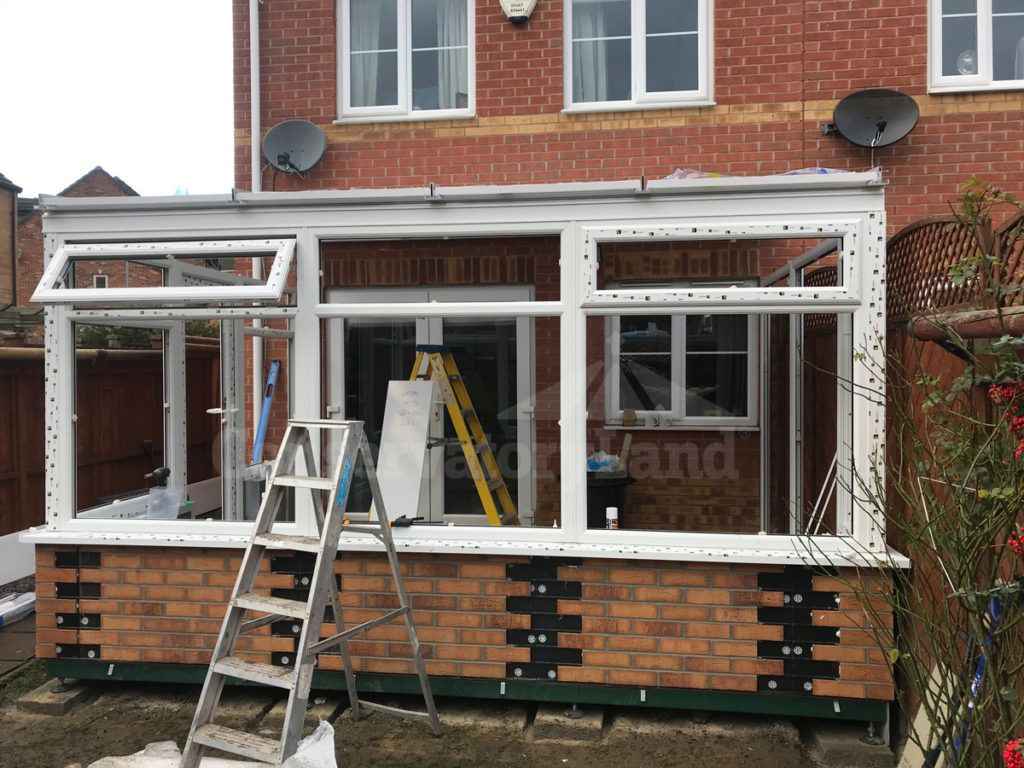 Finally, for the roof of her lean-to conservatory, Miss Watson chose 25mm Opal Polycarbonate. Using White PVCu again, her bespoke customisation added a sleek and modern twist to her home. Because of its sloped roof, her conservatory looked as though it was 'leaning' against the house, with rainwater easily running right off the front. Having known exactly how she wanted her conservatory to look from the start, Miss Watson was delighted that Conservatory Land was able to build a made-to-measure room, with the look and feel she wanted. She couldn't believe how easy it was to customise each part and mix and match styles and finishings to create her dream conservatory.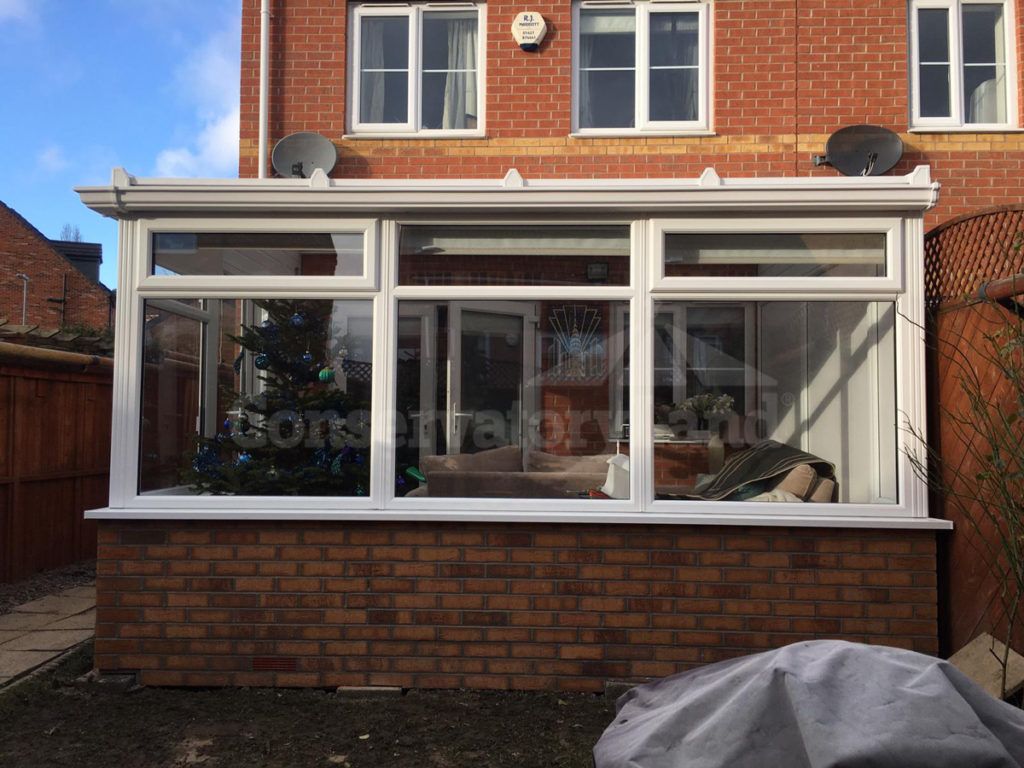 Another Happy Customer!
In just six short days, Miss Watson's conservatory was complete. She was blown away by the speed of assembly and couldn't believe that such a beautiful and elegant room took so little time to build. To finish off her brand new space, she added a sofa and some chairs to create a tranquil, relaxing area where she could enjoy putting her feet up. She installed blinds to ensure the new room had privacy at night and accessorised with some colourful cushions and throws. Miss Watson loved her brand new conservatory and couldn't wait to spend the festive season curled up on the sofa with a good book. It was perfect!
Client Testimonial
Rating our service as "excellent", Miss Watson couldn't be happier with her lean-to conservatory:
'We had been messed around by other conservatory companies who turned up to take details of our requirements, but then ignored our calls when we chased up quotes! We found Conservatory Land online and were impressed with the reviews. We liked the way the ConservaBase sped up installation. Our sales experience was absolutely spot-on and efficient, and we were kept informed throughout. We were delighted that the delivery date never changed, despite a national lockdown! The delivery and installation were smooth and six days later we had a fully installed conservatory! Very pleased indeed, thank you so much.'
And she's not the only one who is delighted with Conservatory Land's service and expertise — check out more of our customer case studies and see for yourself!
The Project Technical Specifications
| Name | Miss Watson |
| --- | --- |
| Location | Barnsley, South Yorkshire |
| Conservatory style | Lean-To Conservatory |
| Dimensions | 4000mm x 3000mm (made to measure to customers requirements) |
| Glazing | Standard glass in the windows. Opal Polycarbonate Roof |
| Base type | ConservaBase with Rustic Golden Multi 684 and Standard Grey Mortar |
| Colour | White PVCu, 25mm Opal Polycarbonate for the roof, White handles. |
Want to Add Value to Your Own Home?
If you've been inspired by Miss Watson's lean-to conservatory and would like to build your own, get in touch with us today. Whether you'd like a free quote or some inspiration from one of our free brochures, we're here to help turn your conservatory dreams into a reality. 
And if you're concerned about social distancing, we completely understand. That's why our network of expert UK installers are vetted and approved by us. Your conservatory will be surveyed, fitted, and built by professionals who will strictly observe the most up-to-date lockdown guidelines at all times. We are a contactless company and, in most cases, we won't even need to enter your home to build your conservatory. So you can enjoy the process without needing to worry.