Our July customer of the month writes to us from Rainham, Gillingham with a fantastic lean-to conservatory. After finding home interiors inspiration during lockdown — and specifically, a stylish grey colour palette to modernise her home — Mrs Hall purchased a ConservatoryLand Lean-To Conservatory to give her home a refresh. Despite the restrictions surrounding lockdown, the ConservatoryLand team did all they could to maintain the service we're well known for and help Mrs Hall design her perfect made-to-measure conservatory.
A customer favourite, our lean-to conservatories are renowned for bringing light and space to your home, whilst being relatively quick and easy to erect — thanks to our approved network of installers. Find out how Mrs Hall got on with her brand new lean-to conservatory below.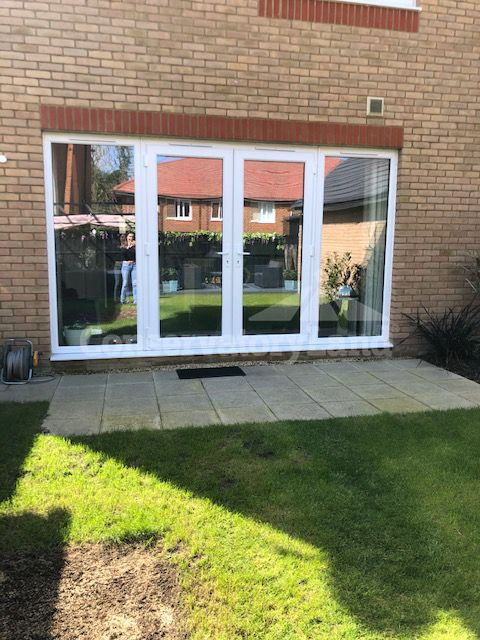 Featuring wide, white French doors and a disused patio, Mrs Hall felt her home could make much better use of its significant outdoor space. To make the most of the light-filled, South-facing garden, a conservatory was the ideal solution to enjoy long cosy evenings — from the light and warmth of the summer months to the cosy cooler winter nights — in the style and comfort of her own home.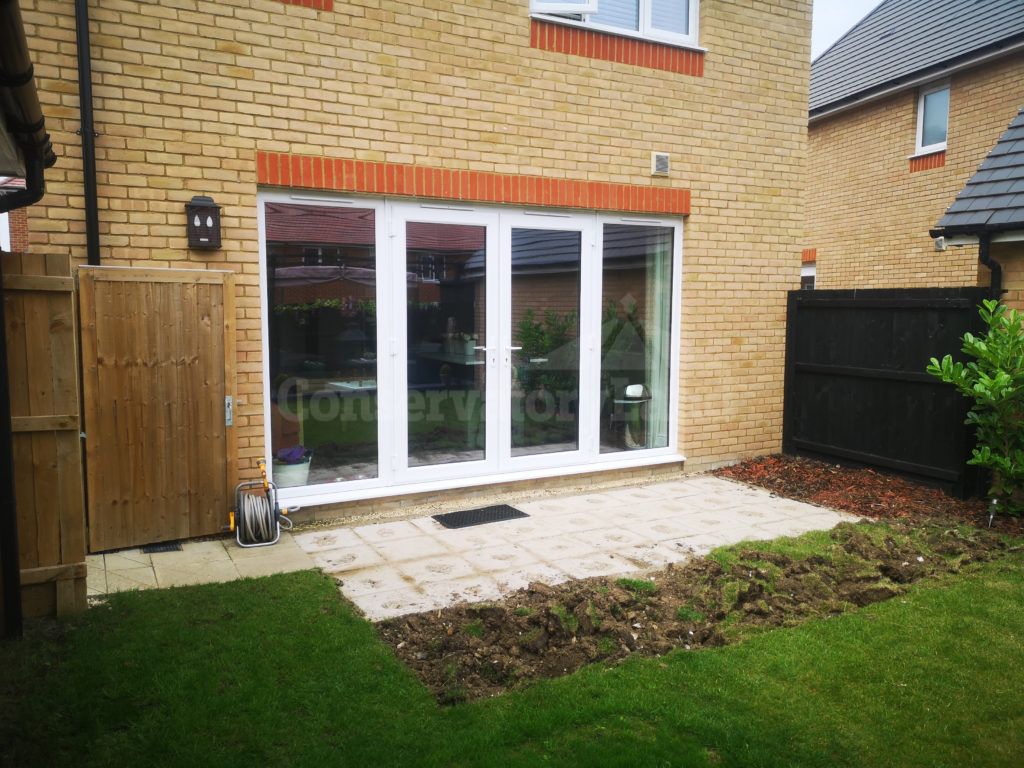 Mrs Hall contracted the services of our local network of Gillingham ConservatoryLand installers to erect her brand new lean-to conservatory. To begin the erection, the existing patio slabs were carefully lifted and disposed of, with some of the surrounding turf neatly cut away to make way for the conservatory foundations.
This gave Mrs Hall a good idea of the new space her conservatory was to acquire — still leaving plenty of open garden space, but making use of the small patio area she wished to be rid of.
The Project Technical Specifications
| Name | Mrs Hall |
| --- | --- |
| Location | Rainham, Gillingham |
| Conservatory style | Lean-To Conservatory |
| Dimensions | 4250mm x 3000mm (made to measure to customers requirements) |
| Glazing | Standard glass in the windows. Standard Glass Roof |
| Base type | ConservaBase with London Multi Buff F297 Brick Skirt and Light Sandstone Mortar |
| Colour | Grey PVCu, Standard Glass for the roof, Chrome handles. |
Inspired by the fashionable dark grey conservatories she'd seen online, Mrs Hall worked with the team at ConservatoryLand to design her perfect conservatory. Our team provided a mock-up of the design in CAD to make Mrs Hall's dream a reality. The finished article? Sleek modern lines, large airy windows and statement dark grey PVCu, with double doors leading out to the garden with shiny chrome handles to finish.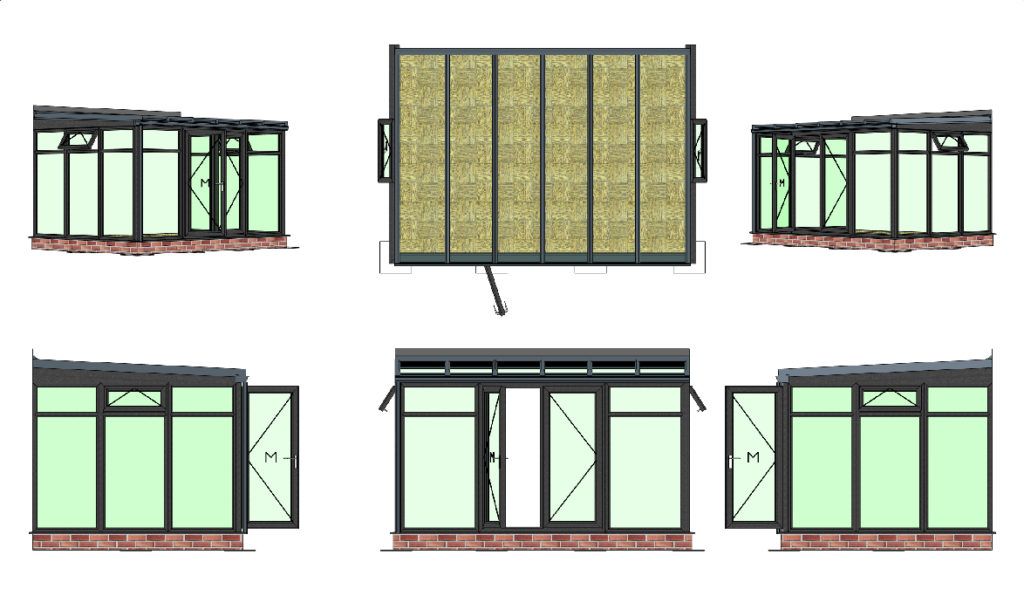 Fitted with standard glass roof and windows, Mrs Hall's lean-to conservatory was designed to provide a cosy yet stylish space, making the most of natural light and enjoying views of her surrounding garden.
Lean-To Conservatory Installation Process
Instead of choosing to do it herself, Mrs Hall trusted in the expertise of our approved installer network to erect her made-to-measure, lean-to conservatory. Although her lean-to was built during lockdown, Mrs Hall was pleased to find that our installers observed all guidelines and still managed to work efficiently; building her conservatory in just a few short days. 
After an initial visit to check the property and ground for its suitability, as well as measuring the site for the build, our Gillingham installers got straight to work — cutting the turf away and lifting the patio, as above, then straight on to building the foundations.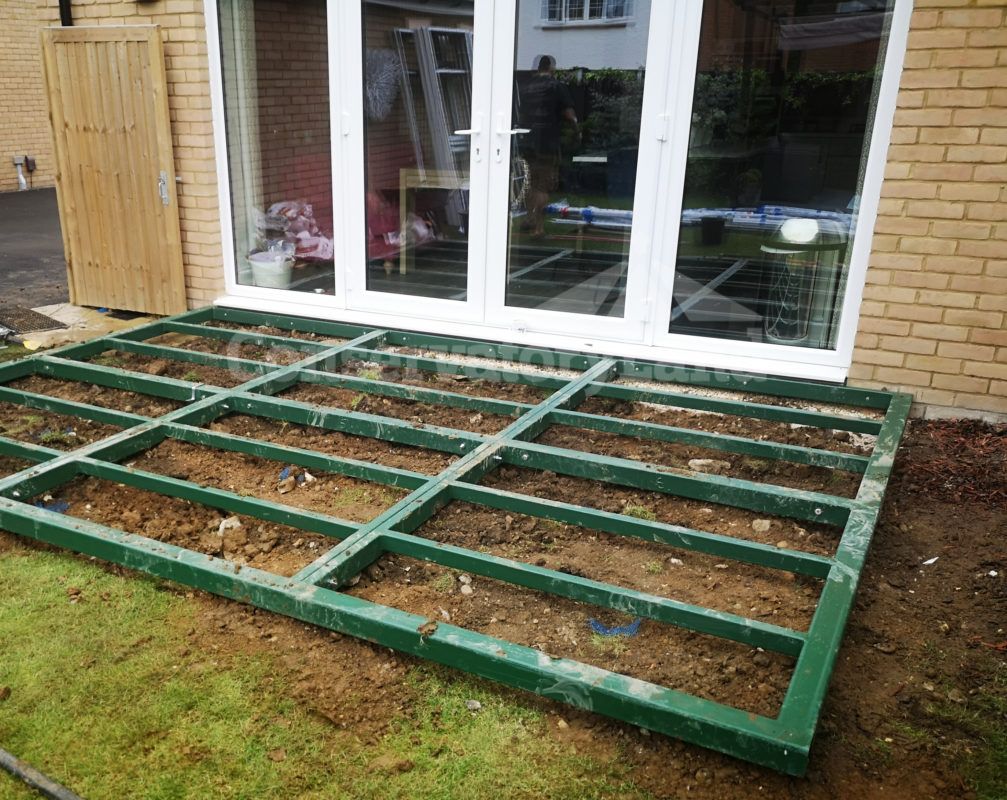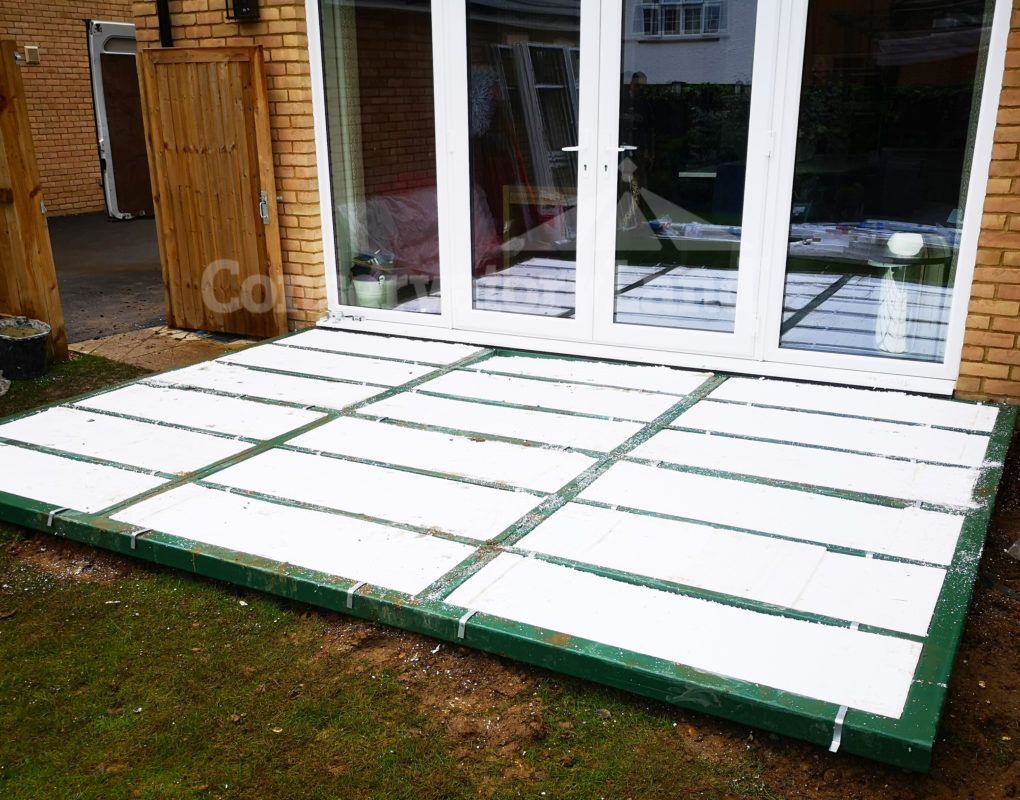 To avoid any ungainly steps down, our installers laid the framework on the foundation pads to fit flush with the existing patio doors. In keeping with the style of her home, Mrs Hall chose the ConservaBase with London Multi Buff F297 Brick Skirt and Light Sandstone Mortar, an almost exact match.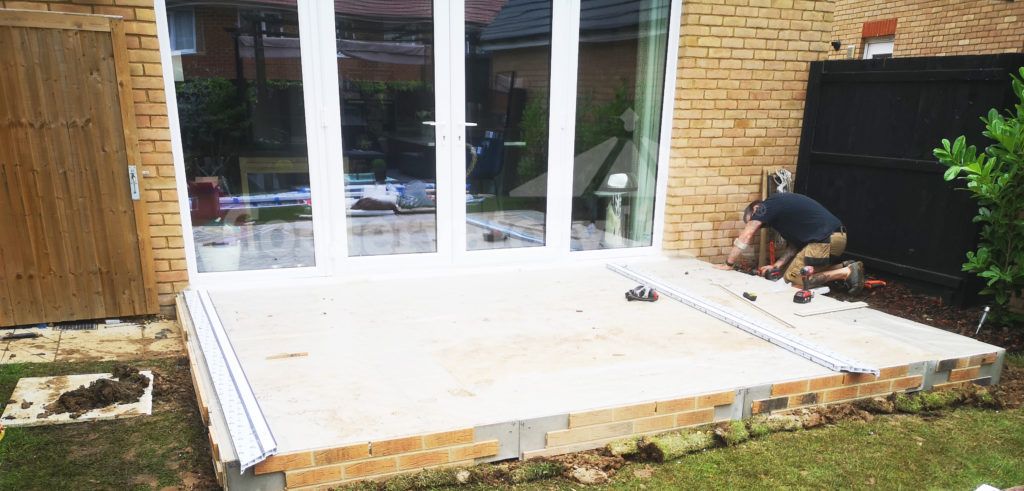 As the garden gate was located to the side of the garden and just next to the site for build, Mrs Hall was able to keep a safe social distance whilst having her conservatory built during lockdown — at no risk to herself or our installers.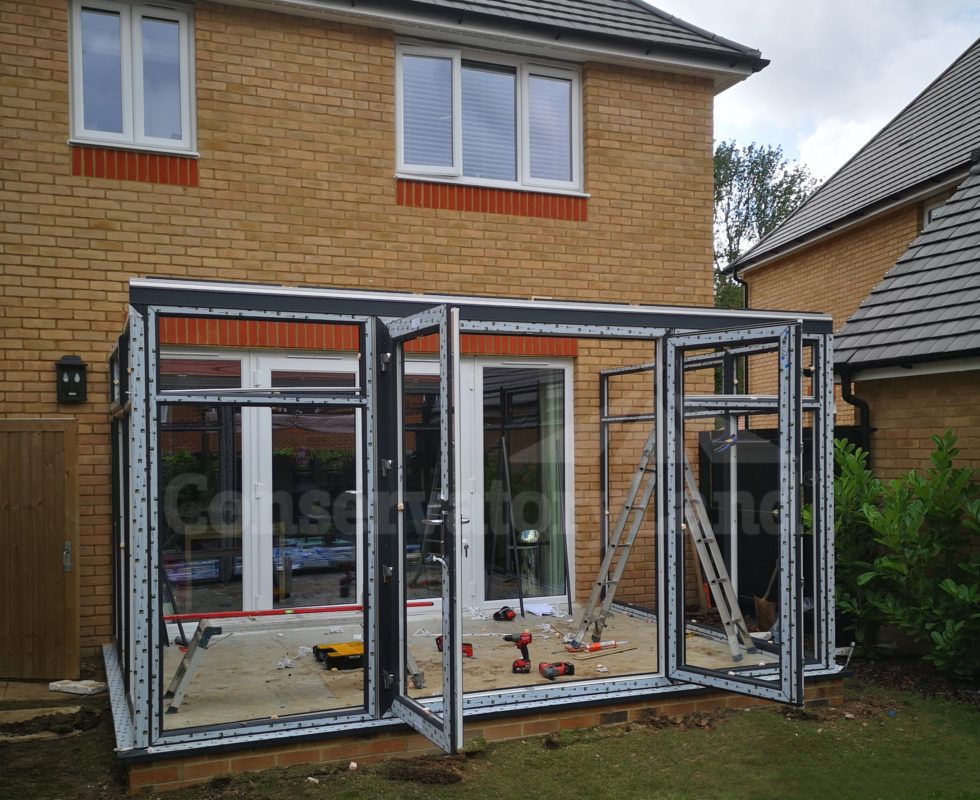 Following the foundations, our installers got to work on the steel frame of the ConservaBase and UPVC skirt, fitting the standard glass windows and chrome handles. Now Mrs Hall's lean-to conservatory was really beginning to take shape!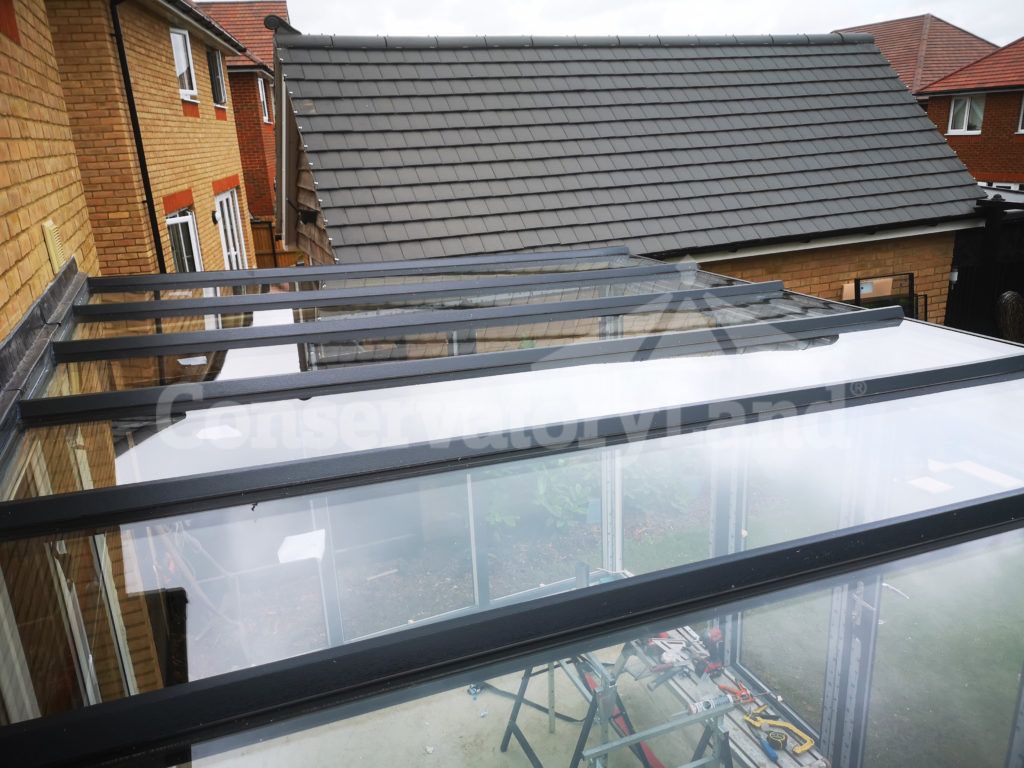 Expertly and safely, the standard glass roof was fitted securely to the ConservaBase. All the glass panels in the windows and roof were then cleaned down for a truly professional, shiny finish. Mrs Hall was delighted — the dark grey PVCu looked exactly like those she'd been inspired by online, whilst the huge windows and roof gave the conservatory enormous amounts of light for the whole family to enjoy all year round.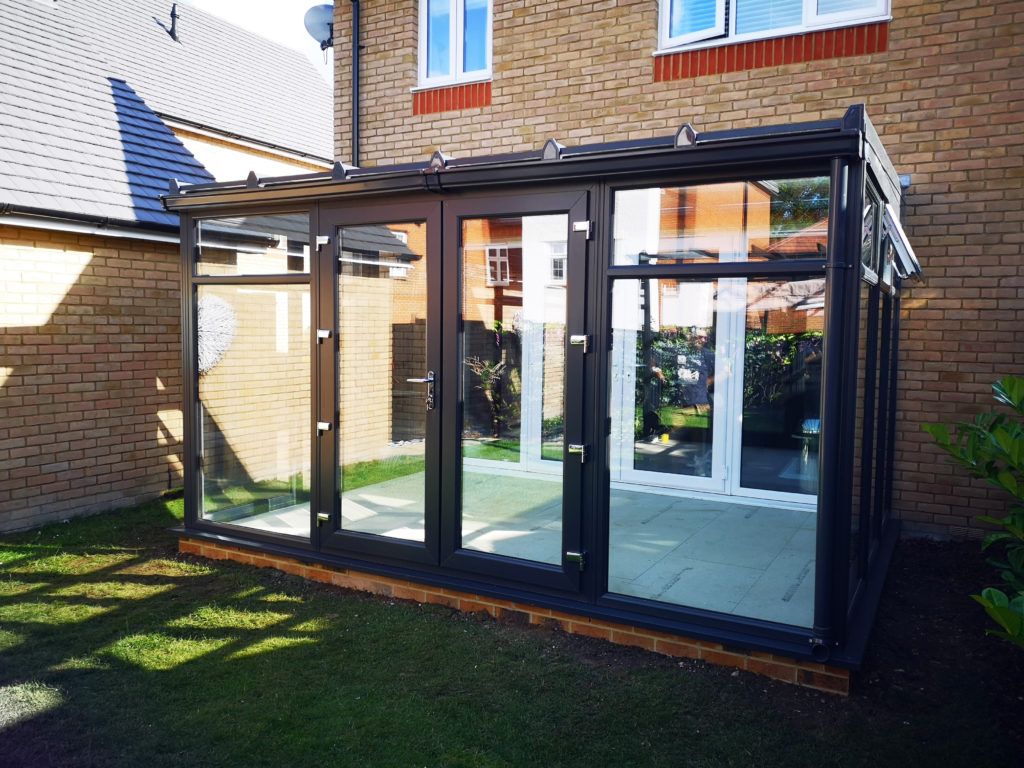 Once her conservatory was cleaned, polished and declared complete, Mrs Hall began to add her homely touches — opting for a fashionable palette of hot pink and monochrome. The velvet pink sofa and black log burner looked supremely modern and elegant against the dark grey PVCu of her brand new lean-to.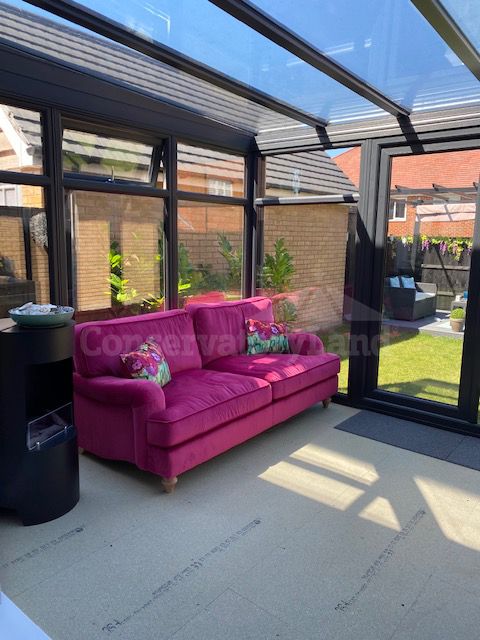 Finishing the space with a beautiful wooden dining table topped with ornate white candlesticks, Mrs Hall's lean-to conservatory looked just as she'd imagined — cosy, homely, but utterly up-to-date and incredibly stylish. If you're feeling inspired by the interior or if you wish to update the look of your existing conservatory, why not check out our Ultimate Conservatory Interior Guide?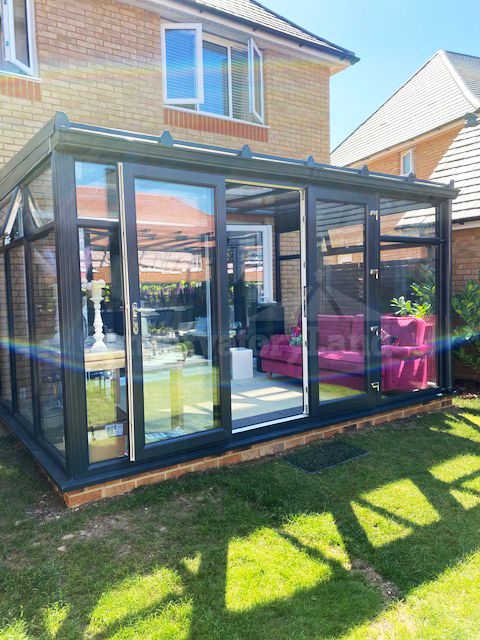 We may be biased, but we think the view from Mrs Hall's conservatory is almost as good as the view looking at it from her garden! We loved the matching dark grey decking and garden furniture. A new ConservatoryLand Customer of the Month favourite!
Customer Testimonial
Rating our service as 'excellent' despite all the restrictions of lockdown, Mrs Hall was completely delighted with our service and installers, from start to finish:
"I would like to thank ConservatoryLand for the amazing service they gave me whilst choosing my beautiful conservatory. Even during the lockdown, they were on hand to advise me. They even recommended an installer, who not only built the conservatory but observed social distancing at all times. The ConservaBase is unbelievable, and I couldn't believe that after only 3 days, my new room was complete. All I need to do now is choose my flooring. If you are looking for an extra room, at a price thousands less than other companies, I would highly recommend ConservatoryLand."
Fancy recreating Mrs Hall's bespoke fashionable dark grey lean-to conservatory? Or perhaps you have a different design in mind to fit in with the style of your home? Our team is on hand to get you started on design — we're just a phone call or click away! 
We understand many of you are naturally concerned about the social distancing measures in place and we wish to assure you that our professional UK installers are vetted and approved by us and observe lockdown guidelines at all times. Local to your area, your conservatory can be designed and erected in time to enjoy the summer sun!
Want more information (or inspiration)? Check out more of our customer case studies or order a free brochure. 
If you'd like to talk to us about a conservatory project, get in touch today for a free quote.