June's top conservatory was commissioned by Mr Tough, a property owner in the picturesque town of Andover, Hampshire. Mr Tough had requested a top-quality conservatory to replace an existing cheaper and inferior product he had regretfully purchased elsewhere. After speaking with our knowledgeable ConservatoryLand team, he chose to go with the classic and classy Hipped-Back Edwardian Conservatory. 
This type of conservatory is one of our most popular structures because it accommodates buildings, like bungalows, that have height restrictions while allowing homeowners to enjoy the benefits of additional living space.
Hipped-Back Edwardian Conservatory Installation Process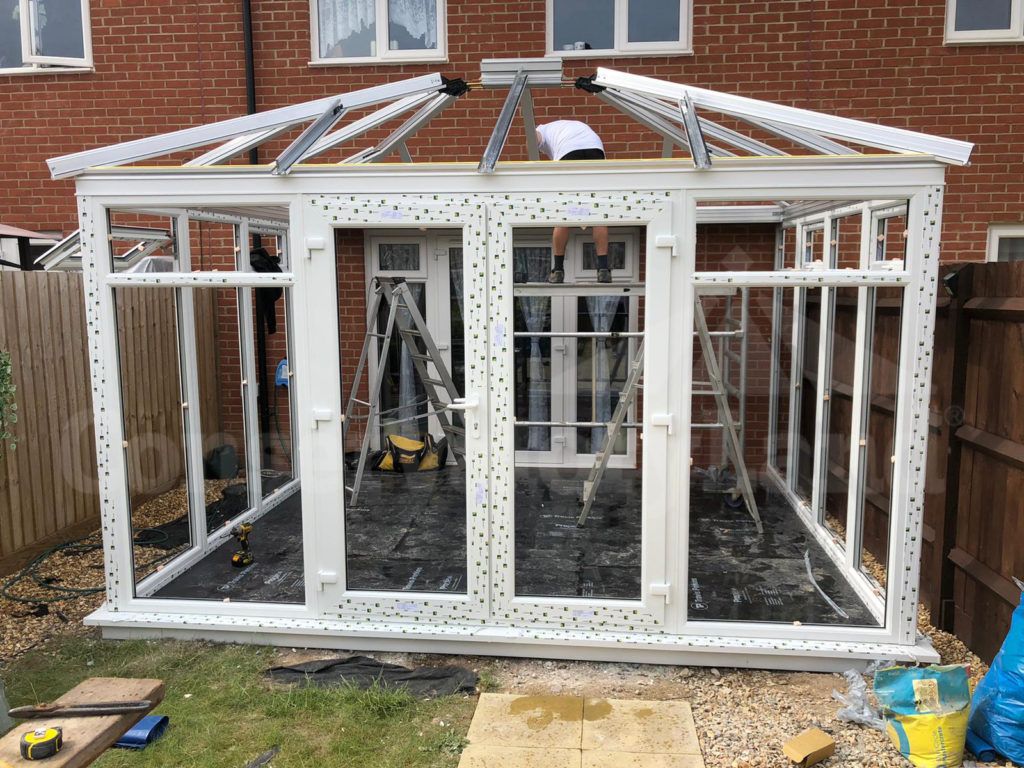 June's customer of the month had always wanted to install a conservatory to provide a lovely living space adjacent to his home and to complement his well-manicured garden. Unfortunately, Mr Tough discovered that the cheaper model he originally had installed did not meet his expectations and asked ConservatoryLand to step in and assist with making his dreams a reality. 
Mr Tough also requested that the new conservatory design be made to omit an existing air vent from a toilet. Once the customer had removed the lacklustre model, the Hipped-Back Edwardian conservatory was professionally installed in a speedy fashion.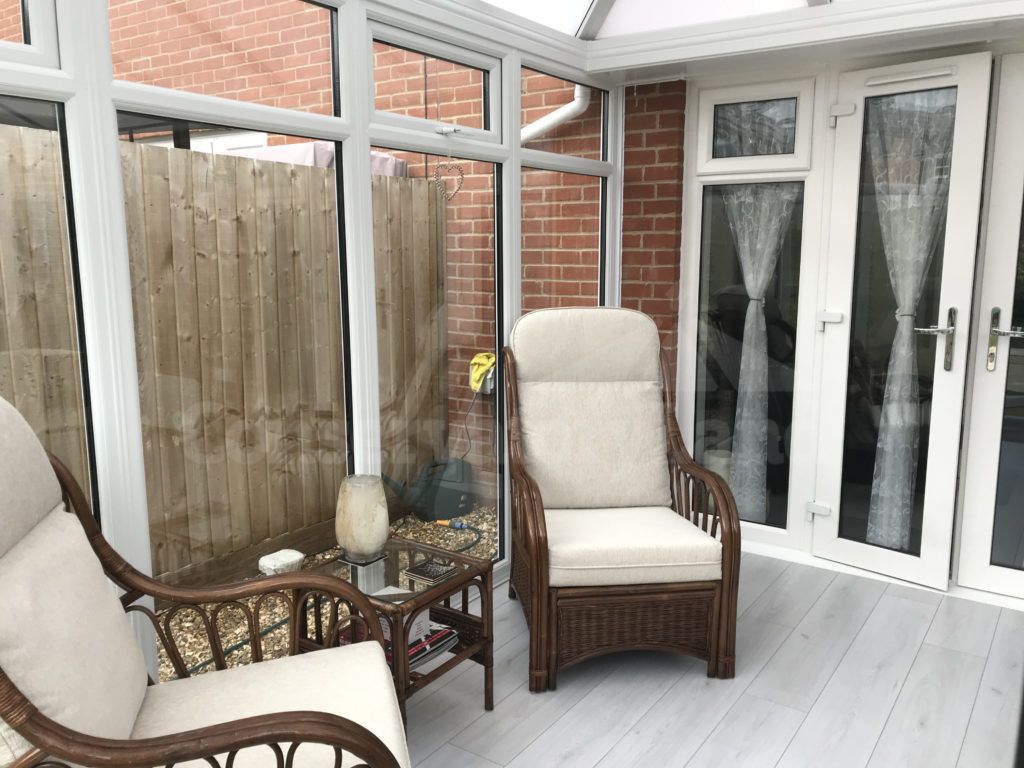 Mr Tough requested a 4m x 3.4m unit and we were more than happy to comply with these specifications. ConservatoryLand subsequently designed a customised Hipped-Back Edwardian-style conservatory. This type of conservatory is perfect for low-height restrictions, especially where there exists the problem of pipes or vents on the adjacent building.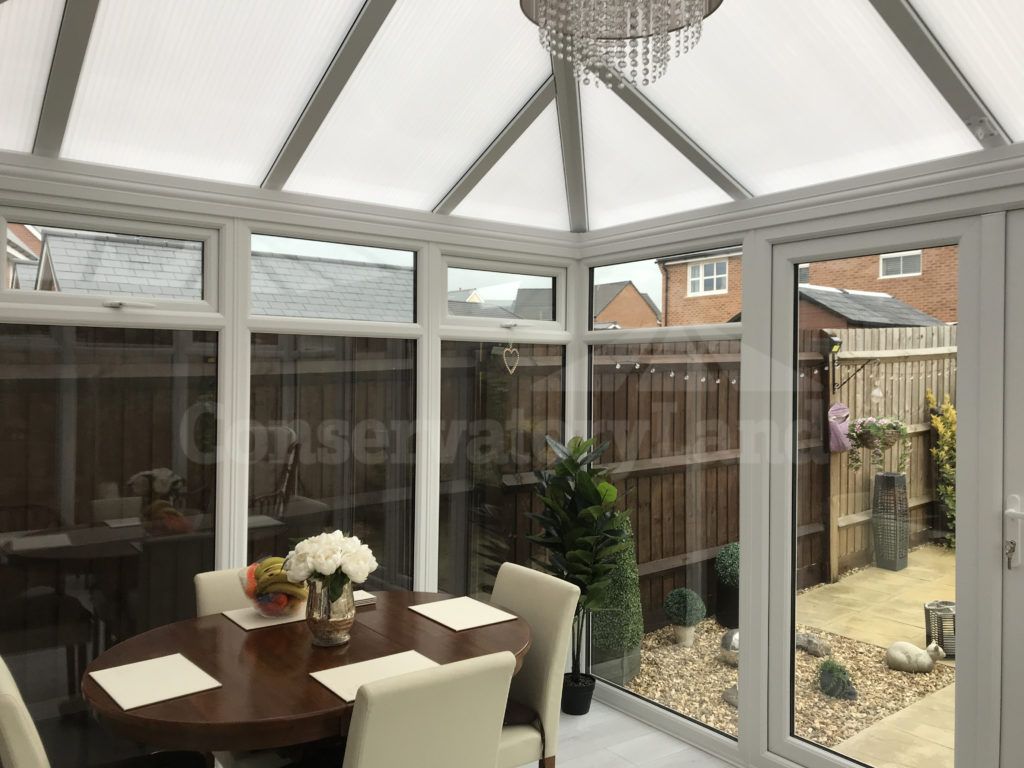 While our Hipped-Back Edwardian conservatories are easy to set-up yourself, thus saving you time and construction costs, we also have a network of approved installers who will install the structure quickly and efficiently.  
Mr Tough chose a white PVCu conservatory unit with white handles. This was chosen to complement the design of his home and fit in with the surrounding environment.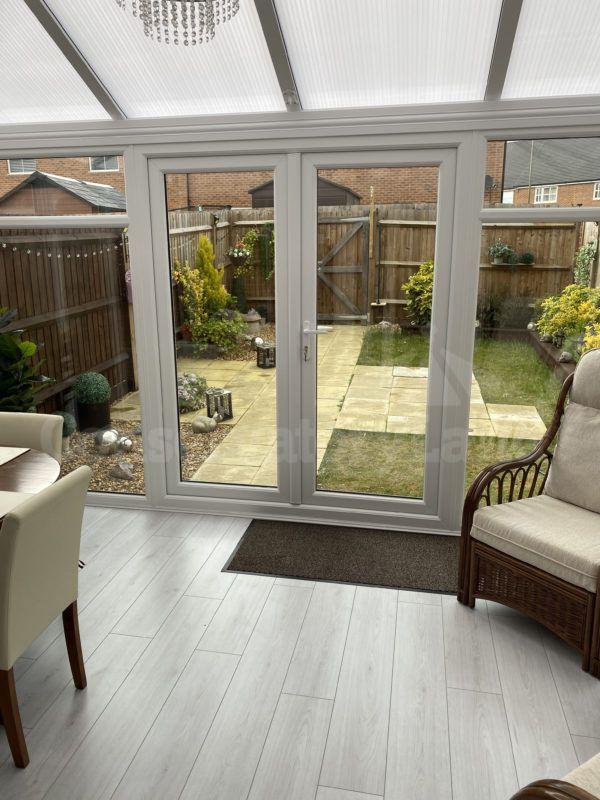 With the help of our friendly design team, Mr Tough chose to go with ConservaBase with a PVCu skirt. This offers the homeowner a neutral canvas that is perfect for any interior design style or décor. He also chose to go with full height glass windows and door frames using standard glass and 25mm opal polycarbonate. 
Not only does this design choice allow for maximum natural light to filter into the conservatory, but it also makes the structure appear open and roomier, which is particularly nice if you're entertaining.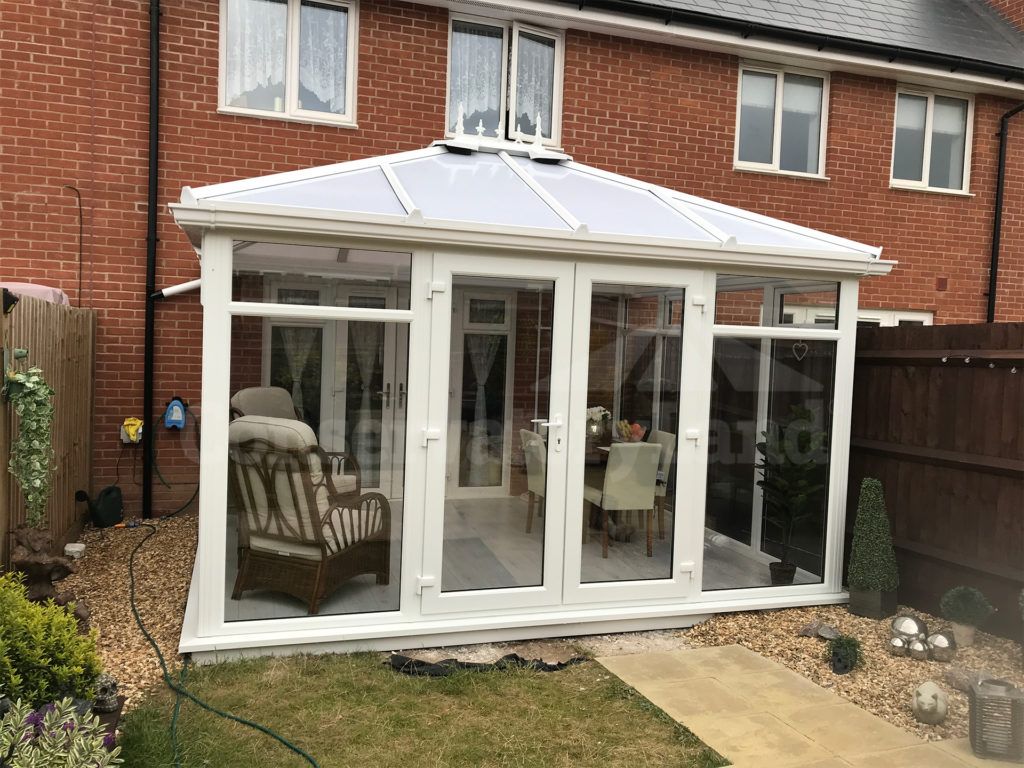 Mr Tough's new Hipped-Back Edwardian Conservatory fits snugly into the required spot and is a testament to the merits of investing in a good-quality product and installation team. 
The Project Technical Specifications
| Name | Mr Tough |
| --- | --- |
| Location | Andover, Hampshire |
| Conservatory style | Hipped Back Edwardian Conservatory |
| Dimensions | 4000mm x 3400mm (made to measure to customers requirements) |
| Glazing | Full Height Glass windows, Standard glass in the windows. 25mm Opal Polycarbonate |
| Base type | ConservaBase with PVCu skirt |
| Colour | White PVCu, 25mm Opal Polycarbonate, White handles. |
Before delivering and installing his conservatory, we developed a CAD drawing in keeping with Mr Tough's desired design specifications. Our intention here is to help our customer envisage what the finished product would look like. Mr Tough had specified that his conservatory is 4m x 3.4m. 

Customer Testimonial
Mr Tough found the ConservatoryLand experience to be of excellent value from start to finish of the project. Whether it was offering expert advice to choosing, designing and installing his new classic Hipped-Back Edwardian Conservatory, our experienced team delivered in full:
"We found ConservatoryLand from receiving their brochure to placing our order was very professional. We were also happy that we had the option to use an approved installer. The conservatory was delivered on the date provided and the installers turned up on the agreed date. We found both installers very polite and professional, they kept us well informed at every stage, they cleared up any mess at the end of every day. The completed conservatory was very well constructed and we were very pleased with it. If anyone is looking for a Conservatory company I would highly recommend ConservatoryLand without hesitation, a first-class service and great value for money."
If you're feeling inspired to recreate Mr Tough's classic-looking conservatory, or if you're interested in exploring other conservatory options, our team would be delighted to discuss these different options with you. 
You can trust wholeheartedly in our great team of reliable approved installers who are local to your area. Your conservatory can be designed and erected in time to enjoy the glorious summer months ahead. 
Want more information (or inspiration)? Take a look at some of our other customer case studies, or request a free brochure. Once you've decided on your particular style and any special features you might need, give us a call or fill out our online form for a free quote.