March's story comes from Miss Markham, who wanted to maximise her home's year-round space. So, she bought a DIY Lean-To conservatory from Conservatory Land, and chose to use one of our Approved Installers local to her to complete the build. 
A simple option that suits both modern and traditional homes, it's no wonder Lean-To conservatories are among the most popular styles here at Conservatory Land. They're great for making the most of natural sunlight – even if you're short on space. 
And in this case, the results speak for themselves – one happy customer with a high-quality made to measure installation.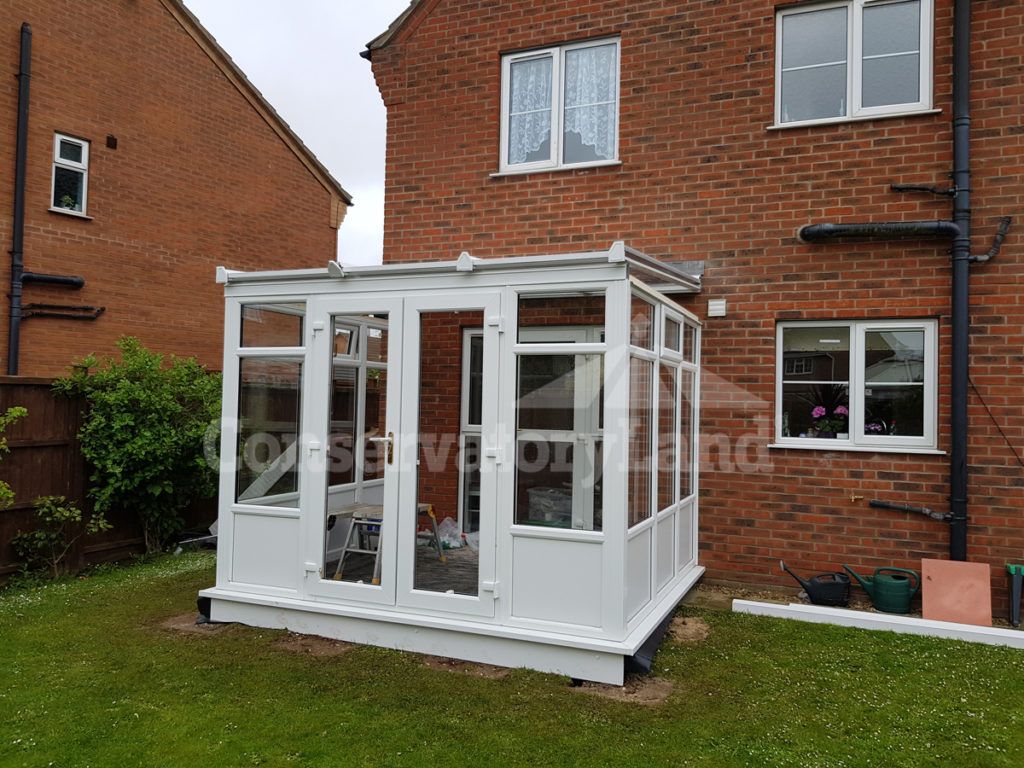 What's more, thanks to the clear design brief and expertise of the installer, Miss Markham's conservatory erection was drama-free. 
The Project Technical Specifications
| Name | Miss Julie Markham |
| --- | --- |
| Location | Lincolnshire |
| Conservatory style | Lean-To Conservatory |
| Dimensions | 3000mm x 2500mm (made to measure to customers requirements) |
| Glazing | Standard glass in the windows. Clear Polycarbonate Roof |
| Base type | ConservaBase with PVCu Skirt |
| Colour | White PVCu, 25mm Clear Polycarbonate for the roof, White handles. |
As you can see, no dwarf walls or external brickwork were needed for Miss Markham's conservatory. Instead, the installer used ConservaBase with a white PVCu bottom skirt to match the frames.  
When it came to glazing, Miss Marham chose standard glass for the structure's large windows. She opted for clear polycarbonate for the roof, which lets in as much sun as possible.
The result? A well-lit space that Miss Markham can enjoy all year round. 
Before we manufactured her conservatory, we developed a CAD drawing to show Miss Markham how her finished product would look.

In this instance, the customer wanted double doors that opened straight out onto the lawn. She also requested full height frames, to make the most of the internal space available. 
To bring in the fresh air, we added small windows towards the top of the structure. This placement meant the frames wouldn't compromise Miss Markham's view. It might sound like a small thing, but it's thoughtful elements like this that we're proud to include within all our designs. 
Lean-To Conservatory Installation Process
We introduced Miss Markham to an Approved Installer from our national network to build the structure. After an initial visit to do a site survey and discuss the details of the conservatory, the installer got to work.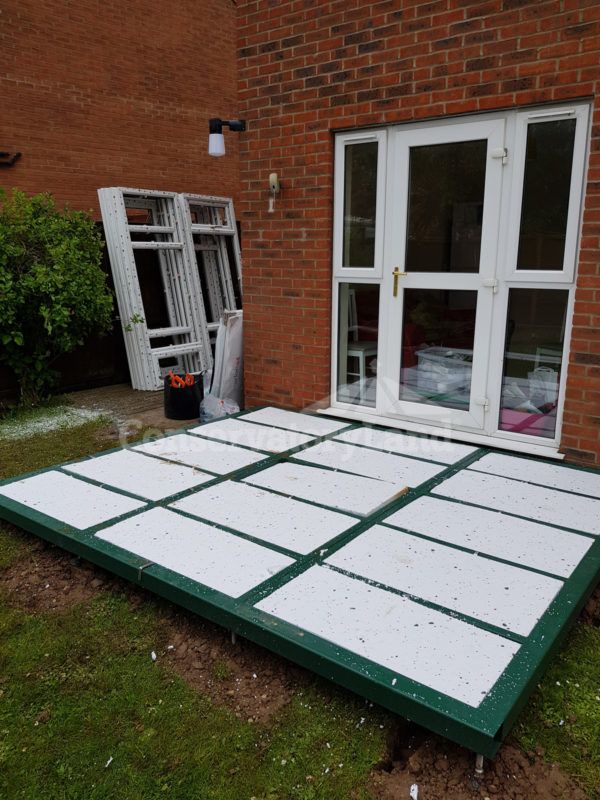 First, the installer dug out and constructed the concrete pads required for ConservaBase to stand on and support the conservatory. Next came the steel frames that bolt together to make up ConservaBase. Once the base was in place, it wasn't long before the frames were carefully installed and the conservatory began to take shape.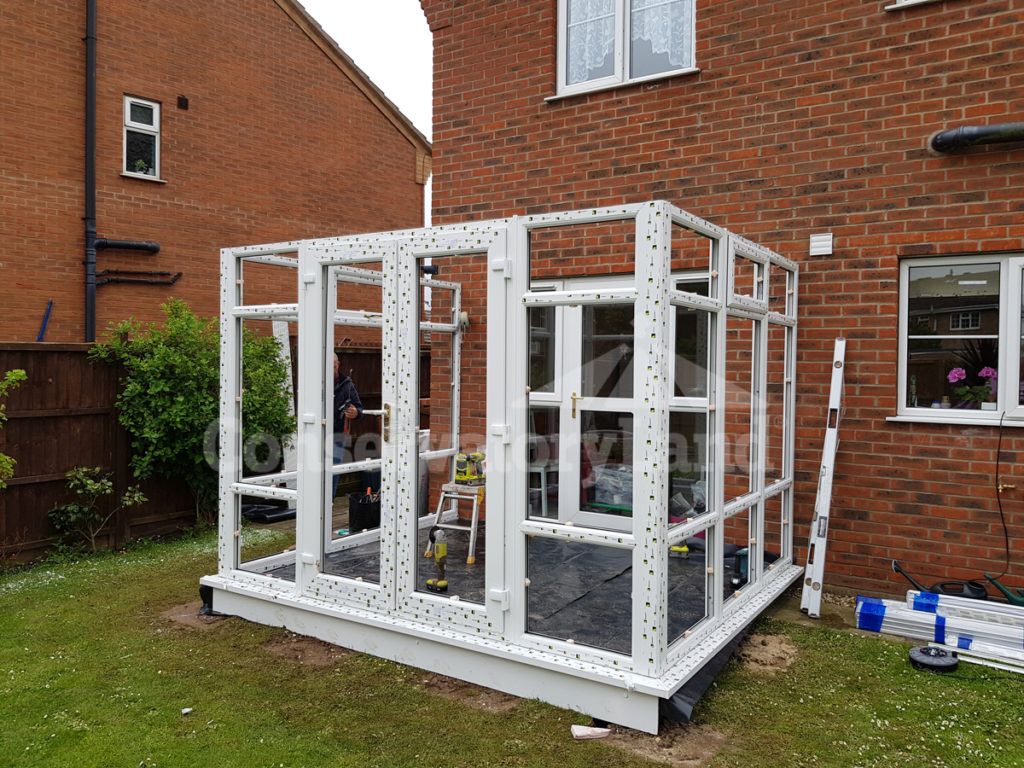 With the frames erected, the installer inserted the standard glazed windows and polycarbonate roofing.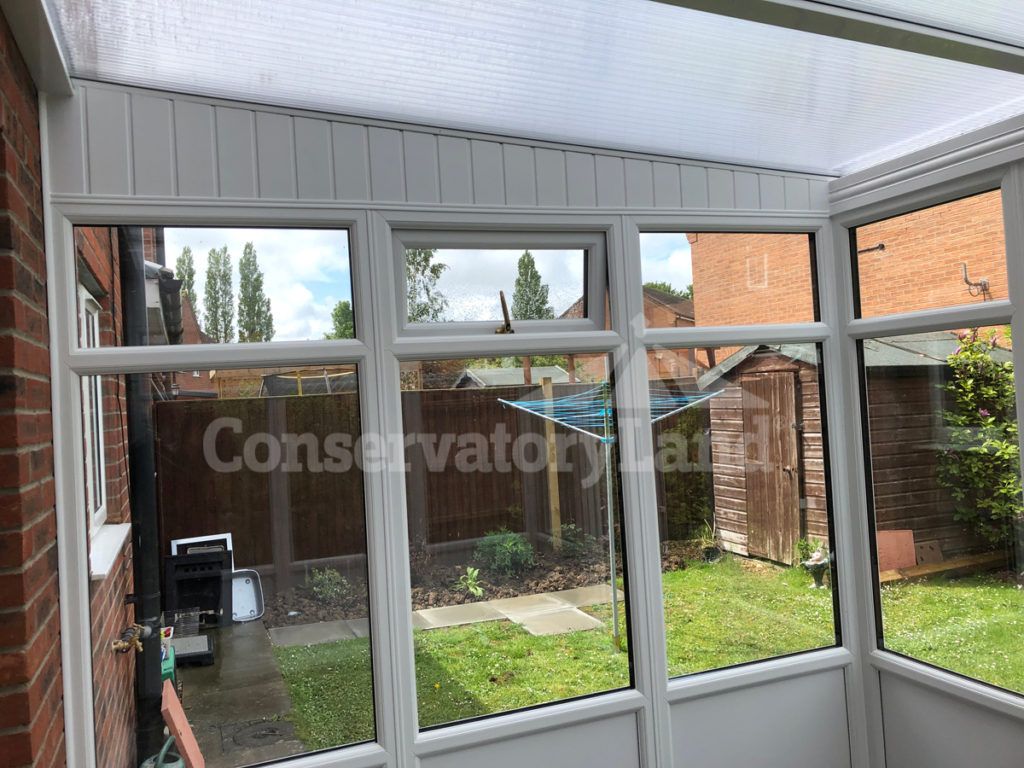 Finally, the installer cleaned and tidied everything up, and Miss Markham's new conservatory was ready for her to enjoy. 
Customer Testimonial
So what did Miss Markham make of her finished conservatory? From her initial site visit to the quality of the structure, it's fair to say she was delighted with the results.
She said:
"From start to finish, Conservatory Land and our installer have been superb. The design was easy to understand, and our installer came to do a site survey and discuss the finer details. Plus, delivery was on time. What can I say? Very professional and top-class work. The quality of the product is excellent, too."
Interested in a Lean-To conservatory project of your own? We'd love to hear from you. 
Thanks to our team of reliable approved installers, you can rest assured that your new conservatory will be built to the highest standard. 
Want more information (or inspiration)? Check out more of our customer case studies, or order a free brochure. 
If you're ready to talk to us about a conservatory project, get in touch today for a free quote.